This Is My Tattoo. This Is My Life With Terminal Breast Cancer.
---
I received my first cancer diagnosis (acute lymphoblastic leukemia) at age 14. I went through two years of every extensive chemotherapy during my freshman and sophomore years of high school and what felt like a lifetime afterwards.
I was then fine for 19 years and regularly kept on top of my doctors' appointments. Out of nowhere, when I was about to turn 33, I felt a lump in my breast and automatically went to my gynecologist. She felt it and sent me for a mammogram and ultrasound. Based on what they saw they also preformed a biopsy.
Within two weeks I turned 33 years old and found out not only did I have breast cancer, I had stage IV breast cancer — aka metastatic breast cancer (MBC) that had spread to my lymph nodes, sternum and lungs.
My cancer is terminal, with the average survival rate of three years post-diagnosis. Only 36 percent  live over five years with MBC. The odds of me living to 40 are slim, and I am now on treatment for the rest of my life. They will keep changing treatments until they run out of options and the cancer takes over.
In 2014, 41,211 women and 465 men in the United States died from breast cancer. One day I will probably be one of them.
I am now past my three-year mark and on my fourth line of treatment protocols. Since I have no family history of breast cancer and no genetic pre-depositions, my doctors believe the chemo I had while in the final stages of puberty altered my DNA and played a significant role in the development of me getting a secondary aggressive cancer (a cancer caused by the treatment of a different primary cancer).
I got this tattoo on my left wrist (the same side as my breast cancer) last October during breast cancer month. It is the Hebrew Chai symbol, with translates to English as "Life." The inner cycle, which is closer to life, represents the leukemia. It is closer because, even though it caused the breast cancer, I survived it. The outer circle, further from life, represents the MBC, because it sucks all life from you.
It knows when you will die, it watches your friends die, it makes your old "normal" life permanently die and knows you will always be in treatment forever. Essentially, who you were loses its life as soon as you get a terminal cancer diagnosis, and there's no time frame on when it will happen.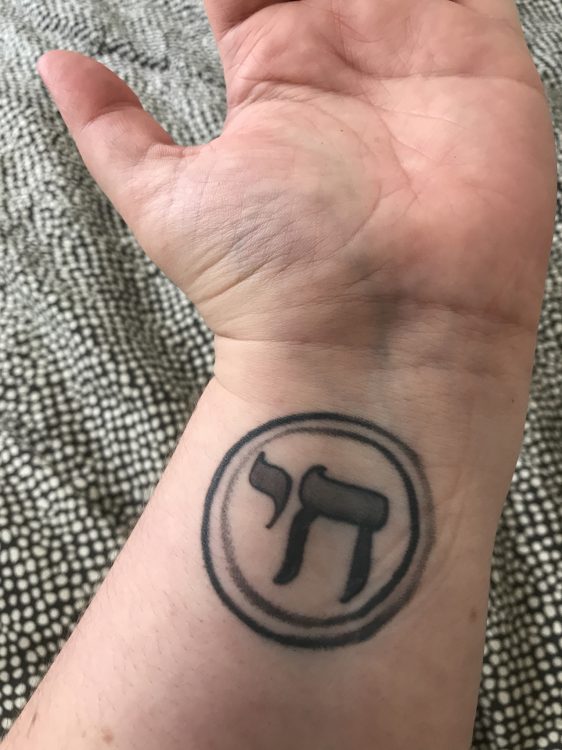 That is why the circles are not filled in and are lighter in places. They represent the unknown of cancer and life. They represent my continued journey.
We want to hear your story. Become a Mighty contributor here.
Originally published: August 9, 2017