A Letter to Myself on the Day I Found Out My Daughter Had a Tumor
---
Right now you're sitting in between an exam table and a wall. You're on the floor. Although you can hardly see through your tears, you see the doctor sitting across the room in her chair. Your husband is crouched down over you, holding you. Your little girl is just a few feet from you, playing with a toy, and thankfully, oblivious to what is going on.
The doctor just told you your 16-month-old daughter has a tumor on her spinal cord … there's a room waiting for you at the children's hospital … you need to go right away … there will be a neurosurgeon there who will go through the details of surgery … a surgery your daughter will undergo the following morning.
Just like that, your whole world has changed.
As you drive to the children's hospital, if I could, I would hand you a letter.
Dear You:
I know you're wondering how this happened. I know you're certain it's all a mistake. I know you think it's impossible; that this must be a dream. And you're angry. You don't want to go to the hospital. You don't want to watch as your baby is wheeled away from you and feel helpless, stuck in a waiting room.
Your daughter's journey with cancer (yes, I said cancer) will start out with surgeries. There will be two of them. After the second surgery, her tumor will grow back, and it will be then that the oncologist will recommend chemotherapy.
Once again, just like that, your whole world will change.
You will get used to saying cancer, to saying your daughter has cancer. Eventually you'll be able to say it without pausing before it comes out of your mouth. Your voice won't crack. It will become part of your everyday vocabulary.
You will be so sad at times you'll wonder if you'll ever feel joy again. When you see piles of your daughter's hair strewn across the couch or her bed, you'll want to sob uncontrollably. Yet when the last strands of hair finally fall out, you'll look at her and be in awe of her beauty.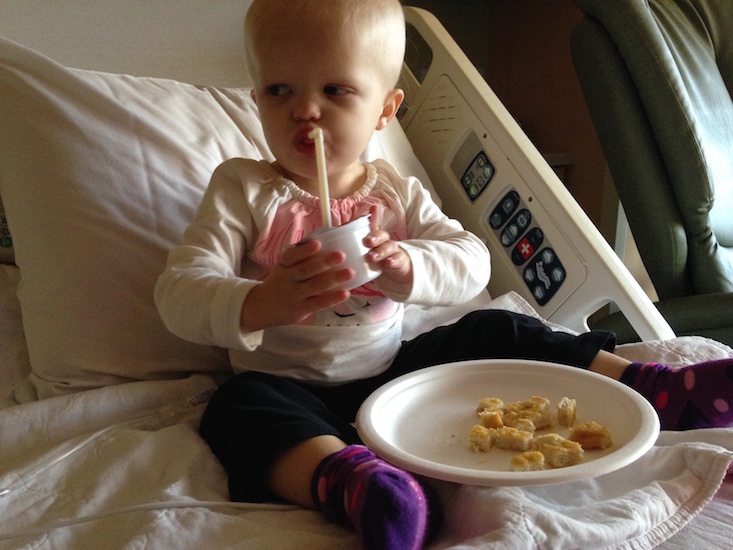 Once again, just like that, your whole world will change.
You will be stronger than you ever thought you could be. You won't cry every time the nurse comes to prepare your child for chemo. You will want to; every single time you will want to. But instead, you'll do whatever you can to keep your baby happy. You'll surprise her with a new package of stickers or a little carton of chocolate milk, you'll flip through the TV stations searching for her favorite cartoon, and you'll lie in bed with her and watch as her chest rises and falls with each breath. And in those quiet moments, when she is resting, that is when you'll let your tears flow.
You will have to try to explain a lot of really complicated stuff to your toddler. Things you don't even want to know about. Yet, when she looks at you wondering what is going on, all you really have to do is hug her and kiss her forehead and reassure her that she's going to be OK. Right now, that's really all she needs to know.
At this moment, as hard as it seems, the next couple of years will also be filled with so much happiness and laughter. And there will be so many times when your heart will dance with joy. It will dance with joy when the MRIs show a stable tumor, when her blood counts are good, when her hair starts to grow back or when you go to the grocery store and can't help but smile as she pushes around a little cart while wearing a pink tutu. Try to find moments in each day that make your heart dance. And if you're having a tough time, let your daughter show you how she can dance with her shadow. Trust me, it will be these moments that get you through.
There will be many times when you'll wish it was all over … one day it will be. Eventually, chemo will end. And on that last treatment day, you will watch as your daughter blows bubbles, dances in the dark with the nurses (which will become part of her chemo day routine) and smiles for you as you take a picture of her holding a sign declaring it's her final day of chemo.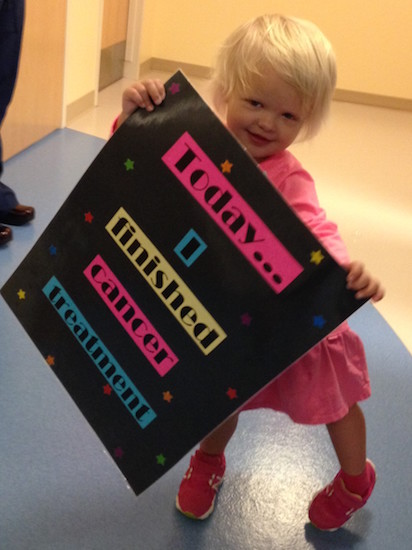 And again, just like that, your whole world will change.
The Mighty is asking the following: Write a letter to yourself on the day of the diagnosis. If you'd like to participate, please send a blog post to community@themighty.com. Please include a photo for the piece, a photo of yourself and 1-2 sentence bio. Check out our Submit a Story page for more about our submission guidelines.