Target Unveils Limited-Edition T-Shirt Designed by Girl With Rare Disease
---
Target's popular kid line Cat & Jack just got another limited edition T-shirt, this time designed by a girl who survived a rare blood disorder and is now in treatment for cancer and wants to spread a little extra (adaptive) joy.
Hallie Barnard is an 11-year-old Texas native on a mission. At 6 years old, she started a nonprofit, Hallie's Heroes, to encourage people to join the bone marrow donor registry. Barnard was diagnosed with Diamond-Blackfan anemia (DBA) at 13 months old, a rare disorder that primarily affects the bone marrow and prevents it from producing enough red blood cells. The treatment for DBA is a bone marrow transplant. In addition to finding her own bone marrow match at 10 years old, Hallie's Heroes helped match 105 other people to date as well.
While Barnard's bone marrow transplant was successful — and her DBA cured — she was diagnosed with cancer in her thigh bone within a month. According to the U.S. National Library of Medicine, DBA can increase your risk for developing bone marrow cancer or a bone cancer called osteosarcoma, the cause of Barnard's cancer. Barnard recently had her leg amputated to remove the cancer and is still in treatment. Over the summer, however, Barnard teamed up with designers from Target to spread her advocacy work further with a limited-edition T-shirt.
The tag-less T-shirt, which Barnard designed in conjunction with designers from Target's Pillowfort and Cat & Jack brand teams, features a sloth graphic based on a picture Barnard drew, styled with sequins. While onsite, Barnard also provided insight to Target's design teams on how to make their products more adaptive, accessible and sensory-friendly for other kids with health conditions or disabilities.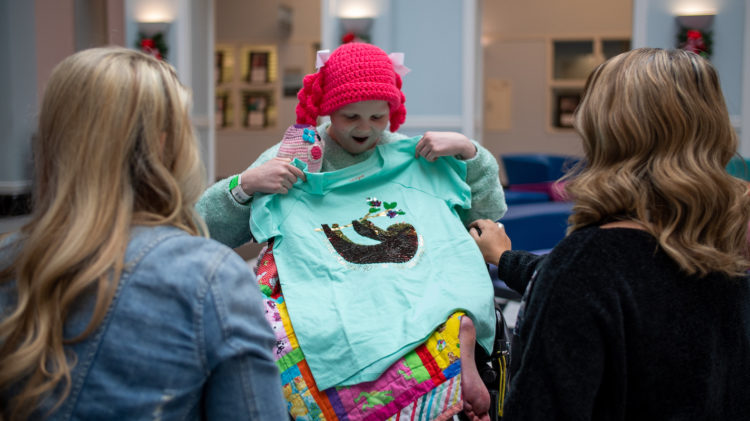 "Target's work with Hallie is about much more than a single t-shirt," a spokesperson told The Mighty via email. "She's experiencing what it's like to be a designer at Target and is inspiring Target's design team to find more and new ways to create sensory-friendly and adaptive offerings that are both fun and functional for even more children."
Target, through products such as Cat & Jack's sensory-friendly uniforms and adaptive clothing, Pillowfort's sensory-friendly home products, and adaptive Halloween costumes, continues to show a commitment to making products that are accessible to kids with a variety of needs. Other brands, like Tommy Hilfiger, Nike, Zappos and Kohl's have also expanded their adaptive product lines in recent years.
The growing commitment to adaptive clothing is also a wise business decision: A 2018 American Institutes for Research report found people with disabilities between the ages of 16 and 64 had a combined $490 billion in disposable income to invest in companies working to create accessible products. Plus, a move toward universal design benefits everyone.
"Good designs can benefit everyone," wrote Jordan Davidson, The Mighty's managing editor. She added:
Take tags, for example. Have you ever bought a shirt and found the tag to be hopelessly itchy? Most adaptive clothing for people with sensory sensitivities forgo tags. The size, materials and washing instructions are stamped inside the shirt. No more itchy tags. Everyone wins. … We don't have to call it adaptive fashion — it can just be fashion.
Barnard's father, Jesse, is a Target team member, which is how Barnard's story and advocacy work popped up on the company's radar. Along with the launch of Barnard's T-shirt, Target will donate $10,000 to Hallie's Heroes to continue helping others find bone marrow donors and support the organization's advocacy work.
Barnard's limited-edition sloth T-shirt will be available while supplies last on Target's website and in two Texas stores — one in Denton, Texas, and the other in Flower Mound, the Barnards' local stores. The T-shirt is available in sizes XS to XL and costs $10.
Images via Brandon Schwindt
Originally published: December 12, 2019