Health Blogger Olivia Budgen Under Fire for Saying Cancer and Disease Are 'Not Actually Bad at All'
---
Australian health blogger Olivia Budgen sparked ire among the cancer community due to a post she shared last week on Instagram, claiming, "CANCER AND DISEASE IS YOUR BODY TRYING TO SAVE YOU."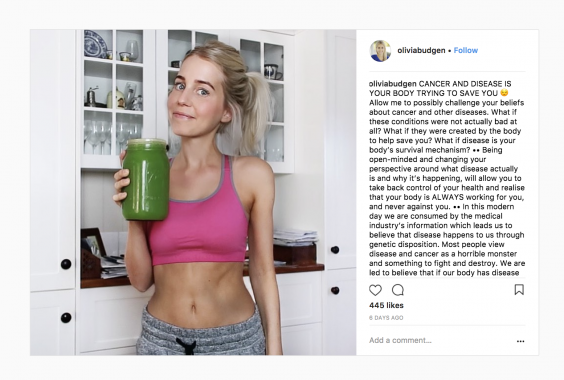 Budgen continued her post asking, "What if these conditions were not actually bad at all? What if they were created by the body to help save you?"
According to Budgen's post, society is led to believe diseases like cancer come from genetics, and we are fed misinformation from the medical industry. Budgen claimed diseases like cancer are actually "survival mechanisms" the body creates to defend itself from toxins.
"The immune system is always there to keep the body free of contaminates. Unfortunately in many cases this isn't possible because organs such as the liver, large intestine, lungs, kidneys and skin become overtaxed with toxins and don't eliminate efficiently. Disease is a natural defense mechanism to prevent a much more serious situation from occurring."
While it's great to raise awareness for cancer, factually inaccurate statements like Budgen's can be incredibly harmful to those undergoing treatment as well as those who are newly diagnosed. According to the National Cancer Institute, cancer is a genetic disease caused by certain changes in the genes that control the way our cells function — especially how they grow and divide. Although diet may play a role, there are many other risk factors such as sunlight, tobacco, hormones, age and other environmental factors.
Since posting, Budgen has been compared to Australian blogger Belle Gibson who lied about having cancer in 2009, and said diet could cure the disease.
It seems there's always another Belle Gibson wannabe waiting on Instagram pic.twitter.com/GmH7lViBpa

— Saman Shad (@muminprogress) November 22, 2017
Other Twitter users commented sharing their outrage as well.
This is absolutely baffling. She's actually said she believes 'disease cannot exist inside of us' if we live 'truly healthily in all areas of our lives'. I'm sure that living 'truly healthily' includes buying a lot of her products.

— Sophie Flynn (@sophielflynn) November 23, 2017
Both my parents had cancer. Lost my Dad to it! This is utter rubbish! ????

— Michelle (@ALuxeList) November 23, 2017
Oh hellfire. Please. As a cancer survivor I beg these beautiful young women (there are a few of them) to science up ASAP.

— Tracy Sorensen (@Squawkingalah) November 24, 2017
What about tiny children who get cancer? Are they just not trying hard enough, either? Urgh. The smugness knows no bounds.

— the disco goth (@laurawalkley) November 23, 2017
Budgen has since deleted the Instagram post. On Thursday, she responded to the backlash in a short video, claiming she drew her inspiration from Andreas Mortiz's book, "Cancer is Not a Disease — It's a Survival Mechanism:"
The Mighty reached out to Budgen for comment and has yet to hear back, 
Header photo courtesy of Instagram
Originally published: December 1, 2017