Coping with Cancer Can Feel Lonely. Here Are 3 Huge Ways Peer Support Can Help.
---
There is no one-size-fits-all approach to reduce the loneliness that often comes with coping with cancer. The qualities that make each of us unique also influence how we experience a diagnosis, treatment, and survivorship. Doctors, nurses and healthcare specialists are invaluable, but peer support offers something they cannot: practical talk from someone who has lived a similar situation.
I've been an advocate for cancer patients and their families for more than 30 years, but it wasn't until I tried a dating app for the first time that I realized how geo-social tools can be a game changer for peer support. There might be someone down the hall in a hospital room wishing they had a friend who could empathize about their diagnosis and symptoms, who may even share a hobby, but are unable to make that connection. That is why the Bone Marrow & Cancer Foundation launched CancerBuddy, a free social support network app to find support and connection to help get through a cancer experience. CancerBuddy lets you connect with people by diagnosis, neighborhood, university, age, gender, specific cancer hospital, or interests.
Here are my top three reasons for why peer support makes a huge difference for cancer patients, survivors, and caregivers.
1. Feel brighter and more hopeful
Encouragement, humor, and empathy from someone who knows what it's like to be in a similar mental and physical state as you will resonate more strongly, help you realize you are not alone, and give you a stronger sense of hope and empowerment. Research shows that peer support improves cancer patients', survivors' and caregivers' coping skills, satisfaction with medical care, level of knowledge, sense of hope, personal relationships, mood, and health outcomes.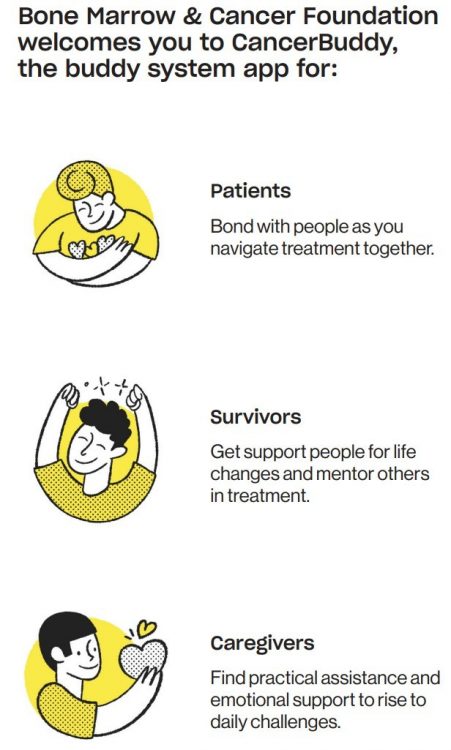 2. Understand what to expect
Peer support helps patients navigate treatment together, provides survivors with an opportunity to offer mentorship, and helps caregivers find practical assistance to rise to daily challenges. Someone who has or is currently living through cancer might be able to offer timely information and help you to better communicate questions you may have along the way. Peer support also helps individuals from marginalized groups address health disparities that result from an inability or apprehension to engage with the medical care establishment.
3. Find resources that can help you get through
Advancement in treatment options offer more hope for people diagnosed with cancer than ever before, but may also require more support than what is readily available. Patient navigators who have experience working with cancer patients can help you learn about programs to help cover out of pocket expenses including travel, lodging, and treatment-related costs that you may not know about.
Cancer is tough and no one should go through it alone. Peer support can make all the difference in the world on the most challenging days and make good days even brighter. Thankfully, making meaningful connections is also more accessible than ever before.
Christina Merrill is the founder and CEO of the Bone Marrow & Cancer Foundation
Originally published: July 18, 2022