Mandy Moore Shares Photo of Herself Getting Tested for Celiac Disease
---
Mandy Moore is showing the reality of a potential celiac disease diagnosis.
The "This Is Us" actress shared a photo in her Instagram story on Saturday of herself wearing a hospital gown. The caption read, "Grog City. Just had an upper endoscopy to officially see whether or not I have celiac (only way to officially diagnose)… things are looking [OK sign emoji]."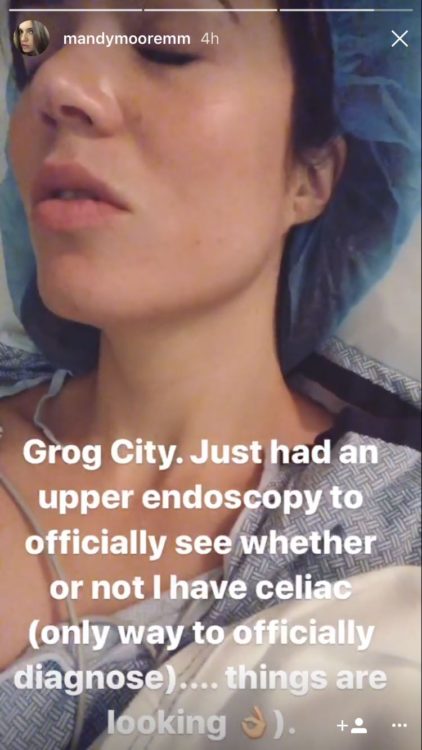 An upper endoscopy is an outpatient procedure in which a doctor passes a flexible tube with a light and small camera attached to it through the patient's mouth and into their esophagus, stomach, duodenum and small intestine. The doctor examines the tissues for any abnormalities and also takes tissue for a biopsy. The biopsy reveals if gluten has damaged the tissues, which would indicate the patient has celiac disease.
Blood tests can be helpful in diagnosing celiac disease, but currently endoscopy is the "gold standard" diagnostic method.
Moore first revealed the possibility she has celiac disease in July when she posted an Instagram story showing an image of the Wikipedia page for celiac disease with the caption, "Well, this definitely takes the (now gluten-free) cake for bummer news. Any celiac sufferers out there with any helpful tips?"
Moore has not shared the results of her endoscopy yet. Famous faces with celiac disease include Zooey Deschanel, Elizabeth Hasselbeck and Jennifer Esposito.