Mandy Moore Reveals Frustration of Dining Out With Dietary Restrictions
---
If you've ever tried to enjoy a meal out with friends but found yourself frustrated by the mouthwatering dishes you can no longer eat because of your dietary restrictions, you might be able to relate to Mandy Moore's recent restaurant experience.
Moore posted an Instagram story last night of her dinner with her friend, Chase Weideman, at New York City's Blue Hill restaurant. The video showed the bread basket and butter on the table with the caption "Not the same" and a sad face emoji.
"Our most favorite dish at Blue Hill, the seeded butter that we talk about incessantly," Moore said, panning over the dish of seeded butter and then a dish of plain butter. "I can't have any because it has grains in it and I can't have any grains or gluten."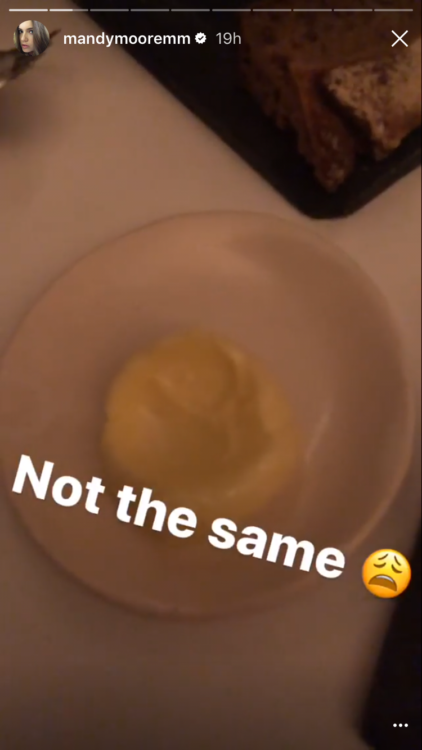 Moore has been documenting her gluten-free diet and possible celiac disease diagnosis on Instagram for the past few months —  in July, she posted an Instagram story showing an image of the Wikipedia page for celiac disease with the caption, "Well, this definitely takes the (now gluten-free) cake for bummer news. Any celiac sufferers out there with any helpful tips?"
On Saturday, she shared a photo in her Instagram story of herself wearing a hospital gown. The caption read, "Grog City. Just had an upper endoscopy to officially see whether or not I have celiac (only way to officially diagnose)… things are looking [OK sign emoji]." She hasn't yet revealed the results of the procedure.
Adopting a gluten-free (or wheat-free, dairy-free or otherwise restricted) diet is often a necessity for those living with food intolerances and allergies, and the benefits to your health often make the sacrifices worth it. But it can still be tough to have to turn down food or request accommodations at restaurants, which may not offer a wide variety of equally-delicious "safe" dishes (or any alternatives at all). It's refreshing to see Moore publicly acknowledge the frustration and disappointment that often goes along with dietary restrictions.
Perhaps restaurants out there can take this as inspiration to get creative with their menus and serve delicious, allergy-friendly dishes that don't leave customers sadly remarking that their meal is "not the same."