When a TV Show Highlighted the 'Princess Problem' for Kids With Disabilities
---
When I first interviewed for my local Disney Store in 2016, "Elena of Avalor" just premiered on Disney Channel. The titular heroine is Disney's first (if not official) Hispanic Disney Princess. As I waited for my interview, a little Latina girl walked in the store and she was immediately drawn to Elena. She gasped and clasped her mouth, and stared at her for a whole minute.
I did everything I could to not cry tears of joy for that girl. That little girl — among thousands of little Latinas — finally has her Disney Princess. Black girls have their Tiana, Middle Eastern girls have Jasmine, and Asian ethnicities can feel honorable with Mulan, along with fellow warrior Raya. Native Americans have Pocahontas. Even Polynesian girls, who are so overlooked in the mainstream media, have Moana. So where is my princess?
Hear me out. Yes, I am blonde like Cinderella, Aurora, Rapunzel, Elsa and Anna. But with five princesses, I am actually not represented.
I am disabled. I have cerebral palsy, the result of a brain bleed at birth, which causes spastic muscles in my limbs and problems with my speaking and eating. I walk with a limp because my muscles are very tight. I naturally forget my right hand, so it is small and shriveled. Some people with cerebral palsy are in a wheelchair. Some people with cerebral palsy can't talk. We have various abilities and differences.
So, where is our disabled princess, Disney?
I'm not just talking about people with cerebral palsy. I'm talking about people with physical and neurological disabilities in general. Technically, we do have a princess in "Sofia the First" with Princess Cassandra, a blind princess who uses Braille to read symbols and puzzles and a walking cane to escape danger in caves and ancient temple. Badass, right? But because she is from a TV show like Elena, she doesn't count as an "official" Disney Princess.
You could say that official or not, Princess Vanellope von Schweetz from the "Wreck-It Ralph" movies counts as a disabled princess with her glitching disorder. All of the three "Descendants" movies have a girl in a wheelchair appear at the royal Auradon Prep. She is merely a background character, but has a brief moment in the first movie. Even though the untitled character is an extra, she is still a nice touch of awareness from Disney.
But why would disabled people get noticed as princesses in the mainstream media? According to GLAAD, just 3.1 percent of scripted broadcast series regular characters on North American television have disabilities — compared to more than 20 percent of the population — and of these characters, 95 percent are played by non-disabled actors. Hollywood has a major movie out called "The Peanut Butter Falcon," which centers around a character and actor with Down syndrome, but it has not received any major love in the award season. Broadway is just now casting actors with disabilities, with one being the first performer in a wheelchair to win a Tony Award last year. While the mainstream is catching up, people with disabilities are still barely thought of on screen or stage. Especially when it comes to pretty, graceful princesses.
Recently, imagine my shock when my friend sent me this on Facebook: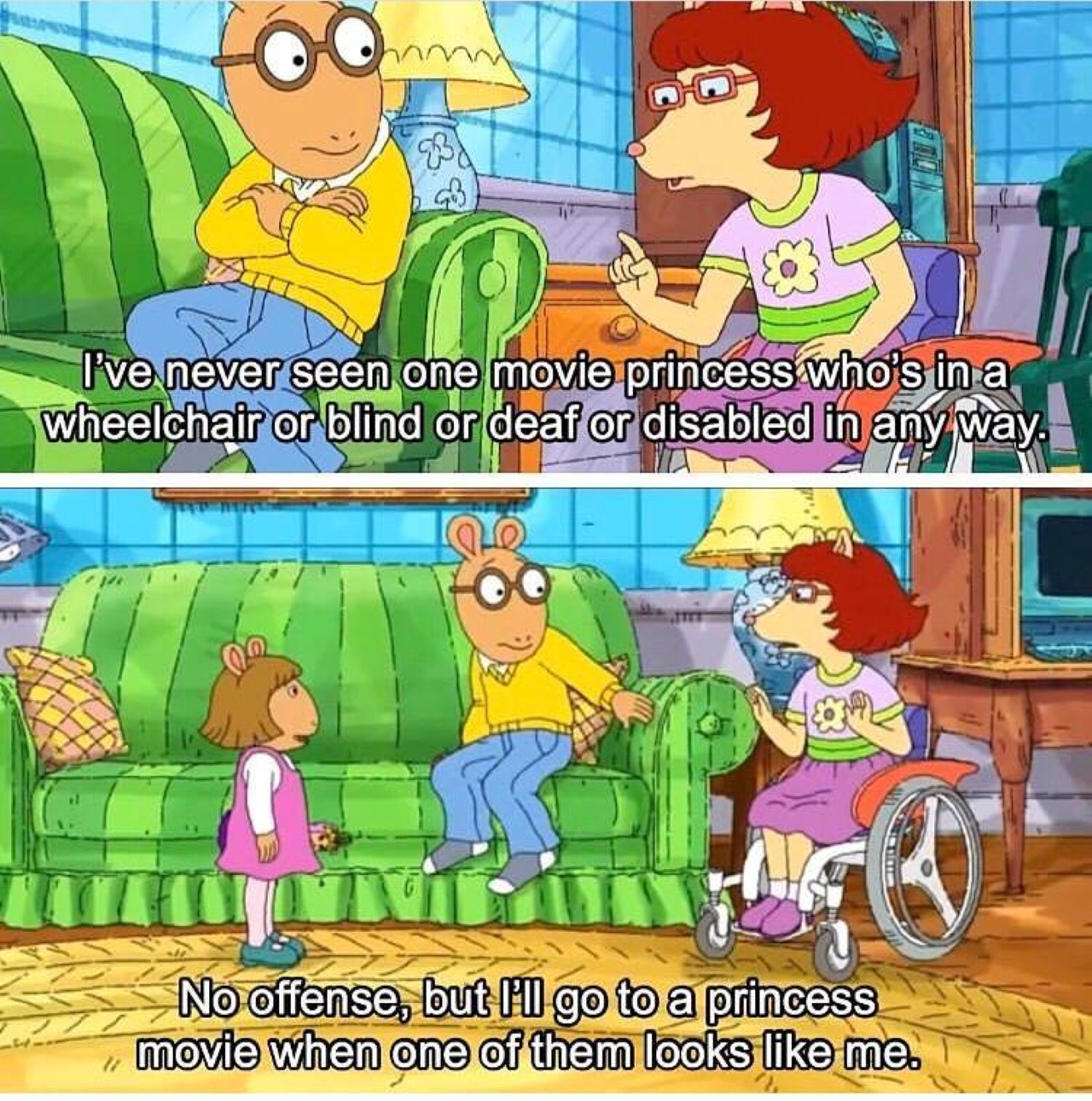 Did another TV show just mention the thought of a disabled princess? Let alone a TV show I grew up watching, (PBS Kids' "Arthur?" With a brand new disabled character for disabled little girls like me? Growing up, I had Marina, a bunny who was legally blind and loved reading with Braille. A newer episode that features a character with Asperger's syndrome soon became viral after its premiere.
I immediately researched this new character Lydia and I was shocked by the context of the quote. This wasn't just a moment in an episode like I assumed. Disabled princesses were the subject of a whole episode! The episode "The Princess Problem" aired on Valentine's Day 2018, so I wonder why this is just now getting attention. I immediately logged onto YouTube and I was blown away and touched by this episode.
Lydia is a substitute basketball teacher for D.W.'s preschool. She invites everyone to learn about basketball, only if they dispose of their princess crowns. Confused about why she doesn't like princesses, D.W. makes Lydia watch an episode of "Princess Platoon," who is — surprise — a picture-perfect princess. She has dreamy, long hair she loves, a stereotypical high-pitched voice, a tiara that makes rainbows pop up, and yes, a passion for singing. Lydia is unfazed and says she will go to a princess movie when one of them "looks like her." D.W. argues that Princess Platoon says, "There is a princess for everyone," including Lydia, who has red hair like Platoon's best friend Princess Prancie.
D.W. tells her best friend Emily about Lydia's lament. Writer Matt Hoverman wisely makes fully-abled Emily come off as ignorant. Emily shares her view, which society teaches today: Disabled girls just can't be princesses. According to Emily, "Princesses are perfect! That's what makes them princesses." She even dismisses real-life princess Ana de Mendoza because merely wearing an eye patch (and her actual achievements) isn't "princessey." But Hoverman and Arthur reassure her that disabled princesses can overcome challenges and be as perfect as "regular" princesses.
"How could a princess escape from one of those towers if she can't walk?" Emily innocently asks at one point.
"Maybe she can make a rainbow ramp through her magic tiara," suggests D.W.
Later at her princess tea party, Emily gets stuck in her moonbounce. D.W. and Lydia, dressed up as de Mendoza and alter ego Princess Professia, get her out of the moonbounce. D.W., wearing her eye patch, successfully ties a rope that is made out of scarves on Lydia's wheelchair. D.W. climbs on the moonbounce to give Emily "the rope" as Lydia pulls Emily to safety. This heroic act teaches Emily that a disabled princess can do as much as — and be as perfect as — any abled princess.
It is no secret that I adore the Disney Princesses. As a little girl, I did see them as perfect. Aurora was graceful. Belle was smart and always had a book in hand. Snow White had animal friends that carried her cape around everywhere. Cinderella has that fairy godmother and god, that carriage. Jasmine was beautiful with every man having eyes for her. Mulan had the perfect dress and makeup. The list goes on. As a child, I admired them for their dreaminess, teaching me that I too could be a Disney Princess with a pretty pink dress like Aurora's and a beautiful castle like Cinderella Castle at Walt Disney World.
I honestly never thought about a disabled princess as a child. I already felt accepted with my blonde hair and the mutual love of pink that I shared with Aurora and Cinderella. But, as I grew up with the lineup, it slowly became more diverse with Tiana, Elena, Moana and possibly Raya coming up. I now want to see a disabled girl like me become a part of the royal narrative. Hopefully, as an actress, I will be that voice of the future disabled princess, just like Ming-Na Wen (Mulan) and Auli'l Cravalho (Moana). That's actually my life dream now.
For now, I just can't believe we have a show where the probability of a disabled princess is the main focus of an episode. I can't thank Hoverman and the crew of "Arthur" enough for thinking of little disabled girls and wondering why they aren't being seen as princesses. One question can grow into a discussion, and that discussion can grow into an idea, and that idea can grow into change! How much I needed this episode as a little girl! It feels great that girls with disabilities will watch this episode and feel empowered that they are in fact princesses.
At the end of the episode, Emily draws a picture of D.W. and Lydia as disabled princesses and tapes the picture on her princess lunchbox. "We are on a lunch box," D.W. beams, reminding me of that proud little girl at the Disney Store.
"I can't wait for the movie!" Lydia smiles.
Me too, Lydia. Me too.
Originally published: January 20, 2020