50 Lessons I've Learned on Life and Disability at 50
---
For the past year I've been talking ad nauseam about turning 50. I'm not sure if it's because the number seems so unreal to me that I need the constant reminder, or if by saying it out loud I'm hoping others will respond with shock and amazement and give me the, "Really? You don't look it!" obligatory compliment I'm clearly seeking. Probably both.
I know, "50 is the new 30." "Age is just a number…" blah blah blah. I wish that at 50 I could tell you (and myself) that I am wise, no longer superficial, and above all of the BS and labels society bestows on aging women and especially aging women with disabilities, but well… not so much.
I wish I could say that after losing both my parents unexpectedly and living for 50 years with a progressive neuromuscular disorder that slowly nips away at my independence and everyday abilities, that I've evolved and wake up feeling grateful each day for everything I do have. Hmm, sometimes.
The truth is that I've learned life is hard and doesn't get any easier. It's the knowledge and acceptance of this fact, in combination with one's ability to adapt and work through life's inevitable challenges, that comes easier with years of practice.
So, in honor of my upcoming birthday, here are 50 lessons I've learned about life, being a woman, and living with a disability.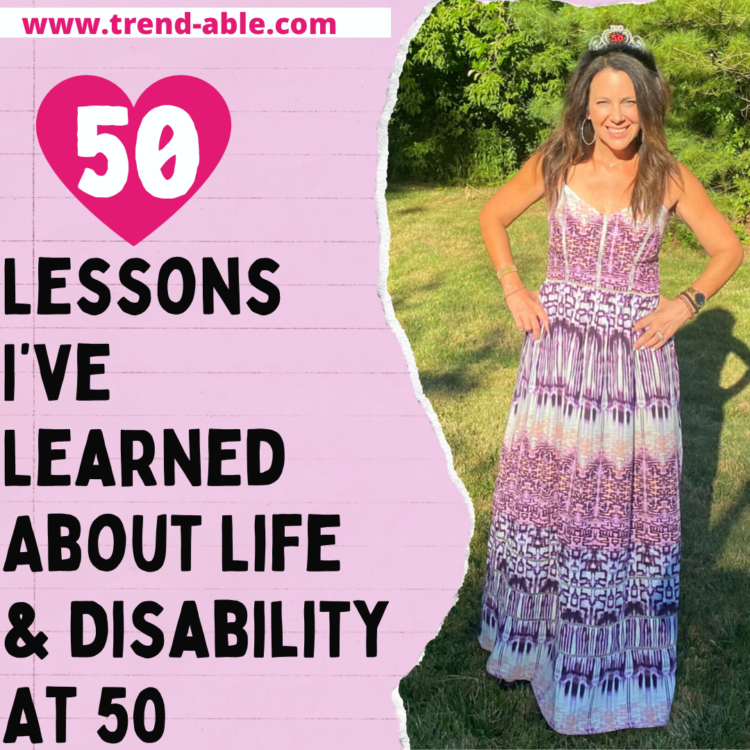 Don't take things personally – It's never about you.
Spend time with people who accept you and others. Those mean girls who didn't let you sit with them in the lunchroom are likely replaced by bitter old women who don't invite others to play in their mahjong games at the retirement center.
You can never have too many reading glasses.
The VIP skip to the front of the line pass is usually worth it.
Most men prefer curvy over skinny and don't notice cellulite. Stop obsessing!
Asking for help is a sign of strength, never weakness.
Your thoughts are only thoughts, not facts. Question and challenge the negative ones.
Botox works. Start early and you'll need it less.
Everyone has something! It's how we deal with our somethings that matters most.
If people regularly post about how great their spouses and lives are, they're probably miserable.
When your older teen says he's "going to the park," he's probably going to smoke weed.
Everyone isn't staring at you or even noticing your imperfections, they're thinking about their own stuff, or what they're gonna eat for dinner.
If the shoe fits, buy 10 pairs.
Everything is "Figureoutable" (credit to Marie Forleo). Be creative and look for alternative routes.
Your worth is not defined by a number on the scale. Give yourself a range.
Tell and show people you appreciate them. This is the secret to a happy relationship.
Give other women compliments, it makes them feel good and takes nothing away from you.
Show legs or boobs — never both at the same time.
As bad as it seems today, tomorrow is always better.
Nobody has extra time — you make room in your life for what is important.
To be encouraged, look at how far you've come. To be discouraged, look at how far you have to go.
If we all threw our problems in a pile and saw everyone else's, we'd grab ours back.
Don't audit life. Show up and make the most of it now.
Get rid of anything that isn't useful, beautiful or joyful.
Envy is a waste of time.
You already have all you need.
Wear sunscreen always. A tan isn't worth age spots or cancer.
Take a deep breath. It calms the mind and is not just for Yogis.
If you don't ask, you don't get.
Don't ask, "Why me?" Ask, "Why not me?"
Nobody is exempt from the challenges of life. It's how you deal with those challenges that matters.
Never get on the scale after eating takeout.
No matter how much organic kale you eat, you will eventually die. So, drink and enjoy a Diet Coke (in moderation) if you want to.
Things are never just black or white. Look for the gray.
Your disability is not an excuse. Don't let it be.
Sexy is a state of mind, not the clothes or makeup you wear.
Exercise even when you don't want to. You will feel great when it's over.
Take feedback only from those who have earned the right to give it to you.
Take out the trash. Make your bed. Do the dishes. Pick up the things. Do your homework. Do what you say you're gonna do. Discipline will give you immense freedom and comfort.
You can choose to silence or leave a group text.
When you get tired, learn to rest — not to quit.
When you hear the word "should" in your head, question it… always.
When we speak openly about our challenges, it gives others the courage to do the same.
Your marriage will not be a fairy tale, nor will any other relationship you have. Caring for others (and yourself) will always be hard but worthy work.
You have to be your own advocate.
No matter what life throws at you, get up, get dressed, and get going.
You really can't party like you used to. Don't try.
If you always focus on what you've lost, you will lose sight of what you have.
You don't have to finish a book (or anything) you don't like.
Start living your bucket list today because anything can happen tomorrow, even a worldwide pandemic!