The Note That Kept Me Going When I Was Discouraged by My Son's Rare Brain Condition
---
There are moments that happen in our lives I like to refer to as "blue blessings." They happen when we are really down and heavy-hearted. They seem to come out of the blue and whisper that it's going to be OK. They surprise us with their simplicity and the ability to touch our hearts, encouraging us to keep going. They can let us know that somehow what we face has purpose and meaning.
It's been just over a year since my son, Luke, had brain surgery for Chiari malformation. He has come so far, and I think it's given him a love and compassion for others in ways that continue to surprise me. I have had so many tell me how special he is and inspiring to them.
Recently, I learned a co-worker who battled cancer before and beat it recently discovered it had returned. My heart broke for her. Luke decided to make a large card for her. He spent hours on it, drawing and coloring. He would not let me help in any way.
When he was done, we packaged it up and also sent with it a "prayer bear." I included a note explaining how Luke and I had prayed over it and when she hugged it close, we prayed she would feel our love and prayers of healing and comfort for her.
Lately, I have been discouraged. Luke has had some health issues come up that have burdened my heart with worry. Because he has an incurable brain condition, he can never have just a normal headache or a typical stomach ache. As his mom, it will always cause me to wonder if it is something more. It will cause me to question if I am doing the right thing and making the right decision for him on how to treat it or what doctor we see.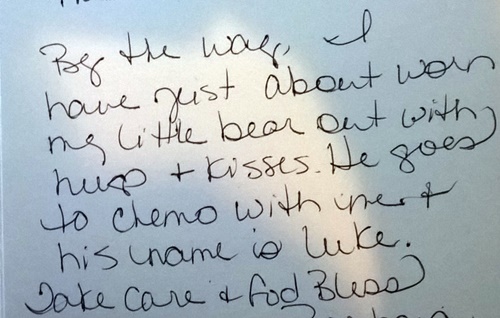 So the sweet card that we received this past week from my co-worker came out of the blue, and the words she wrote at the end brought tears to my eyes and to my little guy's as well:
"I have just about worn my little bear out with hugs and kisses. He goes to chemo with me and his name is Luke."
Sometimes we just need to know there can be something more to the difficult times we face. We need to be reminded that we make a difference, that we matter. Sometimes it comes to us as "blue blessings."
The Mighty is asking the following: Tell us the story around a note or card you saved because of its significance. Send a photo of the note or card as well. If you'd like to participate, please send a blog post to community@themighty.com. Please include a photo for the piece, a photo of yourself and 1-2 sentence bio. Check out our Submit a Story page for more about our submission guidelines.