To the Rainbow Baby I Was Afraid to Love
---
Little One,
You're not so little anymore. You're finding your way around this house, running into everything, and filling the air with the funniest little growl sounds.
You're constantly covered in bumps and bruises, smiles and kisses. You are so loved.
But, I'll be honest, I was afraid to love you. When I learned of your presence in the womb that held your brother Ezra, I was flooded with conflicting emotions of joy, grief, and fear. We were moving on from our loss, accepting the void in our family but asking God to fill it with another pair of precious wrinkly feet.
I never felt sure that you'd find your way into my arms. I took medicine, I rested, I prayed like I've never prayed before. And I trusted… with bated breath and a heart that could barely stand it… I trusted.
"God, make him kick." I pleaded on many desperate nights after a day or two of you taking a vacation from assuring me of your thriving inside of me. And you would give the teensiest little punch and go back to lounging in the comfort of your mommy. Growing into a world-ready babe is hard work.
The doctor gave your big body the boot on December 5, 2014. I told your daddy he could go get some pizza while we waited for you to get ready. But you decided you were finally gonna get a move on, and I had to call him to come back before his first bite.
At 12:30 p.m., I felt like I finally breathed as they put you in my arms and I heard the sweetest cry I've ever heard. As soon as they put you on my chest, you grabbed my finger.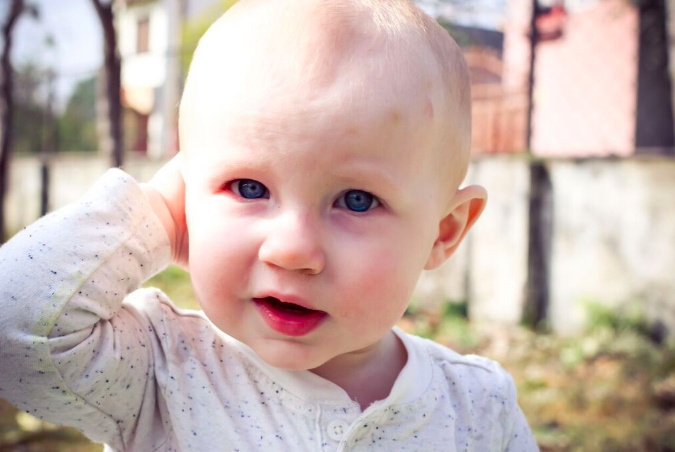 Though you're the tangible source of my healing, I can't give you all the credit. Long before you were waking me up night after night, I believe God made room in my heart for the little guy with the giant hands that were used to play with my hair while taking his feeds.
Dream big, love big, little one. Thanks for filling my arms and mending my heart.
With more love than you'll ever know,
Mommy
Follow this journey on Grace to Go.