The Family Photo You Can't Prepare For
---
This photograph means the world to me. This photograph is the first, the last and the only family photo that we have. It can never be replicated, and those emotions we depict can never be truly explained.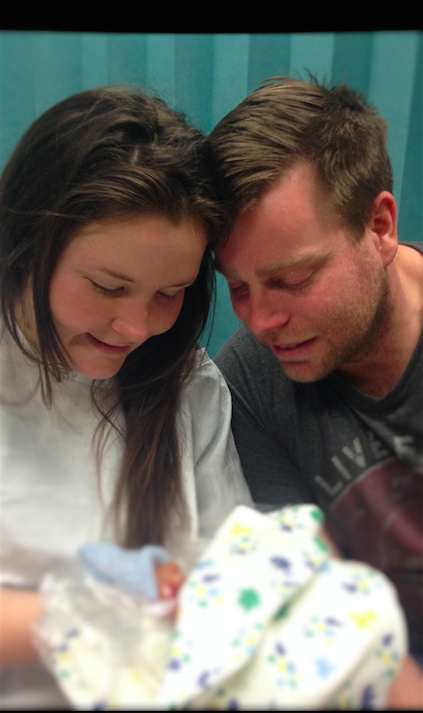 Our son, Sebastian, is pictured with us. He was born sleeping at 20 weeks gestation. He was our firstborn, our much wanted and loved son. This photo was taken on the evening I delivered him in August 2015. He died from a lethal form of skeletal dysplasia, more specifically type 2 osteogenesis imperfecta. His body was so much smaller than a baby for his gestation; his legs were too short for me to even feel his first kicks.
His skin and organs were underdeveloped and tore just from being touched. He was brought into the world with every bone in his body broken. His limbs were bowed as a result of constant fractures and healing within the womb. He was one very sick and weak boy. We had been warned a week earlier that he was expected to die in utero at any time, and while we found this news confronting and devastating to hear, we prepared ourselves for the long journey ahead of us.
I am not sharing this story for you to feel sorry for us; I am sharing it to raise awareness about the men and women who walk among us in our community. The one in four Australian couples who also have their one and only family photo; the one in four women in Australia (according to a 2012 Sydney Morning Herald article) who experience a miscarriage or who deliver a still baby.
These men and women are fighters.
For every baby they hear cry in the café, for every baby they see in catalogs, for every pregnant woman they see waddle past them — a piece of their heart breaks. Whether it's a reminder of the cries they never heard, the clothes they were never able to buy or for the gestational age they never arrived at, their heart aches. There are no words one can say to bereaving parents; nothing can take away the heartache that haunts them for the rest of their lives. The only thing you can do is join with them, help fight their battles and when it gets too hard, too sad and you think they should be over it — think about their first, second and third birthdays they will never get to celebrate. The only occasion they have to remember their baby with is the day they delivered their sleeping angel.
It is far too easy to tell bereaving parents to "get over it" or "you can have another one," but these words hurt. These words don't acknowledge the loss that has been experienced, the years of infertility and the uncertainty as to whether future pregnancies are viable. Bereaved parents will never replace their angel baby; they want that baby.
Ever since joining the team of bereaved parents, I've realized we are not alone in this, and that no mother, father or grandparents should ever have to be alone in this grief either. For too long this topic has been taboo, and bereaved parents have been forced to hide their emotions. By why? There is a lot I've learned from bereaved parents, and there is a lot that society can learn, too. Please remember, it's OK to talk about the child who has died, celebrate their anniversaries and refer to them by their name (not "fetus," as most medical professionals prefer). It's OK to lift others up when they are down and be the shoulder for them to cry on. This is something I have experienced from complete strangers since losing Sebastian, and it's been the most comforting thing I have ever experienced within my community.
We know all too well that not everyone will be supportive, and not everyone will understand. This is why we can only share with you our family photo that has been edited, where our most prized creation had to be blurred. We're afraid of how people will react; we're too afraid of him becoming a focus of interest for people who have not seen a baby at that gestational age or with his physical deformities. We have done it to protect ourselves and our son. That is how taboo this topic is, and that is why I am speaking out this October. It's the awareness month for two things close to our hearts that Sebastian was affected by – pregnancy and infant loss, as well as dwarfism (a form of skeletal dysplasia).
So, to the moms and dads who have lost their baby, and to the grandparents who have lost their grandchild, you are not alone. Grieve in a way that gets you through it. The pain will not go away, but you will learn how to deal with it better. Be proud of your angel, the baby you wanted, loved and created. We must be brave and insist that people recognize our babies and say their names.
Follow this journey on Words That Start With 'S.'
The Mighty is asking the following: Share a photo with us and the bigger story behind it. What don't we see in that photo? If you'd like to participate, please send a blog post to community@themighty.com. Please include a photo for the piece, a photo of yourself and 1-2 sentence bio. Check out our Share Your Story page for more about our submission guidelines.
Originally published: October 9, 2015