13 Truths People Affected by Childhood Cancer Wish Others Knew
---
September is National Childhood Cancer Awareness Month. There are several types of childhood cancer, and it is the leading cause of death by disease in children under the age of 15 in the U.S. These dire statistics indicate the need for increased awareness and funds, and are a big reason to "go gold" this month.
The Mighty collaborated with FCancer to ask our Facebook communities, "What's one truth you wish others understood about pediatric cancer?" Their answers reflect the devastation that often comes with diagnosis and the difficulties of dealing with the harsh effects of treatment.
1. "Cancer is killing our future generations. Only 3-4 percent of fundraising goes into research for children's cancer. My child died, but we can save so many more with a bigger chunk of the research dollar pie." — Lynn F.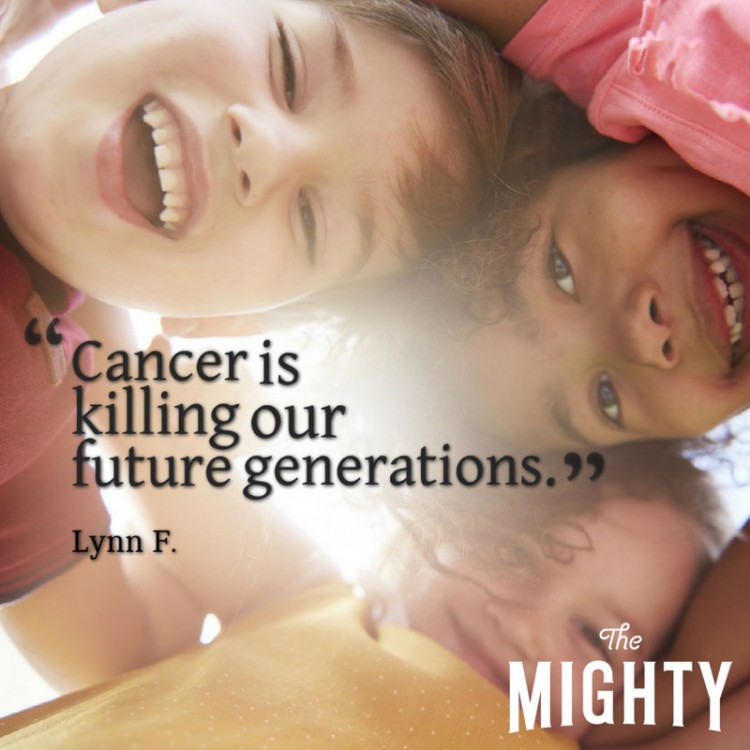 2. "When cancer steals your child, it can also steal your marriage. You look at life completely different — those little tiny things we fight and argue about, they don't matter anymore, because you just watched your child take his last breath." — Gabrielle L.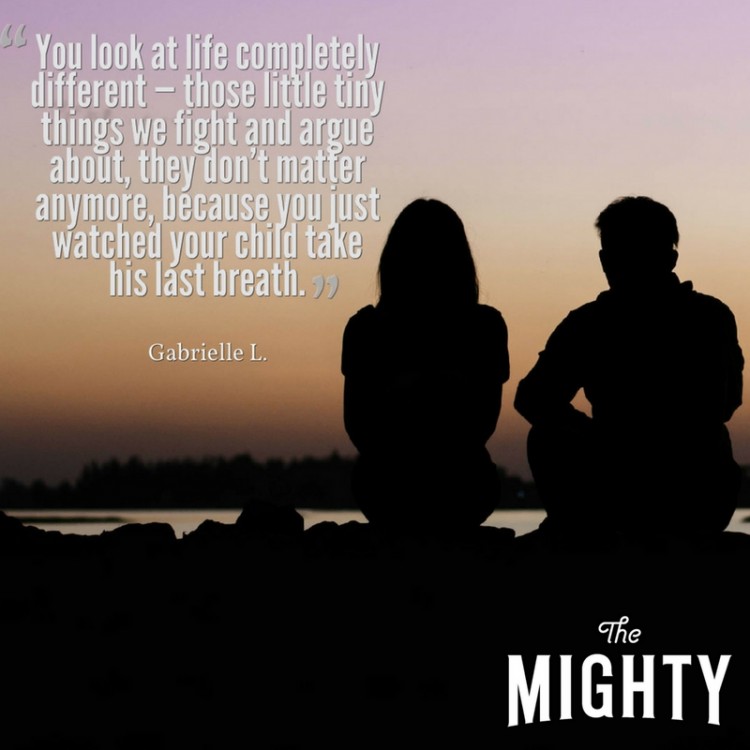 3. "As devastating as it is, you will learn more from it than any other life experience. It will make you tough as hell, and nothing else will ever scare you again. We need more funding for research, and we also need a stronger focus on the quality of life that these kids are experiencing both on and off treatment." — Amber B.
4. "If your child survives, the fact is that long-term effects and possible secondary cancers are a daily concern." –Melanie S.
5. "The truth about childhood cancer is that it can find any child! No matter how healthy a child is, no child is immune to childhood cancer. Know the signs — early detection is important." — Janine W.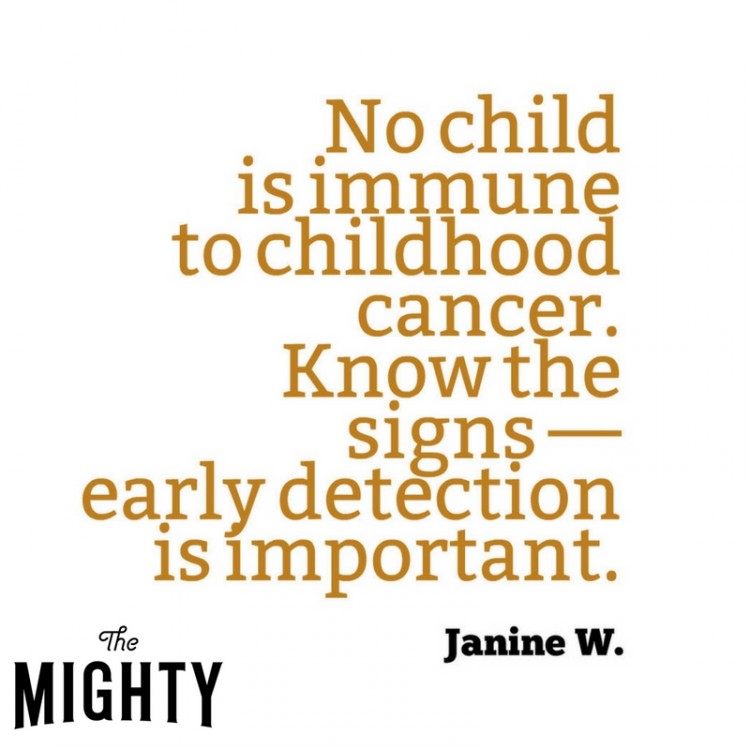 6. "It affects the whole family, not just the ill child. Be strong for each other and help siblings understand and enjoy their lives as well. If you're lucky, you will all survive and be stronger for it. However, the worry and fear never goes away." — Tim R.
7. "One in 5 children who are diagnosed do not make it. The odds could be greatly improved if more attention and more resources were given to research and fight." — Heather C.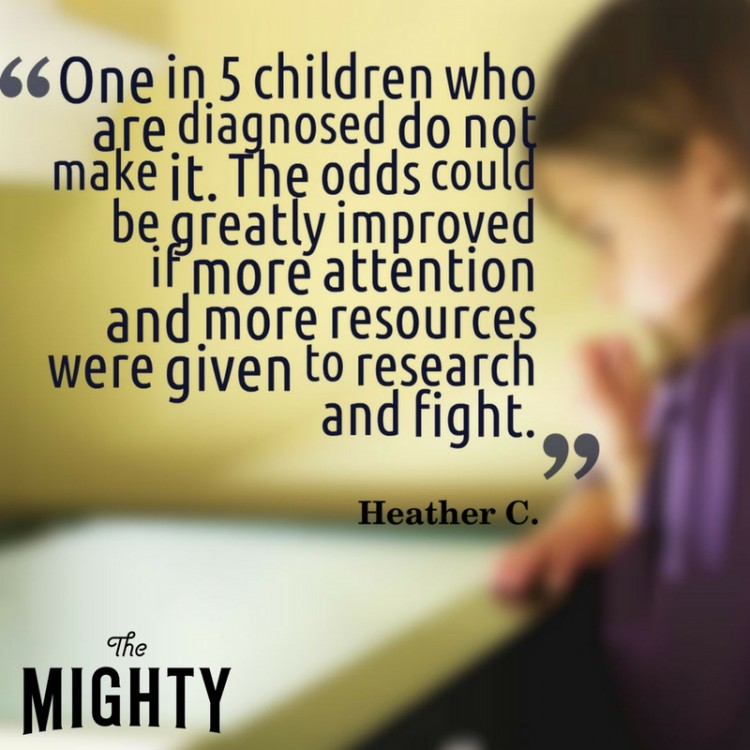 8. "No matter how healthy or strong your child is, it can put a stranglehold on them without notice." — Rick M.
9. "The worry doesn't stop the day they finish chemotherapy. You then have to deal with the side effects of having chemo/radiation at such a young age." — Lisa H.
10. "As a parent, there wasn't anything you did that caused your child get sick. Cancer is not your fault." — Blenda F.
11. "More children are being diagnosed with cancer today than ever. We have to be better, do better, advocate more, speak more, raise hell and raise money for these children." — Tina W.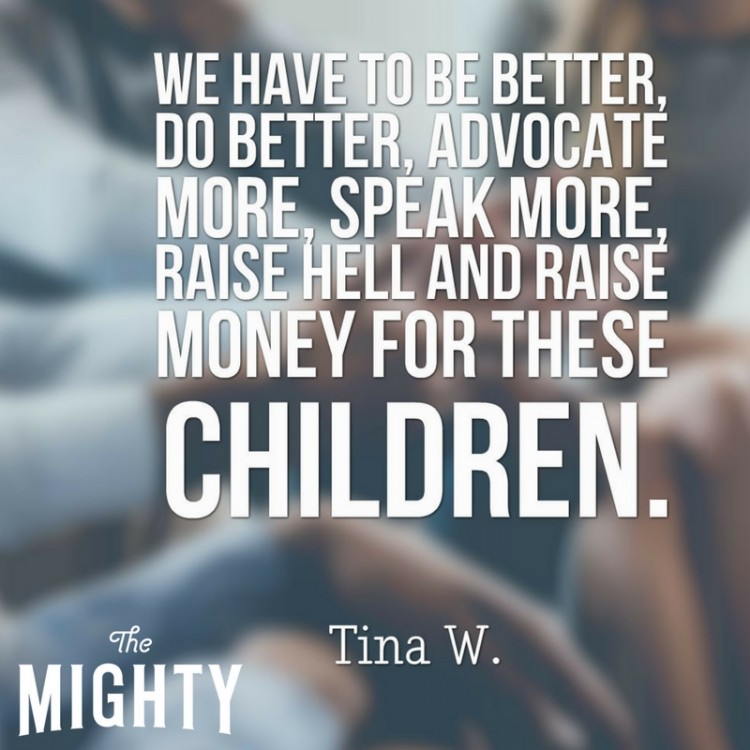 12. "The chemo and radiation can do more damage to them than the cancer itself." — Candace B.
13. "F*ck cancer." — Jared S.
The Mighty, in partnership with Fuck Cancer, is asking the following: Write a letter to yourself in regards to a cancer diagnosis. What would you say or wish someone had told you? Find out how to email us a story submission here.
Originally published: September 28, 2016