18 Secrets of People Who Are in a Relationship and Chronically Ill
---
A chronic illness diagnosis doesn't only affect the person experiencing the illness — it can also change the life of the person he or she is in a relationship with, as well as the dynamics of the relationship itself. As two people navigate one partner's chronic illness, their love, communication and commitment may be tested — for better or worse.
To someone who's partner has just been diagnosed, or to a person just entering a relationship with a chronic illness patient, the uncharted waters may seem daunting. To learn more, we asked our Mighty readers with chronic illness to reveal the most rewarding, challenging and maybe even unspoken parts of being in a relationship while chronically ill. Their answers are honest and raw, but one truth remains: everyone deserves to be loved.
Here's what they told us:
1. "Chronic illness will test the vow 'in sickness and in health' and can either make or break a relationship. To grow despite the burden of chronic illness takes nurturing each other even when the care seems lopsided." — Danielle Myers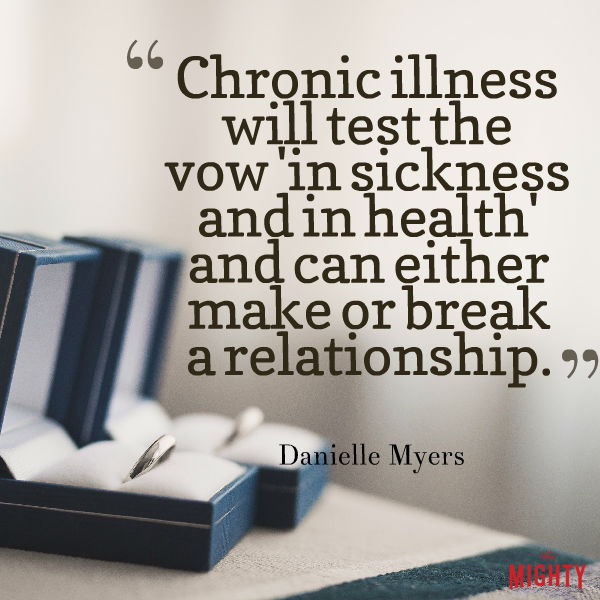 2. "Being in a relationship while suffering from chronic illnesses really shows how much that person cares. Even in friendships. With chronic illnesses, it is hard to plan ahead and follow through on plans, even if you really want to do it. You never know when you will have a bad day or when a good day will go bad. It takes a special person to truly understand and be OK with how unpredictable we may be." — Erin Ann
3. "It's like you have all the stresses of a regular relationship — then multiply that by 100! Everything is intensified, magnified… And I need friends and family, because a spouse cannot be everything to you. You need to be able to vent and talk to others who understand, too." — Christina Marroquin-Mauricio
4. "Sex life? What's that? Chronic illness will shove intimacy to the back burner. It's hard to want sex when you feel like a semi has not only hit you but dragged you behind it a few miles… on a regular basis." — Selena Marie Wilson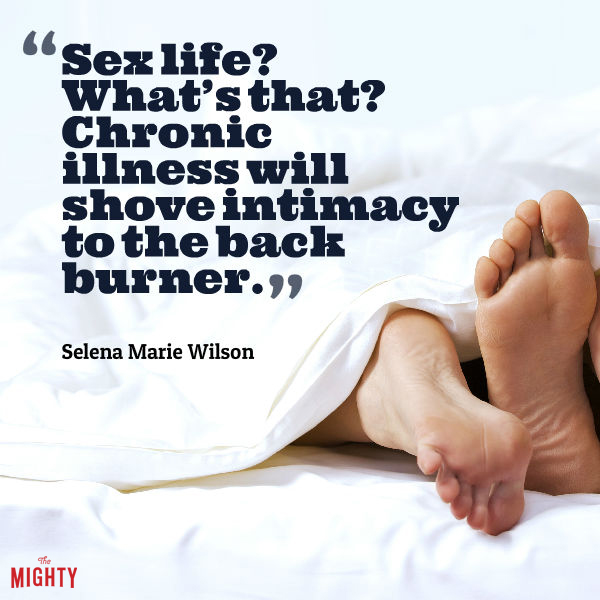 5. "I wish people knew that when we make it out to an event or a gathering with friends, it requires planning together and pushing through fatigue and pain. If you see us out, our smiles are a little brighter because we've been able to communicate and understand each other. We hold each other's hands a little tighter because we know how lucky we are to be together and experience another day." — Ashanthi De Silva
6. "No matter how many times he tells me he loves me, I worry one day I won't be adequate enough. I worry I will hurt or disappoint him. I worry I will get worse and even though he says he understands, I fear one day he won't." — Tara Lynn Knutsen
7. "I've been with my boyfriend three years and only got sick last year; however, I no longer feel beautiful. I love hearing him say it. I need to hear him call me beautiful and still compliment me like he did before I got sick!" — Michelle Rachel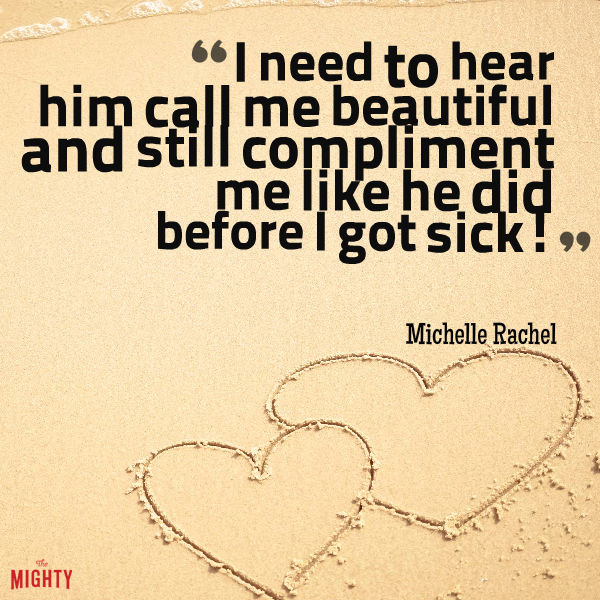 8. "It's not just about 'being supportive' in the abstract sense. I've had to ask my husband to help me get off of the toilet, to put on my shoes for me, to drive me hours to appointments. Saying you are supportive is hugely different than being willing to deal with the ins and outs of being caregiver to your spouse." — Danielle Kristene Clapham
9. "I love having a partner who doesn't think of every visit as 'a doctor's appointment,' but understands that a re-check can be anything from a casual 20-minute conversation with my doctor to a 4+ hour-long diagnostic procedure. He adjusts his support level for each visit, knowing when I can handle it and offering extra help when needed." — Sarah Moore
10. "I wish people knew plans cannot always be kept. My illness does not care if you have made dinner reservations or planned a weekend away — it will still flair up!" — Patricia Chamberlain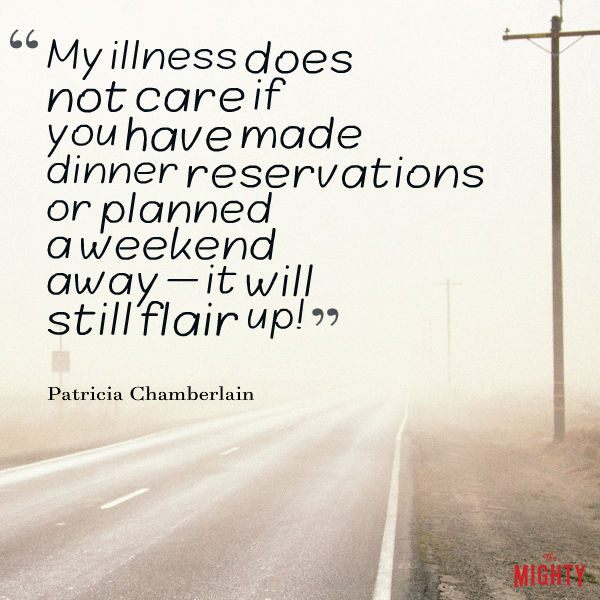 11. "My partner asked a lot of questions and made it a point to learn what my needs were in the beginning… I'd want people to know that we want people to ask. It's hard to volunteer information, but sometimes it's a lot easier when someone asks. I appreciate having a dialogue and feeling like the other person cares about being there for me despite my illness." — Ariel Nicole
12. "It's amazing when your partner becomes your advocate! I've had gastrointestinal pain and problems since middle school, but I didn't get a diagnosis until I was in the first year or two of dating my husband almost six years ago. He was there with me, learning from me and with me, and now when I don't have it in me to explain to friends why I can't join in, or why I can't eat something or have to leave early, he speaks up for me. He is also my advocate in that on days when my body is telling me I need a break." — Jessie O'Brien
13. "Underneath it all, I am still me. Chronic illness does not define the person. Someone dealing with chronic illness still needs and deserves love and affection." — Kelcey Wells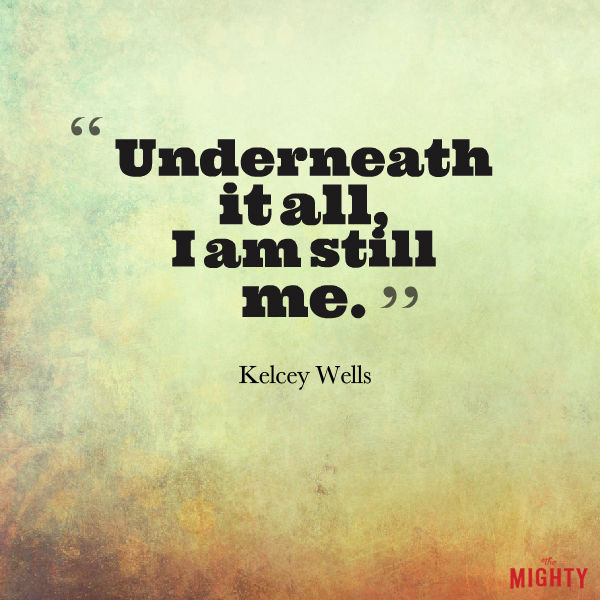 14. "[I feel] so much guilt about not being able to do things or go places. I miss family and friend functions and therefore sometimes so does he. He is a thousand times supportive, but sometimes I wish we could have a 'normal' relationship where mobility is not a factor and I could be a 'normal' girlfriend." — Elly Hartley
15. "I think it's important for others to realize how hard it is to watch our loved ones struggle with our illness as well. They feel just as helpless as we do as there isn't much they can do to help us except to be there with us through it all. That loss of control hits both parties hard." — Kat Bradley
16. "Patience is so important. You both have to learn how to manage this thing together. Try to always be open about what you are actually going through, so your partner understands the real you." — Jessica Kelley Moye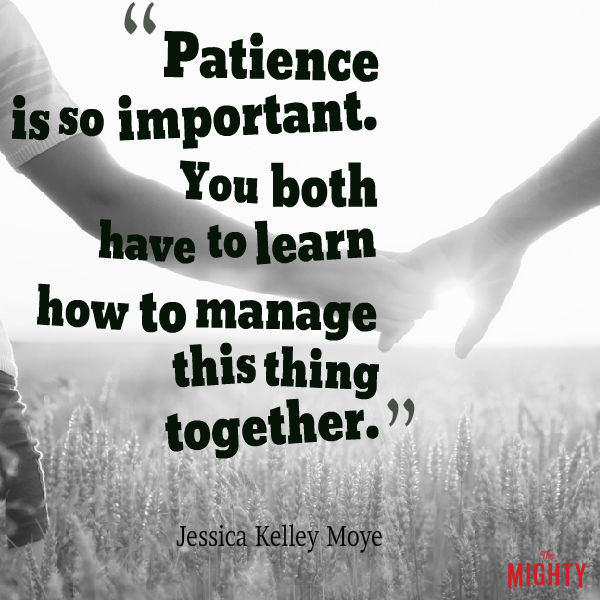 17. "For me, it's trying to balance having a partner, and having to call on them to be a caretaker. I always fear I'm not doing my part and being an equal in my relationship." — Brigette McKern
18. "The hard part is when you talk to your significant other about what symptoms you're having and they think you're joking with them. Taking the time to really educate yourself as a partner is critical for understanding." — Nikky Lynch
If you have a chronic illness, what's one thing you wish people knew about what it's like to be in a relationship while dealing with your illness? Let us know in the comments.