20 Books Recommended by People With Chronic Illness
---
On a day when chronic illness symptoms are particularly tough, curling up with a good book can be a welcome source of distraction, or even inspiration. Whether it's a story that transports you to another world or a practical guide to managing your illness, the right book can provide a moment of relief.
We asked our Facebook community with chronic illnesses to recommend books they love to read on rough days, and they came through with an eclectic variety, from children's books, fantasy novels, and thrillers to memoirs and nonfiction that provides insight into the chronic illness experience. Consider these titles next time you head to your local or online bookstore.
Here's what they told us:
1. "On my hard days I usually need to laugh and focus on something outside of what I am going through. One book that will definitely do that is 'Sh*t My Dad Says.' Yes, it can be slightly inappropriate, but I've never claimed to be appropriate, and it helped distract me from the pain and stress of my health issues!" — Tabitha H.
2. "'The Highly Sensitive Person' by Elaine N. Aron. Sometimes it's the only thing that gets me through." — Alison T.
3. "On hard days it is laughter I need. I love the 'Stephanie Plum' series by Janet Evanovich. She keeps me laughing through my pain." — Lilli-ann R.
4. "'The Little Engine That Could' by Watty Piper, which is originally based on a sermon by the Rev. Charles S. Wing. Very inspirational for anyone that has a chronic illness or even their caregivers who have one of the hardest jobs but most rewarding jobs ever. 'There are many things that we can do, if only we try. If only we can say, 'I think I can.'" — Cendy W.
5. "'How to Be Sick' and 'How to Live Well with Chronic Pain and Illness' by Toni Bernhard. She writes from her own experiences and offers practical help for coping with the ups and downs of chronic illness. There is a lot of humor in her carefully chosen words!" — Zoann M.
6. "'Lord of the Rings,' hands down. Escape into Middle-earth!" — Selena W.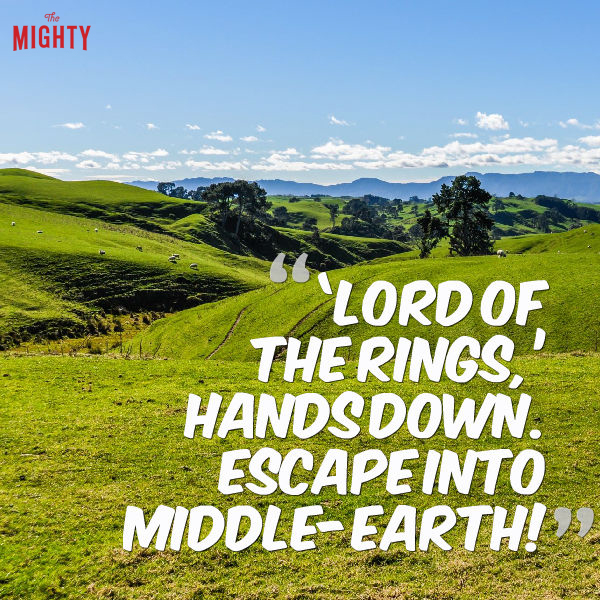 7. "I would recommend something that helps you forget you're ill. Something that keeps your mind busy. A psychological thriller. The best author to keep you on the edge is Jeffrey Deaver." — Andreea C.
8. "Dean Koontz's 'Odd Thomas' series is great cross-genre writing: action/hero/supernatural/thriller with an innate strongly moral and religious basis — the onslaught of evil and the efforts of goodness to thwart it. I'd never read any of Koontz's work and never imagined I would, but these books are great reads and I recommend them highly." — Bob T.
9. "It's a Bible study, but 'Jesus Today' by Sarah Young. It's the same author as the more well-known 'Jesus Calling,' but this one was written by her while she was battling chronic Lyme disease. For anyone who is a Christian with a chronic illness it is so awesome. So relatable!" — Laura M.
10. "I love the 'Parasol Protectorate' series by Gail Carriger — lighthearted steampunk fun! Always cheers me up!" — Kris R.
11. "'How To Heal Yourself When No One Else Can' by Amy B. Sher." — Kelcey W.
12. "I think anything that takes one's mind off their illness would be a good book. 'Getting in Touch With Your Inner Bitch' by Elizabeth Hilts or 'That Takes Ovaries!' by Rivka Solomon are a couple of my favorites for the ladies." — Andrea C.
13. "'You're Here For a Reason' by Nancy Tillman is wonderful book I read on my rough days. It's an inspirational reminder that everyone has a role in this world and each role is different. But all the roles are important!" — Meghan B.
14. "'The Hunger Games' by Suzanne Collins was awesome for me. For such a big book, the language is actually quite simple and I enjoyed getting caught up in guessing what would happen next. I read the second book when I was at the hospital for rehab (for chronic pain) and that was what really helped me deal with the pain. I read the second and third books in those two weeks." — Kiersten D.
15. "When I was bedridden for months on end I found 'How to Get a Grip' by Matthew Kimberley helped get me up and about and pushing boundaries a little. After feeling so sh*tty for so long, I was resigned to it and scared to try any more. While I couldn't do much, the book helped me feel empowered and achieve some stuff I'd thought impossible." — Tamsin H.
16. "'I recommend 'Crazy Sexy Cancer Tips' by Kris Carr. A lot of the tips can be used in other chronic illness areas. Plus there are funny stories." — Emily H.
17. "'The Sound of a Wild Snail Eating' by Elisabeth Tova Bailey. Great book on the life of a bedridden lady who took up the study of snails and became an expert. Very unusual book." — Simon I.
18. "'Carry On, Warrior' by Glennon Doyle. While it's not specific to chronic illness in the least bit, it talks about the hardships of life, how to take them on and how it's OK to have bad days/weeks/months. The stories she shares are heart-touching and will make you laugh and cry. This is a book I read when I think I can't keep up my life anymore; this book reminds me I can." — Katherine M.
19. "I wrote my memoir 'Love Sick' because there were no other women out there sharing their stories dealing with multiple sclerosis, dating and holding on to your dreams. I felt so alone when I was diagnosed, but hearing from readers now I know I never was." — Cory M.
20. "On my difficult days I want to forget my pain, so I would recommend any Sherrilyn Kenyon book because her writing is so masterful that it takes you out of your world and into hers." — Stephanie R.
If you have a chronic illness, what books would you recommend others with chronic illness read on tough days? Let us know in the comments.
Getty image by Fotografía de eLuVe
Originally published: March 10, 2016