4 Ways Gymnastics Prepared Me for Life With Chronic Illness
---
At 14 I was at the height of my gymnastics career. I trained 30-plus hours a week and I loved every minute of it. I continued on in less aggressive degrees of the sport until I was 19, and I also dabbled in the slightly less intensive sport of springboard diving. To say I was a devout athlete is a gross understatement.
I began competing in one form or another when I was 4 years old. I spent a good portion of 15 years in gyms and pools.
I got sick when I was 17. Now I spend my time in clinics and hospital beds.
I've learned a lot of lessons over the years. Some I've learned twice from what I consider the two most polar opposite situations in the universe. I believe gymnastics prepared me for this by teaching me…
1. To practice self-love and acceptance: As a gymnast, I learned to love my body for what it was capable of. I was never angry with the number on the scale or anything else about my physical appearance because my strong body was capable of jaw-dropping skills. It's impossible to compete in front of hundreds of eyes if you're not confident in your body and its abilities.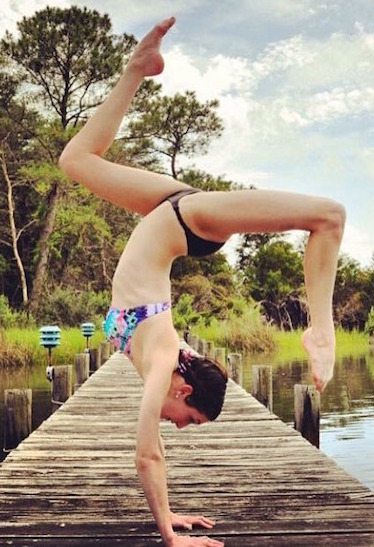 As my illness has progressed, I've started collecting scars and tubes and lines. I've lost weight and all my muscle mass, but never my confidence. I've essentially faded into a shell of my former self. And while I don't like it, I've accepted that my body is in the fight of its life and it's doing a lot of things to try to keep me safe. I've learned to accept that the foreign objects sticking out of me are now a part of me, and in order for them to do their job of keeping me alive, I have had to learn to love them.
When most people watch high-level gymnastics, they cringe and ask, "Doesn't that hurt her?" It's funny because that's a lot like living with chronic illness. And although I will never be a gymnast again, I can still practice this love, acceptance and confidence for my incredible body as it endures things most would never imagine being able to live through.
2. To learn patience and perseverance: Anyone who has ever played any sort of sport can tell you they've learned patience and perseverance. The perseverance it takes to be a gymnast is intense stuff. When you think about it, what kind of person straddles a 4-inch block of wood or face-plants on the floor and jumps right up and tries again? It also takes patience building muscle and learning the correct way to perform a certain skill. This is invaluable in living with chronic illness. Rushing yourself in your healing will be detrimental to you.
3. To listen: Listen to your coaches, teammates, your parents, doctors and nurses. They want to see you succeed — in competition, life and health. And they usually know what they're talking about.
4. To visualize and work for a better outcome: During practice, our coaches used to have us close our eyes and visualize us doing a certain skill or routine. What does it feel like? What does it look like? I've found myself using this technique over and over again when it comes to accepting new medical devices, seeing new doctors or visualizing how I'm going to get through my day with my life-limiting symptoms.
I miss every part about being an athlete. I miss the routine and the way it made me feel alive. I miss the bond I shared with my coaches and teammates, and I miss the adrenaline rush of learning new skills. I miss seeing the look on people's faces when they saw what my body was capable of.
I don't think I'll see the inside of a gym for quite sometime, and I don't know if I will ever compete again. But I take solace in the fact that my gymnast's heart and athlete's body have set me up for a successful life despite living with chronic illness.
Follow this journey on Mindless Rants of an Accidental Paleo.
The Mighty is asking the following: Create a list-style story of your choice in regards to disability, disease or illness. It can be lighthearted and funny or more serious — whatever inspires you. Be sure to include at least one intro paragraph for your list. If you'd like to participate, please send a blog post to community@themighty.com. Please include a photo for the piece, a photo of yourself and 1-2 sentence bio. Check out our Share Your Story page for more about our submission guidelines.
Originally published: September 1, 2015