After Success of Wheelchair-Using Barbie, Company Rolls Out Dolls With Hair and Skin Differences
---
Barbie took another step toward disability inclusion with its doll line on Tuesday thanks to the announcement of new dolls with the skin condition vitiligo, baldness and a prosthetic leg.
Vitiligo is a skin condition that causes the pigmentation cells in skin to die, leaving patches of skin that's different in color. Though the origin of the condition isn't clear, it's believed to be an autoimmune condition that impacts approximately 1% of the world's population, according to American Osteopathic College of Dermatology.
To bring the new Fashionista Barbie with vitiligo to life, the toy company consulted with a dermatologist. The doll was first premiered as a prototype on Barbie's Instagram page and, according to the company, was the most-liked photo of all time, reflecting that people want to see themselves represented in toys.
Barbie's latest update also includes a doll without hair to reflect that many women lose their hair as a result of chronic illness, cancer treatments or other health conditions. The company will also add another doll who uses a prosthetic limb — this time a gold leg prosthesis — with darker skin. These two dolls will be available starting in June.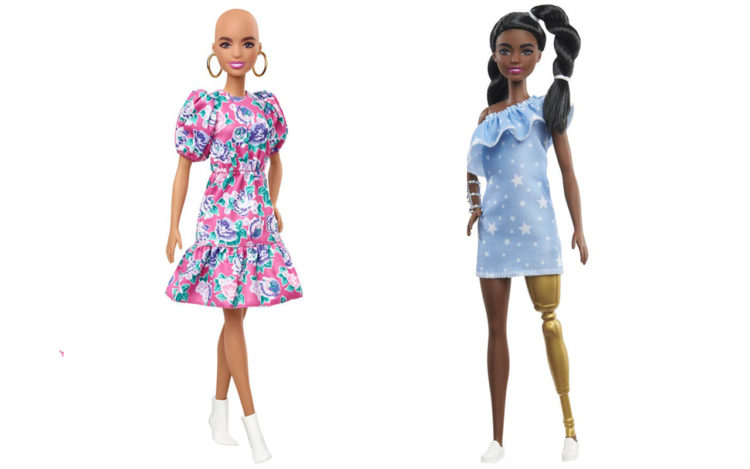 The addition of new dolls come after Mattel, the company behind Barbie, reintroduced a wheelchair-using Barbie and Barbies who use prosthetic limbs last year. According to USA Today, one of the top 10-selling Fashionista Barbies in 2019 was the new Barbie who uses a wheelchair. Mattel said that increasing the diversity and inclusion of its dolls has been both good for business and for people with disabilities and health conditions.
"Our wheelchair Barbie and our doll with vitiligo were literally fan requests," Lisa McKnight, senior vice president and global head of Barbie, said in a statement. "We've been committed to increasing diversity in our line and showcasing all the different types of beauty that exist … making the line more accessible."
Other companies have also started to increase their inclusion of kids with disabilities among their product lines. American Girl announced in December its Girl of the Year for 2020 is hard-of-hearing, a first for the popular doll company.
The Fashionista Barbie with vitiligo is available now for $9.99 on Mattel's website or at Target. Look for the Barbie with hair loss and gold prosthetic limb in June.
Originally published: January 28, 2020