I'm Bringing in the New Year Sick, but That's OK
---
Some people wish others health and happiness for the New Year. I have had to learn how to achieve happiness without the guarantee of health. If I want to enjoy my life and take advantage of still being here on this beautiful planet full of love, potential and opportunity, I need to be able to see happiness, feel joy – regardless of the things I can't control.
On December 30th, after my boyfriend asked me to please go to a clinic and just see if I have pneumonia again, I agreed to go. For him. I wasn't sure if it was pneumonia or not so I had been hesitating. Thinking it might be a viral chest cold.
It turned out to be pneumonia. Again. So, we brought in the New Year while sitting inside our warm home. Wrapped in blankets, in our pajamas – me on antibiotics, inhalers, prednisone, Tylenol, coffee… the whole pneumonia shebang. Bringing in the new year with a bang. And we had a lovely night. Warm. Safe. Full of love. Taking care of my health. Being together. Counting down, watching the ball drop. Laughing, holding hands and a kiss at midnight.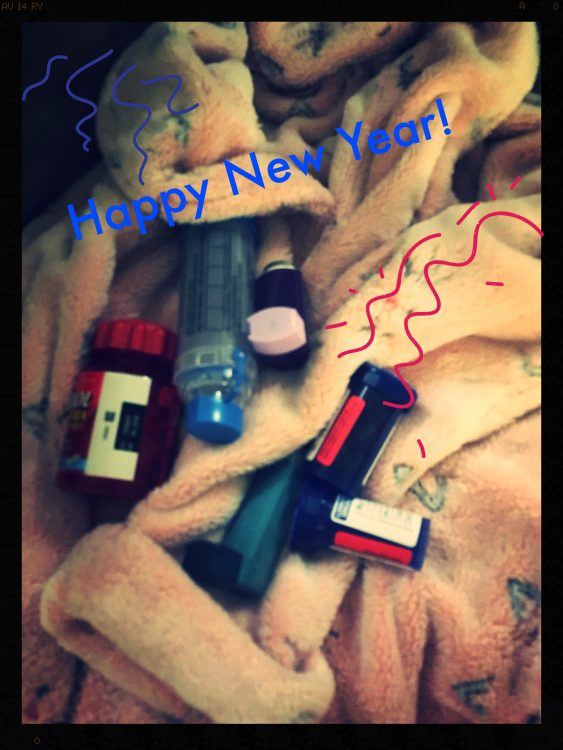 My year isn't "ruined" because it started off with pneumonia. It's one week that happened to land right when one year ends and another begins. One of many days I will be sick with something. It's part of what my body does. And I refuse to let that ruin my life or let my mind interpret it as being a lousy omen for the year.
Nope. It's not an omen. It's just part of my life. And I'm glad to be alive. I'm glad to be loved. I'm glad to know I will have new days full of new moments. Good ones, great ones, funny ones, hard ones, sad ones, sick ones. It's part of the human experience.
I hope, if you also started out the year on a hard note, health-wise, that you can try to fight the easy-to-happen negative feelings. The fears about this being a portent for the future days to come.
We can't control everything our bodies throw at us, but we can control how we respond to it. How we approach the day after. How we bring in the year. Each day is a new start.
Each rough section is hard. Sometimes it can be so hard. I'm not denying that. I'm not living in a fantasy land. Sometimes we can wind up drowning in pain, sickness and despair. Sometimes it can last for far too long. Sometimes it is an illness that will never end. And that can be hard to take.
But please know that others understand. That others care. Please try to see the potential underneath the pain. I'm here for you on the days when it's hard to see the promise of future joy. I feel blessed to know that many of you will be there for me on the days I struggle to see any hope of returning happiness. Together we can bring joy and love to each other on the days we need it most. And that's a truly beautiful thing. That's what I love about life.
Happy New Year, my chronic illness friends. I wish you all happiness and joy; I wish you others who will hold you up on the days when joy is darkened. I wish you love.
We want to hear your story. Become a Mighty contributor here.
Originally published: January 2, 2018