These Before-and-After Photos Highlight the 'Unexpected' Ways Chronic Illness Can Change Your Body
---
Chronic illness comes with a lot of unexpected physical changes. Sometimes your chronic condition causes weight fluctuations because of a medication you're on or because you're unable to be as active as you once were. Other times, you could have scars due to surgeries or medical procedures you've had. You could also have changes in your hair or teeth because of side effects of your condition or medication. Whatever the changes might be, it can be a lot for anyone to handle.
There are lots of ways your body might change due to chronic illness — and not all are bad! Regardless of how your body has changed, you may feel uncomfortable if the body you've had for decades suddenly doesn't feel like it's yours. And while your loved ones might not notice or say they care that your appearance has changed, it can still be an overwhelming and uncomfortable thing to process.
Like it or not, physical changes are often a part of chronic illness. (In fact, they're a part of life for everyone as we age.) However, it's not often we talk about the ways our bodies can change, let alone share photos. It's OK if you don't love your body's new look, and you certainly aren't alone if you feel that way. To help demystify this experience, we asked The Mighty community to share some "unexpected" ways their bodies have changed due to chronic illness.
Here's what our community shared with us:

1. "The first photo is before everything. Then there was the shoulder surgery, the iron infusions, the cervical steroid injections and finally the ACDF surgery. In two years, I've gained over 50 pounds just from medication side effects and dealt with immobilization after surgery, steroid moon face and fluid retention from endometriosis. I look back at who I was and I don't recognize her anymore. I try not to have my photo taken just because of my embarrassment over how my body has betrayed me." – Samantha S.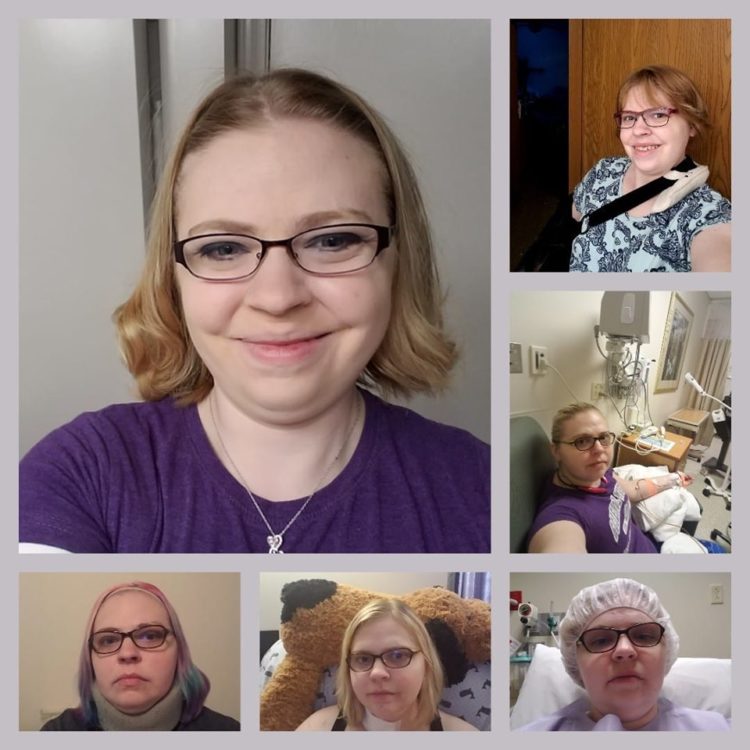 2. "I can still fake a smile, even with the feelings and pain shaking my body to the core. Photo one is when I was training for a full marathon and went to the gym five-plus days a week. Photo two is me in my chair because I can't stand or move at an accelerated speed due to Ehlers-Danlos syndrome. I tried to capture happy-ish photos for both, despite the fact that it's not my usual feeling. Weight gain from meds, inactivity and eating my feelings. This body brought to you by invisible illness!" –  Robyn D.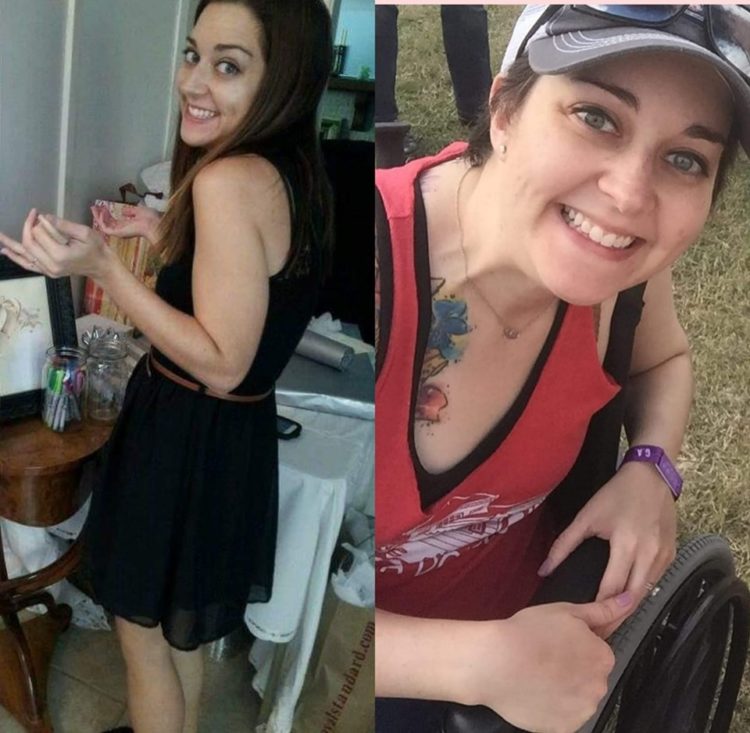 3. "This was a surgery where they took a vein from my thigh to connect to my jugular vein. It was in hopes of getting blood flow to my head, but it collapsed. More scars for nothing." –  Michael C.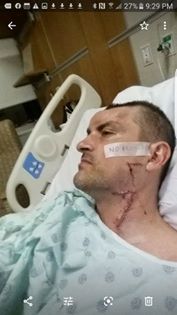 4. "The first image shows me at 10st and a dress size U.K. 12-14. This was about a year before I started getting severe symptoms of fibromyalgia. The second image was taken about 2 years after my fibromyalgia diagnosis where I had gained 7 and a half stone and was a U.K. 20-22 dress size. I'd been prescribed all sorts of drugs and have experienced torturous pain, fatigue, depression and anxiety. I'm now fluctuating in between these two images. I feel my illnesses have really changed my body. I look like a different person in most of my photos." – Carole-Anne R.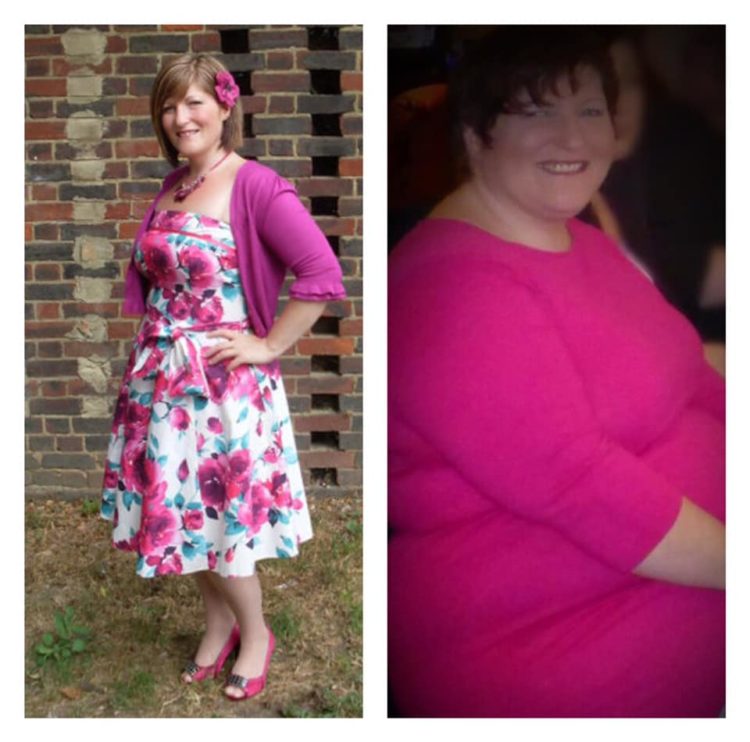 5. "I always wanted long hair. My hair is super thick and curly, so it takes a ton of work and there used to not be all the tools they have now. When I was in elementary school, I would wrap a towel around my head and pretend it was long beautiful hair. I finally had the patience and grew it out at the age of 47. When it finally was halfway down my back, I had to cut it off two months later. I have PSA and fibromyalgia. My hands will no longer cooperate. I now have a short bob cut. It's cute, but I miss my long hair." – Shelley F.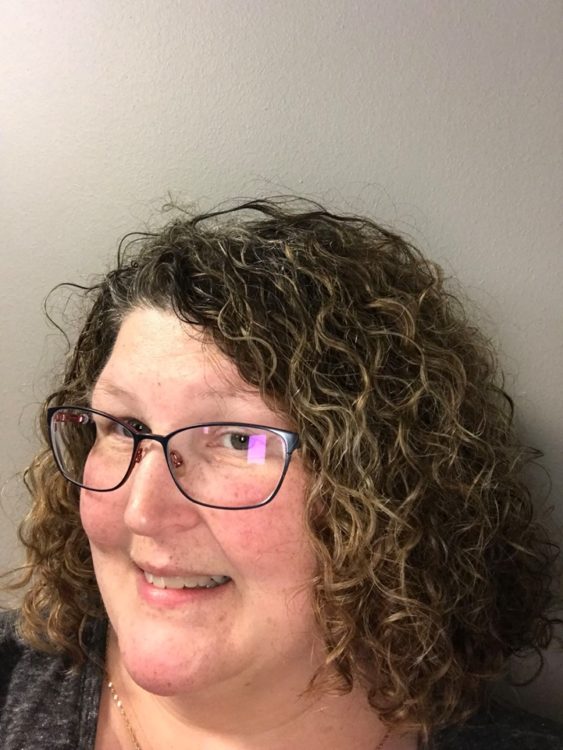 6. "I have several chronic illnesses but the one that has had the most impact on my appearance is my severe gastroparesis. This is a photo collage of me and my hubby celebrating our anniversaries. The top left is right before I got really sick and right after we got married. I was close to 200 pounds, but I didn't know it! Then the bottom left is a year later where I was 30 to 40 pounds lighter And the photo on the right is our second wedding anniversary and I was down to 120 pounds. My weight has since yo-yoed, but this was the biggest and most drastic appearance change. At first, people congratulated me on my weight loss. I never knew what to tell them because the real answer was that "my stomach was paralyzed and I threw up the everything I ate," wasn't what someone wanted to hear…" – Amanda E.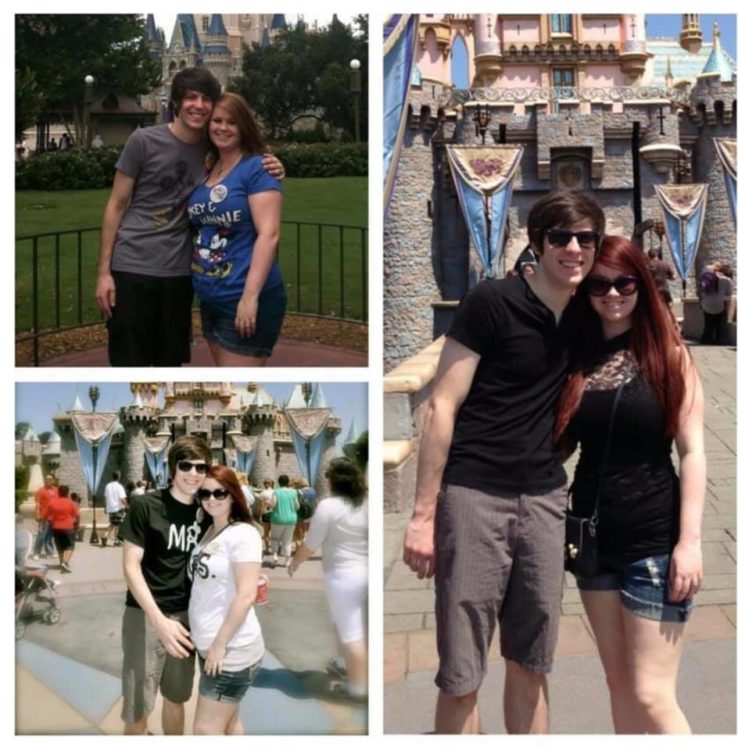 7. "I used to have long pretty hair and was tiny and trim. Now my meds, autoimmune stuff and heart stuff have caused me to rock a cute short cut and I'm a bit fluffier. Also, my attire is different. I wear way more comfy clothes than before and a heart monitor on occasion. In the before picture, I was going clubbing and now that is a foreign concept [to me]. I get tired way more easily now so weekends are for rest." – Jae M.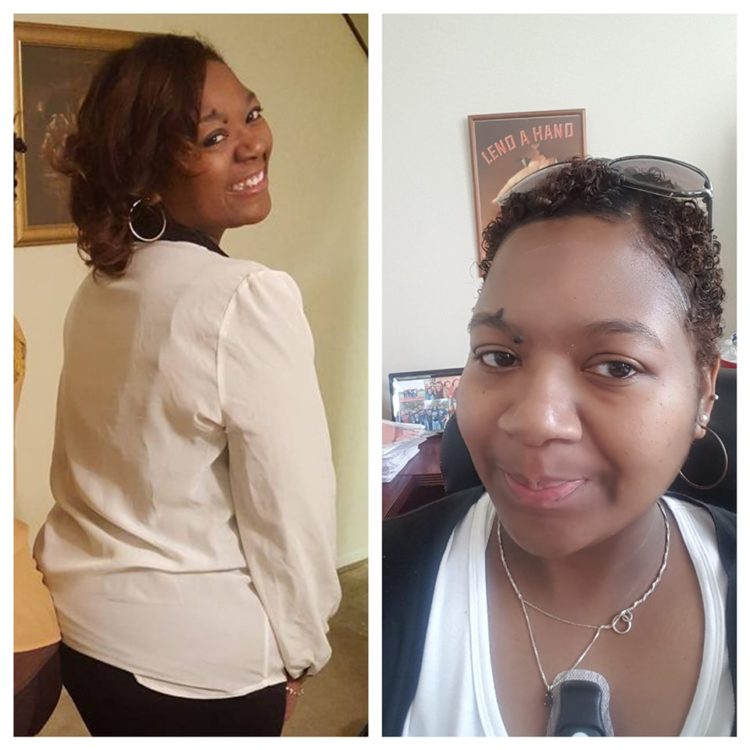 8. "Untreated chronic illness symptoms caused all my teeth to decay, to the point where they needed to be completely removed. I'm 24 and need dentures!" – Shandi D.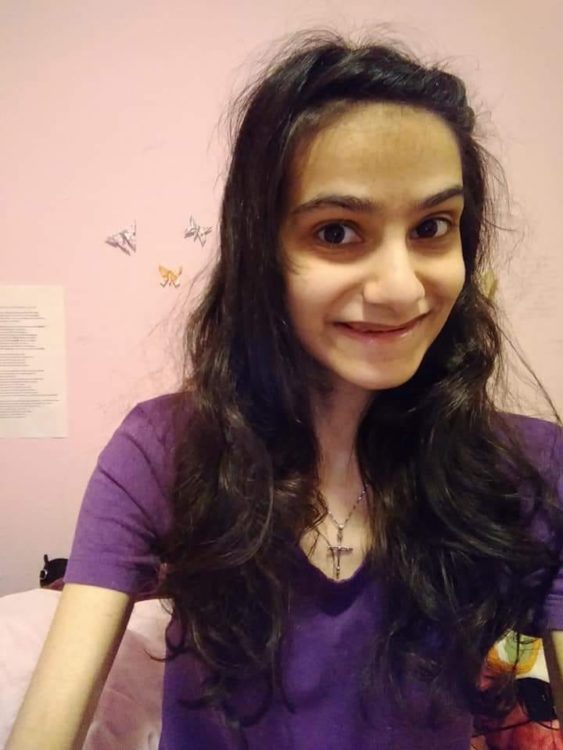 9. "Myself almost five years ago, and me last week, almost three years after fibromyalgia. I gained some weight, but honestly, I've become more humble. I really do miss having long hair and feeling confident in whatever I wore. But now, I love my t-shirts, sweats and yoga pants!" – Ashley P.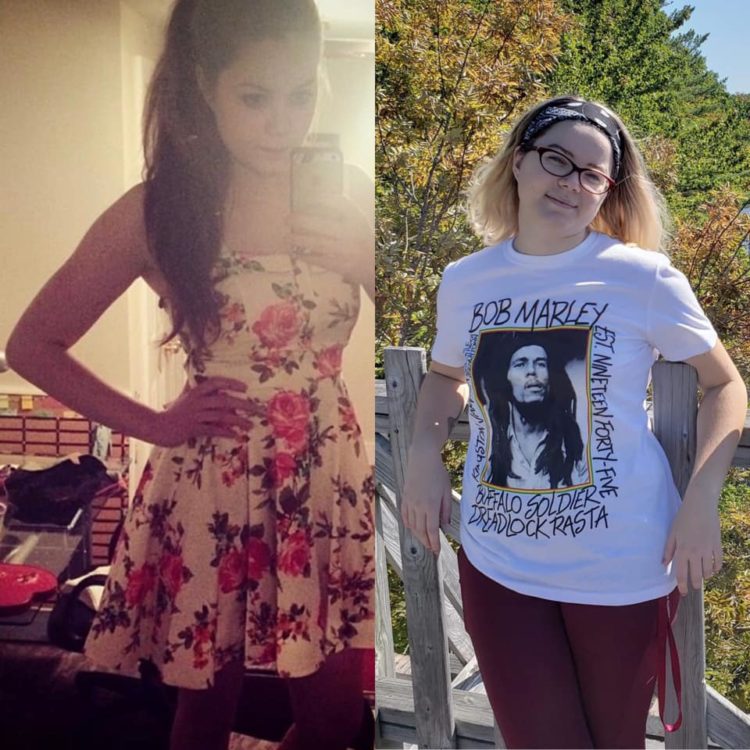 10. "I scar super easily. There are only four places that my insulin pump seems to keep my sugar levels to stay and that's each thigh and each forearm. So when it gets to where I need to use my forearm, this is what is left. It gives me a lot of anxiety when it gets colder because they become very dark and people notice. No, I'm not a drug addict… I'm just trying to stay alive." – Jerica W.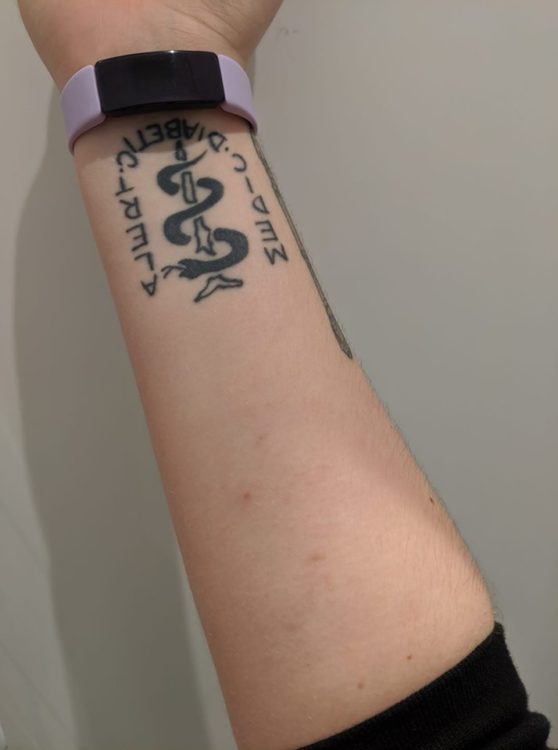 11. "I have Crohn's disease. In the picture in 2015, I was healthy. By the beginning of 2016, I was sick and lost over 40 pounds in less than a month. I was put on Prednisone and gained more than 60 pounds. In that picture, you can really see my moon face. My now picture shows I'm in remission. I still have many battles and obstacles, but I have started to find a better balance." – Chloe B.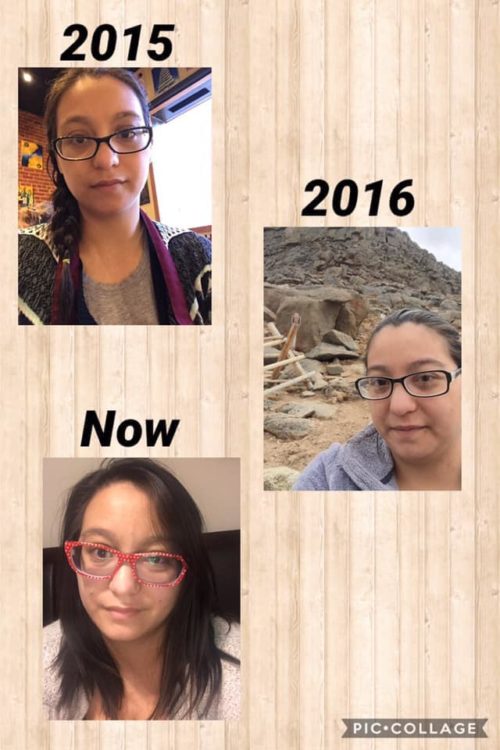 12. "It's not much, but it bothers me so much. My face has become blotchy and in some spots [it's so] dark that it makes my face look like I have a mustache. You can't tell how bad in this photo, but still." – Christina U.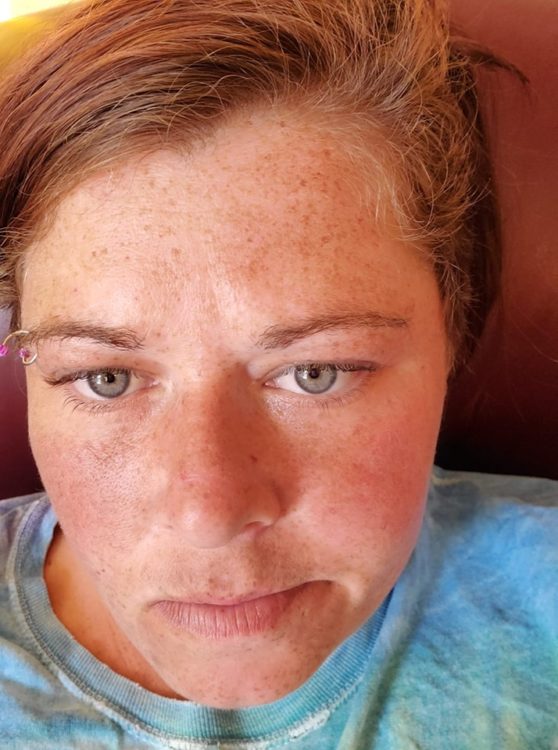 13. "My legs pool with blood when I stand up, accompanied by high heart rate up to 190 BPM. It makes me feel dizzy, have breathless tremors, sweating and more." – Cheryl R.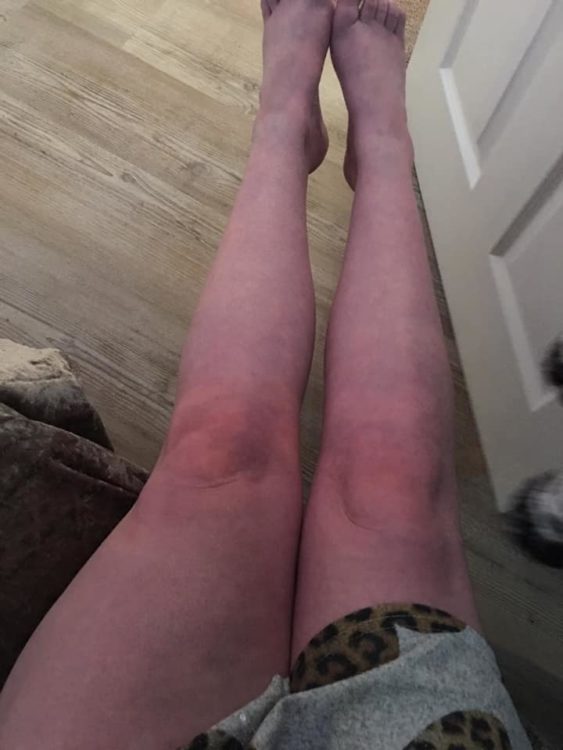 14. "I've lost 100 pounds in the past year due to diabetes. I used to have curly long hair, but lupus completely changed that due to hair loss and unending various growth of the short lupus hairs. I've lost muscle due to both pain and diabetes. I'm lucky that I have a great cane that was made for me and a walker that an occupational therapist located. And although I have a tub bench, it's very difficult to bathe and shower because keeping my arms up is hard." – Jeannine A.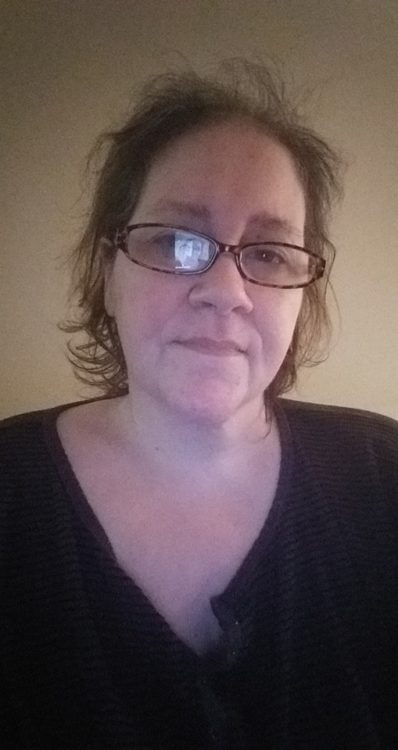 15. "I was diagnosed with Addison's disease January of 2017. I was eight stone, went onto hydrocortisone immediately and fell pregnant three months later. I put on five and a half stone and after having my son in January of 2018, my steroid dose was reduced. Over the past 18 months, I've been using diet and Pilates to gradually reduce my weight so that I feel happy with my new look. I'm now on hydrocortisone, prednisone and fludrocortisone. I still have to wax a lot of facial hair, I still have a steroid hump at the back of my neck and my hair is so frizzy, it takes hours to straighten. But I'm getting there." – Victoria D.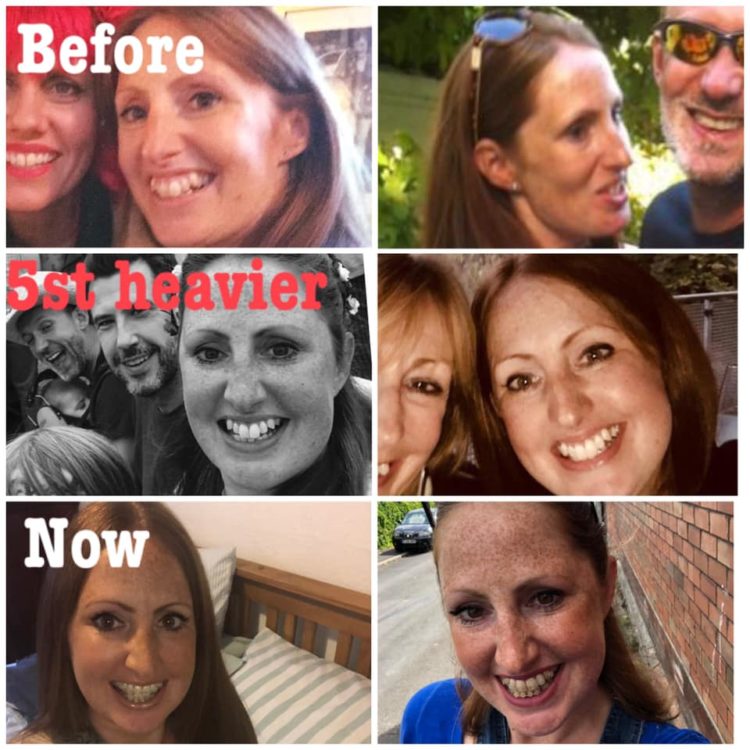 16. "Among a bunch of other symptoms, this is what happens to my skin now when I go out in the sun. I seriously hate having to be covered up head to toe in the dead of summer. I miss the sun." – Heather J.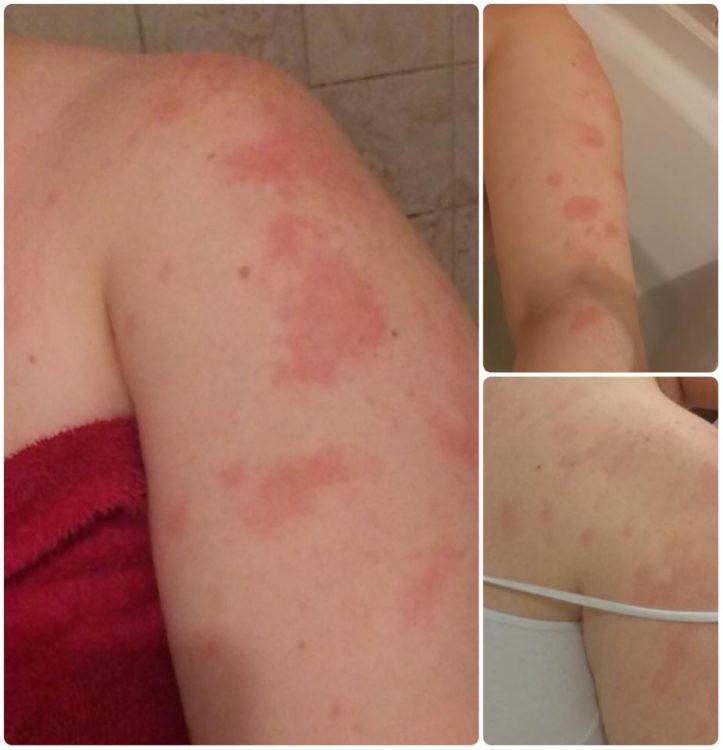 17. "I have gained 60 pounds in the last couple of years due to my illness getting worse and an increase in medication. My doctors tell me I cannot exercise and I don't even feel like myself anymore. I get made fun of by family members and picked on for being 'chunky.'" – Tiffany L.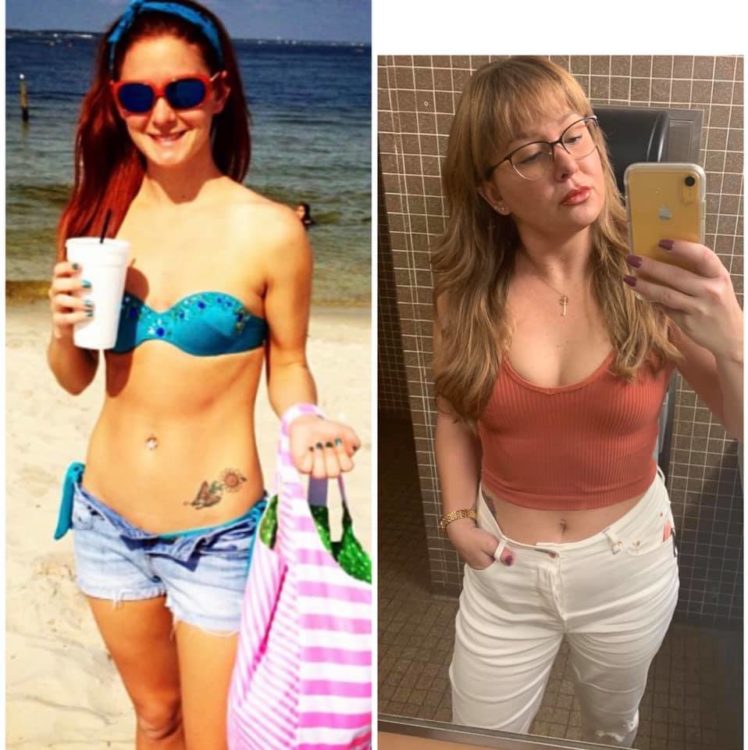 18. "I lived until 38 without a single scar. Active and healthy life. Now, after seven surgeries in six years, I have three large scars around my midsection, the newest being the pain pump they installed. I have two devices, pins, screws, rods and mesh all implanted. I gained 65 lbs. I don't recognize my body anymore. It feels like someone made a bionic woman with lots of coding bugs and an embedded virus." – Krista I.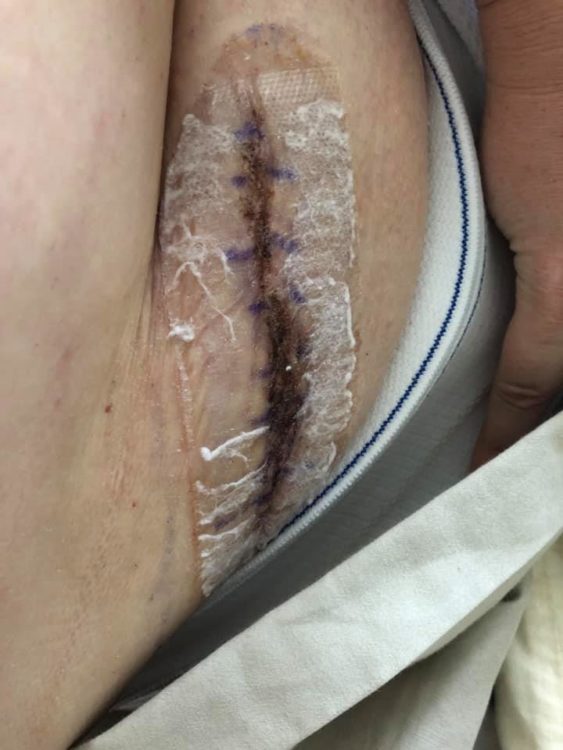 19. "Me before and you can tell the after… Thanks, Prednisone. I also rarely smile because my teeth are so deteriorated from side effects. I've also gained weight and lost muscle mass." – Rina G.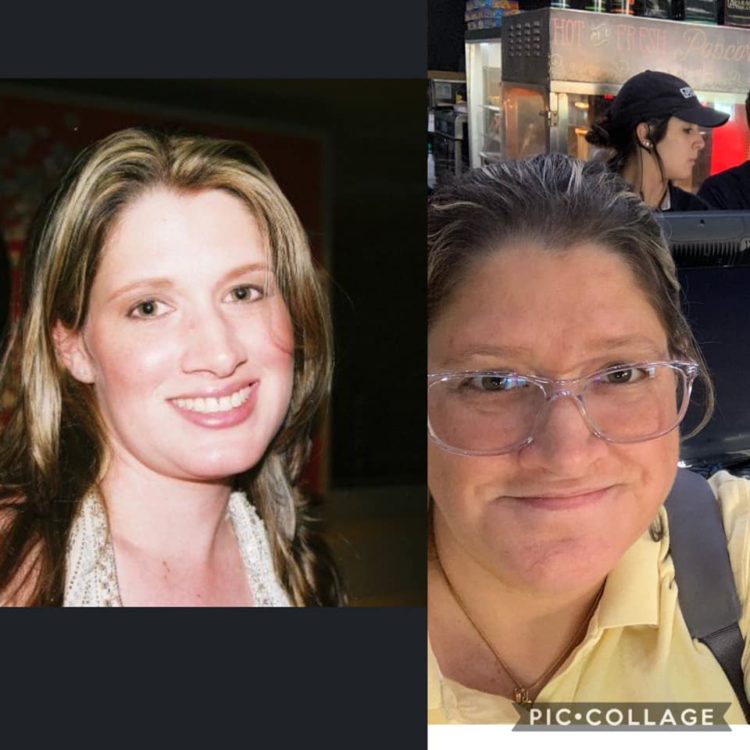 20. "The first two photos are of me pre chronic illness. I was working full-time as an RN, teaching Zumba part-time and taking care of my family (husband and six kids). The last photo is me now. I am unable to work, have gained considerable weight and battle an incurable and rare neurological condition (1 in 100,000). Now, I'm a professional patient battling a host of medical issues and have had a shunt implanted to attempt to manage my condition. Life can certainly change on a dime." – Jennifer C.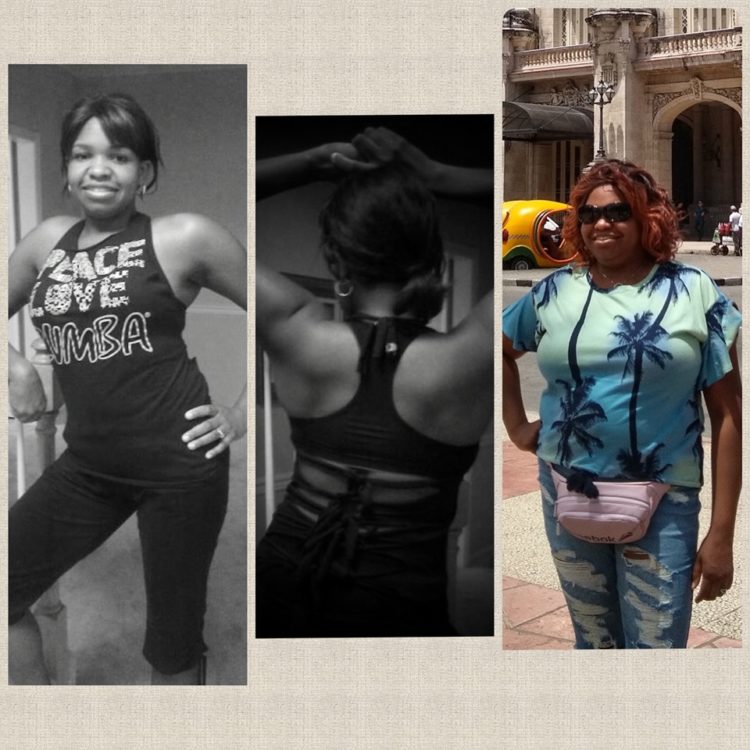 Physical changes can be difficult to deal with, but please know that you are not alone. If you are struggling, reach out to someone you trust or post a thought or question on The Mighty. Want to share your experience? Post a photo on The Mighty with the title "#Chronicillness Changed My Body."
Looking for more on how chronic illness can change your body? Check out these articles from our community:
Originally published: September 27, 2019