17 Memes That Might Make You Laugh If You Have Brain Fog
---
So many in our community know that brain fog feeling well: like when you know what you want to say but can't quite remember the words. Or you can't for the life of you recall where you put your keys. Or you find yourself reading the same page over and over again and still not quite understanding it. Whether your brain fog is a symptom of your illness, like fibromyalgia or myalgic encephalomyelitis/chronic fatigue syndrome, or a side effect of your medication, it can become a frustrating part of everyday life.
But sometimes, the things you say and do because of brain fog are so ridiculous that you have to laugh. If laughing at your brain fog moments is part of how you cope, check out the 17 memes below. If you can relate to any of these, you're not alone.
1.
Me all the time. #brainfog #spoonie #memoryproblems #EDS #POTS pic.twitter.com/xfZUHhu7YK

— AwkwardZebra (@LilacZebra) March 27, 2017
2.
#brainfog #mentalhealth #chronicillness #truth pic.twitter.com/JD3BxY5Z9w

— TheManicYears (@TheManicYears) November 29, 2017
3.
Happy #BrainFog Friday! #dyshumor pic.twitter.com/Zw1aMNiXq4

— DysautonomiaSupport (@DysSupport) September 15, 2017
4.
5.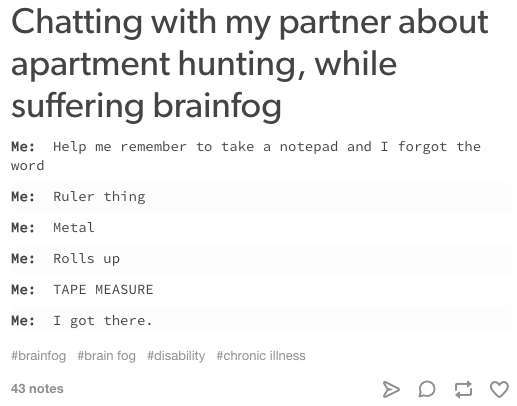 6.
7.
@baditup420 the struggle is real, yo. #BrainFog pic.twitter.com/PpAAXO9Hkl

— AuntieSec #FreeMattDehart #FreeRedFawn (@XDEVASTATEDX) December 3, 2017
8.
#MSproblems #brainfog #MultipleSclerosis pic.twitter.com/wl9SwVUpML

— Aleyna (@Aleynamorehuman) November 14, 2016
9.
Me af #brainfog pic.twitter.com/rV9ciB5lu3

— Nick (@Lotusweaver42) October 16, 2016
10.
11.
12.
13.
https://www.instagram.com/p/BcNJlxUj_WI/?tagged=forgetful
14.
15.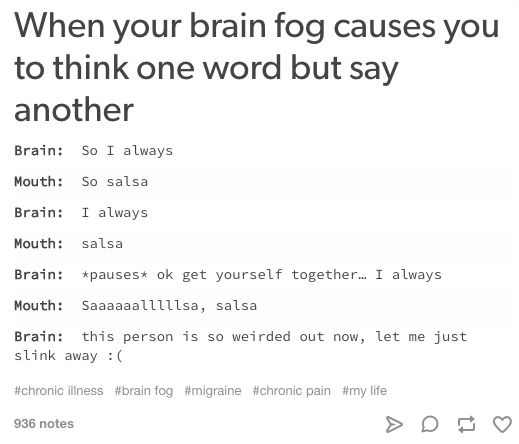 16.
#ChronicLife #SpoonieProbz #brainfog pic.twitter.com/un4rOVPNrz

— ????Maelee Thee Unicorn???? (@Mae_DayJ) May 25, 2016
17.
#FibroFog does this to me on a daily basis! I'd forget my own head if it wasn't attached! ???????????? #Fibromyalgia pic.twitter.com/3Lo466XmUv

— Amy Martin (@amyloulie) June 26, 2016
Originally published: December 6, 2017