Balancing Self-Care and Caring for Others When You Have a Chronic Illness
---
"A long time ago I decided that no matter where I went or what I did with my life, I was always going to be very true to myself and stick up for the underdog." – P!nk, "Ally for Equality" Award winner, for the Human Rights Campaign, in 2010
This, this is me. All the way, I want to help everyone else. I am a college professor and have even said, "You know me, I like all of the soap boxes, I will fight for them all." The problem is that recently I am being forced to slow down, especially fighting for others, to fight for myself. Thank God I have my mother and family to help me keep fighting for others and myself.
We often call it self-care here on The Mighty. Well, it isn't just something to remember, it is usually a way of life that feels unnatural. Especially for us mothers and family members with chronic illness. The thing is, this fighter for others, this fixer of problems and lover of all the world's babies, that is who I am. It is simply me. And I cannot change that. I know I do not have the energy or time with my illness, a primary immunodeficiency, where my flare-ups are monthly in the past year with hospitalizations for asthma, surgeries, sepsis, pyelonephritis, gastrointestinal infection and so on.
I know I shouldn't take students in who need a place to stay to complete an internship like I do. I know I shouldn't have put on my black regalia and sat in the 90-degree sun to see my students graduate four days after being hospitalized for said severe kidney infection. However, that student – the one who I pushed and mothered and who actually did graduate with no one in that crowd but me yelling my head off – he needed me there. And I will never forget his hug after, this tough boy from a rough neighborhood with tears in his eyes and holding me so tightly thanking me.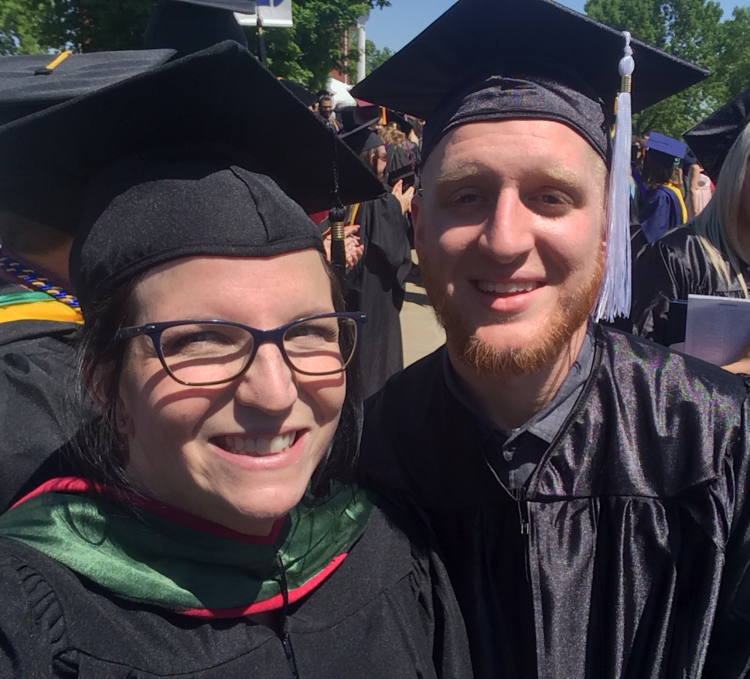 What is this life? Why be here if not for these moments? I know it took me days to recover from that graduation, but it was everything in that moment. He doesn't know I sacrificed, because that's not the point; the point was he graduated and I was there as his only support. Just like my own children, and when I shouldn't pick my 4-year-old up when she has a bad dream due to the degeneration of my back and hip, but I have to do it. I just have to, but I'm trying to be more careful, because I also have to be here, I have to live a long life for my family and myself.
These days, almost everything is hard for me to do. Literally making breakfast takes too much energy, my infections are taking over and I've been hospitalized three times in the past two months, but I still do my best to give everything I can to my causes that I support and the students I am invested in. Feeling as though I can help others helps me in ways that nothing else can, and gives me a sense of purpose outside of just attempting to stay healthy.
We want to hear your story. Become a Mighty contributor here.
Originally published: July 17, 2017