20 Brands of Compression Wear People With Chronic Illness Recommend
---
Editor's Note
We hope the products below, all recommended by our Mighty community members, help you or a loved one in your health journeys. Just so you know, The Mighty may collect a share of sales from the Amazon links on this page. Prices and product availability are accurate as of publication.
Although compression wear has become popular among athletes for improving circulation and performance, it is also an extremely important tool many of those with various chronic illnesses use to manage their symptoms. Compression can serve a number of purposes: It can increase blood flow (helping out those with Raynaud's syndrome or other conditions causing poor circulation), reduce swelling or edema, help prevent blood pooling, and help keep joints and muscles in place so people who are prone to hyperextension or dislocations can avoid injury.
Compression garments come in a variety of shapes, sizes and pressures (how tight it squeezes you), depending on what your doctor recommends for your particular condition. But you can also tailor your compression wear to your personality with fun colors, patterns and styles.
To help those in search of quality compression wear, we asked our Mighty community to share which styles and brands help them alleviate symptoms of their illness. Here are their recommendations.
1. Jobst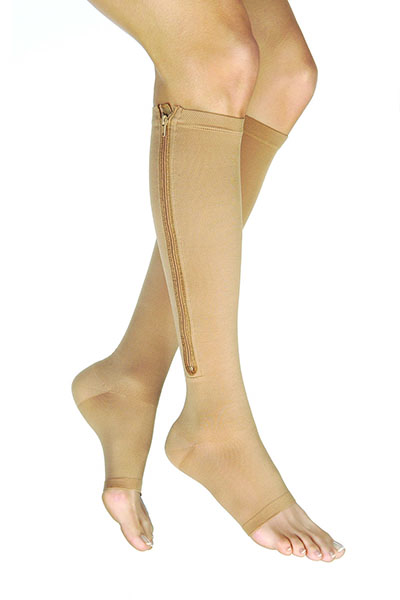 Leah Charlier-Laczny recommended, "Jobst open-toe compression stockings [featured above]! When I was told I'd have to wear compression stockings every day I was devastated, I never wear socks and only wear shoes when it's too cold for flip-flops. Socks make me feel claustrophobic. Having my toes free made all the difference and I've been able to wear my compression stockings every day this way (and still wear my flip flops)!"
"Jobst compression socks are amazing for my POTS," added Hannah Ritchie.
To buy the compression stockings above, locate a Jobst dealer near you.
2. Under Armour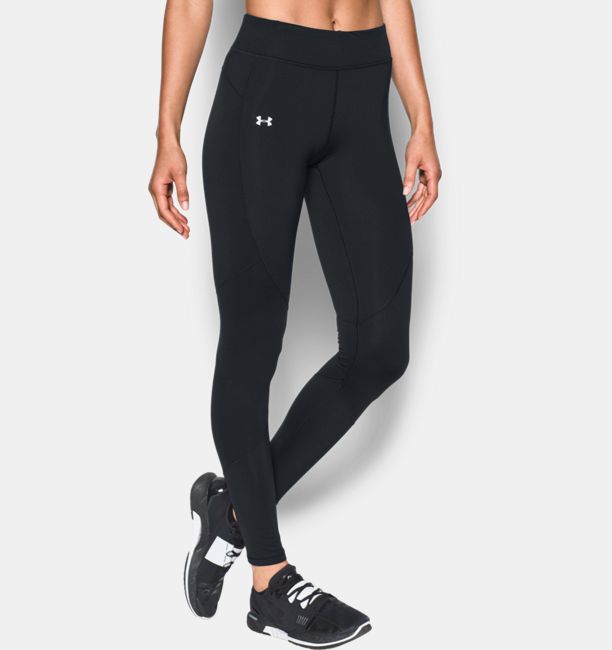 Courtney Flannery wrote, "I wear Under Armour brand usually a size smaller than I need. It's really nice and tight! I also wear Copperfit socks and leggings. All of them are great for compression and warmth."
"Under Armour heat tech compression tights in winter," recommended Lyeka Bebri.
Buy the compression leggings above for $44.99 from Under Armour.
3. Compressionz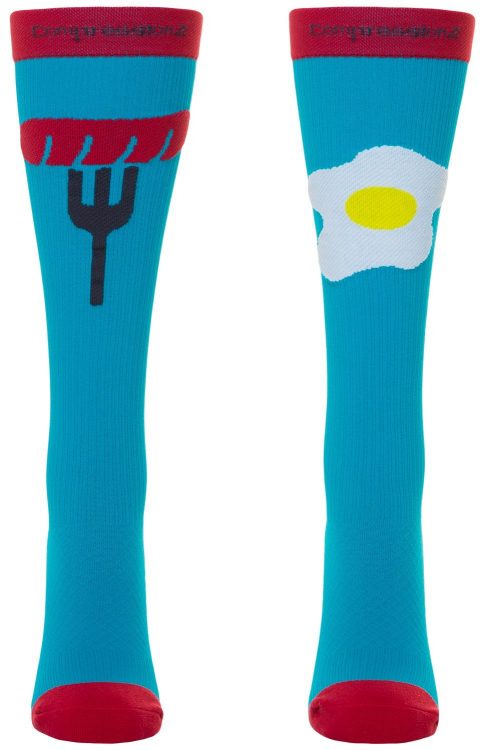 Melaney Niemiec told us, "I like Compressionz from Amazon. They have a wide variety of cute and vibrant prints that make wearing compression socks fun and comfortable! From 'bacon & eggs' [featured above] to 'lightning rain' to 'bright hearts,' I never feel dull in my Compressionz."
Buy the compression socks above for $21.46 from Amazon.
4. Lymphediva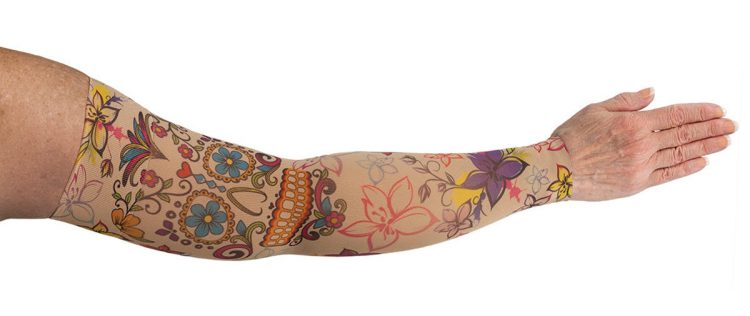 "Lymphediva sleeves and gauntlets for lymphedema," recommended Melissa Graham. "Cute designs, a band at the top to keep it from rolling down, great quality… I have the Viva Vida [featured above] and often people think I just have a full tattoo sleeve until they look hard."
Buy the compression sleeve above for $90 from Lymphediva.
5. Therafirm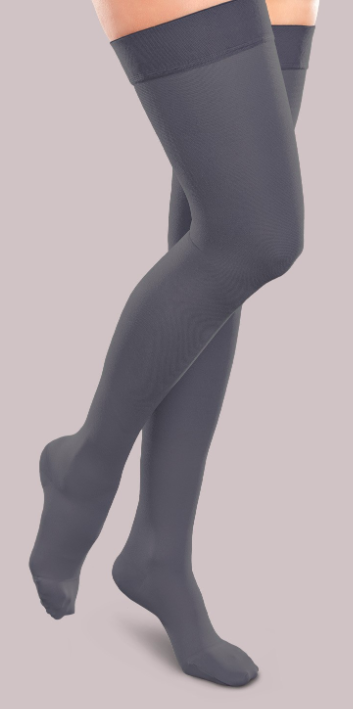 Eileen Howard said, "I have always liked Therafirm. They fit great, you can have open or closed toe, they look like stockings and come in various styles and colors. They worked beautifully for my severe edema and helped reverse the damage done by cellulitis."
Buy the compression stockings above for $54.95 from Therafirm.
6. PRO Compression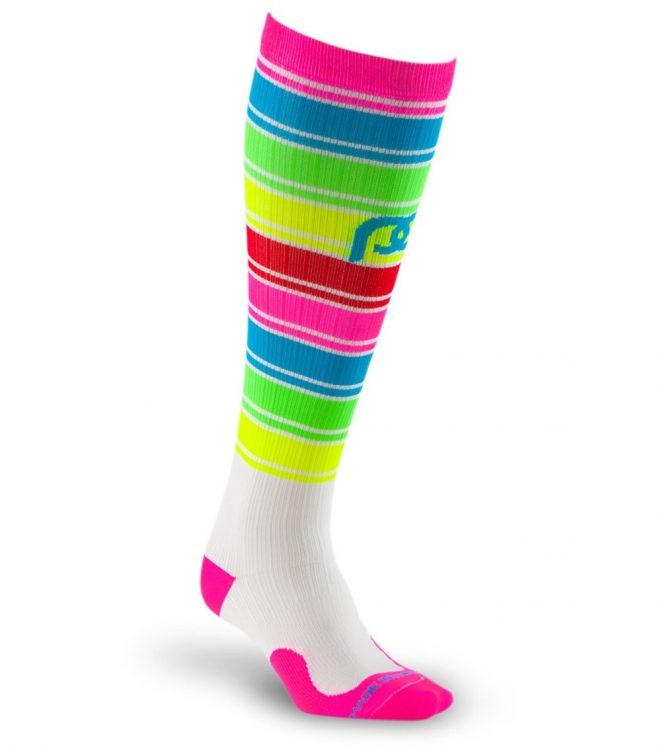 Gelcys Castaneda wrote, "PRO Compression helps the circulation in my legs and eases the swelling. Definitely deflects a big fibromyalgia flare-up too if I catch it in time."
"I like PRO Compression for fun colors," said Brandi Stewart. "They help when I'm swollen from rheumatoid arthritis, and I always wear them to fly."
"PRO Compression has been the best I've found. Love them!" added Kristina Marie Kruse.
Buy the compression socks above for $50 from PRO Compression.
7. Sockwell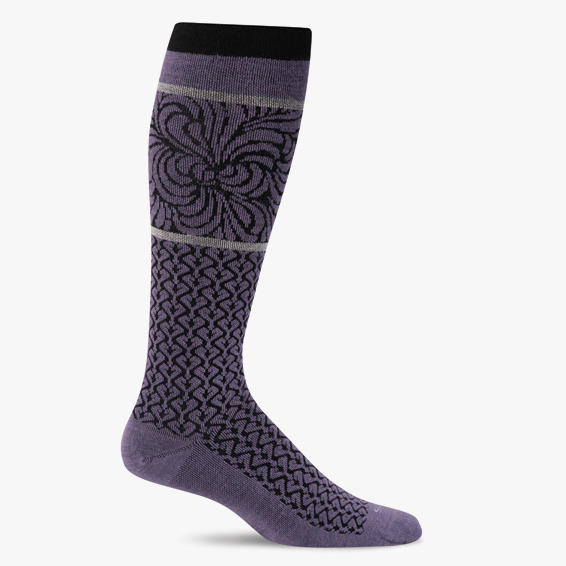 "I love Sockwell compression socks," Sandra Soller told us. "They have cute designs which make them fun to wear, and they're so comfortable."
"Sockwell," recommended Kathryne D. Zeraldo. "So many fun patterns!"
To buy the socks above, find a retailer near you.
8. IMAK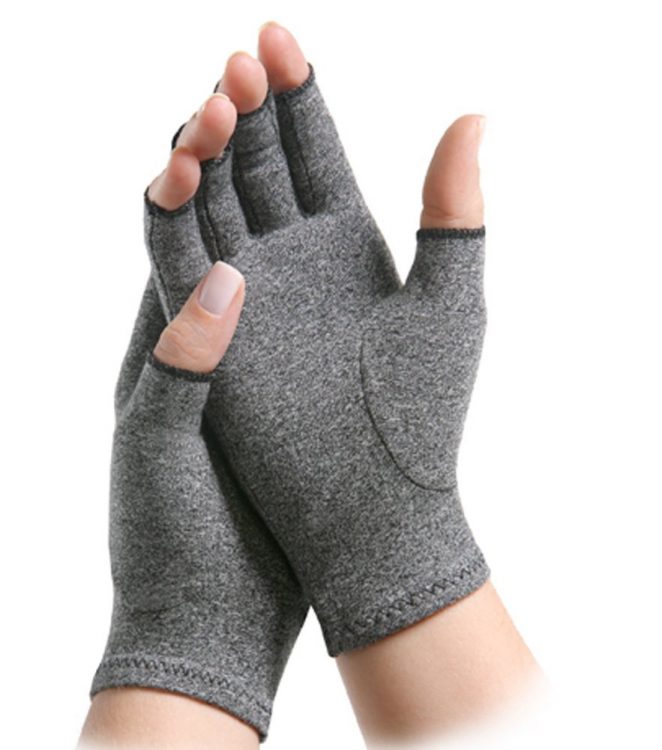 Karen Jolley wrote, "IMAK compression gloves are great. I wear them mostly overnight and sometimes when my hands ache during the day. They're a must for winter."
Deborah-Rose Andrews added, "I love my IMAK compression gloves. They keep my hands warm and ease the pain."
Buy the compression gloves above for $8.73 from Amazon.
9. Blitzu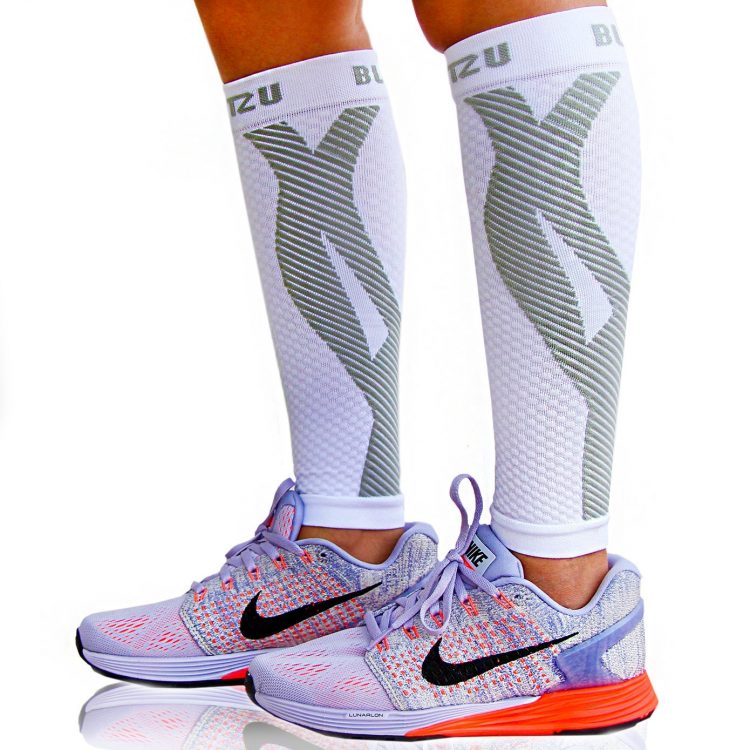 Jody Wells told us, "Blitzu on Amazon helps reduce my nerve pain in my legs. I'm a teacher, so lots of standing all day. Also, the copper fit ones in the 'as seen on TV' section are good too. They are thinner. The Blitzu ones are thicker like a regular sock."
Buy the compression socks above for $15.97 from Amazon.
10. Second Skin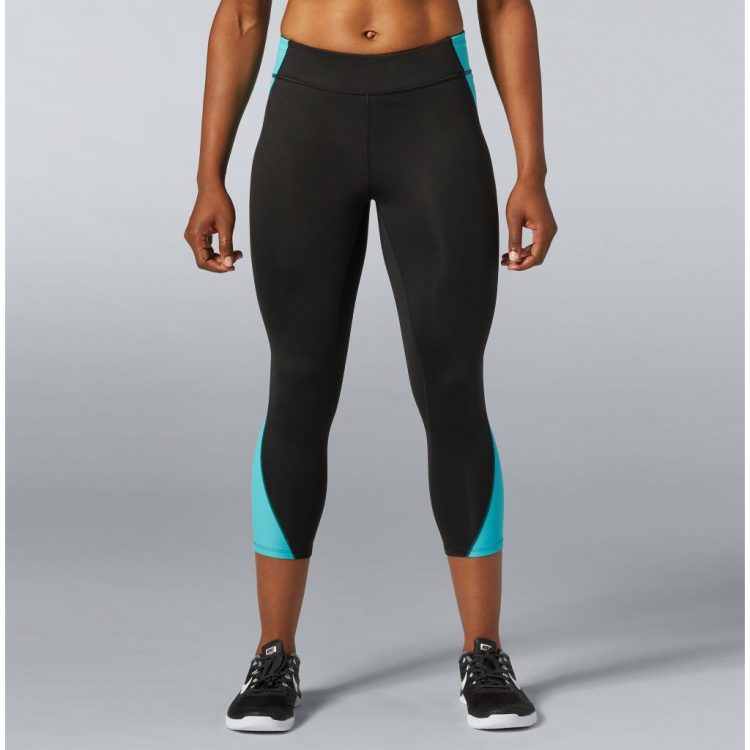 "I use compression leggings to help with the pain of dystonia and hypermobility," said Madi Renee. "My favorite brand is Second Skin. The pairs I have go down to almost my ankles and are perfect to wear under jeans or sweats."
Buy the compression capris above for $27.50 from Second Skin.
11. Mediven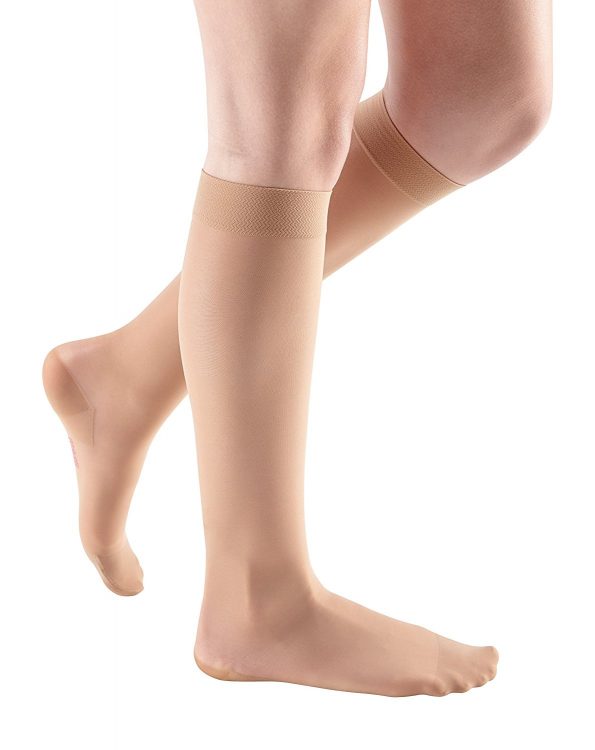 Colleen Sullivan recommended, "Mediven 20-30mmHg size IV. Goes up to a size VII for a 24 1/2" calf. Wear them for left leg lymphedema and reflex sympathetic dystrophy. I even wear them at the beach!"
Buy the compression stockings above for $33.78 from Amazon.
12. TravelSmith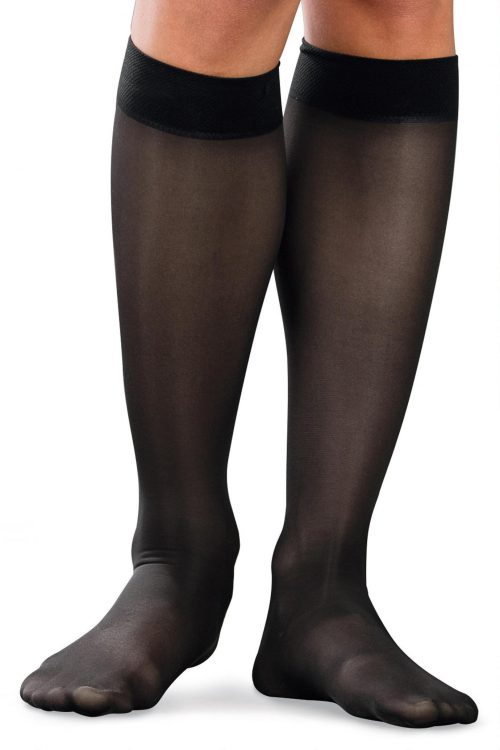 Brandi Stewart told us, "TravelSmith makes comfy 20-30mmHg compression socks that are a good price and come in nice patterns."
Buy the compression stockings above for $11 from TravelSmith.
13. Nurse Mates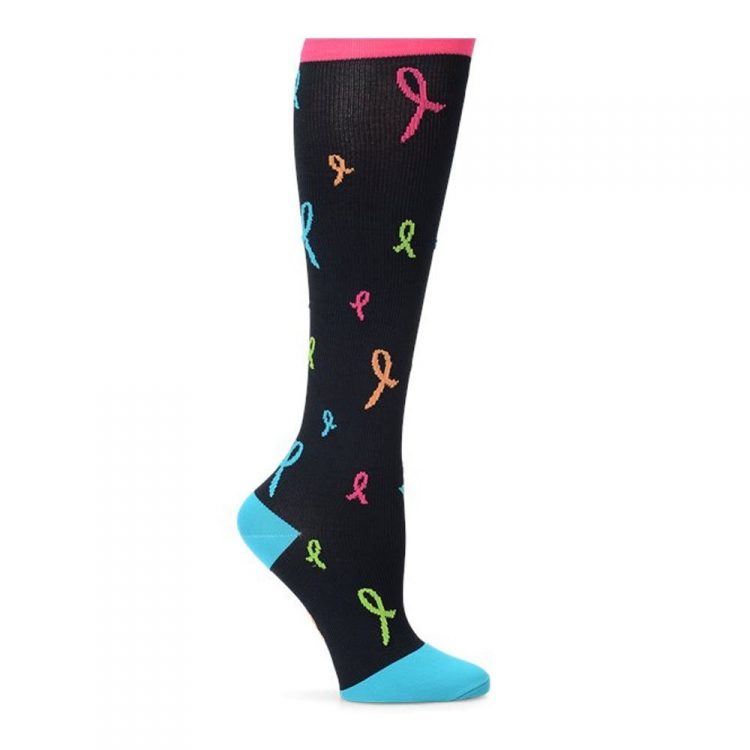 Amy Brandborg wrote, "I found a brand on Amazon that's been a great help. It's called Nurse Mates. I can't wear the stronger ones, it causes more pain, but these [featured above] are perfect." 
"I use Nurse Mates and love them," added Melissa Workman Zegley.
Buy the compression socks above for $9 from Amazon.
14. Sigvaris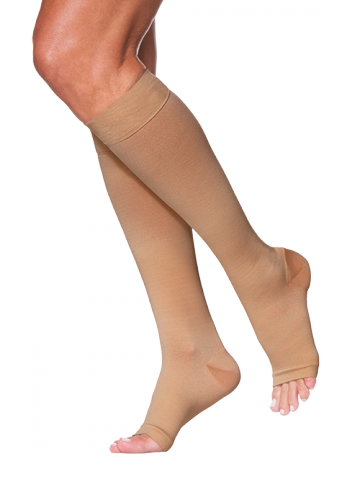 Erin Weigelt Zwadlo said, "I've tried so many! My favorite is Sigvaris, thigh-high open toe."
"I really like the Sigvaris open toe ones!" wrote Danielle Mcinnis.
To buy the compression socks above, find a retailer near you.
15. Thermoskin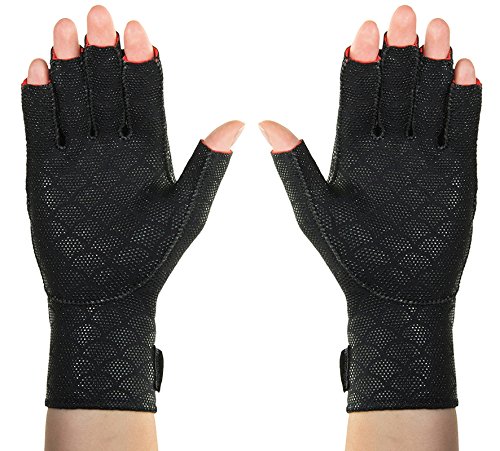 "Depends obviously [on] the area," wrote Alexandra Turley. "But I love my Thermoskin compression gloves, used for nerve damage, swelling and to stop them going ice cold from poor circulation. They also do socks in the range, back, torso, hips and lots [of] other areas."
Buy the compression gloves above for $29.95 from Amazon.
16. Abeo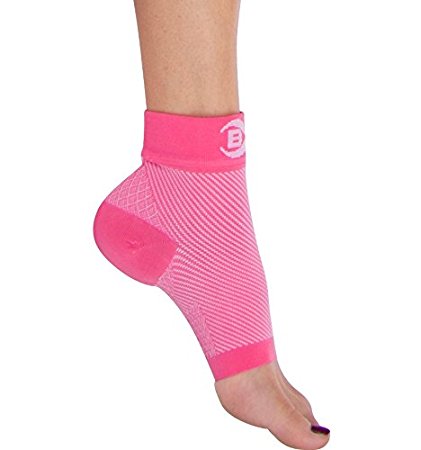 "Abeo," recommended Aaron Rochelle Delle Donne. "They have ones that only do the ankle or whole way up but leave the toes open which is amazing!"
Buy the compression socks above for $18.50 from Amazon.
17. CEP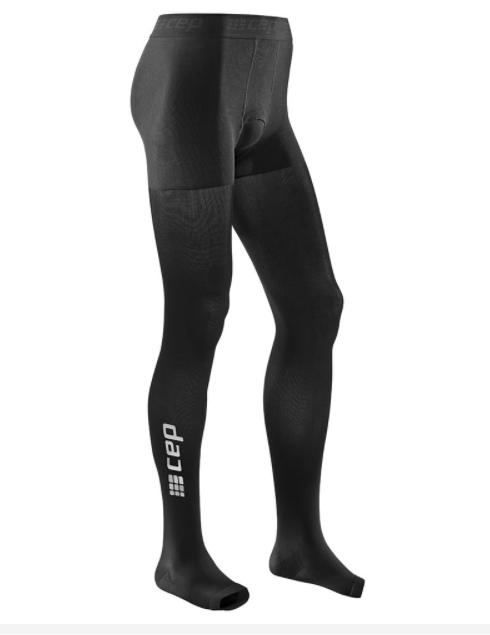 "CEP recovery tights," recommended Kayleigh Bailess. "They are really cute but they work really well for POTS and they are actually comfortable."

Buy the compression tights above for $150 from CEP.
18. Copper Compression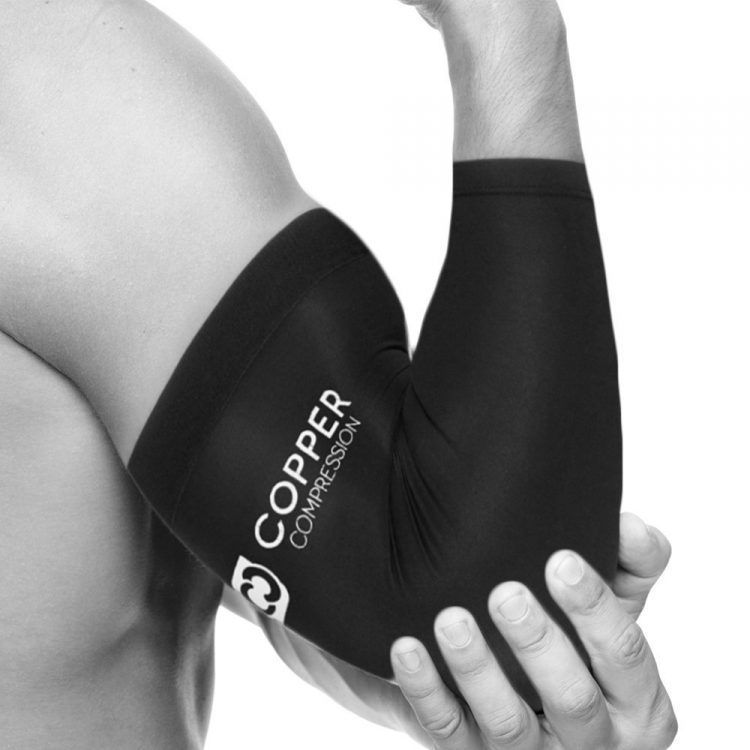 Tiffany Louise Marentette told us, "Copper brand makes amazing products. I use the socks, ankle bands, wrists bands. I hope they come out with something for back."
"I use Copper Compression and you can buy them on Amazon for a good price," Vinnie Boyce suggested.
Buy the elbow compression brace above for $18.95 from Amazon.
19. Design Veronique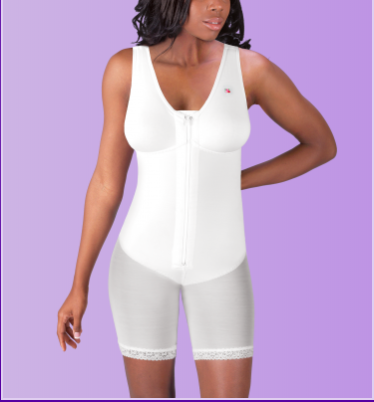 "Very high quality. Washes well. It's comfortable. Easy on, easy off," said Kimberly Quirple.
Buy the high-back compression girdle above for $231.95 from Design Veronique.
20. Old Navy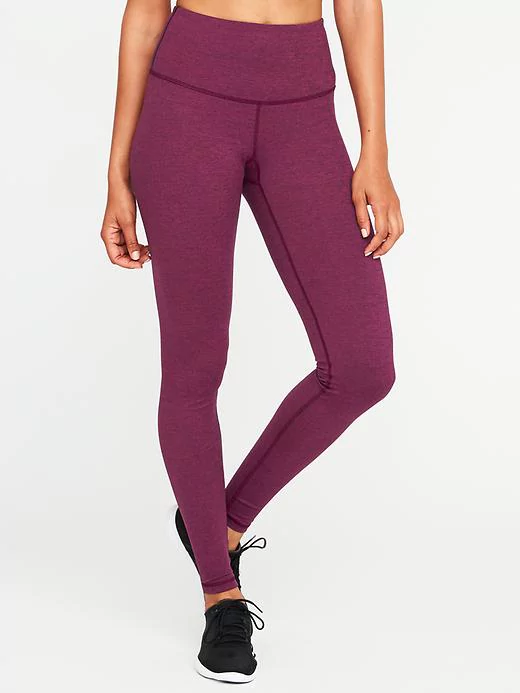 "Old Navy compression leggings!" said Michelle Brianna Deveney. "I got some for Christmas and they are amazing!"
Buy the compression leggings above for $32.99 from Old Navy.
What brands of compression wear do you recommend? Let us know in the comments below!
Originally published: January 18, 2018