To the People Who Say My Daughter's Chronic Illness Doesn't 'Define Her'
---
Many in the chronic illness community may disagree with my opinion, but I truthfully do not like the statement often spoken about my daughter, "At least she doesn't let her illness define her." I know people mean well and are saying it in a supportive way, but I believe it is categorically wrong if you stop to think about it.
"My illness doesn't define me" is a popular quote found all over social media. Yet, many who use it are members of numerous support groups, count their fellow chronic illness friends as their closest friends and frequently post updates about their daily struggles. I'm not speaking negatively about anyone and I count my daughter among them. I'm only pointing out that to say something doesn't define your life and yet describes your almost every waking moment seems incongruous to me.
Of course my daughter's illness defines her. When you are chronically ill, you've been in and out of multiple hospitals, visited too many doctors to even count, have enough medication to supply a pharmacy, know exactly which vein is still good enough to give up a few vials of blood, have a better understanding of medical jargon than many medical students, constantly live in pain, and you're always wondering if you will ever feel better. So, yes, I feel your illness can define you. It can become your most intimate friend in the dead of the night, your most reliable companion as you hang your head over the toilet, your trusted shadow as you lay in bed for weeks, your constant reminder that this has become your life whether you asked for it or not. Being chronically ill may predict who you will reach out to for comfort and divide those who understand from those who question your illness. It doesn't discriminate or care about your beliefs or wishes. It just is. Period.
What is wrong with saying an illness defines you anyway? My daughter was a competitive swimmer prior to becoming too ill to participate. She started swimming at age 4; by 9, she was practicing five days a week for two hours a day and by 12 she was practicing six days a week. She dreamed of swimming at a Division I university on a scholarship and did all that was possible to realize her dream. She missed social events, sleepovers, parties, vacations and joining school clubs, all in the name of that goal. Does that mean swimming "defined" her? Heck yes! And was it seen as a negative? No, it was considered dedication and determination. It was maturity and being able to set goals; it was what was expected of an athlete with a dream.
I believe the same is true of being chronically ill. You are in a constant battle with your body and are always fighting to feel just a little bit better. And guess what? Those same attributes of being an athlete apply. She is dedicated and determined to feel better. Her maturity and ability to set goals help her to hold on each day as her body is ravaged, fully believing she will get better.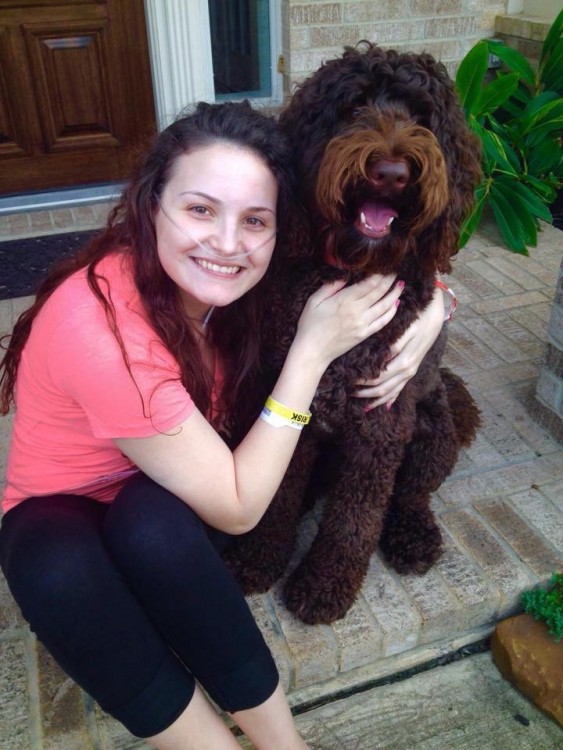 My daughter is chronically ill and I believe her illness does define her. And I am grateful for who it has helped her become. She is, by far, the strongest person I know. She has learned empathy and is extremely compassionate to the many friends she has made who are fighting their own battles. She has set goals of using what she has learned from being ill to reach out to others and help them through the dark days. She has matured and grown in a way that no amount of college dorm room living may have ever taught her. She has become more introspective, which in turn has made her a better friend and companion to all of us that know and love her. And one day, I believe she will be the most nurturing and doting wife and mother because of her understanding of needing others to lean on for support and comfort.
Am I saying I don't wish our lives didn't divert down this difficult path? No, I'm saying I believe in fate and that my daughter is taking this path for a purpose. I believe she was meant to walk this uphill road, with us by her side, and I am honored to help her figure out where it leads.
My daughter is chronically ill, and I am proud of what that truly means.
The Mighty is asking the following: What's one commonly held opinion within the community surrounding your disability and/or disease (or a loved one's) that doesn't resonate with you? If you'd like to participate, please send a blog post to community@themighty.com. Please include a photo for the piece, a photo of yourself and 1-2 sentence bio. Check out our Submit a Story page for more about our submission guidelines.
Originally published: March 30, 2016