5 Ways I Found Peace in the Midst of My Chronic Illness Battle
---
How This Got Started
Last week on Instagram, my sister and I were guest posters with Autoimmune Paleo. I cannot say enough about our time with that awesome community. Phenomenal!
Our last post really struck a cord and I wanted to share it with our audience and expand on it more. First, I want to share the exact picture and post: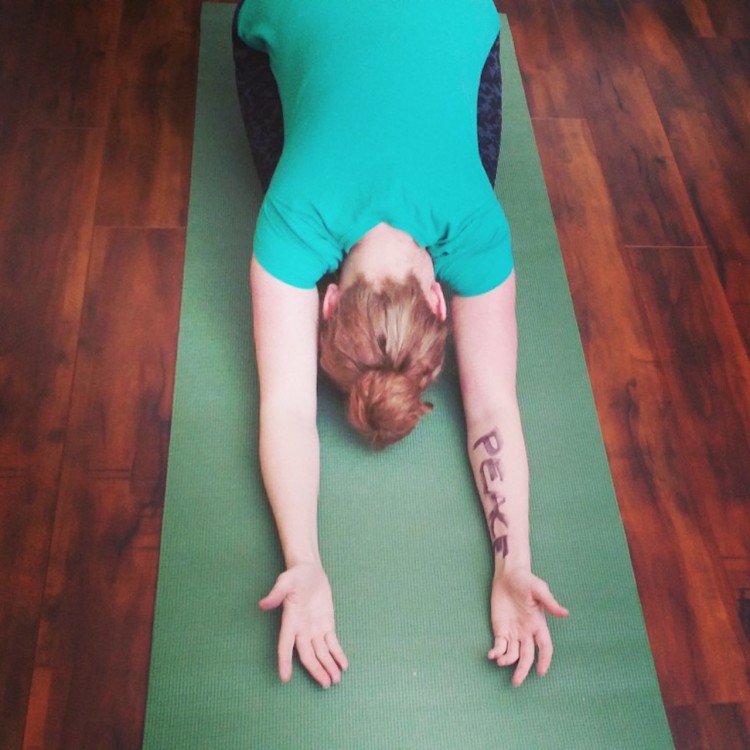 "Having autoimmune issues is not for the faint of heart. Massive understatement, right?! The battle that we can wage within ourselves can be fierce. For me, peace had been utterly elusive since illness showed up at the door. There was always a battle of what I wanted to do and what my body allowed me to do. The "strong" parts of me kept beating up the "weak" parts. A war of self hate and discord was always present or bubbling just below the surface. The last year or so I've been on a journey of self love, loving even the weakest parts of me. Bringing those two parts of me together and uniting them has been monumentally healing and has brought an enormous amount of peace. This is a process that is constantly being worked out. As a reminder, when I do yoga, sometimes I need to write truth on my body. On hard days, I need it blasting in my face. Other times, it is a gentle reminder of how I'm transforming. It is my hope that in some way, your illness may transform you for the better. In the hard. In the unthinkable. In the unimaginable. I hope there is peace for you.-Kacy"
This post really resonated with so many that are on a very similar path. I wanted to talk about how I have been able to embrace peace and what the journey has looked like.
The Beginning of the Battle
I have spent over 12 years battling my body. Battling what it has done to me. Battling what it has taken away from me. Things I will never get back. Battling the ways it has constantly let me down. In the past dozen years, I believed a lot of lies about myself, God and others through this grueling physical, emotional and spiritual process. Walking down this arduous road and looking back, I've been able to identify the things that have helped walk me out of the thickets and thorn bushes and brought me to a place where myrtles and junipers grow.
Here are the five big ways I was able to transition from an inner world of chaos to an inner world of more peace:
1. I needed to get support. This was really the first step for me. I realized I couldn't walk this path alone. I got into counseling which really helped me sort through the false beliefs I had developed about myself. I also joined a support group that met online and via phone since I wasn't well enough to physically attend one at the time. To support my body, I adopted an anti-inflammatory diet.
2. I had to detach (with love) from toxic relationships and my own unhealthy tendencies in relationships. This was a long, hard process for me. In the end, this freed up so much emotional space and energy.
3. Surrender and honor where I was at. This does not mean giving up. This means accepting things the way they are without trying to control, manipulate or fight against it. This has been a monumental struggle. This is a day-to-day, live it out constantly kind of thing. This has not looked pretty, by the way. This has been ugly to the ugly but oh, so good.
4. Receive grace and give grace. Before becoming ill, this was not something I did well with myself and that fact was amplified when illness came to set up residence. I really needed to embrace the concept of grace and practice it like it was my job. It was so foreign to me and at first it just felt wrong. Part of this process was to ditch the comparisons. As I was learning and embracing this whole grace thing, I gave it away so much easier than before which created safe and vulnerable relationships around me.
5. I had the strong and weak parts of myself forgive one another. This may sound out there, but I had to have the "strong" parts of me and the "weak" parts of me forgive each other. The strong parts wanted to live the way they wanted, save the world and all things external, and when the weak parts couldn't get with the program, the strong parts of me beat up the weak parts. The weak parts built up resentment and anger for being bullied constantly from the strong parts. In order to unite these two parts of me, forgiveness needed to take place. I could cry as I write this. The beauty in this forgiveness and seeing these two parts of me united has been one of the most beautiful things I've ever experienced.
My Final Thoughts
I used to think that lasting, inner peace was unattainable in the middle of messy, hard, long and challenging battles. It has taken me a long time to realize that my circumstances don't have to be perfect to have this peace. Inner peace is not a one-time event. It's a muscle that will build over time.
A version of this post originally appeared on Sisters Undercover.
We want to hear your story. Become a Mighty contributor here.
Originally published: November 18, 2016