6 Crucial Questions People With Disabilities Should Ponder Before Getting a Dog
---
For people with disabilities, getting a dog can be a life-changing experience. In addition to company and love, caring for a dog can get you out of your own head and off the couch at times when you wouldn't or couldn't otherwise. Owning a dog is a great way to meet new people and a great excuse to get out in the world (we're talking pets here, not service dogs). But that doesn't make dog "parenting" easy, cheap, or something you should get into without fully thinking through all aspects of the choice. For disabled people, getting a dog is even more of an undertaking!
If you have disabilities, before getting a dog, ask yourself these 6 crucial questions:
1. Can you afford it? (money)
Dogs are expensive… and that's if they're healthy. (Ask me about my dog Kismet and her two hip surgeries! Food is expensive (ask me about my other dog Arrow and the prescription food she has to eat now because her butt got too chonky!). Toys and grooming and everything else are, you guessed it, expensive. One thing some people leave out is travel: can you afford to board a dog, or take it with you? (Boarding dogs costs more than you think it will!) Are you willing to stay home if things don't work out?  You should also consider breed restrictions in your area: even if your dog is a mutt, if they're primarily what's considered to be a "dangerous" breed, you may pay more in rent or even lose out on housing options.
There are definitely ways to get by on less money! This isn't to say that no person with disabilities can get a dog unless they have thousands to spare. But it really does add up, even spread over a long period of time
…Except for when it isn't. Emergency vet visits will happen. Your dog might need hip surgery, like mine, or get cancer, like my friend's dog. How much money do you have/are you willing to spend? Realistically, can you swing a surprise thousand-dollar vet bill? People with disabilities should understand more than the average person that getting a dog who's in good health now doesn't mean things will stay that way.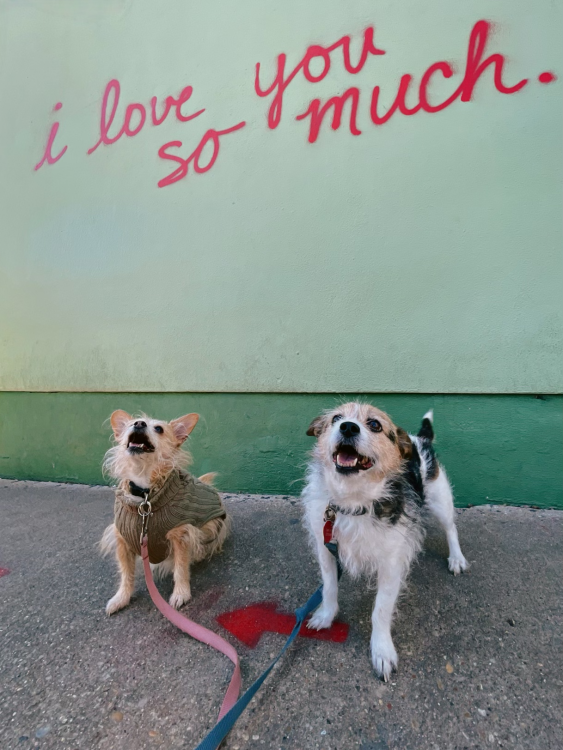 2. Can you afford it? (pain/health)
I put pain after money because, shitty as it is, the former can influence the latter. The more money you have, the worse your pain can be, because you can buy toys and equipment and afford to pay someone to walk the dogs when you're hurting too bad. It's not just money, though: if you have family members or a partner, or even helpful neighbors, they serve the same purpose. They can be sort of a release valve for when things are just too bad for you to take care of anybody but yourself.
If it really is just you without support, look in the mirror and really think about whether your disabilities fit with getting a dog. Are you comfortable making a commitment to walk a dog at least every other day for the next ten+ years? Even when you feel awful? Do you have the spoons to devote to taking care of another living creature? Even on bad days?
3. Can you accept that dogs have innate personalities you can't train out of them?
I got both my dogs as puppies and trained them the same way: the older one ended up smart as a whip, devious, a leader, a little bossy. She can even do a bunch of tricks! The younger one is dumb and sweet and wants to be everybody's friend and is happy to be a follower. She can sit. And sometimes stay.  (There is one trick I've been working on for her entire life that she has yet to figure out, and she's 9 now.) They're both crate-trained and better behaved than a lot of dogs I know, but no matter what I do or how hard I try to train it out of her, Kismet will bark at someone that comes to the door every damn time.
So I ask you: are you ready to deal with behaviors that fall within the normal range of dog behavior, even if those are unwanted behaviors? As a friend who lives in a big city and got a puppy last year said, "Your dog has its own personality and tendencies. Bringing a puppy home doesn't mean you'll be able to fully "customize" a dog's personality. You cannot program the dog. You can be a friend to dog, and caretaker to dog, but the dog is his own being.  And you will never be completely in control of this other sentient being, no matter how good your training is." Can you handle that?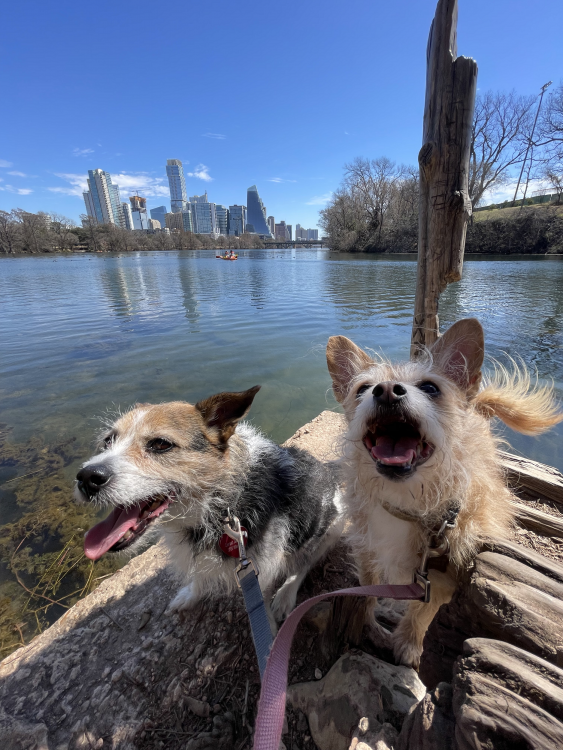 4. Can a dog fit into your day-to-day routine and living situation?
Is there a place in your world for the dog to be? People with disabilities getting a dog should know beforehand what to expect, especially if choosing a puppy or a large breed with a lot of energy – don't be like the couple I know from high school who got a Great Dane puppy in a two-bedroom apartment – but it's important for everybody to ask.
Do you have kids or roommates?
How often do you travel for work?
Do you have a yard, or are you OK to stand outside with them multiple times a day while they go to the bathroom?
How stable is your housing? What will you do if your housing situation changes unexpectedly?
Is there someone who can take care of the dog temporarily if you are hospitalized or too unwell to care for the dog? What if you die?
If a future partner is allergic to dogs, or you have a baby, or you move and it's hard to find an apartment that lets you have a dog, what will you do?
Ask yourself, under what circumstances would you relinquish this animal? If you realize that your dog is not thriving in your care, would you be able to shelve your feelings and rehome it? No matter how much you love your dog, if they have needs you can't meet, can you find it in you to give the dog the life it deserves?
5. Are you getting the right dog for you and your individual needs?
Breeds and individuals have such different requirements: there's a dog to match any lifestyle and activity level, but not all owners consider this. The difference between a puppy of a large, energetic, wilful breed and an older medium-sized dog is absolutely massive. It's important for people with disabilities getting a dog to be aware of both size and potential behavioral issues.
How are you getting your dog?
I asked a friend who runs a rescue organization what new owners should ask themselves, and she replied: "Am I obtaining a dog ethically? Does this purchase or adoption align with my values? Am I educated on issues around dog welfare in my community? Is this dog already spayed/neutered, and do I have a plan to do that?"
If you're getting a puppy from a rescue, do you realize and are OK with the fact that you truly have no idea or guarantee what it will grow into? The "breed" on the card is nothing but a well-intentioned guess. On the flip side, purebred dogs are still dogs and can have characteristics you don't want. They aren't insurance against the wrong choice.
My dogs sure look different now than I thought they would!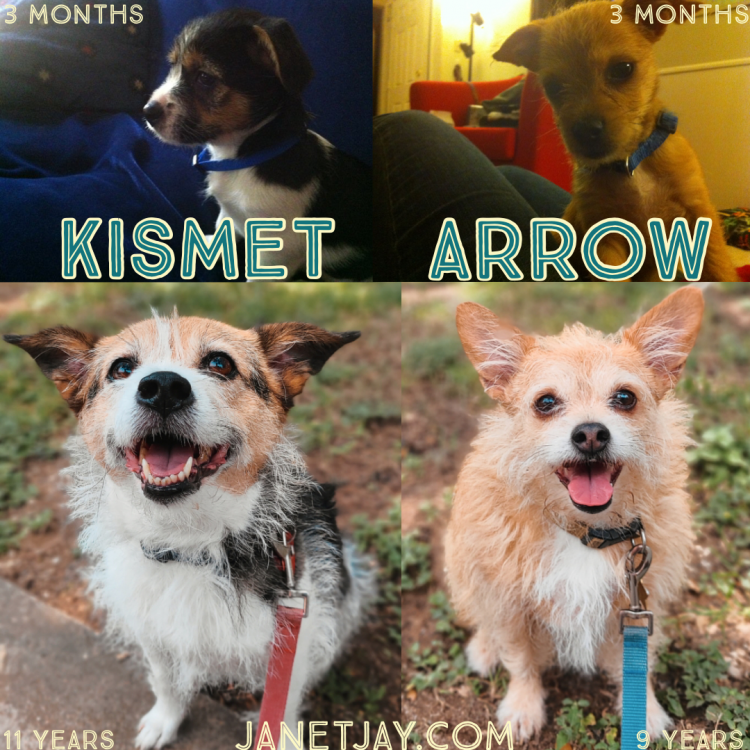 Have you considered an older dog?
Older dogs are actually perfect for people with disabilities! Because they're:
Already house trained
Already spayed/neutered, has all their shots
Full-grown, so you know what size you're getting
Past the "constant zoomies, mischief and infinite energy" puppy days
Puppies are very cute but in addition to everything above, at rescues, they go fast. Expanding your search to older dogs gives you way more options: odds are that an older dog sitting in a shelter near you would be a perfect fit for your life and needs.
6.  Are you dedicated to being a good owner?
Do you understand what a dog needs from you? How much do you know about dog training? Are you willing to learn more? How much patience do you have? How much time do you have to devote to training and petting your pup? If you've got a puppy, do you realize that it will wake you up at 5 a.m. and chew on the furniture legs and tear around the house full of zoomies and energy for literally years? Everything you do with a puppy has ramifications later on. If you don't train them well, the next 10 years aren't going to be much fun for either of you.
Speaking of… puppies turn into dogs, and dogs turn into old dogs. Are you ready for that, emotionally and financially?
Still in? Hot diggity dog!
This story might give you the impression that dog ownership is hard. That's because it is! But if you know what you're getting into, a dog can be an incredibly helpful, rewarding aspect of your life in so many ways. Through some really tough and lonely times, mine have kept me company and laughing. And taking care of them sometimes got me moving, even walking, on days when otherwise I would have been on the couch. So ask yourself these questions… and then go check out a local shelter! (If you're in central Texas, Austin Pets Alive is an amazing group. That's where I got Kismet!)
All photos by Ken from KenWalksDogs (who is great if you are in the Austin area and need a dog-walker!) except puppy pix or where otherwise noted.
Originally published: June 23, 2022