31 Comfortable Halloween Costumes for People With Chronic Illness
---
While many look forward to Halloween as an opportunity to dress up, go to parties or partake in trick-or-treating, those of us with chronic illness often have some extra considerations when it comes to preparing for the holiday.
If you have chronic pain or sensitive skin you may have trouble finding a costume that's not scratchy or uncomfortable, and walking or standing around all night might not be doable if you have chronic fatigue. Others may have mobility issues and require assistive devices such as wheelchairs, canes, crutches, etc. All of this can make the thought of finding a suitable costume and being active or social all night a bit daunting.
However, you can get creative and brainstorm costume ideas that work to your advantage. Whether it incorporates a mobility device or is made of super soft material, these unique costume creations show off the talents and strengths of those in our community. If you're struggling to find a Halloween costume that will be compatible with your chronic illness, maybe the following will help spark some ideas.
Here are the incredible costumes our community shared with us:
1. "I found a really soft, used, yellow dress at the Salvation Army that didn't aggravate my CRPS pain as much in my upper body. I wore my white compression socks for my POTS to match the costume, I dressed my big, fluffy black service poodle up as my service gorilla, and boom! Jane and Terk from Disney's 'Tarzan!' As an added bonus, Terk steals one of Jane's gloves so it didn't look weird when I only wore one glove (I can't wear one glove over my worst CRPS hand)." – Neisha Kobrin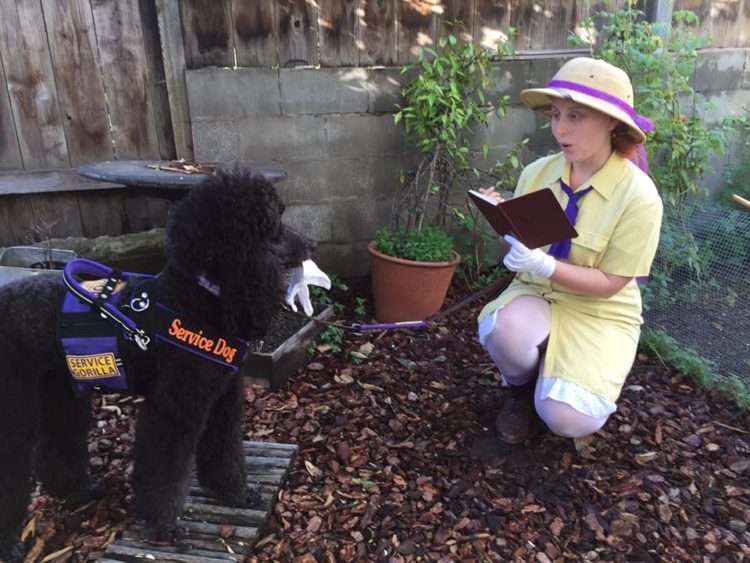 2. "Two years ago I was fully dependent on a wheelchair. I love Halloween and made the best out of it. I created a fortune teller table out of my chair. Everyone loved it." – Justine Reddish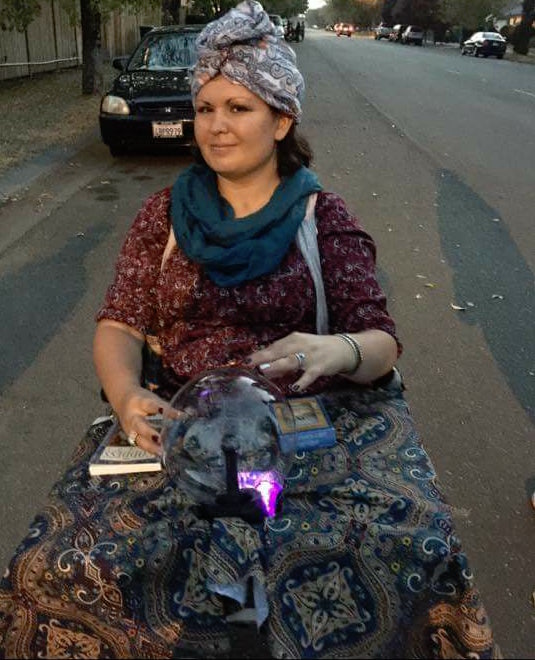 3. "This was last year. I have to stand six hours per shift with a 30-minute break. I may be using the cane more than a prop when I recreate it this year thanks to my new shadows, fibro and CFS [chronic fatigue syndrome]." – Tamara Mulkey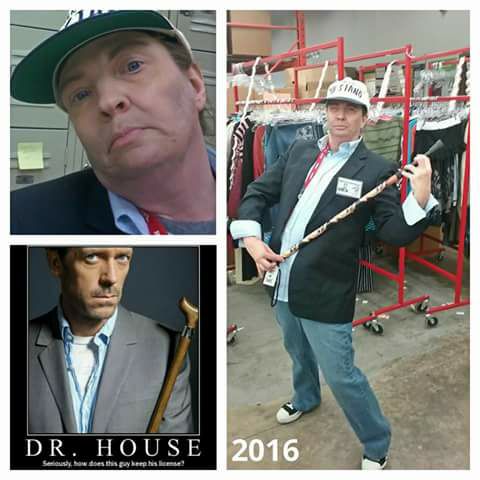 4. "I do like a good corset for the back support! Steampunk costumes are great because people assume my cane is part of the costume (and I get a chance to pull out some of my fancier ones!). I made this entire costume for Comic-Con this year. So proud! Lasted all three days for the first time! (OK, it took me a week to recover, and months to make the costume, but so worth it!)" – Tara Slade-Hall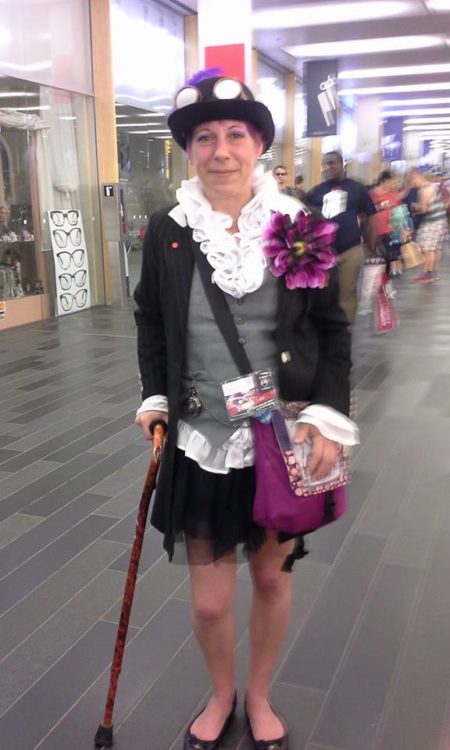 5. "I'm pretty much homebound, but Halloween is my favorite day because I dress up as a witch and sit on my porch with a cauldron of candy and watch the neighborhood kids grow up year by year." – Mary Joyce Avery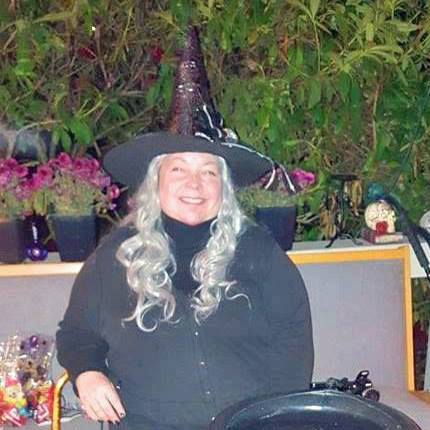 6. "I dressed up as Willy Wonka (Gene Wilder) complete with cane. Very easy to wear, nice trousers and a few props made it a comfortable yet unexpected outfit." – Robyn Atcheson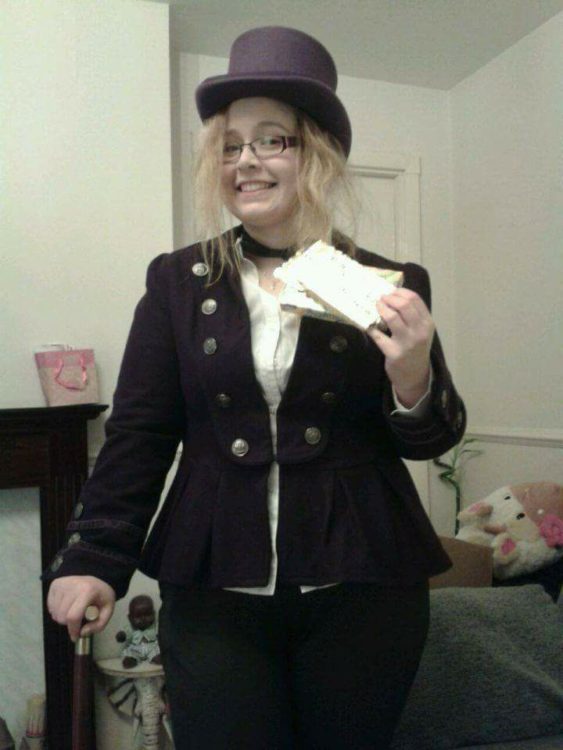 7. "When I first became sick, I injured my hip and ended up in a wheelchair for a while. My friend came over and decorated my wheelchair so I could attend a family costume party. I was 'Princess Injury on her throne.'" – Kennette Winslow Watkins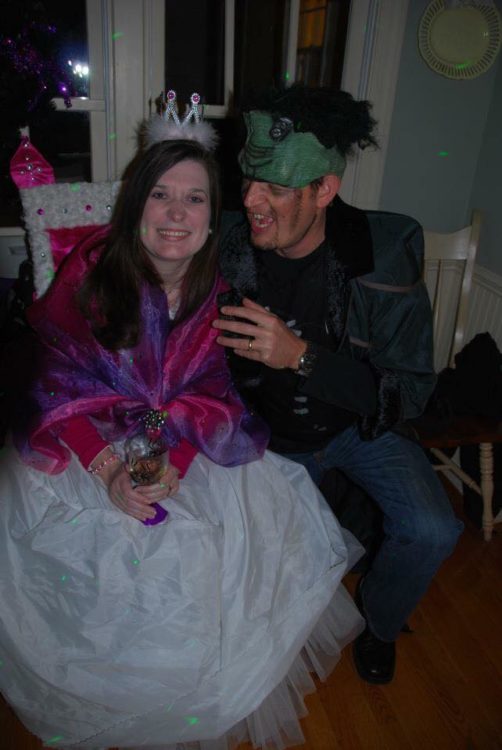 8. "This is my pirate costume. I wear it for Halloween and for Tampa's Gasparilla parade. I watched the parade while sitting on my walker." – Megan McDonald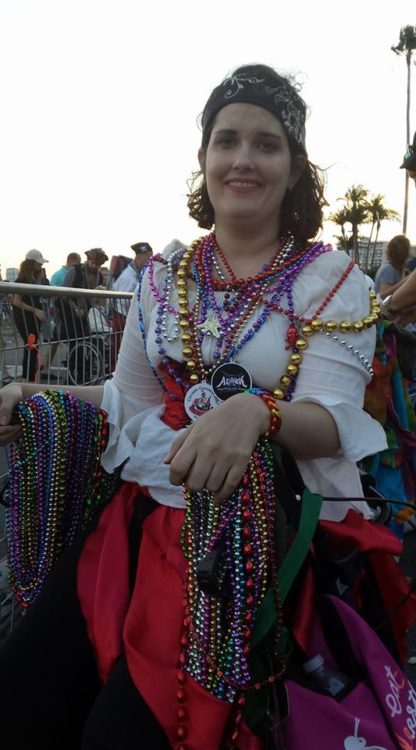 9. "Not Halloween, but I dressed up as Raven Reyes from 'The 100' for a convention, and since she is disabled (she uses a leg brace, though, whereas I used my wheelchair), it worked out great, and the actress who plays Raven loved it!" – Michaela Martin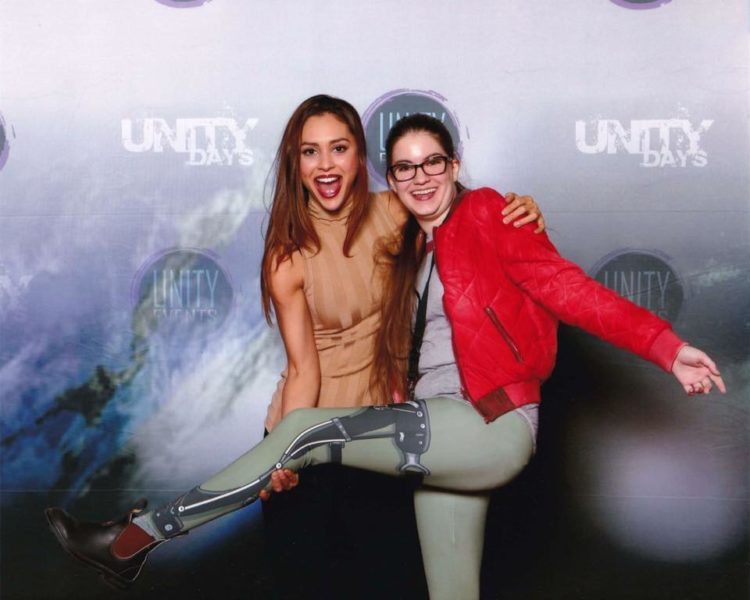 10. Photo from Jessica Gregory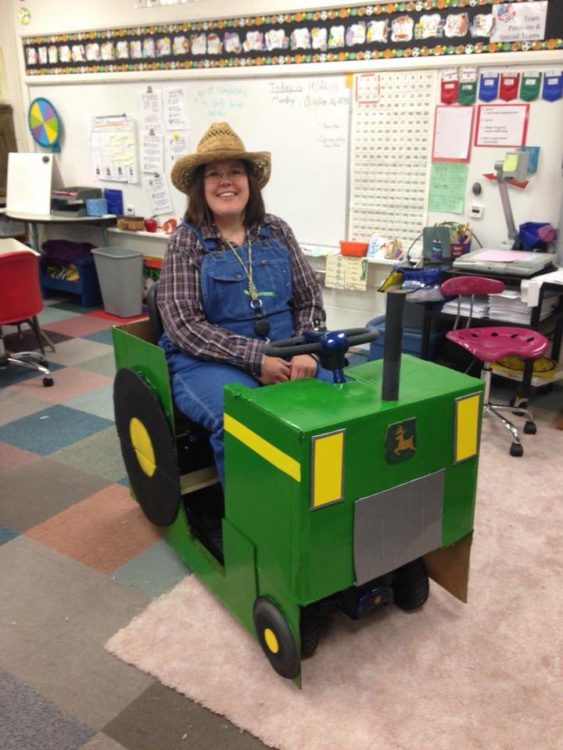 11. "My daughter was Anna from 'Frozen' two years ago. It was a lot of work but my husband built the sled out of cardboard for over her power wheelchair. Looked amazing driving down the road." – Meredith Welch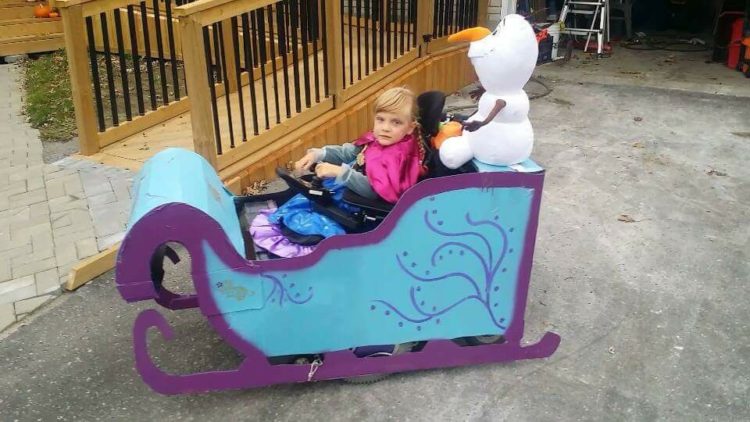 12. "I know it's overdone but this is a great comfortable costume. I found the ears and a tail at a Halloween store and wore leggings and a comfortable T-shirt. And I did fairly basic makeup to tie the look together. It is both easy and a good costume for people with chronic pain/illness because it didn't have a lot of annoying fabrics. I still have the ears and it is my go-to on Halloween when I don't have the energy to put something more extravagant together." – Nicole Hopkins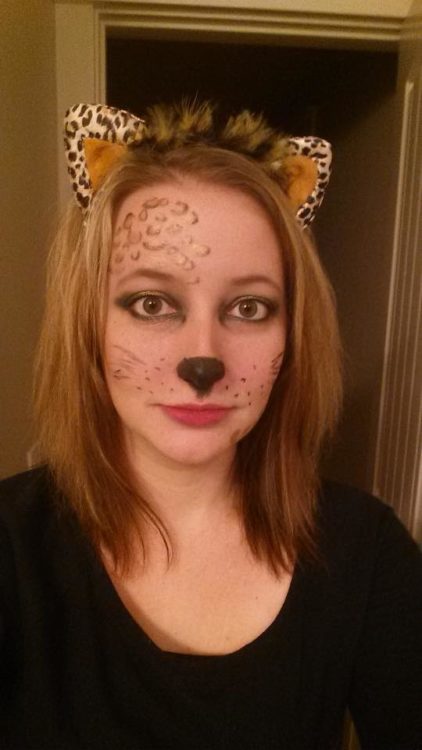 13. "I dressed up as Migraine Woman (Wonder Woman's cousin) for the 2017 Miles for Migraine San Francisco Race. While Wonder Woman fights bad guys, Migraine Woman fights migraine. My costume featured the color purple (migraine advocacy color), Cefaly headband for preventing migraine attacks, a sword made out of medication and supplement bottles, a sun shield, hand warmer wrist bands and an eye mask of peace (instead of a lasso of truth). I received enthusiastic feedback from the Miles for Migraine community and won first prize in the costume contest. People appreciated seeing someone with migraine as a warrior."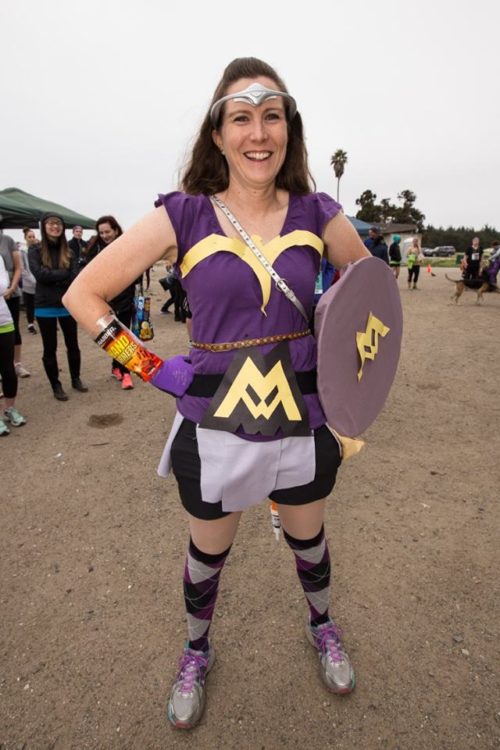 14. "Last year my son chose to be Deadpool. So I turned his wheelchair into a chimichanga truck. This year he'll be the 11th Doctor and his wheelchair will be the Tardis (still working on it)." – Philip J. Van Hise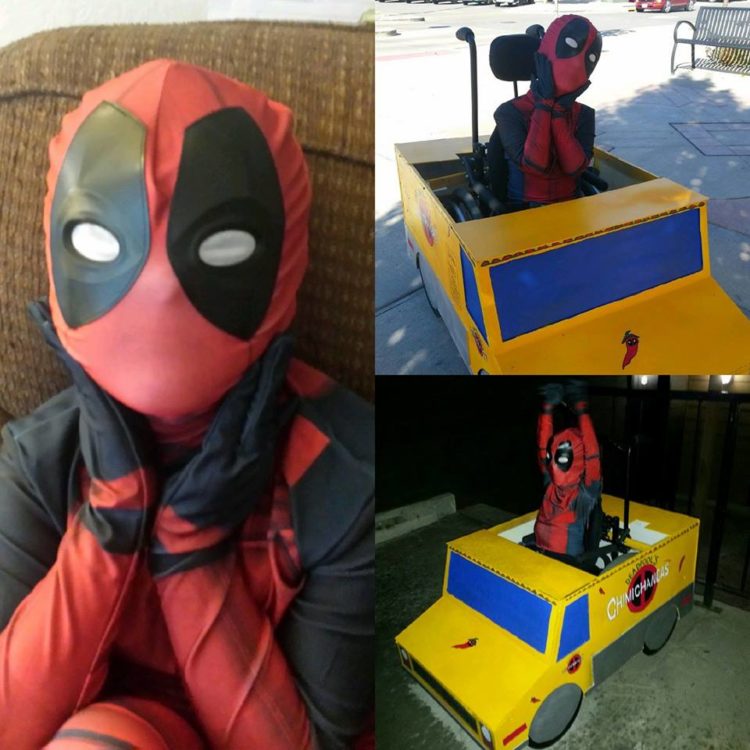 And check out even more ideas from our community:
15. "This year I'm dressing as a mermaid. It's a staple costume for those of us for whom standing is an issue! Plus I'm sure the little girls I teach on Mondays will love sitting on the floor and wiggling like mermaids with me." – Jay Rose Abrams
16. "My go-to in my wheelchair is a queen, and I make the chair a throne!" – Sasha Anne Oates
17. "A 'Game of Thrones' character. Then find your throne." – Tamora Cross
18. "If you need to sit down frequently, royalty is a great costume! If you need a cane it can be your scepter. Plus this opens up a whole bunch of costumes for friends and family to do with you if you want a theme. I was the Queen of Hearts one year and we did an 'Alice in Wonderland' theme." – Sonia Scotch Scace
19. "Ellie and Carl from the movie 'Up!'" – Heather Ashley Scofield
20. "I haven't worn it myself, but the little puppet thing from 'Saw' that's on the bike would be a good one." – Donna Lee
21. "A friend of mine did Professor X." – Andrew Terrill
22. "X-wing fighter pilot from 'Star Wars.'" – Leah Bathurst
23. "My go-to is wearing pajamas and a big robe. I'll make my hair all messy in a high ponytail. Easy. Comfy. And it works. One year had my whole family do it for our 'trunk or treat.'" – Erika Hooper Yaman
24. "Any onesie! They are very comfortable, usually fleece, with a long zipper up in the back so you can take on and off whenever you want, and these days, they have a onesie for everything! From animals to superheroes and all different sizes." – Samantha Rubin
25. "I have gone as a little kid all ready for bed – comfy PJs, a teddy bear and either pigtails or little girl hair accessories and the costume is complete! I have also added a pacifier and a sippy cup some years, too. One-piece pajamas made for adults (a.k.a. big kids at heart) are perfect!" – Jennifer Kusz
26. "Pajamas, bathrobe, towel and you're Arthur Dent from 'Hitchhiker's Guide to the Galaxy.'" – Lainie Cohen
27. "A month after our son was born my husband and I went to a Halloween party dressed up as new parents. We were in our jammies and slippers. I even had a doll in a baby front-pack carrier. It was super comfy!" – Bettina Culpepper-Broetz
28. "I've done Catwoman (my kids were Batman and Robin, husband was Commissioner Gordon) which was a very comfy costume. All spandex unitard with ears and a tail. We typically go as a superhero family and the unitard/skirt outfit is very easy to move in." – AnneMarie Greenfield
29. "Go as a medical professional or a chef or similar. The clothes are generally comfy and not hard to come by." – Jessi Fox
30. "Nun in full habit!" – Jo Kotylak
31. "I had the idea this year to wear the hospital gown I got from the ER a few months ago. I'm not sure what I'm going to do with it yet but it sure as hell was comfy when I was having trouble changing for the days after my trip." – Mikayla Hollis
Originally published: October 3, 2017