18 Ways to Make Decorating for the Holidays Easier With Chronic Illness
---
Decorating for the holidays is a tradition many people look forward to each year. They may string up lights on the roof of their house, pick out a real tree to take home and decorate, or pull out boxes of memorabilia to place around their home. But for those who have a chronic illness or disability, putting up decorations can easily exacerbate pain, fatigue, and other symptoms and may simply not be doable.
While some may choose to forego the decorations entirely and celebrate the holidays in other ways, others have developed various strategies or "hacks" to make decorating a bit more manageable.
To help out those who are looking for a low-effort way to make their homes feel festive, we asked our Mighty community to share their tips for decorating with a chronic illness. Here are their suggestions.
We hope the products below, all recommended by our Mighty community members, help you or a loved one in your health journeys. Just so you know, The Mighty may collect a share of sales from the Amazon links on this page.
1. Start early, and take your time.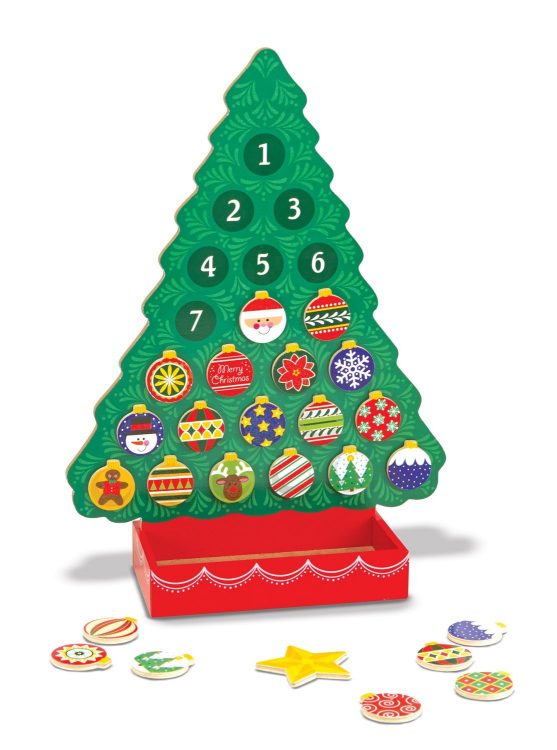 There is no reason all your holiday decorating needs to get done as quickly as possible, and there is no shame in getting started in November or, heck, even October. By spreading it out, you're not only conserving your energy, but getting to enjoy the festive season for even longer!
Jewell Carroll recommended, "Decorate in phases over the month of November. Having everything organized also supports decorating in phases."
"Start early," said Amanda Jensen. "Don't stick with traditions that state you 'have' to wait till Dec 1st… get it out sooner and do it bit by bit and enjoy the festive season and color longer!"
"I make our decorating part of an activity-based Advent Calendar. That way I can break it into very small chunks that are manageable even on bad days or with my kids' help," Samantha MacMillan told us.
Buy the Advent tree calendar above for $17.99 from Amazon.
2. Keep the ornaments on your tree.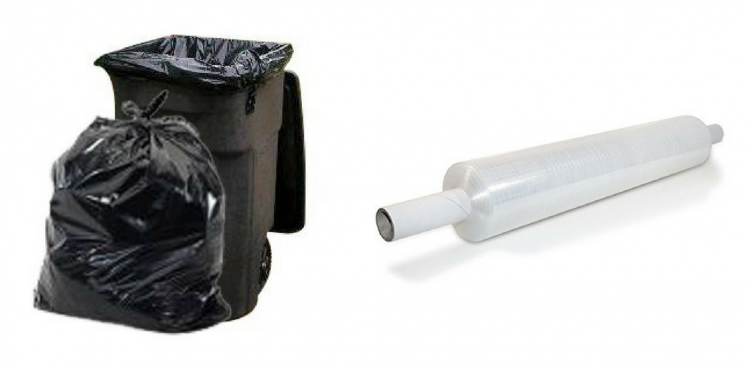 While hanging ornaments on your tree can be fun, it often involves a lot of standing and bending over, which can be painful and draining for those with chronic illness. To simplify the process, try "wrapping" your tree with trash bags, plastic packing wrap, etc. after the holidays – ornaments, lights, and all – and storing it as is. Next year, all you have to do is take it out and remove the wrapping!
Kaitlin Eckland wrote, "If you put up a Christmas tree (small or large), leave all of the decorations on it and put a garbage bag over it. Just store it standing up. Next year, you only have to take the garbage off to have a decorated tree — no using up energy decorating it!"
"I️ never take the decorations on my tree. We just pick it up and love it to a storage room," said Randi Elizabeth Taylor. "The other decorations are very minimal, and I️ do a little a day to ensure I️ don't get too tired too fast!"
Jennifer Sampson Potter added, "When the season is over, and it's time to put things away, wrap your decorated tree(s) in packing wrap and store. Next season, simply unwrap and fluff!"
Buy the trash bags (65-gallon, 50-ct.) ($29.99) from Amazon and packing wrap ($19.49) from Amazon.
3. Stay organized.

Kathy Hensley told us, "I spent almost a month decorating. I learned to do it more easily by being organized when I packed things up. First I took apart each tree. All items from one tree in one tote. All totes marked with location, room, etc."
Jewell Carroll recommended, "Organize everything when you put it away. Ornaments have their own [box], wreath organizer, lights, wrapping paper and everything else. That way when I ask for help bringing decorations up, my husband doesn't have to dig through things and it's less of a hassle."
Buy the ornament organizer above ($19.99) from Target, wreath storage box above ($14.99) from Target and the Christmas lights storage box above ($17.99) from Target.
4. Ask for help.
If you need a family member or friend to lend a hand and do some of the heavy-lifting, it is totally OK to ask. They will more than likely be glad to help out and spend some time with you while you get to rest.
April Rose said, "I only put up a tree. But I enlist the help of my lover and we do it together. We start early, and take our time for my sake. We get to have fun together and I only have half the work."
Sheryl Fleming added, "I get my husband to put the tree up and pull the totes of decorations out for me. Then I slowly put up a little bit at a time starting mid-November."
5. Use a collapsible tree.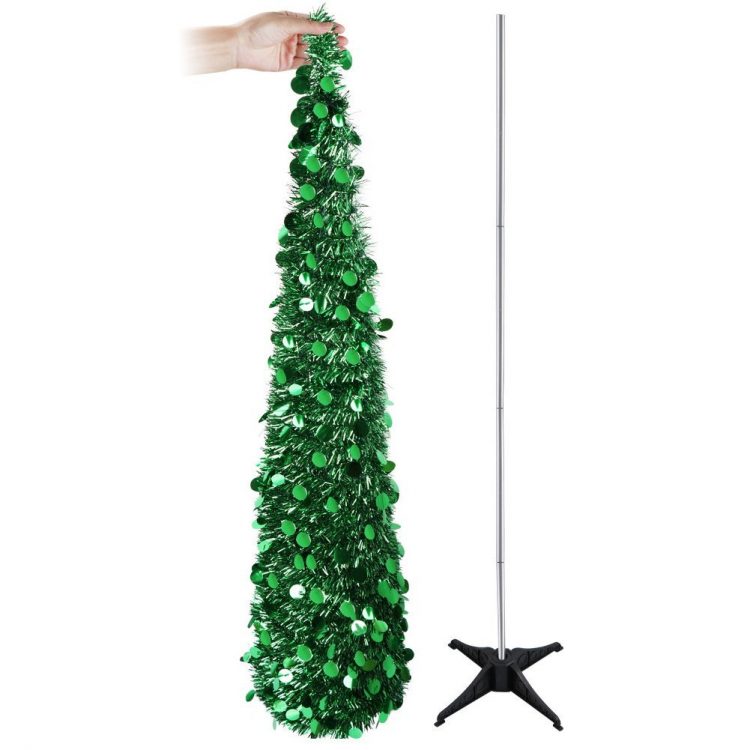 If you're looking for a low-maintenance tree and are tight on storage space, a collapsible tree is small, lightweight, and folds up flat when you're ready to take it down.
Kathy Hensley told us, "[I use] a collapsible tree that folds up flat. I just set up the pole, attach the tree top and drop it down. It came decorated, but I've customized it. When I put it away, it goes completely decorated in a bicycle bag for storage. This is the easiest tree ever. It is flat when collapsed."
Buy the collapsible tree above for $31.97 from Amazon.
6. Decorate the outdoors with grid lights.
If you're looking to hang up lights outside without having to climb on a ladder to reach your roof, grid/net lights can easily be thrown over trees and bushes.
"Use grid lighting attached to each other with zip ties (in addition to the plugs)," Britany Turner recommended. "We hang it along our porch to create something like a tunnel – but it can be used on trees, bushes, along walks, etc. The big trick is at the end of the year, with help, leave the grids attached and invest in a bolt of cheap cloth. Unroll the cloth, lay the grid lights on top of it, and roll it up – then store in a long storage container. The next year, all you have to do is unroll and hang up like you did before without dealing with tangles, etc."
Buy the net lights above for $22.99 from Amazon.
7. Store your decorations in convenient locations.
If you have some extra storage space available throughout your home, you can make next year's decorating easier by storing the decorations as close as possible to where you like to display them. For instance, rather than storing holiday-themed towels in a basement or attic, tuck them in a bathroom cabinet so they are accessible and convenient to grab out when the holidays roll around.
Emily Adams said, "At 67 with arthritis, I'm still able to do quite a bit of decorating as long as I spread it out over about a week. I'm lucky that my house has quite a bit of storage space, so I make a big effort to store whatever decorations go in a room right in that room. Dragging things down from a high shelf in the garage really had become a chore."
8. Use an outdoor holiday light projector.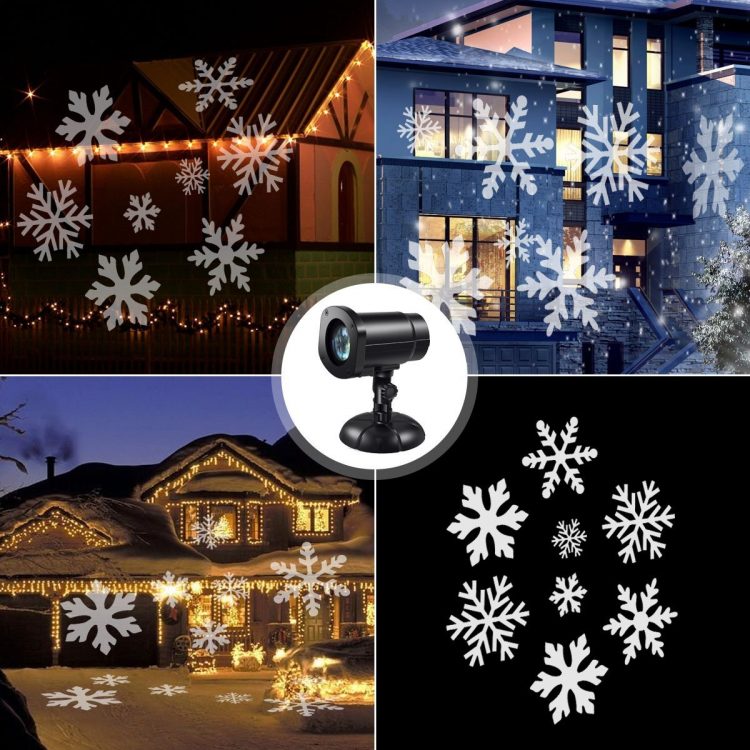 Putting up string lights outdoors can be exhausting and time-consuming – especially in cold weather. A light projector can add some holiday flair to your home with a fraction of the effort.
Arria Deepwater told us, "My neighbor has one of these – I don't decorate for Christmas, as we usually go spend a month at my sister's, but I saw this thing last year and thought, holy holidays, Batman! That's easy!"
Jamie Hamilton said, "Use the projectors – they shine moving lights on your house outside instead of putting up hundreds of lights and taking then down."
Buy the light projector above for $31.99 from Amazon.
9. Enlist kids to help you decorate.
If you have children in your life, chances are they will be more than happy to spend an afternoon doing some holiday decorating! You can make it fun with some cookies, music and their favorite holiday movie – or turn it into a day of arts and crafts and have them make their own decorations to hang up around your home.
Kathleen Brockway wrote, "Last year I traded my neighbor an afternoon of watching her 12-year-old daughter in exchange for her daughter doing the physical part of putting up my few decorations. We had pizza and watched a movie, and Mom got an afternoon of lunch out and shopping. The daughter has already asked if she can do this again this year! I'm a retired educator so it was nice to be around a child again, and the daughter got to be around a grandma-figure (she rarely sees her out-of-state grandmother). It was a win-win for everyone!"
"My son does the decorating. He's 8. He loves it," added Cassie Dupras. "My husband and I do what he can't, but we put him in charge of most of it. It's always a little bit of a surprise as to what it will look like."
10. Create a holiday ambiance with candles.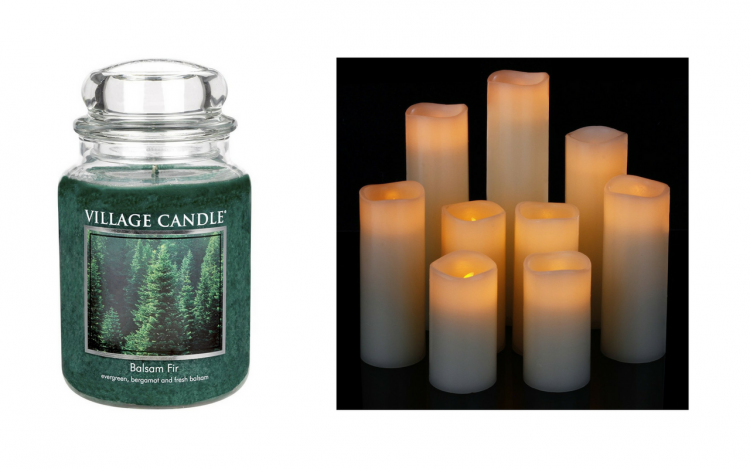 A few candles can add so much warmth and coziness to a room. Scented candles can really help set the mood and get you in the spirit, even if you don't have a ton of other decorations up. If you are sensitive to smells or don't want to worry about the flames, battery-operated candles can be adjusted by remote and work just as well for making the room feel cozy.
Jenny Williams Sarver told us, "Jar scented candles add a lot of ambiance and the lighting is relaxing. I use candles during Christmas always."
"I only put battery candles up," said Rima McFarlane. "I don't have to do much with them."
Buy the balsam fir scented candle ($19.99) from Amazon and battery-operated candle set ($29.99) from Amazon.
11. Turn decorating into a party.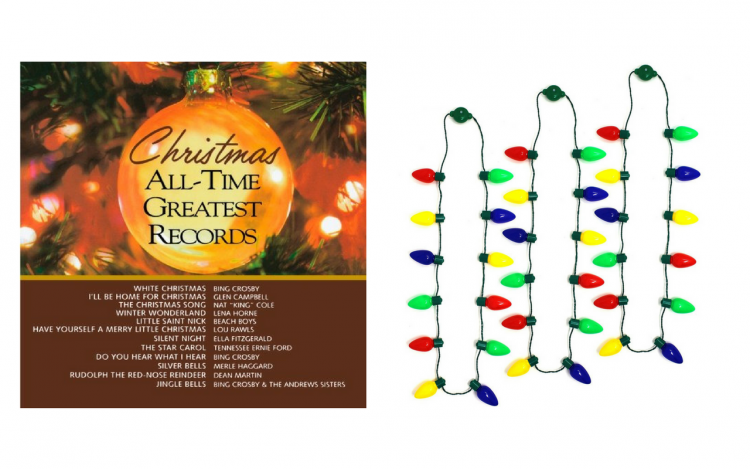 If you're feeling up to it, get all your family members together or invite some friends over and turn decorating into a group activity. Put on some festive music, ask everyone to bring their favorite holiday treat, then sit back, relax, and enjoy the company!
"Have a holiday decorating 'party' with your besties," recommended Maggie Moon. "You get to socialize and they help you put up your decorations."
"Make it a big family event," suggested Jackie Strickland. "Sounds weird but you can get the people in your house together (even if it's just you and your mate) and drink coffee or tea or hot chocolate and you can sit on your chair and unbox decorations and direct while your mate puts them up. And you don't have to do a lot. I have a little 24-inch tree and a handful of Christmas decorations so I can put it on the table in front of me and do it myself while my husband puts up lights and garland. It makes it less rushed and takes the pressure off because it's more about spending time together, and lets you hand over the big tasks while still feeling accomplished."
Gemma Curson said, "I love Christmas, and I have a lot of decorations, so I start early. I also enlist help with everything, so I'll have friends over for activities which also involve putting up or making some decorations, and get my partner, mum and kids heavily involved in doing stuff too. Not only is it nice to all be together, it spreads the work." 
Buy the Christmas CD above ($3.99) from Amazon and the bulb necklaces (pack of three) above ($12.95) from Amazon.
12. Focus on decorating the areas of your home you spend the most time in.
If you spend most of your time in bed or on the couch, focus your decorations around those areas. Don't worry about putting decorations in every single room. Pick a few of your favorite holiday items and put them where you will get to see them most often.
"The most important part for me is making sure the decorations are where I can see them," Sarah Farris explained. "While it is nice to have outside decorations or a Christmas tree in the living room, we always put some bunting up in the master bedroom, I burn holiday scented candles in the bedroom and I switch out some of my decorations for holiday ones."
13. Opt for a small, pre-lit tree.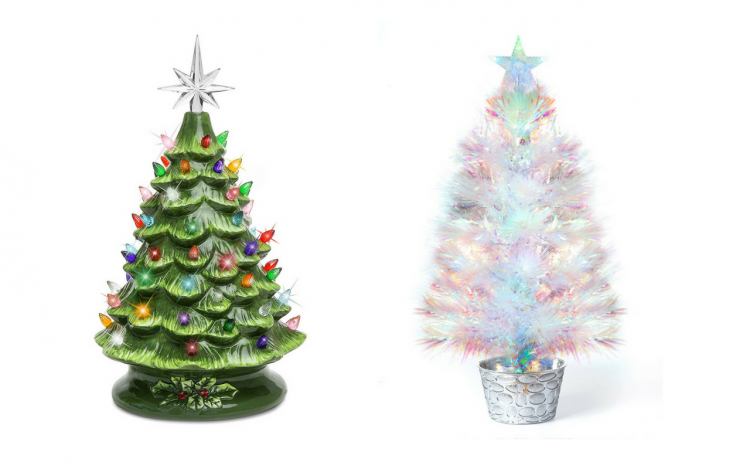 You don't need a 10-ft. tree that you chopped down yourself in order to get in the holiday spirit. A small, pre-lit tree can be just as beautiful and cozy but requires a fraction of the effort.
Louise Lamond told us, "We are lucky to have space to keep ours in a hall cupboard rather than the attic and my lovely better half does the decorating with me directing him from my chair. I did manage to buy a fiber optic tree a couple of years back so it means no untangling of lights."
"My fake tree is pre-lit. [It] is super easy to put up and take down," said Jamie Gallion.
Chris Richards wrote, "I put a red table cloth or place mat on the table, put a cute tree like this one [featured above] on it and I can enjoy the lights in the evening without all the work of a tree! I like holiday smells so candles are an easy way to achieve it. Add some music and you're done! Easy-peasy and no ornaments for the dogs to whack with their tails."

Buy the ceramic tabletop tree ($44.94) from Amazon and fiber optic tree ($44.99) from Amazon.
14. Put out a few holiday throw blankets.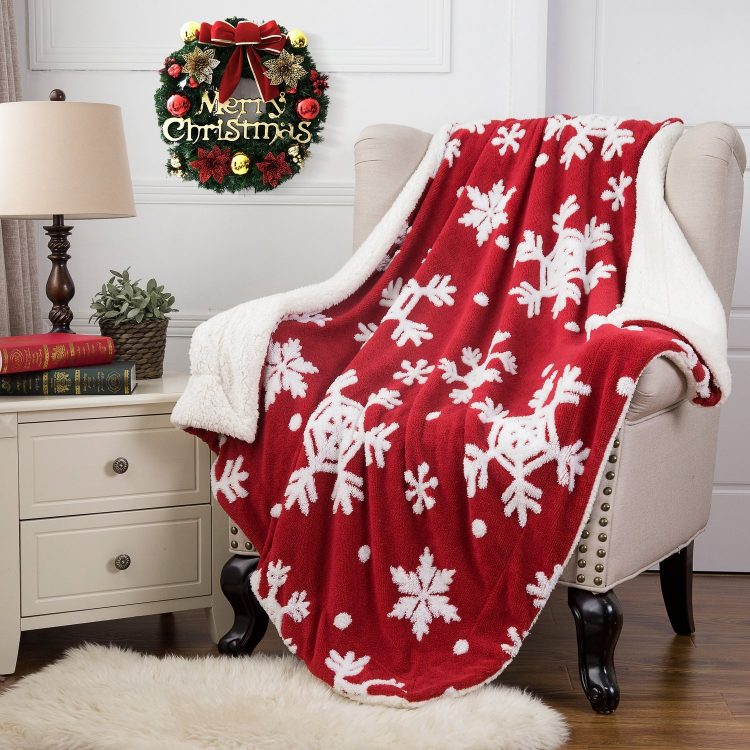 A cozy, winter-themed throw blanket can quickly add some festivity to the room while also keeping you warm and comfortable.
"I put out holiday blankets to up the festivities and comfort with chronic illness," said Jamie Hamilton.
"Little decorations, like switching pillow covers, swapping the throw blanket for a holiday one, swapping the centerpiece for a winter one, and having lots of holiday scents around the house make it seem ready for the holidays," added Sarah Farris.
Buy the blanket above for $24.99 from Amazon.
15. Decorate with artificial plants.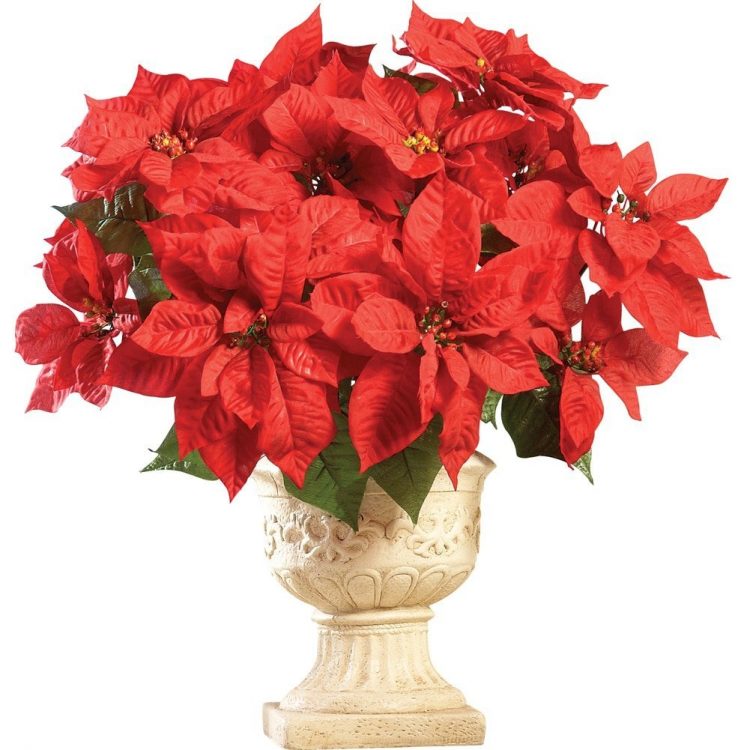 If you like having colorful holiday plants in your home but struggle with the smell and/or the upkeep, there are lots of artificial plants available that require zero maintenance. Plus, you can reuse them year after year!
Ken Nesteruk wrote, "If you get something with plants, get high-quality artificial plants. They won't die and you won't have to clean up leaves or needles or soil and if you can't trim/water them, there's no harm done! Plus the artificial plants rarely have a smell, as I know some people that have issues with smelly plants, particularly indoors (if you do want it to smell, you can order a scent pod or a candle to hide in/behind/next to the plant!)."
Buy the artificial poinsettias above for $11.99 from Amazon.
16. Add holiday flair to your year-round decor.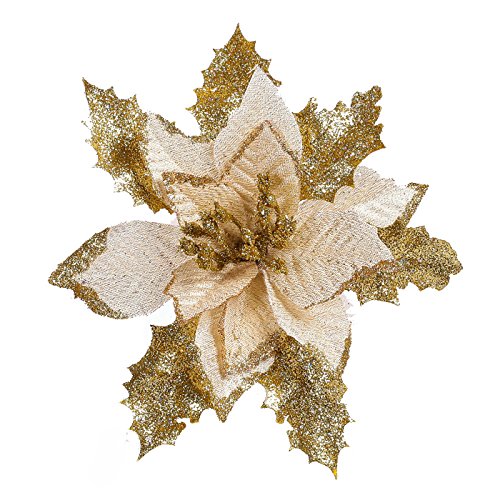 If you have a neutral wreath or centerpiece you have out year-round, you can simply add some small touches of decor to jazz it up for the holidays rather than switching out pieces entirely (and using up more energy!).
Sarah Elizabeth-Grace Ngozi Solomon suggested, "Having neutral decor year-round that can be added to for each holiday/season. E.g. I have a plain wreath that I can add flowers or a bow to."
Buy the artificial gold flowers above (pack of six) for $7.99 from Amazon.
17. Keep it simple.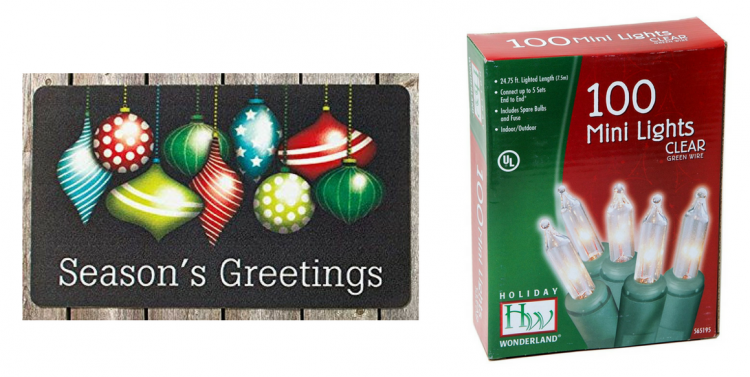 While large, elaborate decorations are certainly beautiful, sometimes all it takes is one or two simple decorations to make your home feel special and festive for the holidays.
Guisef Volium told us, "I have three Christmas welcome mats, three wreaths, three small pre-lit, pre-decorated Christmas trees that pop open like umbrellas on revolving stands and three large (lightweight) light-up winter scene tapestries. It looks like a lot – but it takes less effort than doing dishes."
"Mini versions of decor and keeping it minimalistic," recommended Lina Pavlova. "We had a mini tree, or I just hang ornaments around the apartment. Also plug in some string lights, but instead of going through the trouble of hanging them, I place them on a shelf, or put them in a vase. It really ties the place together, without overexerting myself. And I can still feel the holiday vibes!"
Buy the welcome mat above ($13) from Amazon and string lights above ($7.61) from Amazon.
18. And remember: Decorating is not the only way to get in the holiday spirit!
If you just aren't feeling up to decorating at all this year, that is absolutely OK. There are so many other ways to get in the holiday spirit. In the end, it doesn't matter how many strands of lights you hung up or how many cookies you baked. It's about spending time with loved ones and treasuring all the good you have in your life.
Trena Renee Seymour wrote, "The best hack I've found is to just not decorate. I can enjoy the season with music and holiday PJs."
"Don't stress," said Jessica Urban. "Whatever I can do when I can do it is enough. Music and store-bought cookies are good enough if that's all you can do. Literally I have to take the stress out of the holidays or I'll just be miserable! It's not about trees and lights – it's about love and being the light. The holidays are my favorite and I will not let my illnesses steal that joy!"
Sarah Farris added, "We didn't even put up a tree last year. Like other people have said, sometimes it is the traditions that make it feel like the season. Music, family PJs, watching certain movies (sometimes ones very specific to your family!) and things like that make all the difference."
How do you decorate for the holidays? Let us know in the comments below!