8 Ways to Make Friends When Chronic Illness Keeps You at Home
---
Google "how to make friends," and most articles will tell you to get out of the house, join clubs and volunteer — all of which can be difficult when you're dealing with chronic pain, fatigue, anxiety, and other health issues that require you to be at home most of the time. Making new friends can seem like an impossible feat.
But just because you're at home, that shouldn't mean you can't have friends and socialize. And thanks in large part to the internet, there are ways to connect with people even if you aren't able to go out.
To help you find "your people," we've rounded up eight ways to make friends without leaving home. These ideas can help you connect with people who share your interests or even your illness. You may be pleasantly surprised at how many others out there are looking for friends.
1. Facebook Groups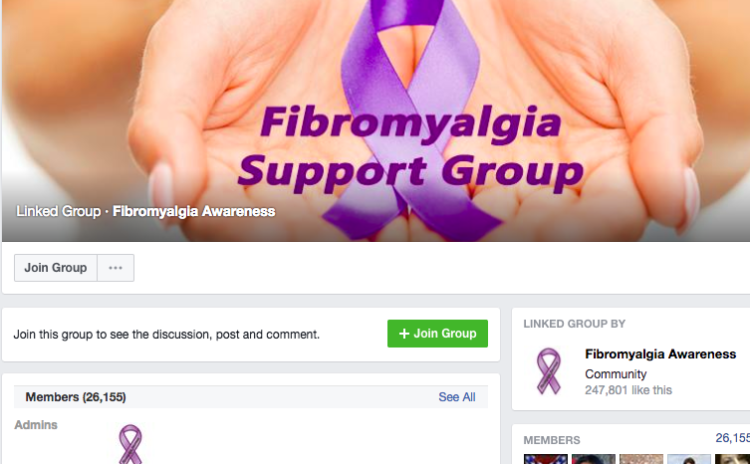 Facebook support groups are, for many people with chronic illnesses, one of the first places they turn to after a diagnosis. There are pros and cons: on one hand, it's a place to talk with and get advice directly from others going through a similar experience (for example, Fibromyalgia Support Group pictured above); however, some groups aren't always run in a productive way. Search the name of your condition on Facebook and click on "Groups" to find options, and don't feel guilty about leaving groups if you're not getting the support you need.
There's also the option of joining groups that have nothing to do with your illness. You can find a group for any hobby or interest imaginable, from knitting to comics to baking.
2. Twitter Chats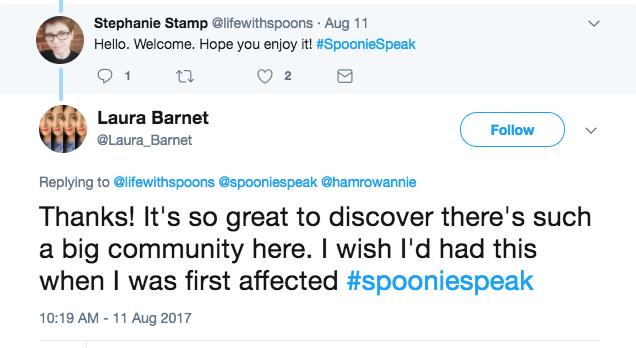 Twitter hashtags and "chats" make it easy to jump into a conversation and connect with others who care about the same issues you do. Some Twitter chats focus on issues directly related to your specific illness (these are often started by a disease's advocacy organization), but other chats feature more lighthearted topics and aim to bring people from the chronic illness community together. #SpoonieChat poses questions that facilitate discussions about patient advocacy and coping strategies. On #SCTweetFlix, Twitter becomes a virtual living room as participants watch the same movie at the same time and use the hashtag to chat about it. #SpoonieSpeak calls itself a chat where "people feel like they're out on Friday night while in their PJs." There's always the option of direct messaging someone else in the chat if you hit it off.
By following accounts dedicated to your other interests, you can also find Twitter chats that allow you to communicate with people who share your hobbies, as well as find other like-minded Twitter users.
3. Friend-Making Apps
In the wake of online dating, you can now sign up for apps that allow users to make platonic friends. Some apps emphasize meeting in person more than others, so you'll want to avoid ones that steer users towards meetups (like Atleto, which matches people based on athletic interests). Skout allows users to message each other regardless of geography, opening users up to the possibility of making virtual friends all over the world. Bumble BFF, an offshoot of the Bumble dating app, and Hey! Vina (a friend-making app for women only) allow users to chat through the app and exchange phone numbers so you can text or meet up. Glimmer is a social and relationship app specifically designed for people with disabilities.
4. Online Health Communities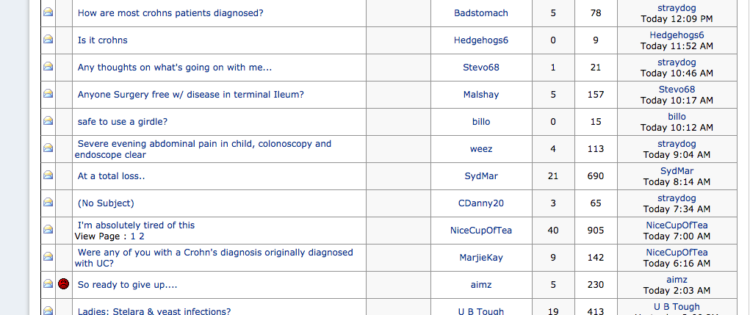 In addition to factual information about your illness, health websites often also have online forums where you can ask and answer questions about your symptoms and treatments. At the very least, it's a place to find people who understand what you're going through. These websites may also have an active Facebook page, where you can interact with other followers in the comments. Patients Like Me and Healing Well (pictured above) both offer forums for patients. Here at The Mighty, we have more than 30 Facebook pages dedicated to various conditions.
5. Postcard Swaps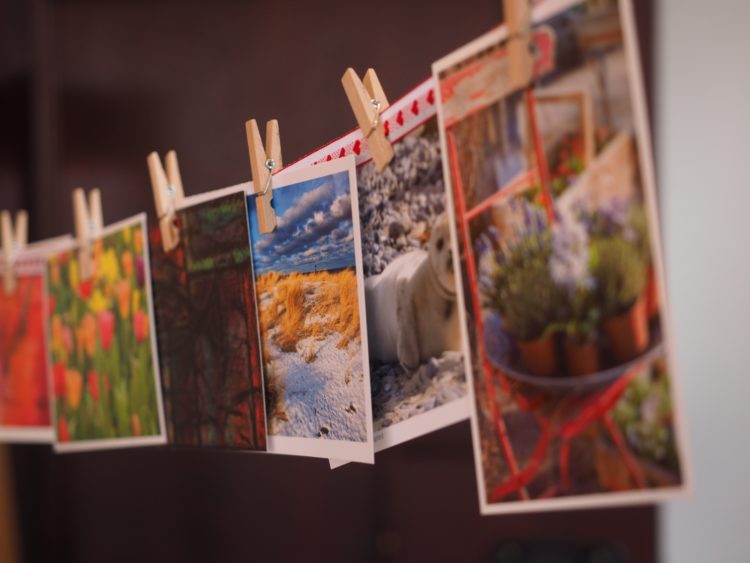 If you're more of a snail-mail person, a postcard swap among fellow chronically ill people can be a fun alternative to online communities. Participants are matched to a stranger, who they send a postcard. You can end the correspondence there, or keep communicating. Denise Archilla, the founder of Spoonie Card Swap, told The Mighty she has heard of real friendships developing thanks to her swap. Spoonie Post is another postcard swap option developed specifically for people with chronic illnesses.
Spoonie Pen Pals and Where Spoonies Meet are Tumblr accounts where people with chronic illnesses can write a short post introducing themselves and share their online contact info. You can post about yourself, or simply reach out to someone else who posted. Free, non-illness-related pen pal sites include PenPal World and InterPals (for all pen pal sites, use caution when providing your address to a stranger).
6. Working From Home

If you're able to work from home, a remote job can open up the possibility of socializing with coworkers through email or online messaging platforms like Slack. We created a list of companies that are hiring remote workers – click to check out the jobs we found.
7. Online Gaming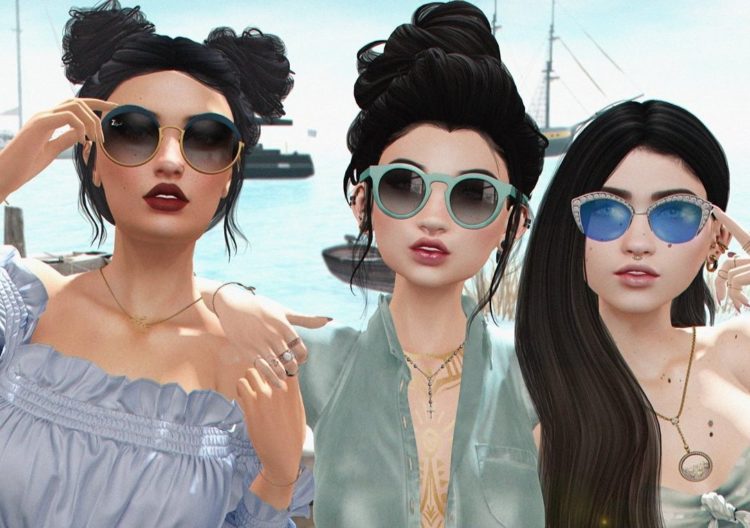 Artwork by Aria Sanderson
Thanks to the chat functions of many multiplayer games, you can play the game and talk with other players at the same time. Second Life (pictured above) allows users to create their own avatar and interact with others in a virtual world. Games that require you to work with other players in order to advance, like World of Warcraft, also have opportunities to chat with fellow players or even join or build a group to play with regularly. Let us know in the comments below if any games you've played were especially helpful for making friends.
8. Virtual Book Clubs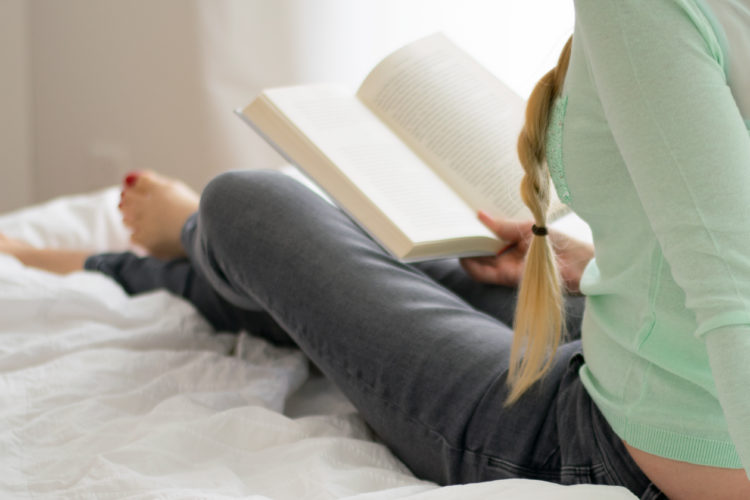 If you love reading and discussing your latest book with others but can't make it to an IRL group, consider an online book club. One Book One Facebook is a Facebook group with over 1,800 members; Goodreads hosts thousands of genre-specific groups (plus groups like Emma Watson's Our Shared Shelf). On Booktalk, you can join discussions about specific books and post your own discussion topics in the forum.
Stock photos via Pexels
Originally published: August 17, 2017