How To Save Money on Your Prescription Drug Costs
---
Health care in America is expensive. One of the biggest costs? Your medications.
A recent study from researchers at the University of Southern California highlighted part of this expensive problem. Based on their analysis, 23 percent of customers overpaid for their prescriptions. Nobody will tell you you're overpaying, not the pharmacist — who might not be allowed — and certainly not your insurance company.
If you're one of the nearly 50 percent of Americans who's taken at least one prescription drug in the last 30 days, it probably won't surprise you that 16.7 percent of healthcare spending in 2015 was on drugs alone. That's a total cost of about $457 billion annually, and the prices aren't going down any time soon.
In a perfect world, you would have easy, affordable access to your prescription medications. We're not there yet, but that doesn't mean you don't have options. Here's how you might be able to save money on your drug costs, even if you're covered by insurance.
Work With Your Doctor (and Pharmacist!)
One of the first steps in managing drug costs starts right at the source — your doctor. Sometimes when clinicians prescribe medication, they have choices about the specific brand or generic they give you that can make or break your budget, depending on the cost.
If you're covered by health insurance or don't have the means to pay out of pocket, your choices may be limited. Insurance companies have a drug formulary — a list of insurance-approved medications they have agreed to partially cover — they use to determine how much to charge. If a drug is on the list, you'll pay less. Some doctors are familiar with what's covered by your insurance formulary. You may want to come prepared by calling your insurance company or asking a pharmacist first. If your doctor wants to prescribe something that isn't covered, ask if there's a similar medication or generic version that is covered.
"For a number of health conditions, the doctor might actually be somewhat indifferent between prescribing one drug over another," ScriptSave WellRx manager Andrew Potter told The Mighty. "However, if one is on-formulary while the other is not (or if one is generic and the other is a brand), this could easily make the difference between affording the medication or not."
If you need a medication that is more expensive or not on the formulary list, your insurance company may require you try step therapy before approving your drug of choice. Step therapy usually involves taking a cheaper medication that has been proven effective for your condition. If the drug does not work within the allotted time, your insurance company will either approve the drug your doctor prescribed or ask you to try the next tier up.
And buyer beware. Sometimes pharmaceutical companies offer doctors financial incentives to prescribe particular drugs. This may not be in your best medical or financial interest. ProPublica's Dollars for Docs report has identified nearly 1 million doctors in the United States who accepted payments from drug companies between August 2013 and December 2016. You may want to check this database before heading to your doctor's office to make sure your practitioner doesn't have a conflict of interest when it comes to the drugs they're prescribing you.
If you need help sorting through your option, try asking your local pharmacist. They know just as much, if not more, about drugs as your doctor. FamilyWize's Chief Pharmacy Officer Ken Majkowski, Pharm.D, told The Mighty that your pharmacist wants to help find options to ensure you stay on your necessary medications. A pharmacist can serve as another advocate on your medical team — just ask.
Choosing a Generic Medication
In the U.S., drug companies can patent new drugs for 20 years, which means patients prescribed those meds are stuck paying brand prices. This system is partly why your drug costs are so high in the first place. Once that time period ends, other companies can make a generic version that sells for much less. One of the best ways to save money is to switch to the generic version of a medication.
While there's been some debate in the media about whether or not generics are as good as the brand, most concerns are unfounded. Generic drugs are regulated by the Food and Drug Administration and must have the same active ingredients as the brand version. The non-active ingredients in a generic don't need to be the same.
According to Jonathan Pascucci, PharmD, a professor at Touro College of Pharmacy, the differences between brand and generic medications rarely have an impact on patients. Not to mention, the cost-benefit of generics usually outweighs the small risks. 
"In the end, I will almost always recommend trying the generic," Pascucci told The Mighty. "There should be no differences that should raise concerns about using the generic as they are FDA regulated. Concerns over purity, efficacy and safety should be the same as any for the brand… It is much easier and cost-effective to be stable on the generic than the brand."
Medication Therapy Management Programs
If you're on Medicare, you might have heard of a medication therapy management (MTM) program. An MTM helps you review the medications you use if you have more than one chronic condition. With a pharmacist and/or your doctor, you'll check to make sure the drugs you're taking work effectively.
As is common with many conditions, doctors prescribe new drugs each time symptoms occur. Eventually, it's hard to tell what you're taking and why. An MTM evaluation can help consolidate prescriptions so they're more effective and cost-efficient.
"When all these medications are reviewed holistically, it can certainly be the case that a pharmacist might be able to recommend switching out two or three of those meds in favor of just one alternative," Potter said. "This has huge potential for improved patient outcomes, even beyond the potential to reduce the total out-of-pocket expense for the monthly prescription regimen."
Manufacturer Assistance
If you can't afford your prescription, you can try reaching out to the drug company directly. Drug manufacturers often offer some version of a prescription assistance program for those can't afford their medications. If you take more than one drug, this may take a little legwork because you need to look up every drug you're taking and the manufacturer. Each company may or may not offer discounts, and the terms of their patient assistance programs vary.
For example, on Abilify's website, Otsuka, the company that makes the drug, has a savings program which offers a $5 co-pay for the brand-name version of it's popular antipsychotic. Simply print out the pharmacy savings card and present it when you pick up the drug. Of course, the offer is only good as long as the company continues to provide a discount.
Drug company Pfizer, the manufacturer of drugs such as Lyrica, has a RxPathways patient assistance program. After searching for the medications you take and answering a few personal questions, including your monthly income, you'll find out if you're eligible for discount meds. In the case of Pfizer, if you do meet the income requirements, you can apply to receive free Pfizer-brand drugs at your doctor's office, home or by using a discount co-pay pharmacy card.
Price Shopping to Get Your Drugs for Less
Not everyone is eligible for income-based assistance programs. If you don't qualify, you can shop around for your medications just like you would any other product. This means not only checking out a variety of pharmacies or big box and club stores, but also your options available through discount prescription services like ScriptSave WellRx and FamilyWize.
Discount prescription companies negotiate rates directly with drug companies. Often you can get a better rate through one of these services than what you would pay in cash — and sometimes better than your cost with insurance. You might need to print out a savings card or coupon to present to your pharmacist. Some companies let you order directly online or send medications straight to your house.
Here are six discount prescription services:
Pay online, pick up at your local pharmacy. Find the lowest price at a local store using Blink Health's online tool — anywhere from Walmart to Kroger to your independent pharmacist. You'll pay through Blink, head to the pharmacy, present your proof of purchase and go home with your meds.
Compare your prescription costs at local pharmacies online using GoodRx. When you find the cheapest rate, say at your local CVS or Walgreens, grab the GoodRx coupon and bring it with you to the pharmacy. Present the coupon and you're good to go. You can also sign up for Gold GoodRx, which offers even lower prices for members who pay a subscription fee. You'll be charged a monthly membership fee after an initial 30-day free trial to access the service's discounts.
FamilyWize passes savings to you with a prescription discount card. Price check what's available at your local pharmacy online and head to stores with your mobile or printed discount card in hand for savings.
Using the ScriptSave WellRx discount card or app, you'll be able to pick up your meds (and some savings) at your local pharmacy. Compare drug prices online, and when you're ready to buy, download the provided coupon to present to your pharmacist in person.
HealthWarehouse brings your prescriptions — and discounts — right to your front door. Search for your medications online, add them to your shopping cart and check out. Have your doctor send the company your prescriptions directly, and once they're processed, your meds will be delivered to your home.
Your favorite club store also offers discounted drug prices. You don't need a membership to use the pharmacy, but beware they may not carry all the medications you need. Check out the cash prices online and coordinate with your local Costco to fill your prescription.
How Much Can You Save?
How much you'll save depends on whether or not you have insurance, your meds and your location. We asked the Mighty community which prescription drugs they have a hard time affording — and more than 500 people shared a variety of costly prescriptions. Based on the community's answers, we pulled four common drugs — Abilify, Savella, Remicade and Pristiq — and did a little price shopping. We compared the average amount you paid, which included brand and generic drugs, with how much you might be able to save (based on calculations in Los Angeles).
Abilify (Aripiprazole)
Abilify is an antipsychotic used to treat conditions such as schizophrenia, bipolar disorder and depression. Brand and generic versions are available. The brand version can cost as much as nearly 95 percent more than the generic version based on these discount prescription services.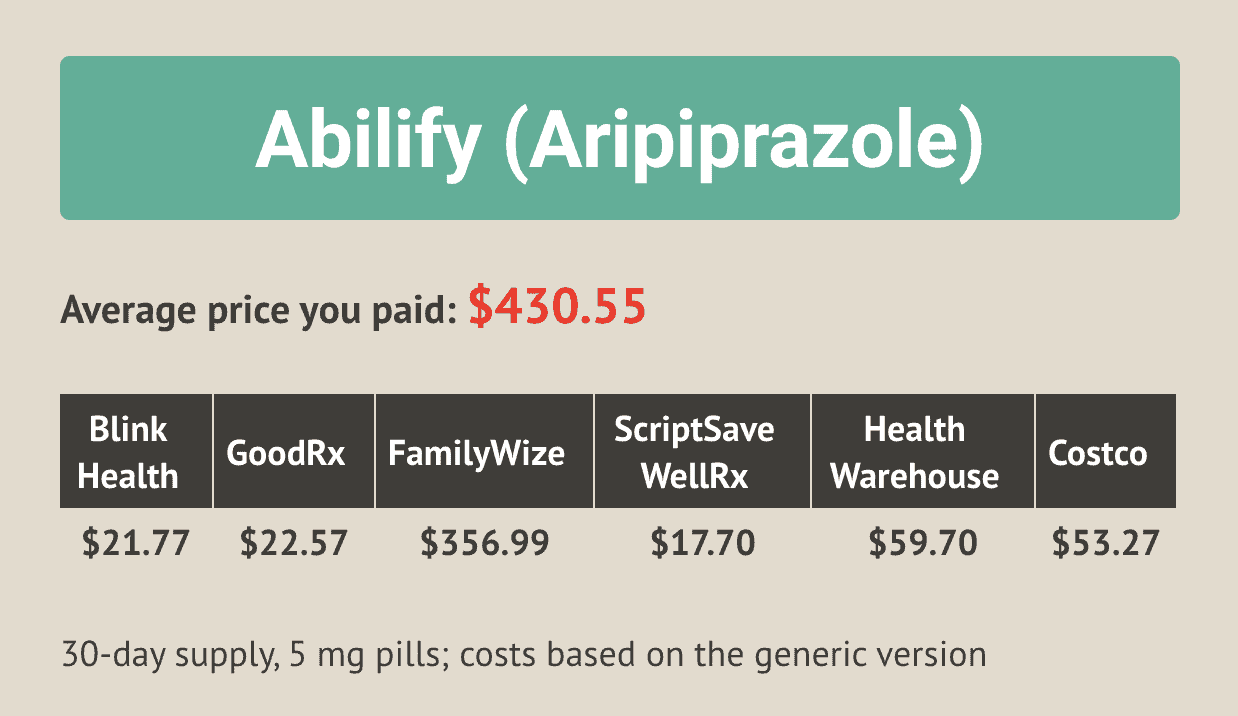 Savella (Milnacipran)
Savella is a nerve pain and antidepressant medication often used to treat fibromyalgia. Currently, only the brand version is available.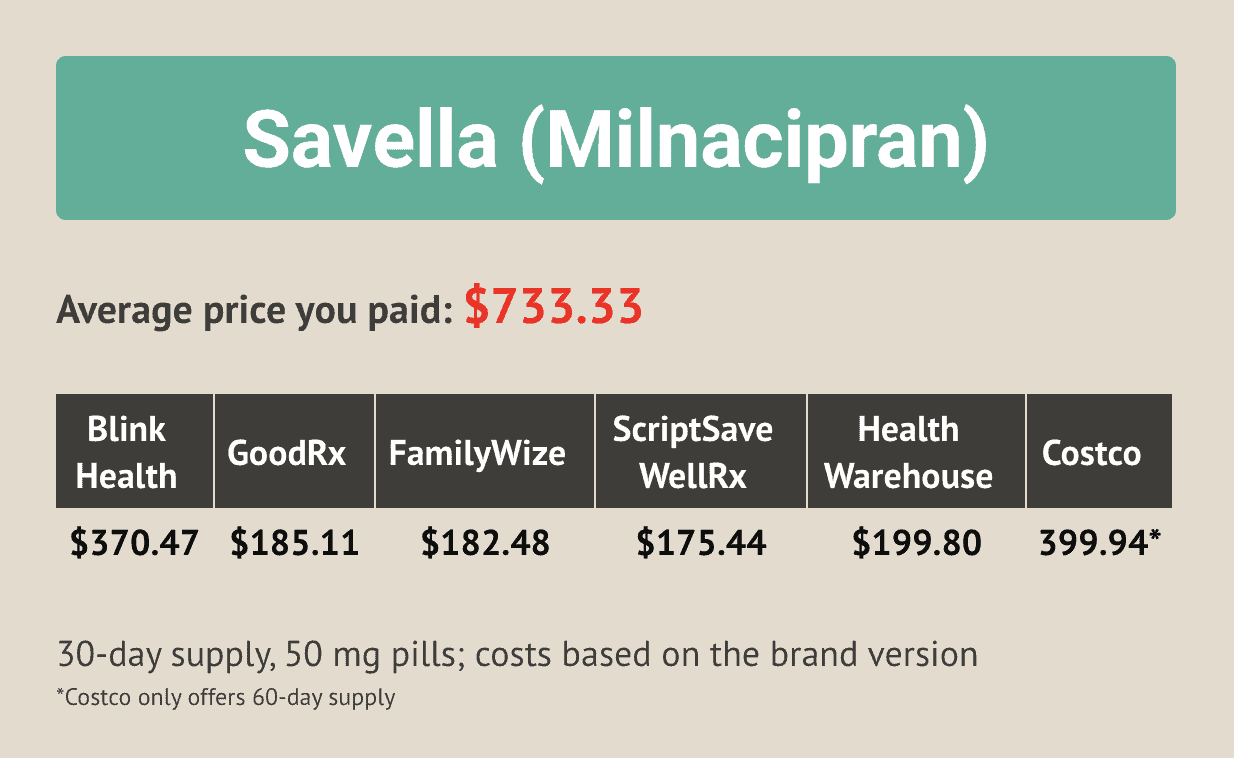 Remicade (Infliximab)
Remicade is an immunosuppressive drug used to treat conditions such as rheumatoid arthritis, Crohn's disease and ulcerative colitis. It is only available as the brand version, though two similar medications, Inflectra and Renflexis, have been approved by the FDA.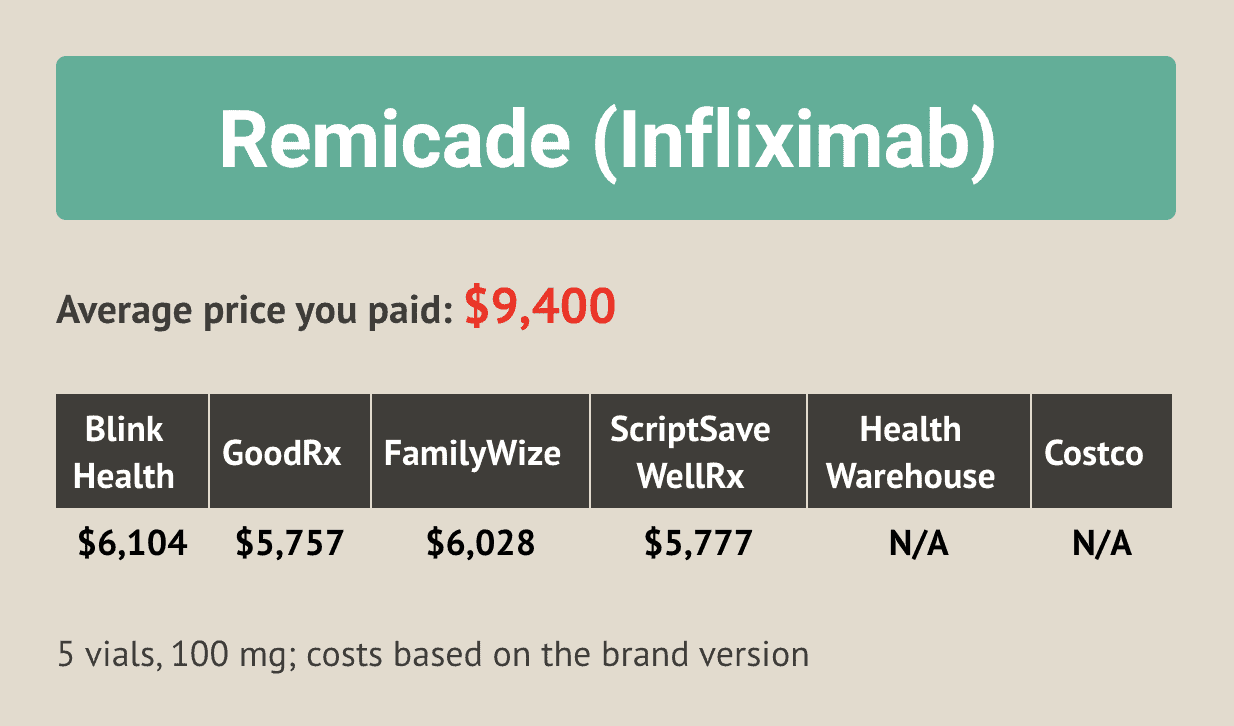 Pristiq (Desvenlafaxine)
Pristiq is a selective serotonin and norepinephrine reuptake inhibitor (SNRI) used to treat depression. Currently available in both brand and generic variations. The generic version costs about 20 to 30 percent of what the brand costs based on these discount prescription services.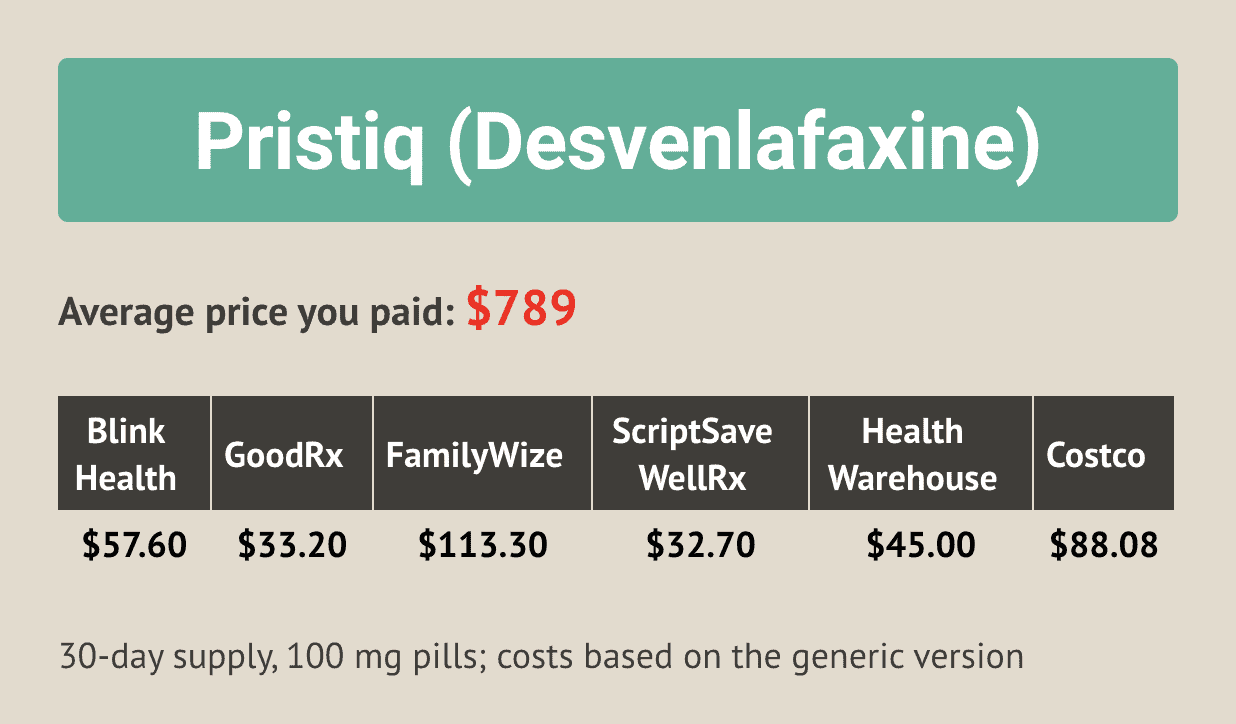 While we may not be able to control the skyrocketing price of drugs, these cost-saving medication options may at least give you a way to make things more manageable. You can't put a price on that.