What Is CBD and How Can You Consume It?
---
Editor's Note
Please see a doctor before trying CBD or other supplements for your health.
Excerpted from "The Little Book of CBD for Self-Care" by Sophie Saint Thomas. Copyright © 2020 by Simon & Schuster, Inc. Used by permission of the publisher. All rights reserved.
Intake Methods and Dosing
How should you consume your CBD? There are a few options with various onset times, benefits, and uses. Try one or all of these CBD intake methods. Remember, CBD is safe and nonpsychoactive, so it's okay to explore to find the right dose for you.
CBD dosing depends on a few things, such as body weight, pain level, your unique body chemistry, and the method of intake. A good rule of thumb is to take 1–6 milligrams of CBD for every 10 pounds of body weight with respect to your pain needs. Following that formula, 20 milligrams is a safe starting dose for everyone. Start with 20 milligrams, add as needed, and keep a journal of your experience.
✽ Sublingual Tincture: A sublingual tincture is CBD suspended in alcohol that you can place under your tongue or add to your favorite beverage. Start with 20 milligrams a day, or about 4 drops, increasing the dose as needed. CBD is available in a variety of strengths. For instance, in a 500 milligram strength, for example, a 1 milliliter dropper contains 16 milligrams of CBD; but a 1,000 milligram strength yields twice that. For the purposes of this book, we'll assume you're using a 500 milligram-strength tincture, available in a 30 milliliter bottle. Sublingual tinctures last a long time and come in discreet and often beautiful bottles. They kick in 15–45 minutes after consumption and last for 2–3 hours, so they are helpful to combine with self-care activities that combat stress.
✽ Oil: Often oil such as coconut oil or olive oil is used in a CBD tincture rather than alcohol. CBD oil can be added to many recipes, from facial masks to multi- course dinners. Start with 20 milligrams a day, or about 4 drops, increasing your dose as needed. Like an alcohol-based tincture, you'll feel the effects 15–45 minutes after consuming it, and it will last for 2–3 hours. CBD oil is great for stress relief or any self-care activity that requires near-immediate effects.
✽ Topical: A CBD topical is a lotion, cream, or oil that is applied directly to the skin. While other intake methods offer overall pain relief, a topical works directly on the area of discomfort. Topicals take roughly an hour to kick in and can last for up to 6 hours. While there is no standard dosage for topicals, as it varies person to person, try starting with 7.5 milliliters to get a 30 milligram dose of CBD and apply more to the region as needed. Use CBD topicals for self-care activities involving skin care and localized pain relief.
✽ Powder: Some companies sell CBD isolate in powdered form. It's easy to add CBD powder to smoothies or even dissolve it in water as a beverage. Powders take about an hour to become effective and last 6–8 hours.
✽ Edibles: Edible is an umbrella term that refers to any CBD that you eat. This means CBD gummies made with oil, brownies made with high-CBD hemp plant or capsules, and more. The exact dosage and onset time of edibles vary, but you can begin with roughly 20 milligrams of CBD per serving. Allow at least an hour for the compound to take effect. Results should last for 6–8 hours, making edibles perfect for self-care activities that last an entire day, afternoon, or night out.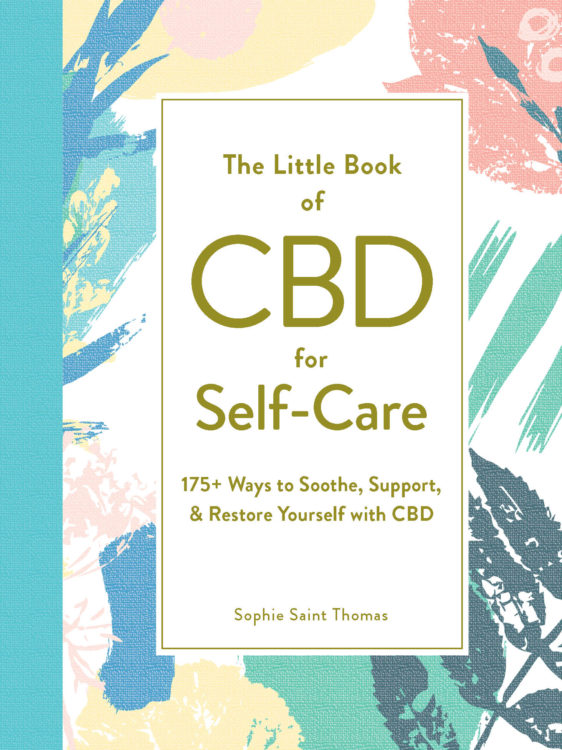 What Is CBD?
Cannabidiol, or CBD, is a phytocannabinoid, a chemical plant compound that occurs naturally in plants in the cannabis family. Both the marijuana plant, which contains the psychoactive chemical compound tetrahydrocannabinol (THC), and the hemp plant, which most CBD is currently derived from, are part of this family. Hemp contains 0.3 percent or less of THC, which isn't enough to produce a psychoactive effect.
While a lot more research still needs to be done on CBD, what researchers know so far is that, when CBD enters the body, it binds with receptors in the endocannabinoid system (ECS). Your ECS is an internal biological system that is believed to play a crucial role in maintaining homeostasis, your body's ability to maintain a state of internal balance and well-being regardless of changes and outside factors. Within the ECS, there are two primary cannabinoid receptors: CB1 and CB2. CB1 receptors are the most abundant in the brain and are the ones that THC interacts with to produce a high. CB2 receptors exist mostly in the immune system. Currently, researchers don't know exactly how CBD interacts with the ECS, but they do know that it doesn't bind to CB1 or CB2 receptors in the same way THC does. One popular theory is that CBD works by preventing endocannabinoids from being broken down. This means they can have a greater effect on your body. Other researchers propose that CBD may bind to a receptor that hasn't yet been discovered.
Again, while THC is psychoactive, CBD won't get you high. Instead, CBD can do everything from making your skin glow to restoring calm to fighting pain. CBD helps you to be your best self without risk of dependence, which makes it perfect for self-care. Let's take a closer look at how CBD can help you prioritize your mind, body, and spirit.
What Can CBD Do?
Right now, most of the research on CBD concerns its anti-inflammatory and anti-anxiety effects, but these two sides of CBD allow for a number of supplementary benefits that you can use to enhance your self-care practice. CBD can soothe pain, care for your skin, and make you feel more comfortable in your body, all important aspects of physical self-care. It can also help you relax, destress, practice mindfulness, and help you push away your worries, all of which is crucial for mental and spiritual self-care.
Buy your copy of "The Little Book of CBD for Self-Care" here.
Originally published: September 10, 2020