Former 'The Voice' Contestant Janice Freeman Dies at 33
---
Update: The Blast reported on Mar. 21 that Freeman died from a pulmonary embolism, according to her death certificate. Her lupus was also listed as a contributing factor in her death.
Janice Freeman, a former contestant on "The Voice," died Saturday at the age of 33. She was on Miley Cyrus' team of the reality singing competition in season 13 in 2017, and made it to the top 11 before she was eliminated. She lived with several chronic illnesses, including lupus.
A statement posted on Freeman's social media said she had an "extreme" case of pneumonia and that a blood clot had traveled to her heart. Freeman's husband, Dion, performed CPR until an ambulance arrived. She later died at the hospital.
"A survivor and fighter, and a beautiful force in this world, Janice gained notoriety through her success on NBC's 'The Voice' as a member of Miley Cyrus' team," the statement said. "Her story inspired fans nationwide, having successfully battled cervical cancer and living her life to the fullest while fighting lupus."
With heavy hearts and sadness we share the news of Janice's passing . Details about services and in what ways the family can be supported to follow ???? pic.twitter.com/iNHiQ4Etnt

— Janice Freeman (@janice_freeman) March 3, 2019
"She struggled every single day," said husband Dion, according to a statement posted on Freeman's Facebook page. "She was constantly in pain — literally, for years — but was sure she would conquer it all. She just kept on fighting."
Freeman had been open about her lupus as well, posting on Facebook that she would "keep pushing."
Her first audition on "The Voice" was her rendition of "Radioactive" by Imagine Dragons. Both Cyrus and coach Jennifer Hudson turned their chair around for her, but Freeman ultimately chose to be on Cyrus' team.
Cyrus and Freeman kept in touch after the show, with Cyrus even helping her pay for housing. Cyrus posted a photo of a rainbow in an Instagram story on Sunday as a tribute to Freeman.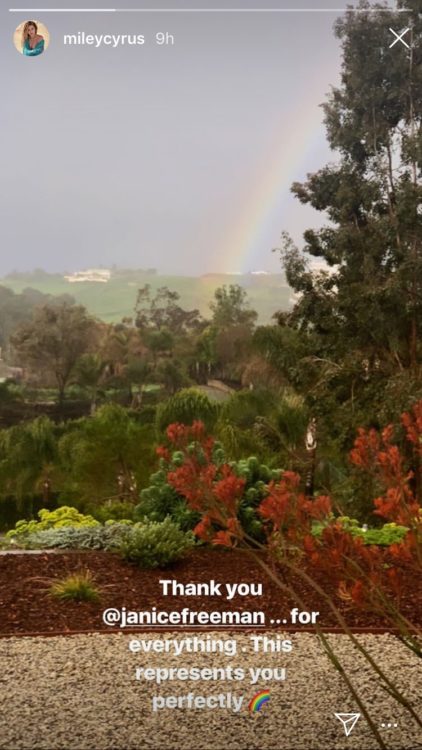 Hudson also posted a tribute to Freeman on Instagram. "The voice of hers we got to hear and the bit of life we got to watch her live was a blessing and inspiration to us all!"
Originally published: March 4, 2019