June's Mighty Month Challenge Is 'Boring' Self-Care
---
When we talk about self-care, we often think of bubble baths and face masks — luxurious items that can make you feel relaxed and pampered. While taking the time to relax and treat yourself kindly is important, for those of us living with a chronic condition, mental illness or disability, the best self-care can be a bit more… boring.
"In clinical settings (i.e. working in mental health), self-care has always referred to the activities which you have to do day-to-day, including personal care such as washing, dressing and making food," Hannah Daisy, a mental health occupational therapist and founder of #BoringSelfCare, told The Mighty. "Boring self-care is just a way of bringing back the true meaning of self-care."
Like Daisy, who promotes wellbeing-based self-care through her series of #boringselfcare illustrations, this month's My Mighty Month challenge focuses on not-so-luxurious self-care.
Starting June 1, we're asking you to prioritize more basic everyday self-care activities. These tasks can include drinking enough water, making your bed, taking your prescriptions, eating a healthy meal and other activities that tend to get neglected when you feel less than yourself.
"When you experience chronic illness or mental health problems, every single task can be a chore and uses up energy," Daisy, who lives with mental illness and endometriosis, said, adding:
People without disabilities or illness don't have to think about how to manage the simple self-care activities, they just do it. They don't have to spend time thinking 'which activity can I do today, get dressed or make food?' They don't feel like they need to rest when after they have done something like doing the dishes or taking out the trash.
As part of this month's challenge, pick some boring self-care tasks you'd like to accomplish on a daily, weekly and monthly basis. Daily tasks can be brushing your teeth and other personal hygiene items, taking medications and getting dressed. Weekly tasks might include going food shopping, doing your laundry or getting some exercise. Monthly tasks are items you just have to do once or a few times, such as make a doctor's appointment or pay a bill. If you need more recommendations, check out Daisy's Instagram for some #boringselfcare inspiration.
"[Boring self-care] is not really boring, it's essential when you have a disability including mental health problems and neurodiversity," Daisy explained. "I really want people to recognize the importance of doing these tasks, and that they are achievements, and that they are something kind you do for yourself."
To help you keep track of your boring self-care tasks, we've created a chart for you to log your daily, weekly and monthly tasks. (You'll need to print two copies of the chart to get you through all 30 days.) Here's an example of what your chart might look like.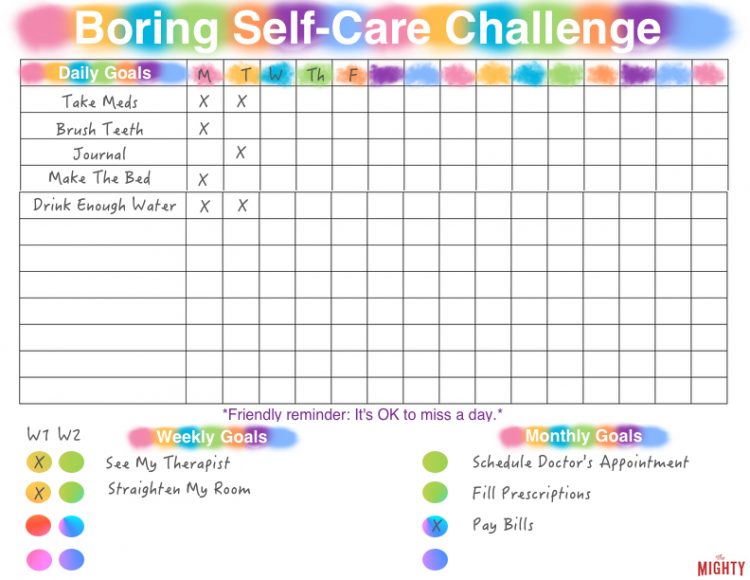 You can download a blank version of the chart here. 
While prioritizing and logging your self-care, it's important to remember that missing a day or several doesn't mean you have failed. Instead of beating yourself up, treat yourself with kindness. Like Daisy said, boring self-care is for people living with health conditions — sometimes our health gets in the way and it's ok if you can't get out of bed or meet your goals that day.
Want to make June a Mighty Month? Join us on Facebook at My Mighty Month, and don't forget to tag any social media posts with #MyMightyMonth. You can also sign up for our weekly email, (select "Mighty Monthly Challenges" from the newsletter options), and we'll send you weekly emails with boring self-care suggestions and reminders. Don't need any reminders? That works too. Simply Download our Boring Self-Care Chart to keep track of your progress.
Originally published: May 30, 2017