To the Husband of the Wife Living With Chronic Illness
---
"After we get married, everything will be sunshine and lollipops." We said that a lot when we were engaged. We were in our mid-20s, stressed out from wedding planning, buying our first house and starting our first "real" jobs. We just wanted our lives to be normal and boring. Even though the vows we took eight years ago included "in sickness and in health," we thought the "in sickness" part was way ahead of us.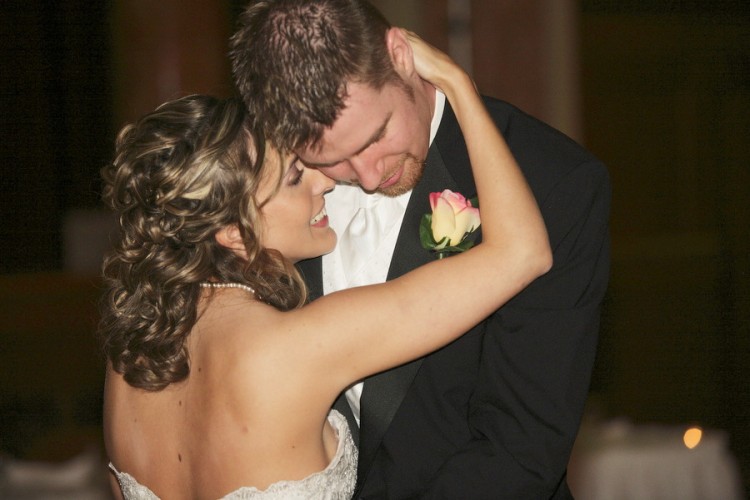 I believed the daily pain in my feet and my stomach would finally cease after the stress of the wedding planning was over. I never could have predicted that soon after we married, those issues would not only become worse but also snowball into a laundry list of other debilitating symptoms.
I'll never forget that you were in my corner when no one else was. You were there when doctors didn't believe me or couldn't find what was wrong.
It took me a while to realize this experience might be just as hard for you (or harder) as it is for me. I feel the improvements in my body during my good days and feel hope. You only see the person you love the most suffering.
I know you feel intense pressure to provide for me. Thank you for being a budgeting whiz and doing everything you can so I don't have to stress about how we will afford my medical care.
I want to apologize for all of the times my chronic illness made life difficult for you. I'm sorry for all of those times in the ER when my symptoms scared the sh*t out of you and sent you into a panic. I will always remember the sight of your giant body sleeping across two hospital chairs because you didn't want to leave my side. During the hardest times, I watched your heart break and before I could even process what was happening to me, my heart broke in response to yours. I wanted so badly to be cured just so that you wouldn't hurt.
Devoted is the word that comes to mind when I think of you. It seems like a small word when I think about how much you have done for me. I know you would do anything to heal me, and you have done everything in your power to help me.
I want to thank you for each and every single thing you have done for me, but the list would be too long. I want to thank you for each and every sacrifice you have made for me, especially for quitting a job you loved to move thousands of miles away from your family and friends so I can live a better life.
You have given to me so selflessly, regardless of what I've been able to give in return. You deserve much more than my brokenness.
You want things to be easier for me, and I want things to be easier for you, resulting in the most ridiculous game of tug of war. I want you to stop sacrificing things because I want you to be happy. At the same time, I am immensely grateful because I know I would never be able take care of myself as well as you take care of me.
I think about what your life would be like without me: more freedom, more time, more money and a lot less stress. Sometimes I wish you didn't have me as a burden so you wouldn't have to sacrifice so much. Thank you for reassuring me that I'm worth it.
Thank you for encouraging me to put my health before my career. I don't know what would have happened if you hadn't pushed me to take better care of myself.
I'm not sure if you know how amazing you are. It's not easy being married to me, but you have handled it with grace, integrity and strength. Anyone else would have walked away, but you're still here holding my hand.
I have struggled and fought, but you are the real hero in this situation. You are behind the scenes working and giving, and that's what has allowed me to fight. You are a lot stronger than you think you are.
I admire you and wish I could be more like you. You're not only a great husband but a great human being. You are my biggest cheerleader and my best friend.
There is no one else I could have traveled this journey with, and I wouldn't be here without you.
You've taught me what it is to love. You've taught me how to be selfless. You never let me give up.
I am healthier because of you. I am stronger because of you. I have hope because of you. I feel loved because of you.
Follow this journey on Tricia Barendregt's Facebook page.
Originally published: October 14, 2015