Twitter Calls Out Practice Exam Question for 'Medical Misogyny'
---
In July, Karina Wagenpfeil, a writer and scientist with ME/CFS, MCAS, POTS, and EDS, tweeted photos of a problematic practice question for a medical licensing exam from Medscape. In the multiple choice question, people choose a diagnosis for a woman who goes to the ER for physical pain not detected by various lab tests. The "correct" answer to the question is Munchausen syndrome, a mental disorder characterized by deliberate acts to seem ill to receive attention. Other options are somatization disorder, conversion disorder, hypochondriasis, and malingering — none of which, Wagenpfeil points out, are physical disorders.
Very disappointed by Medscape's USMLE practice question of the week. Asked to diagnose woman with unexplained pain and they don't even give a physical disorder as an option. Their 'correct' answer = Munchausen Syndrome. This is the bullshit we're teaching our docs?! pic.twitter.com/AeJWbP3lSj

— Karina Wagenpfeil (@ChronicKarina) July 25, 2018
In a follow-up tweet, Wagenpfeil said Munchausen syndrome, an outdated term for "factitious disorder imposed on self," is considered rare. A woman with undiagnosed pain, however, is not rare. There are many conditions that cause pain but are difficult to diagnose, she continued.
Medscape is used by medical professionals for "medical news and expert perspectives; essential point-of-care drug and disease information; and relevant professional education," according to its site. This means mostly medical professionals and medical students would see this question.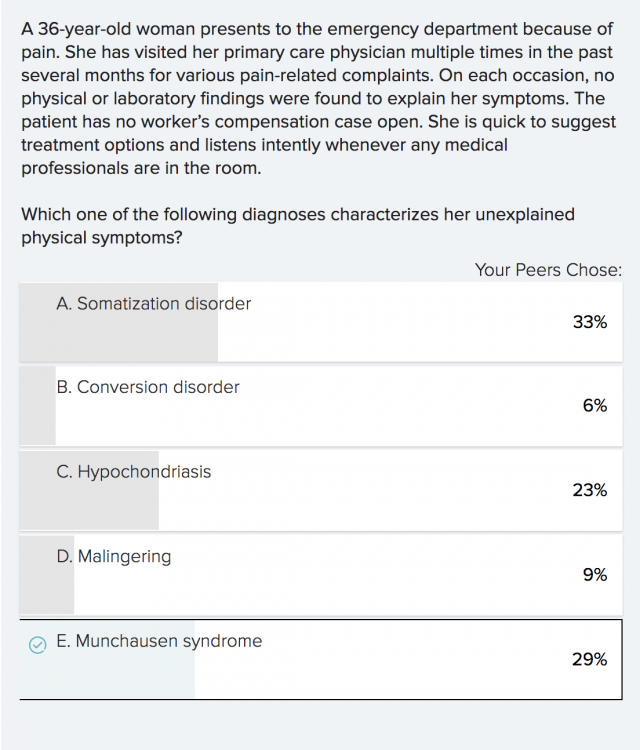 Factitious disorder imposed on self affects 1 percent of patients in hospitals across the U.S., according to the Cleveland Clinic. Meanwhile, women with chronic pain are more likely to receive inadequate treatment for their pain, according to a study in SSRN. Healthcare providers were more likely to discount reports of pain from women. Women with chronic pain were also more likely to be diagnosed with histrionic disorder, or excessive emotions and attention-seeking behavior.
In the practice question, the prompt says the patient is "quick to suggest treatment options and listens intently whenever any medical professionals are in the room." Wagenpfeil pointed out that it is rational to educate yourself and suggest treatment options to get better when you've been suffering for a while.
Medscape tweeted Wagenpfeil that it has contacted the publisher of the quiz, Osmosis, an online platform for studying medicine and healthcare.
Wanted you to know that we have contacted the publisher of this quiz and they are in the process of reviewing the information. We will keep you informed. Thx again for bringing it to our attention.

— Medscape (@Medscape) July 26, 2018
Osmosis then tweeted out an apology and removed the question because it "perpetuates medical misogyny, a huge problem women face when seeking treatment from medical professionals." The company also said it is performing a review of its content.
We sincerely apologize for this situation: It perpetuates medical misogyny, a huge problem women face when seeking treatment from medical professionals. The question has been removed, and we will be conducting a content review. See our full statement here. pic.twitter.com/hz8FXwRjoB

— Osmosis (@OsmosisMed) July 26, 2018
In a joint statement to The Mighty, Shiv Gaglani, co-founder of Osmosis, and Rishi Desai, chief medical officer, said a contracted writer wrote the question. They are looking into how the question made it through the company's reviewing process.
"The patient experience is something we strive to highlight in all of our content and we will continue to work with patients and their families to ensure that their voices are elevated in everything we produce," they said.
Other Twitter users responded to Wagenpfeil's tweet with frustration and experiences of their own.
Thank you so much for sharing your tweet with this insane question. I couldn't ask for a better illustration of this really huge-freaking-elephant-in-the-room problem for the next presentation I give to a healthcare audience on working with people with #MECFS .

— Kate Singleton (@healthlitkate) July 25, 2018
This is terrifying and explains a lot if this is the standard of care. I wonder what the diagnosis would be if this began with "A 36-year-old man"? #SecondOpinions #GetTheRightDiagnosis (@mahajanpemdoc Can you believe this idiocy?)

— HM Epstein (@HMEpstein) July 26, 2018
(And that's just the one painful condition that's forefront in my mind, there's dozens of others.)

And people wonder why so many chronically ill and disabled people have so little respect for doctors…

— Nigel MacDugong (@macdugong) July 26, 2018
I have two painful circulatory disorders that do not show up except by difficult and expensive genetic or obscure lab results directed by a hematologist. As an athlete I am well-versed in stopgap treatment measures. My untreated "hypochondria" eventually resulted in strokes.

— Jennifer Goodland (@BigYearColo) July 26, 2018
My hypothyroidism was put down to 'stress'. It wasn't stress, it was hashimotos. It's so frustrating

— Sadie Mitchell (@sadiedmitchell) July 26, 2018
Disgusting. I was a successful executive, world traveller that 1 day woke up unfunctionally sick.20 Manhattan docs later I was diagnosed with lyme/babesia. I want to hit each doctor that gave me an antidepressant.7 yrs later & tons of antibiotics/herbs I'm on my way to recovery.

— Sonia (@advgrrl) July 26, 2018
Originally published: July 26, 2018