July's My Mighty Month Challenge Is Staying Hydrated
---
Building off of last month's "boring" self-care challenge, this month's My Mighty Month challenge is one of the most boring things you can do to take care of yourself. That's right… drinking enough water.
I'll be the first to say I don't drink enough water. Who am I? Other than being The Mighty's news editor, I'm someone who gets chronic migraines and knows that staying hydrated can help reduce my migraines.
Even though I know drinking water is important, I don't do it nearly enough. Sure, I can make 500 excuses — I'm busy; I forgot; iced coffee counts, right? But it doesn't change the fact, I'm not getting my eight glasses per day of the clear stuff. (That's water, not vodka, just to specify.)
To understand just how important drinking water is, in general, and for people like me who are living with a health condition, I spoke to Jennifer Caudle, DO, a family physician and assistant professor at Rowan University School of Osteopathic Medicine.
"We really need water to not only stay hydrated but to serve many other purposes that we need for health," Caudle said, adding:
We have to remember that our body is made up 60 percent of water. When you think about it like that, sometimes it makes a little more sense that we need to make sure that we're replenishing water, that we're staying hydrated and that we're keeping that balance.
This month, to help you stay hydrated, we're focusing on drinking enough water. What "enough" means will vary based on your health, where you are located and what you are doing that day. If you are located somewhere hot, where you are likely to be sweating in the summer sun, you might need more water. Activities like exercising can up your intake too.
In general, Dr. Caudle told us that drinking eight glasses of water is a good rule of thumb. However, if you have heart, lung or kidney problems, she advises checking in with your doctor to see how many glasses of water you should aim for per day:
What I advise to my patients who don't have fluid restrictions, I say eight glasses of water a day is a reasonable start, but I also say listen to your body because if you're feeling thirsty, that's your body's way of telling you to drink a little bit more.
To help you keep track of how much you're drinking, we've made a chart (similar to last month's) where you can tally your water intake, up to 10 glasses for those days where you need a little extra. (You can download the chart here.)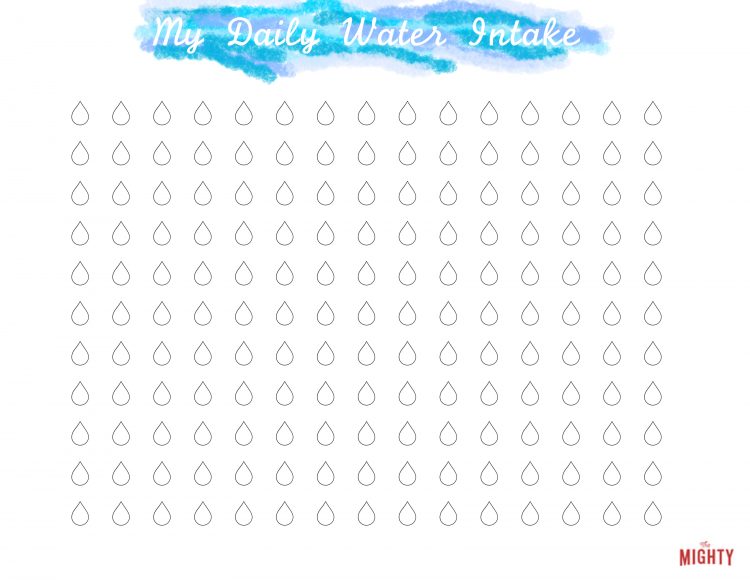 If charts aren't your thing, you can also track how much water you are drinking through apps like MyFitnessPal and Plant Nanny. Dr. Caudle told us it's not uncommon to dislike the way water tastes. If this is you, sparkling water — even the naturally flavored kinds — can count towards your water intake. Don't like those either? In that case, Dr. Caudle recommends adding fruit for a burst of flavor.
When it comes to other liquids — coffee, tea, milk, etc. — Dr. Caudle advises against considering them part of your daily water intake. "Theoretically, are you getting water when you drink other liquids? Many of them absolutely you are," she said. "Should we necessarily count on that to get our daily water? No, because it's important to drink water."
If you're looking for ways to squeeze more water into your routine, one easy way is taking any medication you may be on with a full glass of water. If you already do this, feel free to skip to the next paragraph. If you are like me and take your meds with whatever liquid is closest, even if it's just a drop, read on.
According to Dr. Caudle, it's important to take medication with a glass of water. "A lot of it has to do with actually making sure the pill gets down the esophagus, that we're swallowing it and it's getting where it needs to get," she explained. "Sometimes if we're not taking enough water, the pills can actually get lodged in the throat. If a pill stays lodged, it can cause injury to the throat and skin where the pills get stuck."
Beyond lubricating your esophagus, drinking water keeps you from getting dehydrated. Dehydration may seem like just a nuisance, but it's really your body's way of telling you it needs more water to continue functioning best it can. Sometimes symptoms of dehydration can be minor — you feel thirsty or your throat is dry — but they can be severe too.
"There are some people who sometimes get headaches or muscle cramps, maybe they feel not as up to snuff as they normally do, and that can be a sign to drink water," Dr. Caudle said. "Dehydration can cause a person to be hospitalized for IV fluid, it can cause major medical problems so we want to avoid dehydration and just be aware that there's' a spectrum and pay attention to your body."
Sometimes if you are feeling lousy because of other health issues, it can be hard to determine if it is your condition causing your symptoms or if you are just dehydrated. In cases like this, your toilet may provide a useful clue. If your urine is a darker yellow, it can be a sign you aren't getting enough water, Dr. Caudle advised. "When we tend to stay hydrated, the urine is a little clearer and lighter in color and that can give us an idea if we're taking in enough fluid," she added.  
It's also possible to drink too much water. "I think the biggest thing is to listen to our bodies though, understand that hydration is something we want to maintain a balance of," Dr. Caudle said. 
Want to make July a Mighty Month? Join us on Facebook at My Mighty Month, and don't forget to tag any social media posts with #MyMightyMonth. You can also sign up for our weekly email, (select "Mighty Monthly Challenges" from the newsletter options), and we'll send you weekly emails with boring self-care suggestions and reminders. Don't need any reminders? That works too. Simply download our water intake chart to keep track of your progress.
Thinkstock image via Ghrzuzudu.
Originally published: June 29, 2017