9 Apps That Can Help People With Chronic Illnesses Track Their Periods
---
If you're of a certain age, you may remember the days of marking your period on a calendar — maybe coming up with your own system of symbols and colors to keep track of your symptoms and when it was supposed to arrive. Well, thanks to smartphones, your desk or pocket calendar is no longer needed. There are tons of apps (many of them free) designed specifically to track not only when your period will start and end, but also symptoms, birth control methods, fertility and overall health.
The challenge in choosing which of these apps to use when you have a chronic illness is that many are not really designed with you in mind. Many apps place a large emphasis on fertility, which you might not want if you aren't able to get pregnant. Not all apps make it easy to track a wide range of symptoms, medications or irregular periods.
The Mighty complied 9 period-tracking apps that offer features uniquely suited to those who have chronic health conditions that may affect their period. Let us know in the comments if you've found any other apps to be helpful in keeping up with your cycle.
1. Spot On Period Tracker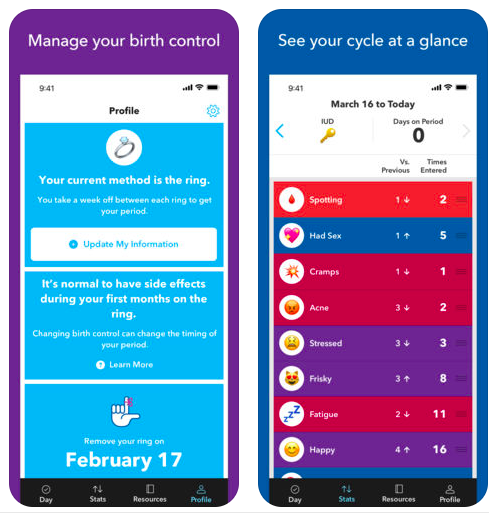 Spot On comes from the experts at Planned Parenthood, and it offers tons of features that can help you get a better sense of what's going on during your period. You can keep track of symptoms like acne, cramps and fatigue as well as manage birth control methods and where you're at in your cycle. You can also find resources and health information from Planned Parenthood.
Download Spot On for free from iTunes and Google Play.
2. Flutter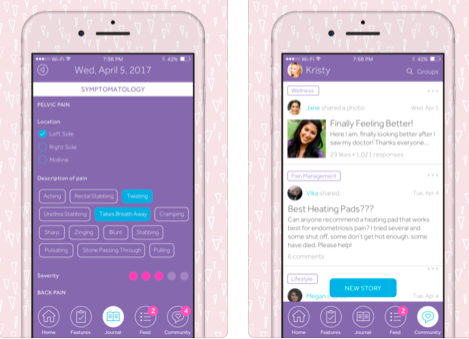 Flutter calls itself the "app for painful periods," and was designed with endometriosis and reproductive conditions in mind. Its aim is to identify signs of trouble in your cycle early on so you can seek treatment. You can track your period and symptoms every day as well as the location, severity and type of pain you're experiencing. There's also a medication log, birth control reminder and information about endometriosis.
Download Flutter for free from iTunes.
3. Day After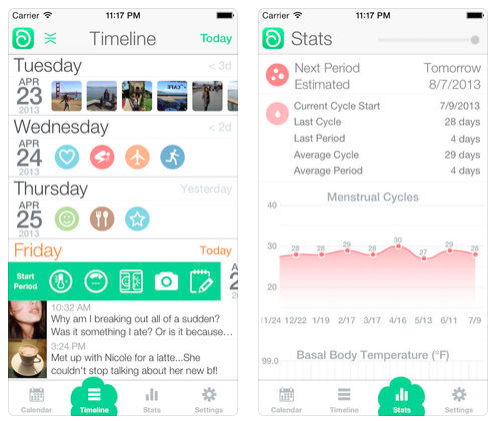 Day After lets users not only record their physical symptoms, it also incorporates a personal diary feature so you can get a holistic view of your health and wellness. Mark your diary and period tracker with stockers for moods, symptoms, sexual activity and life events.
Download Day After for free from iTunes.  
4. Clue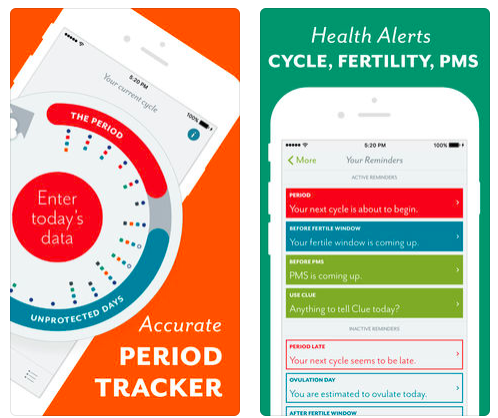 Clue bills itself as gender-neutral and inclusive, as exhibited in its pink-free and flower-free design. It uses an algorithm that gets "smarter" the more you use the app to track things like flow heaviness, moods, cervical fluid, pain and more. Clue can also import and sync data from other apps like Apple Health. The journal Obstetrics & Gynecology named it the top free menstrual tracking app in 2016, so if you're looking for a scientist-approved app, Clue may be it.
Download Clue for free from iTunes and Google Play (Clue Premium subscriptions start at $6.99 per month). 
5. Period Tracker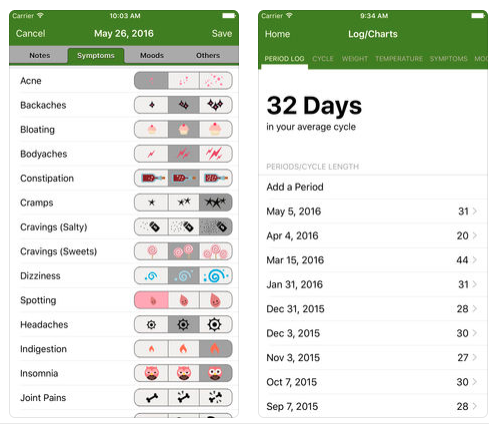 Period Tracker offers a huge array of graphics you can use to track symptoms and moods. You can also create custom icons for aspects of your health you want to track that aren't already included. A month-view calendar allows you to easily glance at your current cycle. Charts for period length, cycle length, symptoms and more provide a longer-term view. If cute design features help bring a bit more positivity to your period, you may prefer this app over the more no-nonsense Clue and Groove (below).
Download Period Tracker Lite for free from iTunes and Google Play.
6. Groove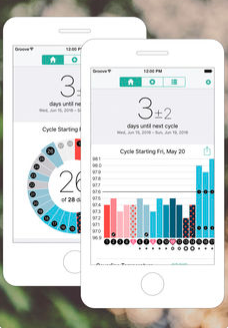 Groove sets itself apart with its ability to customize exactly what you want to use the app for. You are asked to select your "goal," like "track my cycle" or "avoid pregnancy," which allows you to avoid seeing information (for example, fertility) that isn't helpful to you. You can also indicate things like if you have irregular periods and your sexual orientation. The graphics are clean and gender-neutral if flowers and hearts aren't your thing. Ten percent of all proceeds are donated to Femme International, an NGO dedicated to helping the health and safety of women in developing communities.
Download Groove for free from iTunes.
7. Cycles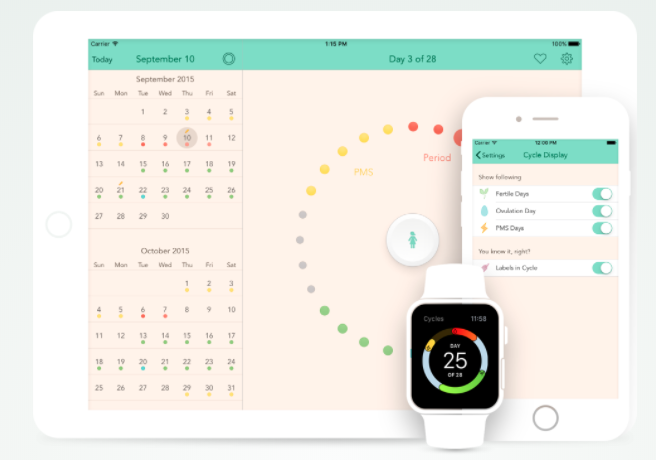 This app is uniquely accommodating to irregular periods since you can simply adjust the dial feature to indicate when your period starts. However, it doesn't have the mood and symptom-tracking capabilities of other apps. Cycle's most defining feature is its ability to loop your partner into your data (this does require an in-app purchase). You can invite him or her to view your data and even send them reminders, so they know when you might need extra support. Women with endometriosis and other reproductive health issues may enjoy giving their partner a closer look at their cycle.
Download Cycles for free on iTunes.
8. Phendo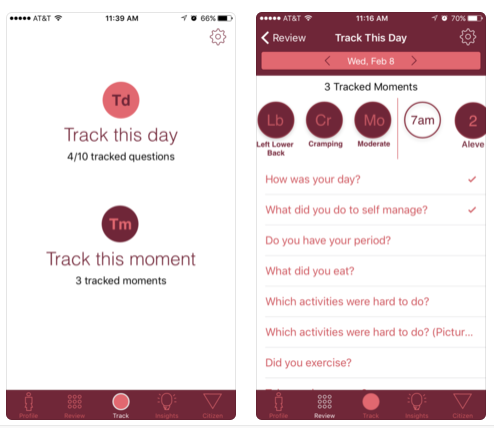 Created by Citizen Endo, a Columbia University-based project dedicated to discovering more about endometriosis, Phendo is designed specifically for women with endometriosis. By joining Phendo, you're also joining a Columbia University research study about endometriosis, so the data you enter will be anonymously sent to researchers. Another bonus: since the app is tailored to endometriosis, it doesn't include the fertility component that most other apps do. "In a way, the fact that the disease has not been well studied is an opportunity here because the field is wide open," Phendo co-creator Noemie Elhadad told The Mighty about the research possibilities of the app. "We can really do something."
Download Phendo for free from iTunes.
9. Flo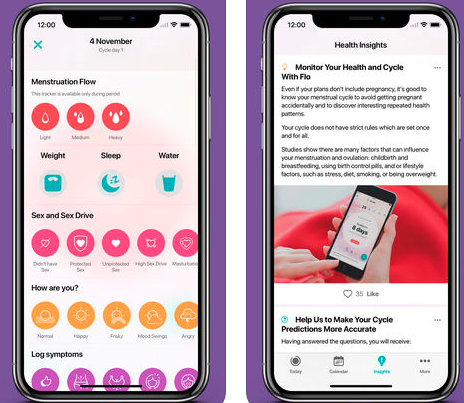 Flo utilizes artificial intelligence to make its predictions about your cycle and it claims to be highly accurate even for those with irregular periods. It also offers recommendations if it notices recurring symptom patterns, or if you live with conditions like polycystic ovary syndrome or endometriosis. There's also a lifestyle and fitness component so you can import data from other health apps and log factors like weight, PMS symptoms, sleep and sex drive.
Download Flo for free from iTunes and Google Play.
Bonus: The Mighty's App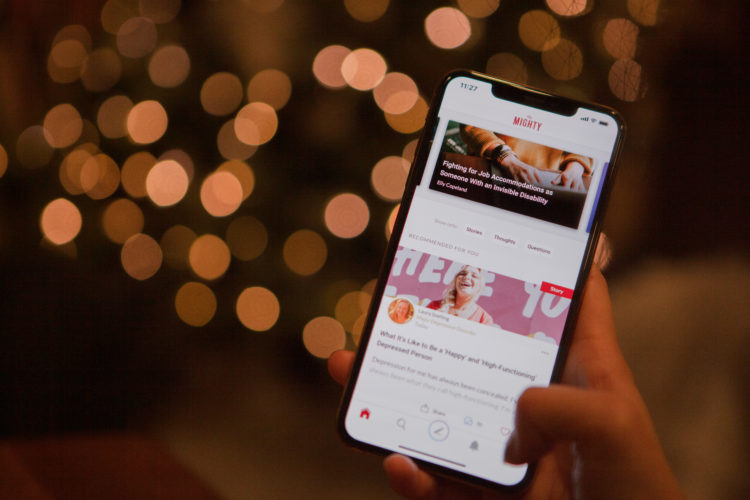 Did you know The Mighty has an app? Download our app to read more stories like this and connect with people from the chronic illness community.
Originally published: February 17, 2018