16 Memes That Might Make You Laugh If You've Taken Prednisone
---
Prednisone: It's the drug we love to hate. It can work wonders towards treating inflammation and suppressing the immune system, but the side effects can be challenging, to say the least. Mood swings, sleep problems, an increased appetite, and "moon face" are among the most common — but if you've experienced any of these, know there are many other chronic warriors who understand exactly how you feel.
Finding the humor in the frustrations of prednisone won't necessarily treat your symptoms, but for many in our community, it can make them easier to deal with. We found 16 memes that might make you laugh if you've ever been on prednisone.
1.
Prednisone problems #asthmatic #prednisone… https://t.co/U4JRuKxaWp pic.twitter.com/zlsNPBScXu

— Augustino Chengula (@achengula) November 3, 2017
2.
So tired.
I dropped to 25mg of #prednisone today. All of my energy is gone. Someone pass the caffeine! ???? #crohns #ibd #arthritis pic.twitter.com/TNElBxX2io

— Katelyn (@MICrohnsGirl) August 29, 2017
3.
Me for the last 10 months #prednisone pic.twitter.com/DFIODyJdne

— Stephanie (@StephanieGatica) October 4, 2016
4.
This just became so much more relevant. #prednisone pic.twitter.com/SfaR4jpmZl

— amanda (@heymandeee) December 12, 2016
5.
Like and share if #Prednisone makes you feel like you can take on the world! #IBD #Crohns #ulcerativecolitis pic.twitter.com/Jct7LxLnje

— Intense Intestines (@NtenseNtestines) August 5, 2016
6.
7.
8.
9.
For those just beginning treatment for #Lupus, welcome to the hell of #Prednisone.#MenHaveLupus #LupusProblems pic.twitter.com/uhz1GoKzsN

— Men Have Lupus (@menhavlupus) October 5, 2017
10.
11.
RT @VeganOstomy: #Prednisone #crohns #ibd #meme pic.twitter.com/kyC4aLO9Gd

— UChicagoIBD (@UChicagoIBD) February 3, 2015
12.
13.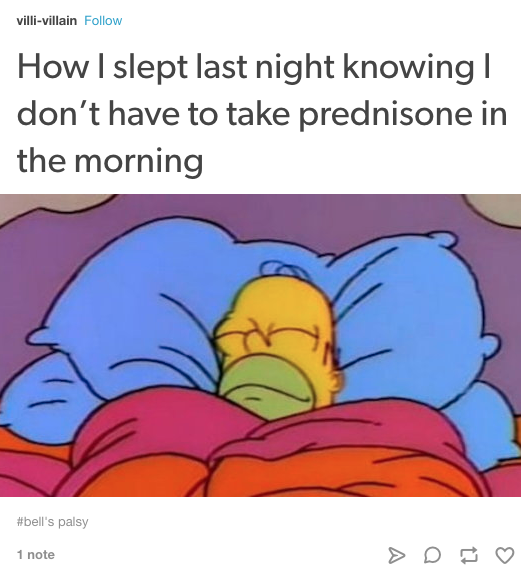 14.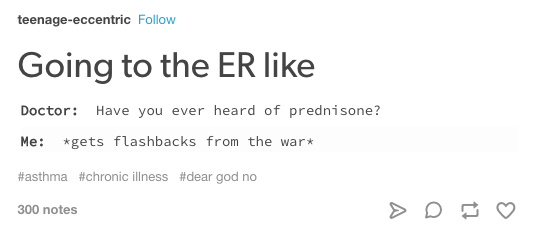 15.
my life while on #prednisone #IBD pic.twitter.com/bhMxvEG1wl

— Jill O (@ji11_ok) September 1, 2015
16.
Originally published: November 28, 2017