10 Apps That Can Help You Be Productive, Even When Brain Fog Takes Over
---
If you struggle with brain fog due to chronic illness or medication, keeping up with all your day-to-day responsibilities can be a challenge. On top of any physical symptoms you may be experiencing, such as pain and fatigue, the cognitive effects of brain fog may cause you to forget dates or activities, have difficulty focusing or spend an hour searching for your keys because you just can't remember what you did with them.
This can make it extremely difficult to be productive and accomplish all the work, errands or chores you set out to get done. So, to help those who struggle to get things done, we asked our Mighty community to share which apps help them be productive on days when brain fog takes over.
Of course, there are many things more important than productivity, such as taking care of your health or spending time with loved ones. If you aren't feeling up to being productive, that is absolutely OK. Your worth and value as a person will not be affected one bit by how many dishes you clean or emails you respond to in a day. You're a warrior no matter how much you do or don't do.
But, if you are feeling up to tackling some of the items on your to-do list, check out the apps our chronic illness community uses to improve their focus and productivity.
Here are their recommendations.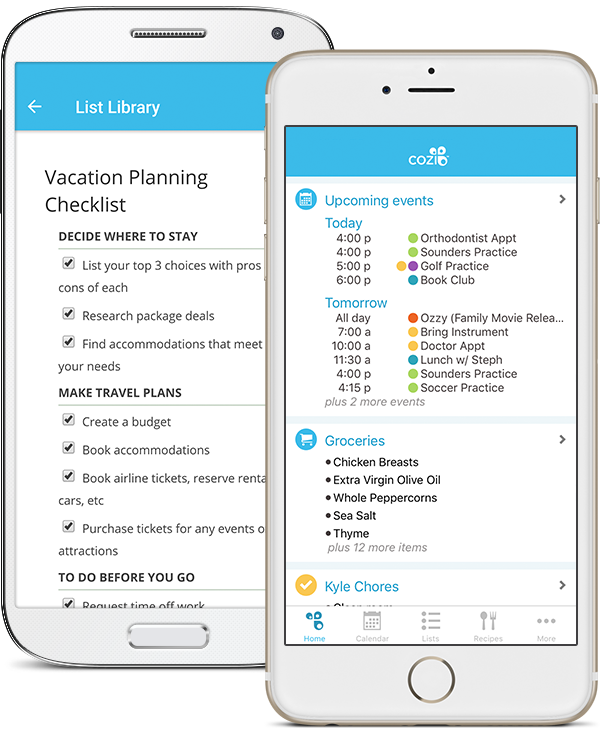 Cozi is an organization app specifically designed for families. You can keep all of your family's activities and appointments in one place, and create checklists (grocery lists, chore lists, to-do lists, etc.) to share with other family members.
Amy Perry Archibald told us, "We use the app Cozi. The free version is great, the paid is even better. We've used it for years. It has a shared calendar, shopping lists, to-do lists, contacts, meal planning and recipes in the paid version. Anyway it's so nice to be able to have an easy-to-use calendar to share with hubby and also grocery and to-do lists we can share between each other. It's fabulous."
Lisabeth Blanche Dillman Place added, "Cozi has been so helpful for our household. It keeps our large household mostly in sync, so that even when I'm forgetting, someone will usually remind me. Everyone can help with the grocery list and then I order them online for pickup (another chronic illness lifesaver), and I get my daily agenda so I can plan my 'energy usage' accordingly and get plenty of rest if there is an afternoon or evening 'must do.'"
Download Cozi for free from Apple, Google Play or Microsoft.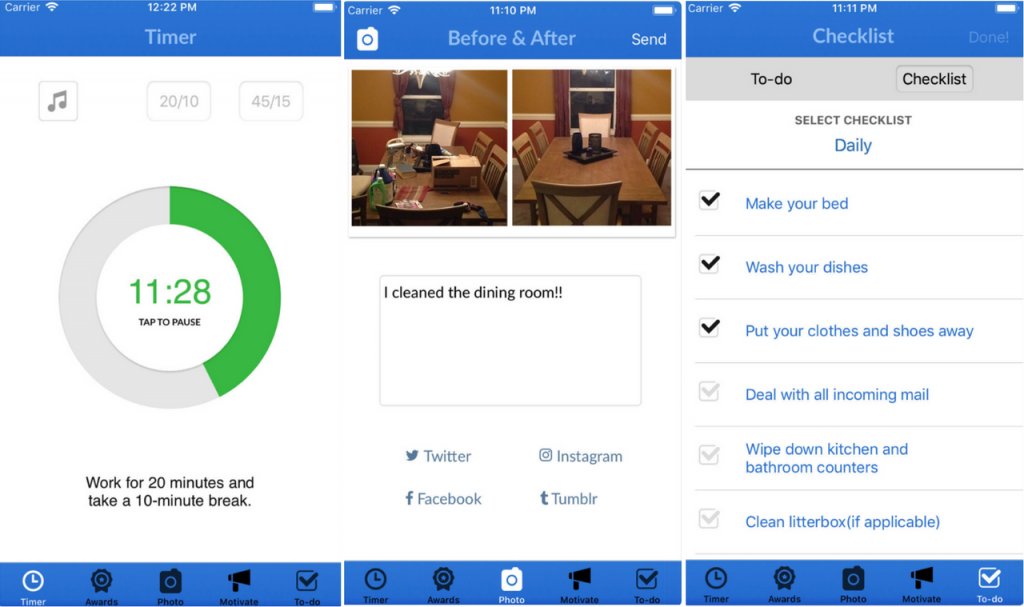 Unfuck Your Habitat helps motivate you to clean and organize your home through challenges, checklists and strong words of encouragement. The app uses the "20/10" method, in which you clean for 20 minutes then rest for 10 minutes – in other words, breaking down the task into small, more manageable chunks rather than doing it in one long marathon session. Even if you're only able to clean for five minutes at a time, that's totally OK. As the app says, "progress is progress."
"Unfuck Your Habitat was an awesome way to turn cleaning into a game and keep on top of the house," wrote Ami Ceresi.
Download Unfuck Your Habitat for $0.99 from Apple or Google Play.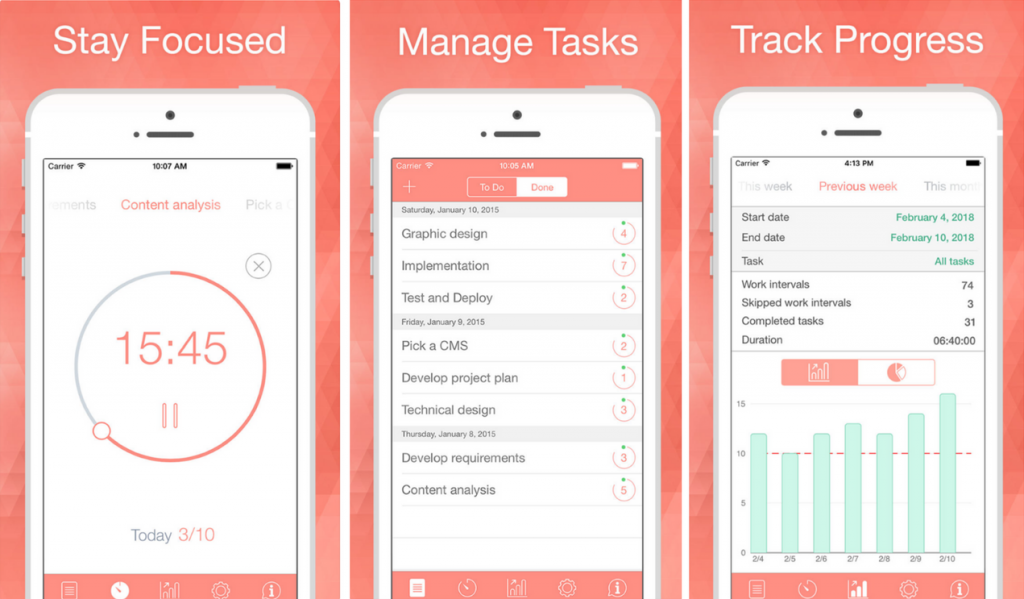 Be Focused is a focus timer app that can help you stay focused, manage tasks and track your progress. It allows you to break up individual tasks among discrete intervals, separated by short breaks, which can help improve focus and productivity.
"Be Focused," recommended Sally Rolfe. "It's an app that keeps track of things I need to get done, sets a timer for each one, and if it's a repeating activity, it tracks how many times it was done each day, as well as everything done each day. It's great for working on big projects that need to be broken down into smaller chunks."
Download Be Focused for free from Apple for iPhone/iPad or Mac.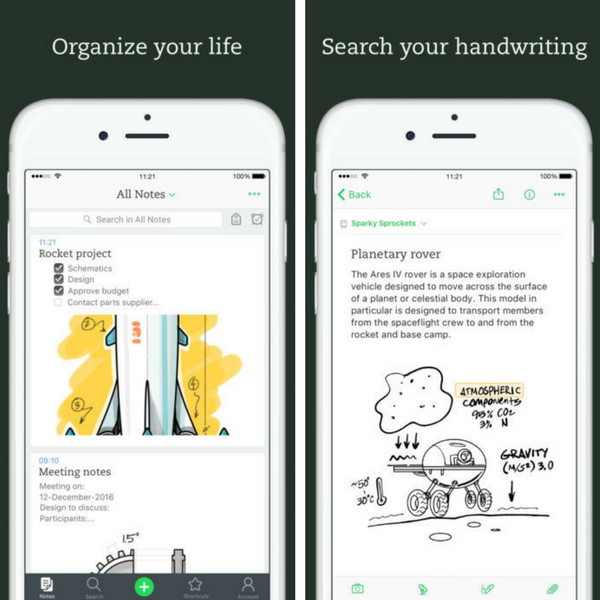 Evernote is a note-taking app that helps you stay organized in your personal and/or professional life. You can add notes in a variety of forms, including text, sketches, photos, audio, video, PDF and web clippings, and have everything saved in one place.
Melanie Louise Voll told us, "Evernote has been a lifesaver for me the last few years. I make notes for everything and I do mean everything. I've used both the free and paid versions. Both are good but you do get a lot of good features with the free one."
Download Evernote Basic for free from Apple or Google Play.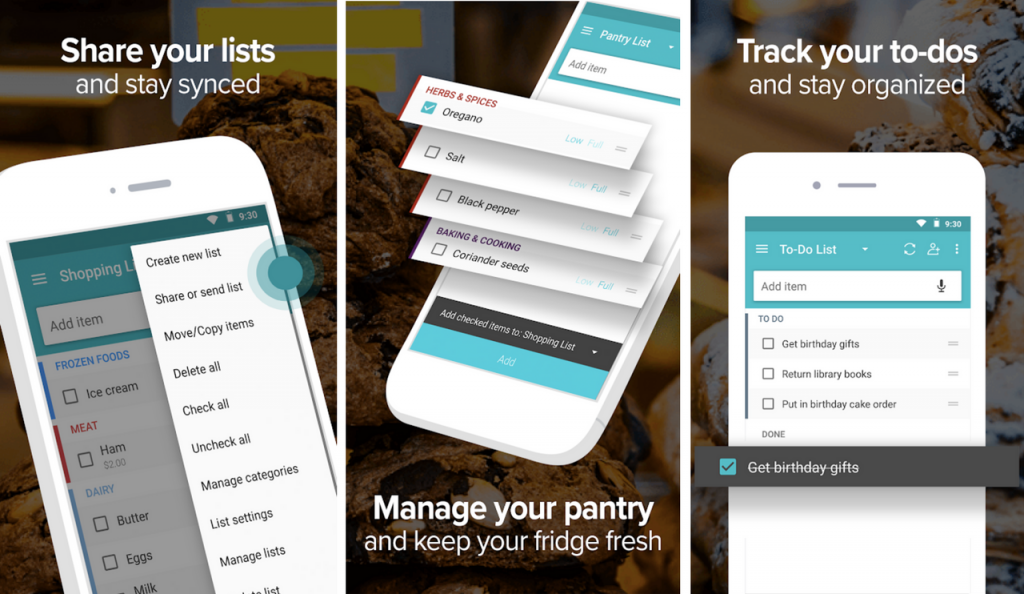 The Out of Milk apps is a simple way to keep track of your grocery list and to-do list. When you add items to your shopping list, you can categorize them as "dairy," "produce," "deli," etc. so you can navigate the store more quickly and efficiently, and you can also note if you have any coupons for each item. The app also includes a pantry list where you can keep track of whether you're running "low" or "full" on staple items, such as flour or sugar.
"Google Calendar and Out Of Milk," said Erika Rasnick Hubbard. "The latter is technically a grocery list app but has a to-do section so I can keep all of my lists in one place."
Download Out of Milk for free from Apple or Google Play.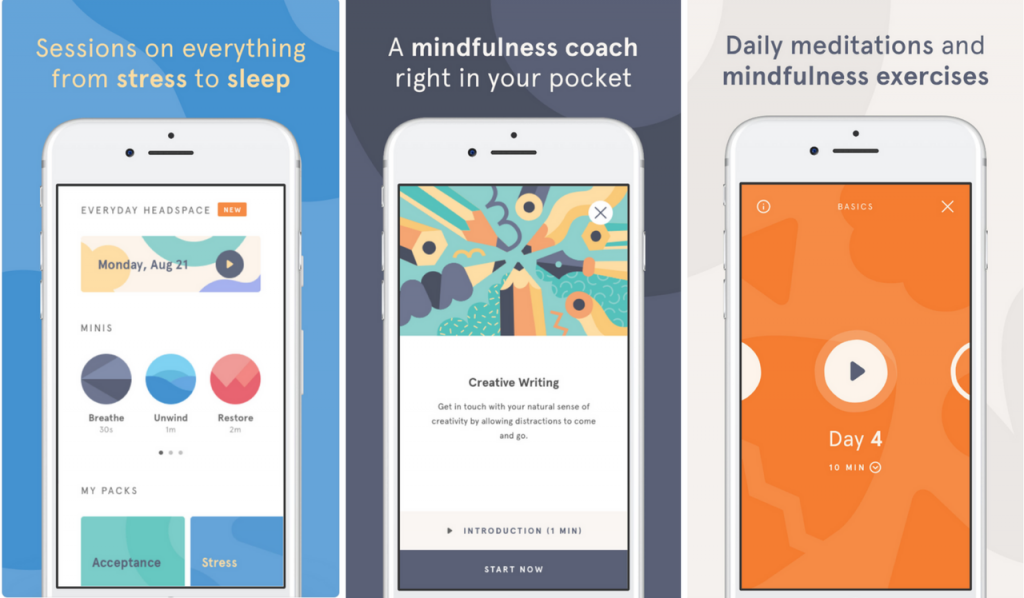 Headspace is a meditation app that helps you practice mindfulness, reduce stress and concentrate on your breathing. Meditation can lead to better sleep and improved focus, allowing you to be more productive during the day.
Lauren Hutchinson told us, "Headspace has been wonderful for clearing fog. You can choose small bursts or full meditation sessions according to how much you can manage."
Download Headspace for free from Apple or Google Play, or sign up online.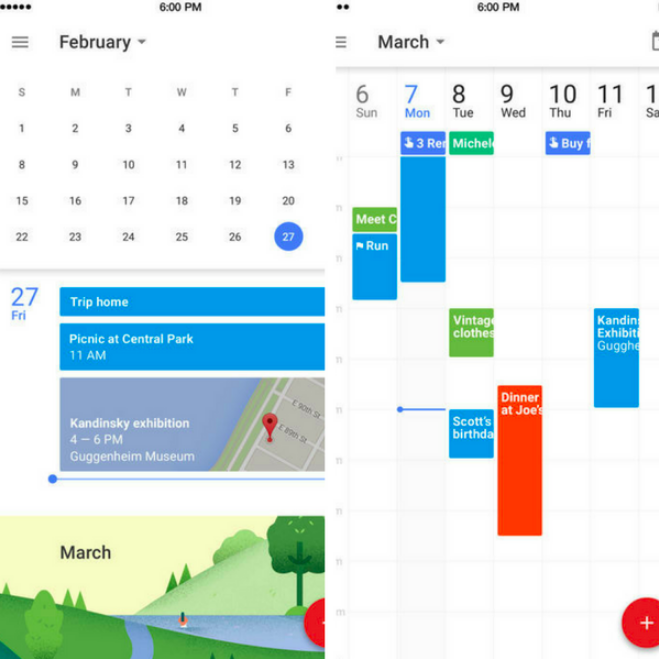 Google Calendar can help you keep track of important dates or events. You can view the calendar by day, week or month, color code events and, if you use Gmail, import dates from there. You can also schedule reminders to give you a heads up about upcoming events.
"Google Calendar," recommended Abigail Hart Garcia. "I can plan out every task, set reminders and see it all clearly in a simple color-coded format. It makes everything so much easier!"
Christa Riter added, "It helps me keep track of my schedule and never lets me forget anything."
Download Google Calendar app for free from Apple or Google Play.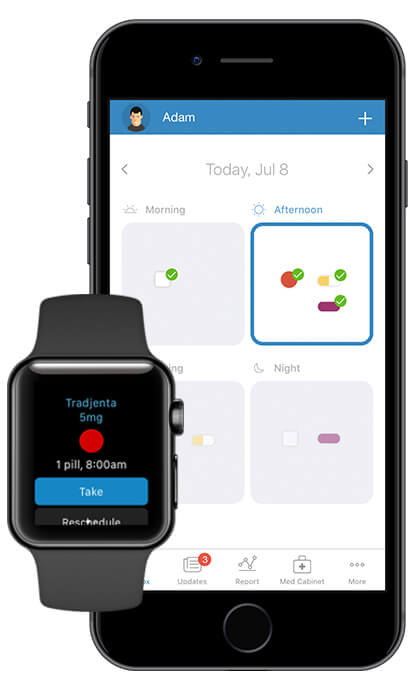 Medisafe helps you keep track of which medications you need to take and when. Each day is divided into four quadrants – morning, afternoon, evening, night – with visual representations of which pills you should be taking at which time. The app will send you reminders when it's time to take your pills, and it also provides you with information about each medication. Physicians and pharmacists are also able to connect with patients and communicate through Medisafe.
Nat Kathleen wrote, "[I use] Medisafe for my medication and supplement reminders. And I take pictures or screenshot lists/schedules etc. because I know I'll forgot to take it with me!"
Download Medisafe for free from Apple or Google Play.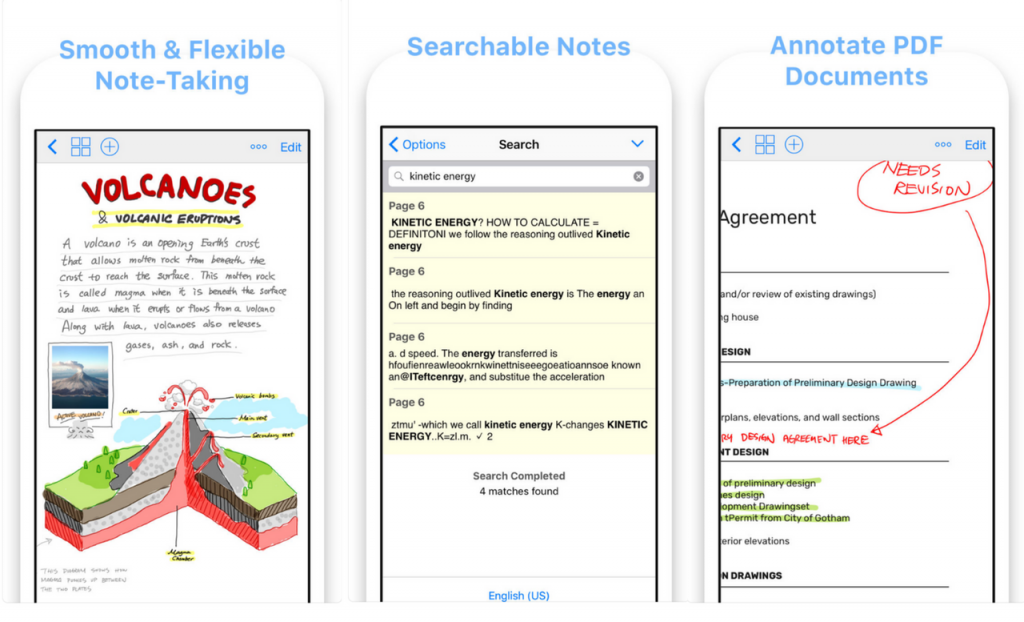 GoodNotes is a note-taking app that allows you to take handwritten notes on your device, annotate documents and organize your notes. Anything you handwrite is searchable and can be converted to text.
"GoodNotes and Procreate!" recommended Lorena Bru Engel. "I use them together! Procreate for the mindless art then GoodNotes to write things so I don't forget important stuff."
Download GoodNotes 4 for $7.99 from Apple.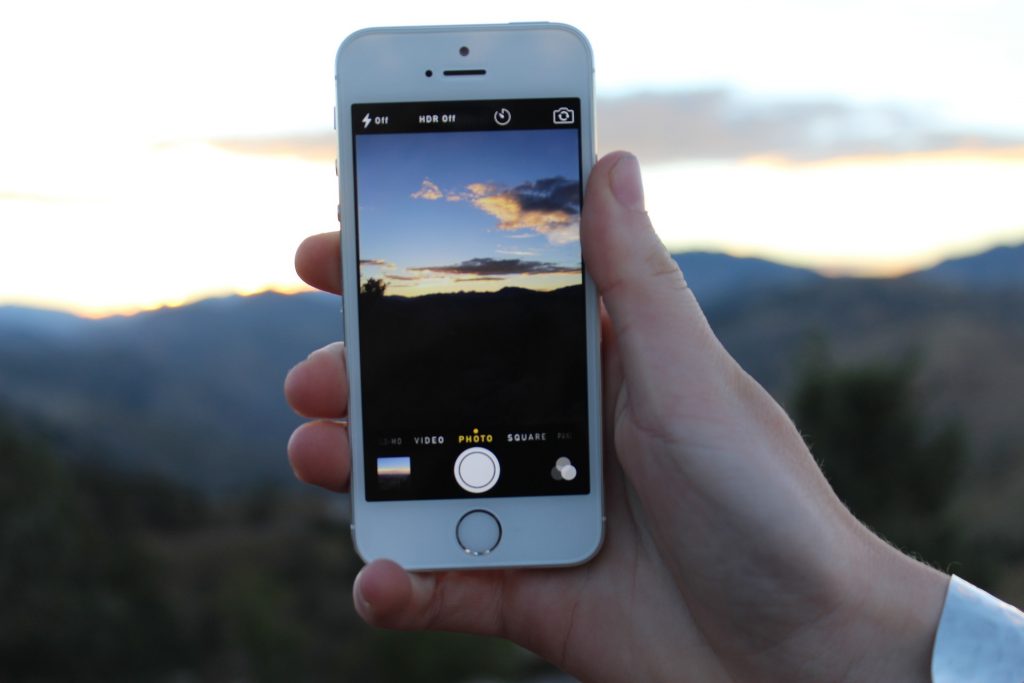 Most phones nowadays come with a camera, allowing you to take pictures (or screen shots!) of anything and everything in your life so that you can remember it later on.
"My camera app," said Bailey Sonday. "I take pictures of everything relevant including where I set my keys, where I park my car… I screen shot appointments, and even what my child wears to school. All this I am prone to easily forget."
"I use my camera app to take pics of all the things I need to remember. School notes, things I need to do, things I want to remember, you name it. I screen shot info a lot as well. So between my camera and screen shots it makes my photos app really, really useful," explained Amy Perry Archibald.
Bonus: The Mighty's App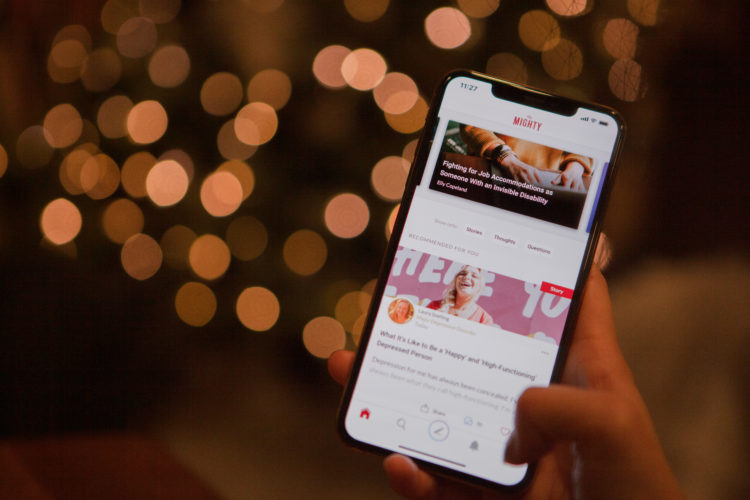 Did you know The Mighty has an app? Download our app to read more stories like this and connect with people from the chronic illness community.
Originally published: March 28, 2018