10 Shower Seats and Chairs People With Illnesses and Disabilities Swear By
---
Editor's Note
We hope the products below help you or a loved one in your health journeys. Just so you know, The Mighty may collect a share of sales from the affiliate links on this page. As an Amazon associate, we earn from qualifying purchases.
People use shower stools, chairs or benches for a variety of reasons. When you live with a chronic illness or disability, shower stools can help you bathe and shower in a way that might not be possible otherwise.
Finding the right shower stool or chair depends on your requirements as well as your shower or bath type. You might be looking for one that has a back or stays stable while you wash your hair. Or ones you can sit on if you get dizzy or are unable to stand.
There are plenty of stools and chairs to choose from out there, many of which won't break the bank. To help you find the best option, we asked our Mighty community for their recommendations.
Here's what they suggested:
1. 
Drive Medical Folding Bath Bench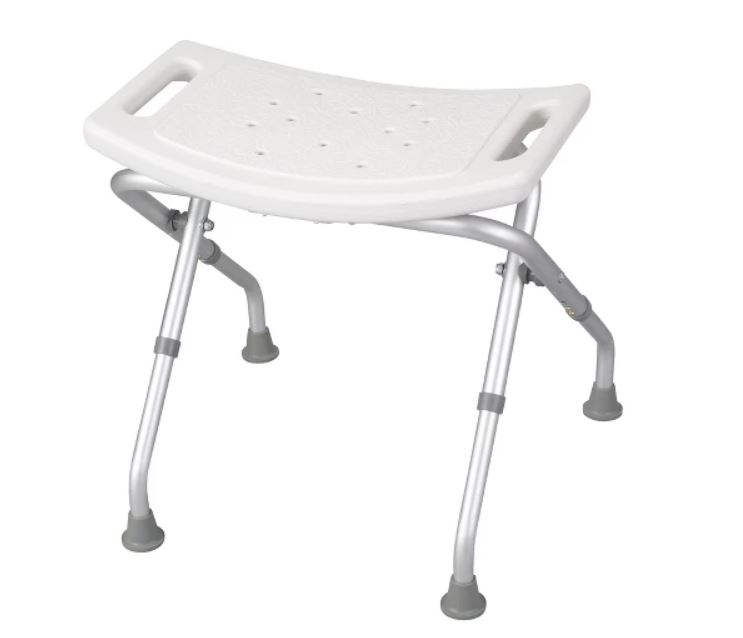 This shower stool has cut-out handles, making it great for people who need help standing up. If a shower for you consists of standing up and sitting down multiple times, this stool might be what works best for you.
"I have fibromyalgia and sometimes have a difficult time standing in the shower due to pain, fatigue and dizziness," said Ali Berman. "I also use it for shaving my legs. I use the Drive Medical Folding Bath Bench. I needed a folding chair because my shower isn't that big and sometimes, I do stand up. It's very stable, comfortable and well-made."
Buy the Drive Medical Folding Bath Bench above from Amazon.
2. Swivel Shower Stool
A fashionable stool that's stable, this product is a good choice if your shower is small and you don't have the room for a bulky shower seat. The rubber feet keep the stool in place and it's lightweight so you can move it around easily if needed.
"I ordered this one over a year ago and still love it," said Bay Howe. "It's lightweight and compact so I can move it as needed without difficulty and it isn't too bulky for when others need to shower. I will say I'm only about 5-feet and 120 lbs though and wouldn't recommend for anyone too much bigger than me as the seat is small."
Buy the Swivel Shower Stool from Amazon.
3. Cutout Seat Bath and Shower Chair
Having a cut-out in a shower seat can make it easier for you to bathe without having to stand up if you have limited mobility because of a disability. Plus, it has a supportive back.
"I recommend one with a V-cut out in the seat," suggested Kathy A Zabliski. "It makes it so much easier for personal hygiene!"
Buy the shower chair above from Amazon.
4. Shower Chair With Back
This shower chair is comfortable and has a wide seat with drainage holes. If your disability or chronic illness means balance is a concern for you, this chair could be a great fit since it's meant to be very stable and has a strong frame.
"I went to my local supply store," said Karrie Aun. "They helped me find one for my needs [like this]. I like it because it supports my back, is wide enough for hips and can aid in stability when standing."
Buy the Shower Chair With Back above from Amazon.
5. Drive Medical Adjustable Height Bath Stool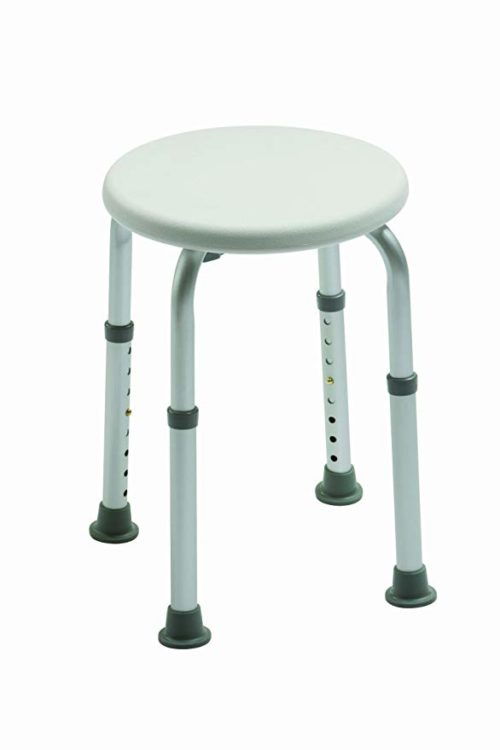 This shower stool comes with a button that allows you to change the height of it. If you struggle with showering because you have to regularly change positions to wash your hair, face or body, an adjustable stool like this could be what you're looking for.
"My 10-year-old daughter is a lower limb amputee and we ordered this one from Amazon," said Jaime Berger Cline. "We've used it for almost 3 years and it's worked so well!"
Buy the Drive Medical Adjustable Height Bath Stool above from Amazon.
6. 
Drive Medical Shower Chair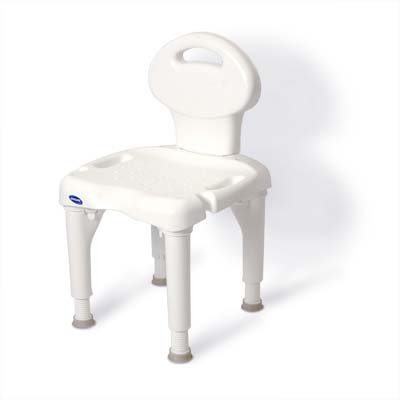 If showering exhausts you, a shower chair you can depend on is important. This chair is meant to give you reliable support if you need to sit down during a shower either suddenly or regularly. It's also on the larger side, allowing for maximum comfort.
"Shower chair with a back is what I have with a removable shower head," said Janet Hall Bond.
"Invacare is a great sturdy and reliable brand," said Shawntell Orms Whitaker. "It is height and width adjustable. Makes showers easy. I sometimes feel like I leave a shower with more 'spoons' than I went in with."
Buy the Drive Medical Shower Chair from Amazon.
7. Drive Medical Bench Chair with Back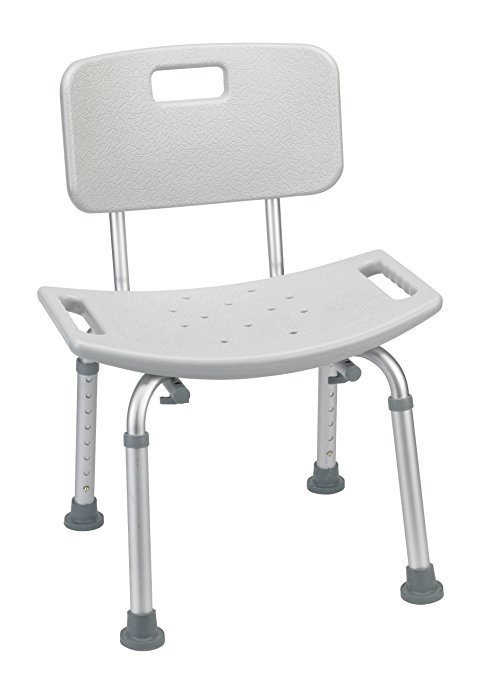 This disability-friendly shower stool has a weight capacity of 400 lbs, is height adjustable and is known for being a safe seat to use. If you are worried about falling off a chair, having it slide out from underneath you unexpectedly or not dependable enough to sit on, this is a good option for you.
"I did just order one off Amazon that's made by Drive Medical, which came very highly recommended by a friend who works in a nursing home," said Erika Clark.
Buy the Drive Medical Bathroom Safety Shower/Tub Bench Chair from Amazon.
8. Carex Universal Bath Seat and Shower Chair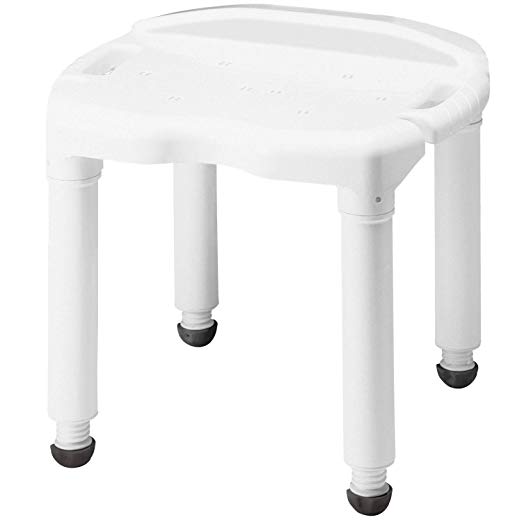 If someone helps you shower, a clunky stool might not work best. This basic stool gives you room to do what you need to do while taking a bath or a shower. There is also a notch on the side of the chair that will hold a handheld showerhead if you need it.
"I've been using this stool by Carex for about a year now," said Stacey Cox. "Its height is adjustable so I can get over the tub easier, high enough for my husband to reach in to help wash my hair if needed, it's wide enough so I can pivot without feeling like I'm going to fall over, there are handles, it's sturdy, comfortable, inexpensive and clean."
Buy the Carex Universal Bath Seat and Shower Chair above from Amazon.
9. Drive Medical Premium Series Shower Chair with Back and Arms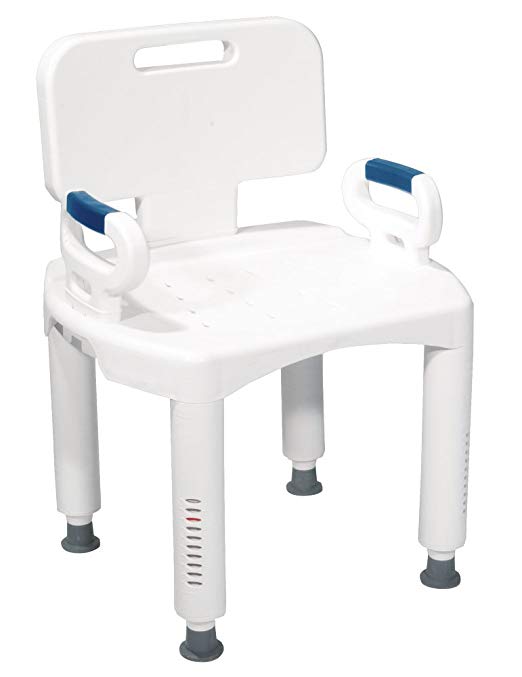 This is an essential shower chair if you have a disability and travel a lot. Almost every part of it is removable and can easily be taken with you in a car, plane or almost any other sort of transportation.
"I've been using this one for three years and it's very sturdy up to 300 lbs," suggested Alison Cruz. "I've had a completely different stool with aluminum legs and it didn't last much. This one is excellent!"
Buy the Drive Medical Premium Series Shower Chair with Back and Arms above from Amazon.
10. Aluminum Spa Shower Seat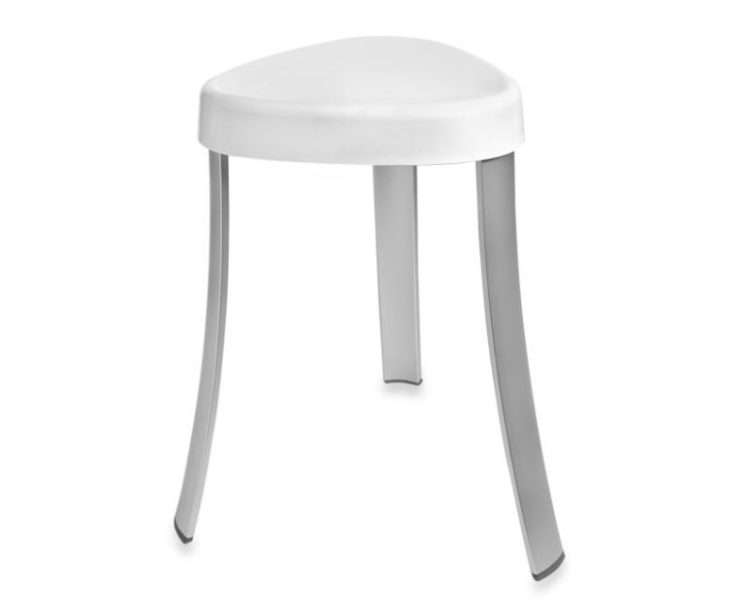 A basic shower stool, this is a go-to for anyone who might occasionally need a shower stool on bad days with chronic illness. It's stable and can get the job done, but it can also easily be put away since it's both lightweight and slim.
"I have a regular shower/bath combo, so it is quite difficult to get a bigger shower chair to fit in there," said Jordyn C. "My mom surprised me with this three-foot shower chair that is super lightweight. I LOVE IT! Especially since I have POTS and other health issues."
"I got this one," said Katrina Givens. "It doesn't look too geriatric. It's lightweight, I can keep it in the corner of the bathroom when I'm not using it, and I can use it when I'm doing other things, like doing my hair and such."
Buy the Aluminum Spa Shower Seat pictured above from Bed Bath & Beyond.
What type of shower stool or chair do you use? Let us know in the comments below.
Originally published: April 29, 2019