27 Photos Spoonies Wanted to Post on Facebook, but Didn't
---
"Spoonie," a term often used within the chronic illness community, refers to someone who has limited energy reserves because of their condition. This comes from Christine Miserandino's "spoon theory," which many find helpful for explaining what it feels like to live with chronic illness.
However, it is often still difficult for others to truly understand the experience unless they have been chronically ill themselves. There are many harmful stigmas and misconceptions surrounding lifelong illness – for instance, many aren't believed because they don't "look sick" or are accused of faking because they were seen outside on a "good" day. These accusations can easily dissuade people from talking about their illness or posting on social media out of fear of judgment or a lack of understanding.
The reality is, if a spoonie posts something about their health journey, they're probably just trying to be honest about their life or even hoping to raise awareness of their illness – not "seeking attention." And if they post something non-health-related, it in no way detracts from the very real struggles they face daily.
Bottom line: We should all be able to post whichever photos we want to share without fears of the repurcussions. So, we asked spoonies in our Mighty community to share photos they wanted to post on Facebook, but didn't. All the spoonies in these photos demonstrate what it looks like to be a warrior.
Here's what the community shared with us:
1. "I have to wear a mask because I don't have an immune system as well as I am very allergic to smells. The guy sitting next to me on the plane told the flight attendant he wanted to switch seats because he 'didn't want to die from whatever I was carrying. I wanted to post this on Facebook and Snapchat to show I can still look great even though I'm sick. But I decided not to. No one ever asks why you're wearing a mask. They just assume the worst and don't think about your feelings in the process. I choose to rock my mask." – Elizabeth D.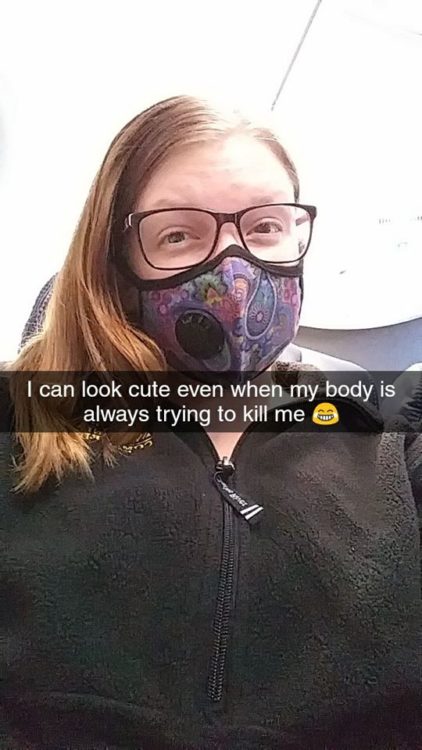 2. "This is one of my holiday pics. I don't post them because I am scared I will be accused of faking my illnesses. I have stopped to rest and catch my breath. I have EGPA vasculitis, heart damage and my lungs are failing.
It's so horrible that I cannot just try to enjoy the days where I'm not at my worst as they are few and far between." – Stacey T.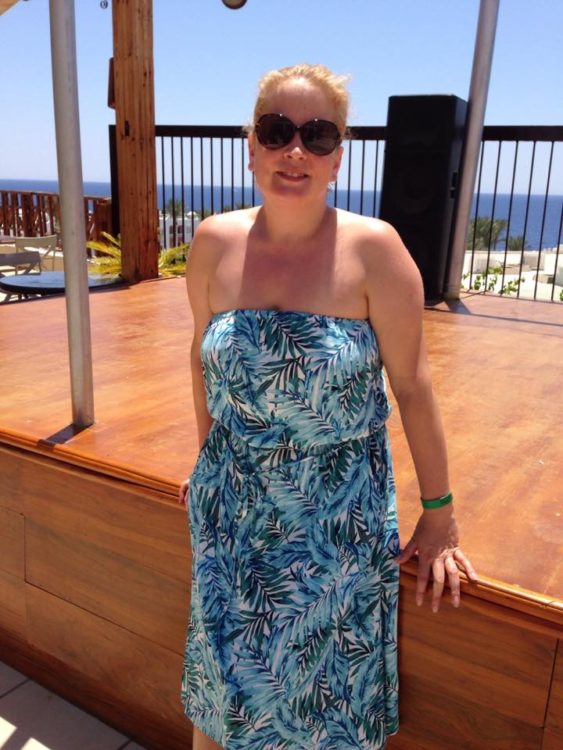 3. "I was in the hospital for the fourth time that month for pain from endometriosis. I'd had so many IVs and blood draws that I was out of good veins. After four people attempted to insert an IV in six different locations, a nurse said the vein in my neck looked perfect and untouched. As you can see, I was not thrilled about having an IV in my throat." – Shanée A.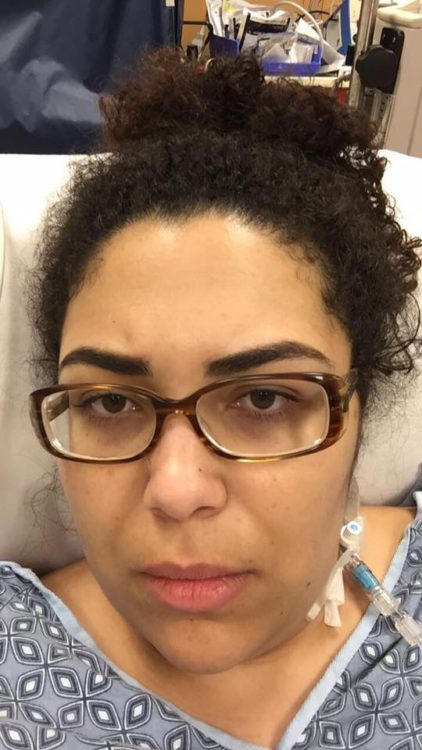 4. "While this looks peaceful, I was in the middle of a really bad vertigo episode (I have Meniere's disease) and could barely walk to the bathroom without falling over. My cats constantly hang out on the foot of my bed when I'm not feeling well." – Brandi V.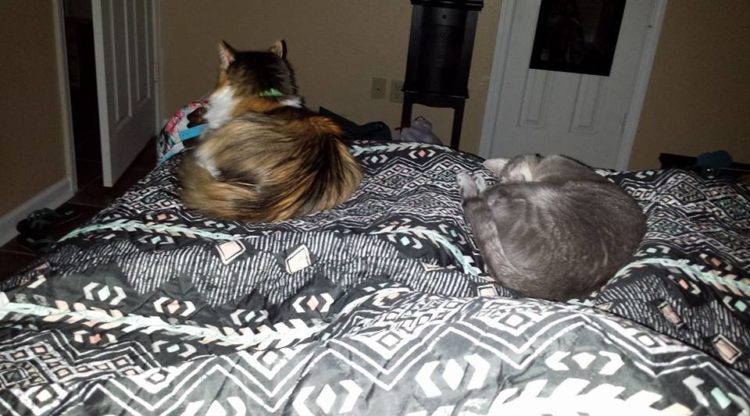 5. "In this picture I'm battling nerves that feel like static, a low-grade fever, horrible spasms and terrible exhaustion from my fibromyalgia. I hadn't moved from my bed in hours and I honestly just couldn't get the pain to go away. So I wrapped in my favorite blanket and held onto my comfort stuffed animal just to try to feel better. I'm now on day three of this round of flare. People don't see the pain I go through. They only see an 18-year-old who lays in bed all day… if only they knew why." – Connor D.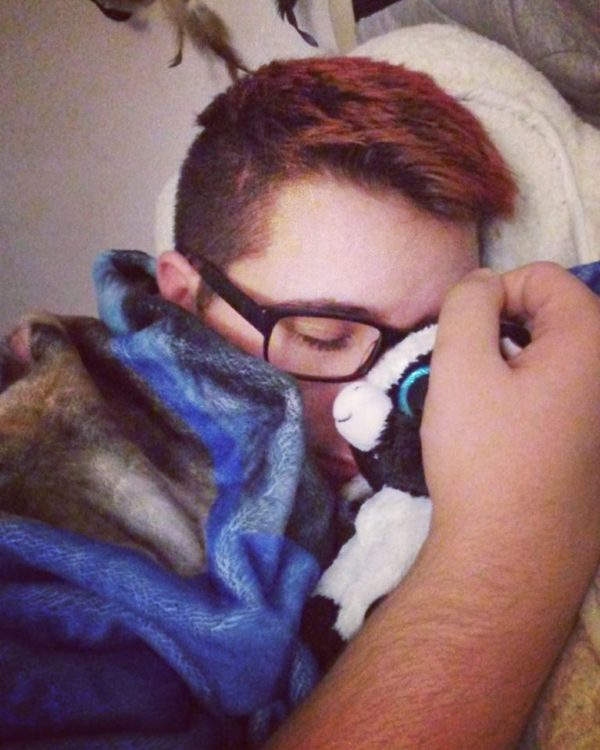 6. "Here is my Foley catheter that I've had in for a month and counting. I took this picture to document my life with chronic Lyme disease. I would love to share it to my public Facebook page 'Fight Lyme for Life' because it shows the reality of Lyme disease, but since it's literally pee in a bag, I thought it was too personal. We all go to the bathroom, but I thought I would definitely regret putting that up, even though it's just real life and educating others about how this disease affects me and others." – Cassidy S.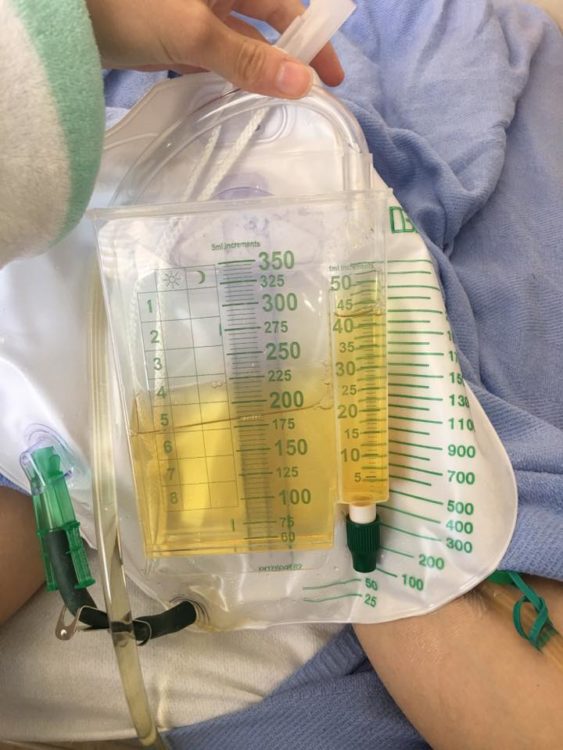 7. "This photo [is] of me wearing my oxygen at the airport. I struggle with long distances and the oxygen helps! I was told it was 'embarrassing' by someone and so not to post it. I have to admit that hurt a lot. I wanted to post it to show it's not just the elderly who use oxygen. But those comments made me change my mind. I wish I'd posted it though!" – Yasmin M.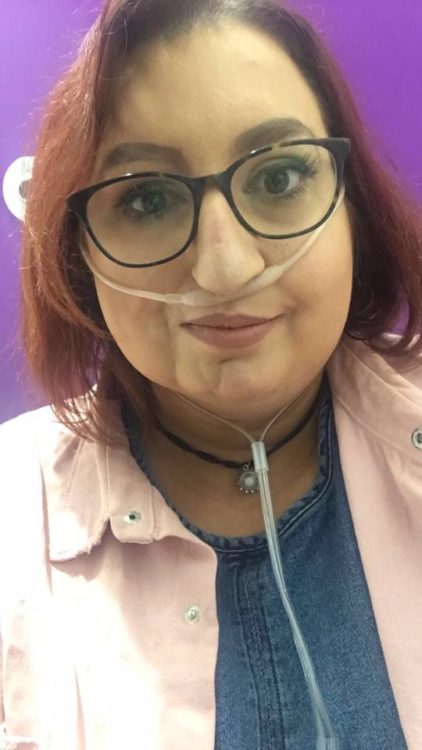 8. "This is a pic from right now actually. I'm in the hospital from once a month (on a really good month) to five times on a bad one, each time for about five days, sometimes less and sometimes more. For every time people know I'm here, there's five other times they don't. I wonder what would happen if people knew everything. I wish I could share everything so maybe they'd understand a bit more and be able to give me the support I need. Unfortunately this situation is very isolating and lonely and the more I try to share what I feel and need, the more it just pushes people away." – Ye'ela B.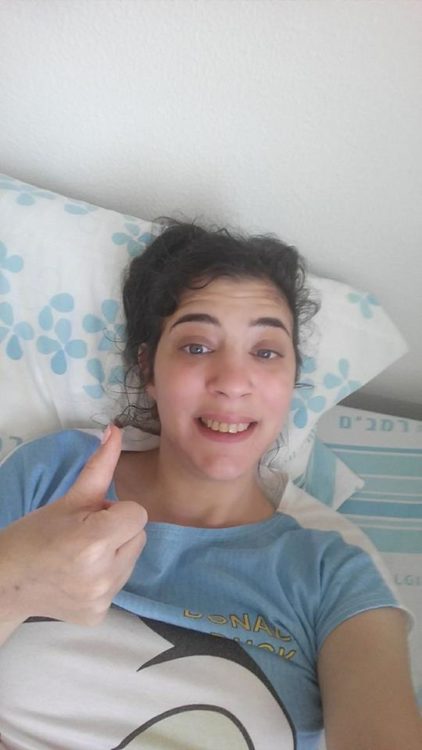 9. "My first infusion of the medication that will hopefully put me in remission. I was terrified sitting in the cancer center with a bunch of strangers and feeling nauseous and in pain from my Crohn's." – Amy C.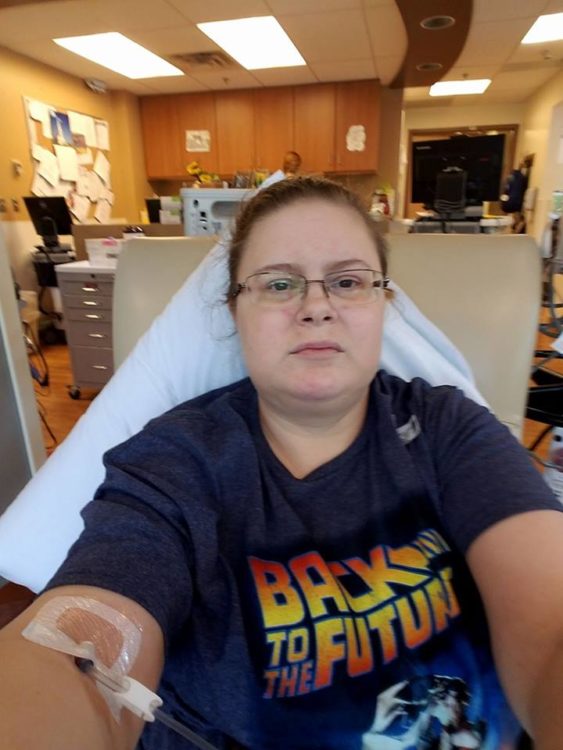 10. "[My] flatmate asked, 'Were you out last night?' I just laughed and replied, 'Ran out of spoons trying get up to the flat.' They replied, 'But it's only two steps…' You can imagine the rest." – Andrew R.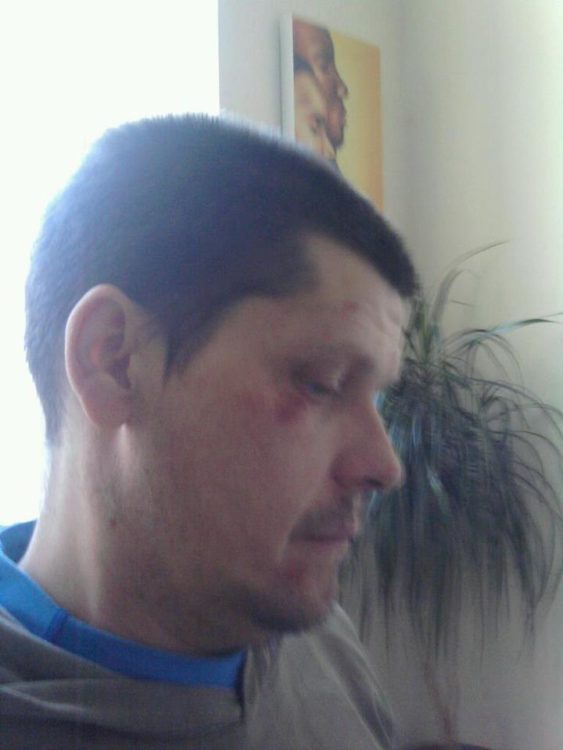 11. "The realities of chronic illness! I get severe bloating after eating. My GI said he suspects a motility disorder and generally diagnosed functional dyspepsia while waiting for results of various testing, including an endoscopy, colonoscopy, and probably a gastric emptying study. The most likely candidate is gastroparesis. I also have a whole line-up of chronic illnesses including Ehlers-Danlos syndrome and postural orthostatic tachycardia syndrome." – Jadzia D. R.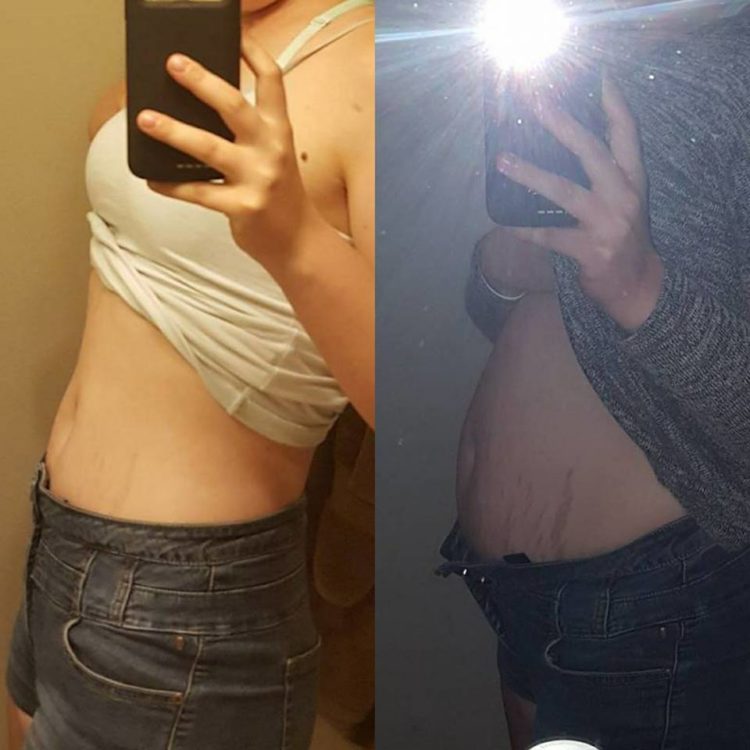 12. "My daily med regime when I'm at my peak crappiness." – Raquel N.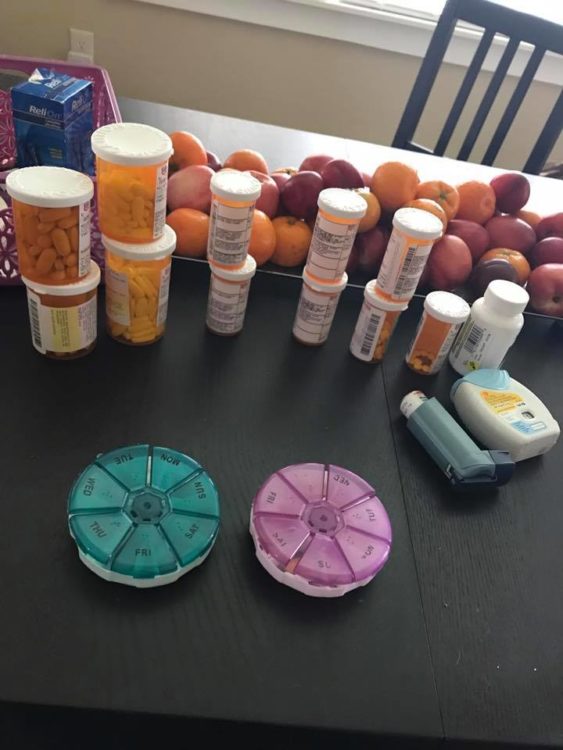 13. "Going to the Brookfield zoo while having a flare-up. [I was] nauseated and dizzy but managed a few hours… I stopped posting on social media about my issues. No one believes someone who looks great on the outside but [feels like they're] slowly dying on the inside… like, what is a chronic illness supposed to look like?" – Isabel Z.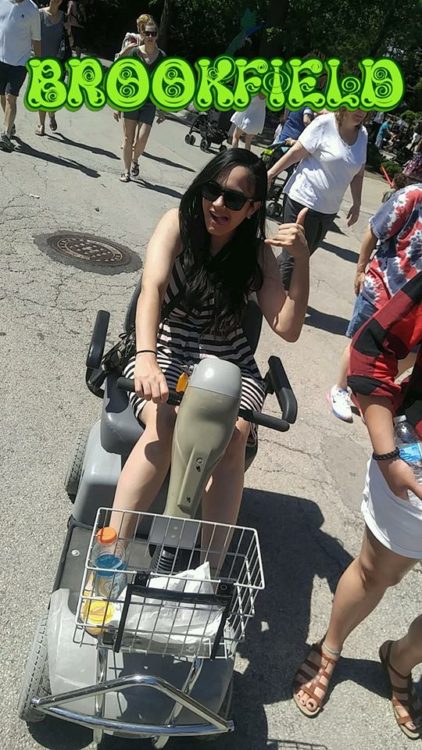 14. "Getting ready for my 14th or 15th surgery probably when they had to rush me to take out my appendix and necrotic right ovary that lupus was destroying. This was after they had to take my uterus out for the very same reason along with terrible fibroids and uterine cysts. I'm not a person who likes to feel vulnerable and I didn't post it because I didn't want to show that side of me to the world." – Joyll C.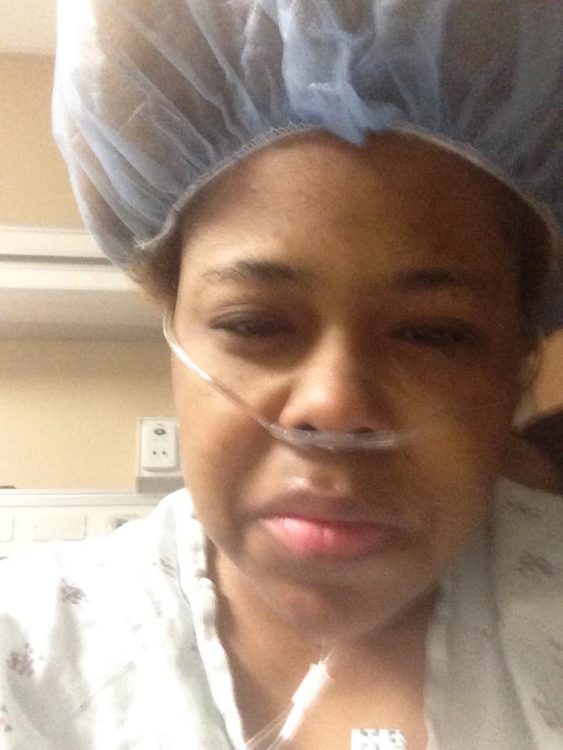 15. "Doctors don't know why I'm in pain every single day [and] I have migraines every single day. The pic is me waiting for more than eight hours. I had aphasia and didn't [get] solved, so I had to be hospitalized for observation. My boyfriend came to the rescue after work." – Athaliah L.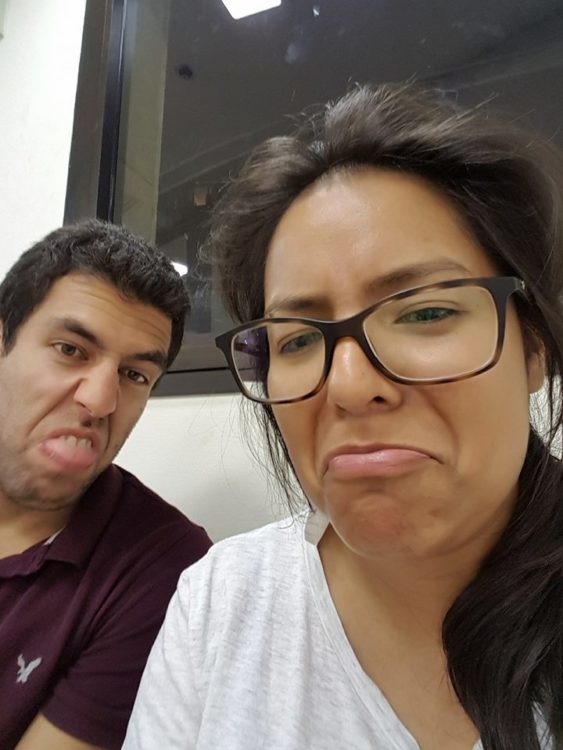 16. "This is a photo with the left side being the fifth day of a nine/10 migraine and the right being a 'good' day where my pain was about a six. In the first photo I hadn't been able to brush my hair for a week, I couldn't see, my face was blotchy and my eyes were swollen and painful. I wanted to share to show that in both photos I am sick. If I look sick or not, it doesn't change the fact that every day is an uphill struggle. My chronic illness is invisible but it still exists. I never ended up sharing it because I was afraid of being judged." – Jess C.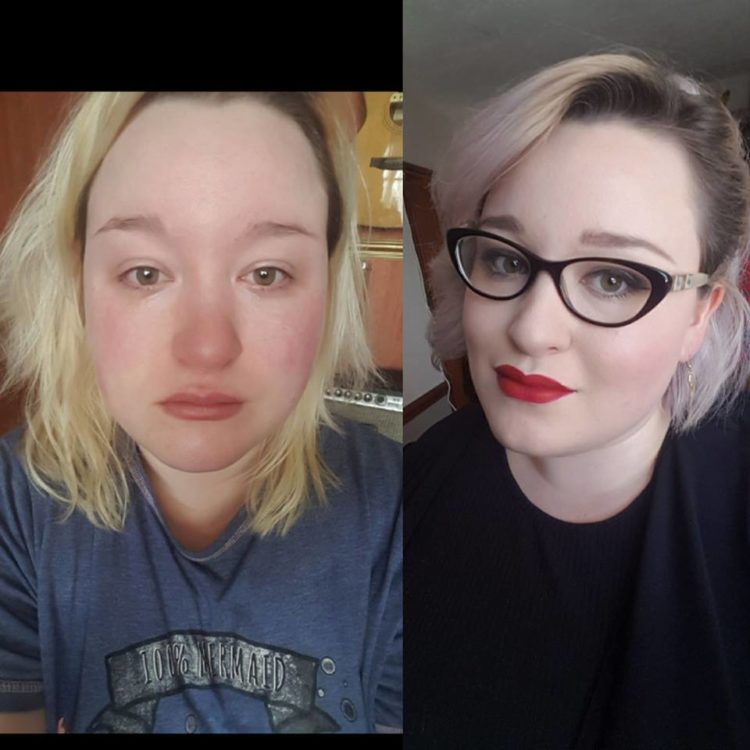 17. "Just driving trying to get away… I turn red, hot and sweaty like if I'm working out." – Kelly D. E.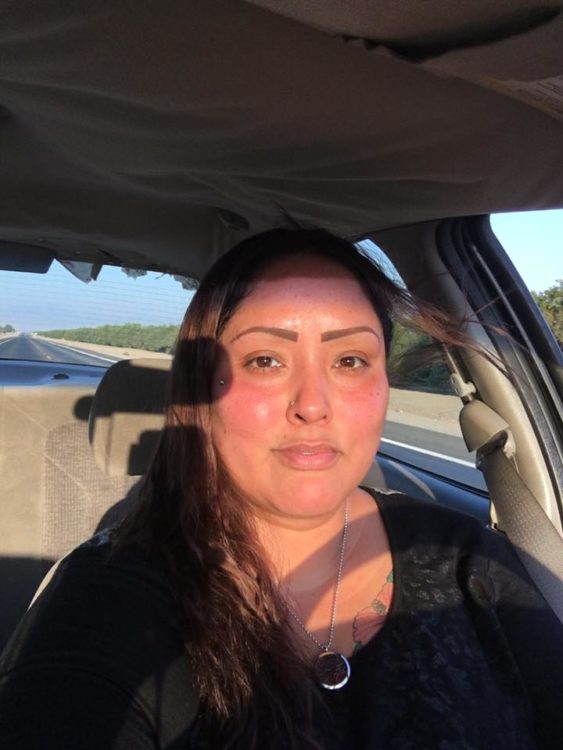 18. "I was in the ER with no magnesium and low potassium and my heart was erratic. I also was suffering a fungal infection and was very sick. I took the pic because I was worried it would be my last one." – Naima W.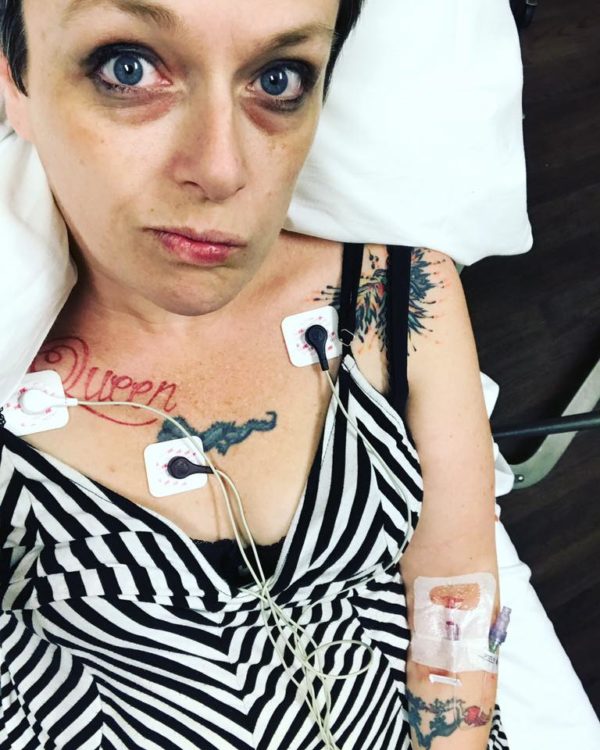 19. "This one only took five tries in five different locations on my hands and arms. Sigh." – Graves N.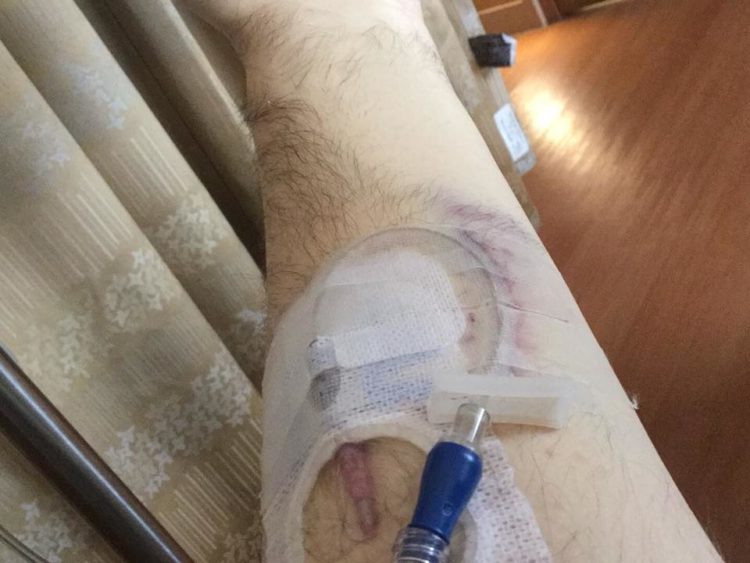 20. "Because I'm fighting for disability, I know every move is being watched. So even though this took every ounce of strength and energy, and ruined my fingers, wrists, knees and shoulders, I desperately wanted to feel for a brief moment like my old self. So I did it. And I paid for it. But if I post this publicly, I run the risk of people (and the federal government) claiming that because I posted this one picture of me using everything I have just to feel in control again, I am somehow able to work full-time." – Charis H.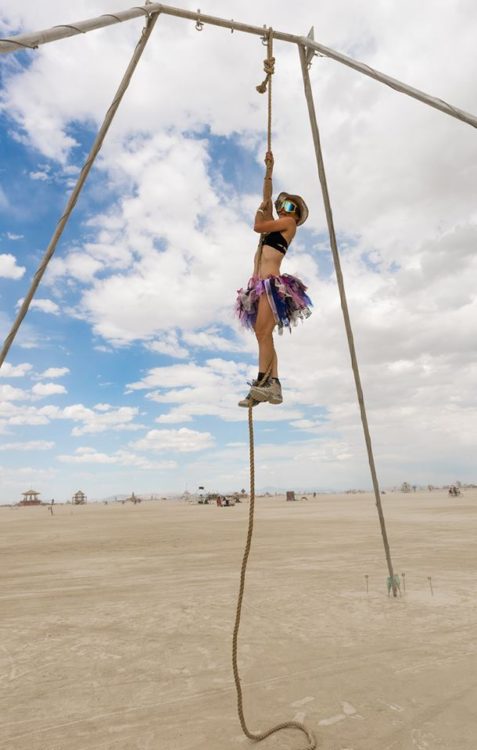 21. "Lying on the bathroom floor because the walk from my bed to go have a shower was too painful and exhausting. People only see the happy, good side but that doesn't mean our chronic pain isn't real." – Jasmine B.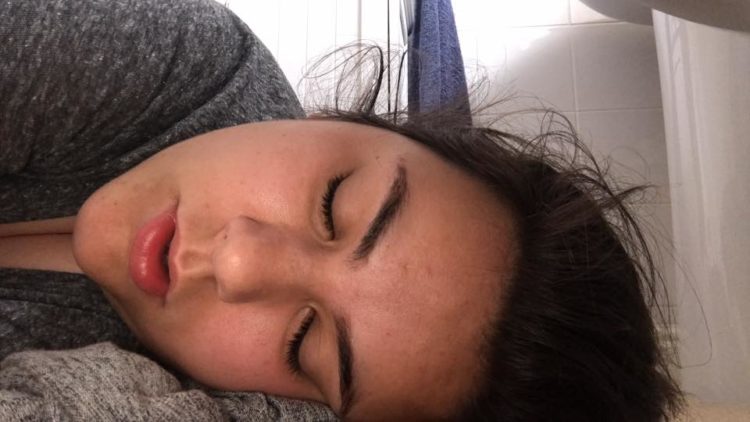 22. "Shoot, I post mine, anyway! Here's me having to sit down for a break after a shower made me feel like I would pass out. Posted it. We need to stop letting others make us feel ashamed of our illness and share our lives, regardless. Healthy people do it all the time. This is our reality. We live it every day, but we hide it from our friends and family. We go around saying, 'the people close to me don't understand' but then we're posting our best faces on Facebook all the time and not sharing the majority of what we actually go through. It's no wonder they don't understand!" – Vanessa B.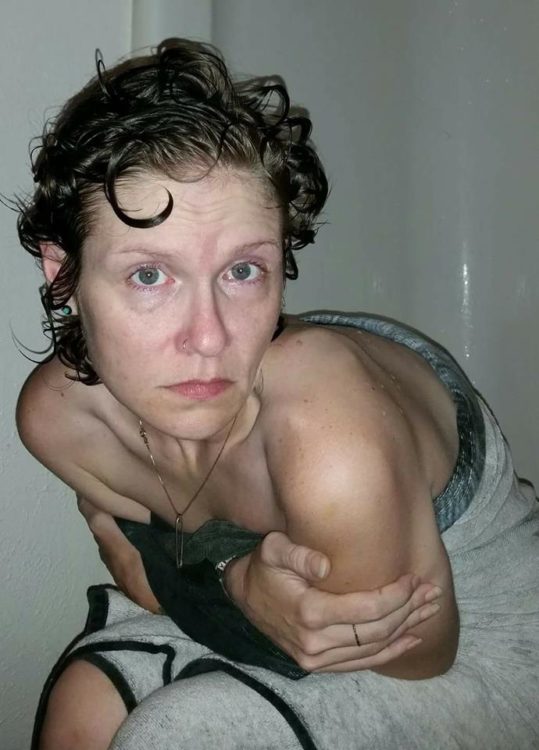 23. "The picture seems like I'm having fun and having a laugh, yet if I didn't laugh, I [would] cry. I cried many tears that day. Trying to get a nurse to understand what relapsing polychondritis is and trying to explain over and over to many of them the isolation of a rare disease. Sometimes I just had to laugh because I just couldn't face the reality of being hooked up to an IV every two weeks for possibly the rest of my life. Yet to the outsider I look like any other 30-year-old." – Bernie P. H.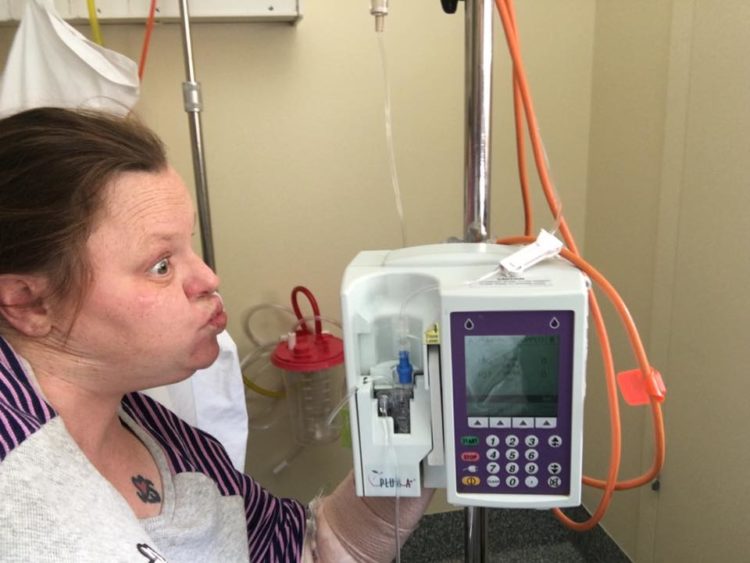 24. "Waking up exhausted. Trying to decide if expending any energy on my hair is worth it." – Nicola D. J.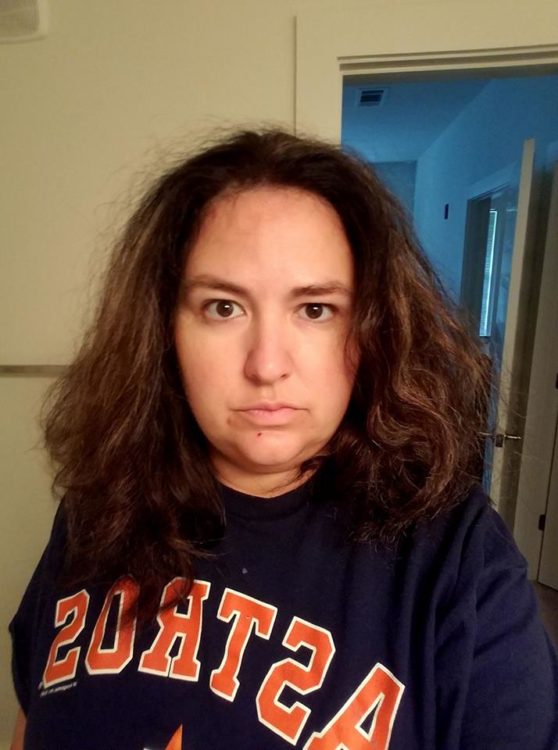 25. "I was having so much fun for once. But my meds have caused me to gain a lot of weight." – Carlie C.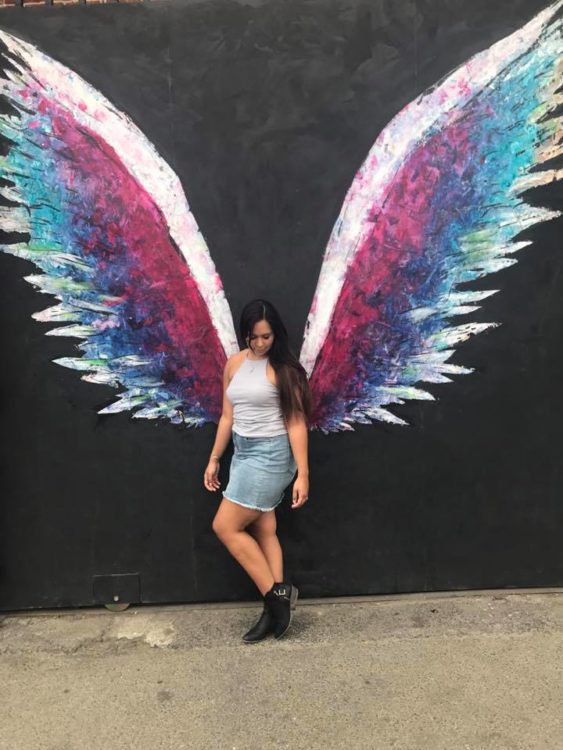 26. "Puffy, tired and flushed from chronic fatigue syndrome and Lyme. Went out for breakfast with hubby anyway." – Karen W. N.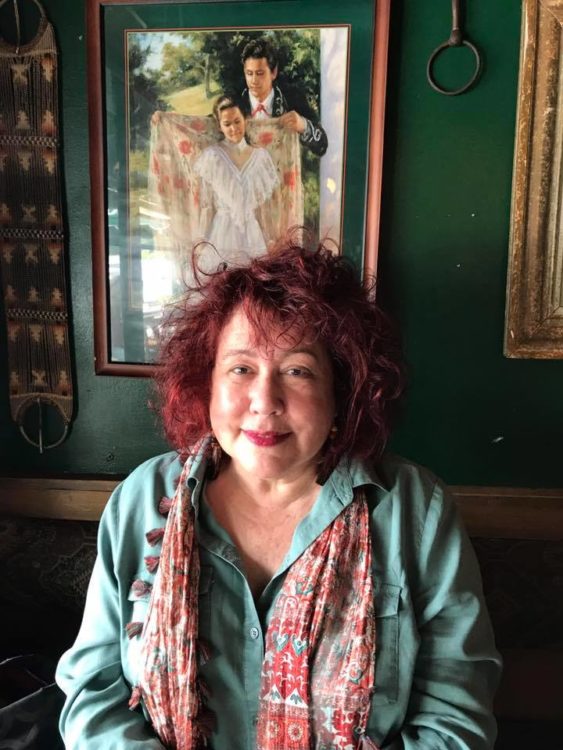 27. "Hair falling out after treatments, face and neck completely blistered and burning, face swollen from steroids. This is home, when the makeup comes off." – Spoonie Strength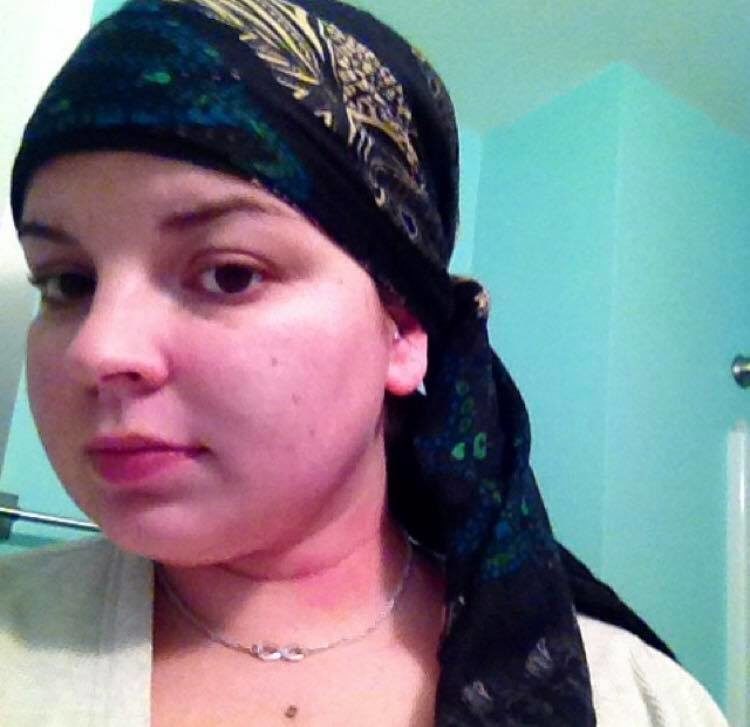 Originally published: September 11, 2017