Tesco Supermarkets' New Inclusive Bathroom Signs Welcome Those With Invisible Illnesses
---
Not everyone who needs to use an accessible toilet has a physical disability, but for people living with invisible illnesses that warrant using an accessible stall – like Crohn's disease or ulcerative colitis, for example – stigma or judgment from others can prevent them from using the bathroom most comfortable for them. Now, popular U.K. supermarket chain Tesco is making the decision to use an accessible bathroom less stressful with new inclusive bathroom signs.
The signs, which read, "Not every disability is visible," are part of a public campaign run by nonprofit organization Crohn's and Colitis UK. Similar signs are already commonplace in Asda, a U.K. supermarket chain owned by Walmart, and Morrisons, another U.K. supermarket chain, thanks to Crohn's and Colitis UK.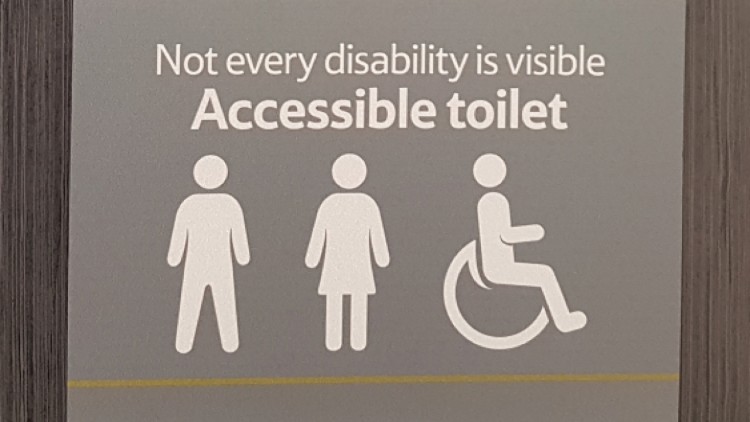 "This announcement is a great step by Tesco towards reducing stigma and raising awareness that not every disability is visible and everyone is grateful to them for making this change," Dan Mclean, director of marketing, communications and membership for Crohn's and Colitis UK, said in a press release. "People living with inflammatory bowel disease can be very disadvantaged by the impact of their condition… The experience or fear of unpredictable incontinence is very undermining to a person's confidence and self-esteem and can lead in some cases to the person affected becoming too anxious to leave their home."
The campaign – which requested people email supermarkets in the U.K. asking them to change their signage – will now add more than 700 signs to Tesco supermarkets throughout Britain.
"We are always listening to feedback from our customers on how we can improve our store facilities and when this issue was raised we felt it was important to make the change. We hope these new signs will help those customers who need to use a disabled toilet to do so without worry," Helen Gale, Tesco's customer service director, added.
This is not the first U.K.-based campaign designed to make bathrooms accessible to those with invisible conditions. In 2016, 10-year-old Grace Warnock, who lives with Crohn's disease, petitioned Scottish legislators to use similar signs. Her campaign worked, prompting local businesses, airports and the Scottish parliament to integrate her signs.
Originally published: January 24, 2017