15 Tips to Master a Trip to Disneyland With a Chronic Illness or Disability
---
When you live with a chronic illness, you still yearn to be a part of the regular world. You still want to enjoy life, and it is important to have hobbies, activities, and events to look forward to. Unfortunately, sometimes having a chronic illness makes these things seem impossible when quite often they are still possible if you are willing to make modifications and compromises.
My family has always been one of those crazy Disney families. You know the ones with annual passes, matching T-shirts, and all those must-know secret Disney tips. We go to Disneyland many times throughout the year, and it has become an important part of our family's traditions.
Even though I have struggled with chronic illness since childhood, worsening as I became older and older, my family and I have made it a mission to not allow my declining health to take away from our Disney adventures. We have however needed to make some modifications to ensure that I was not only still able to participate and have a good time but that we could all have a good time together.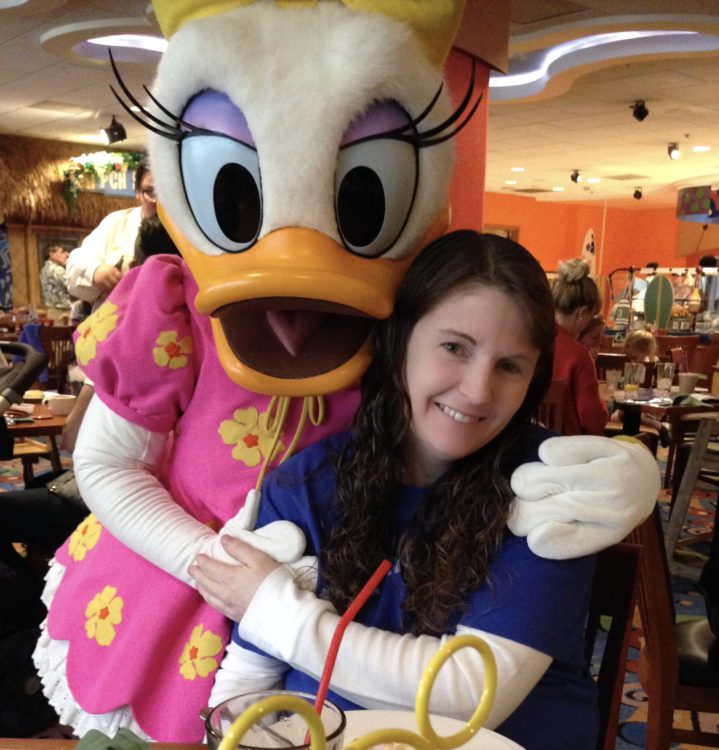 1. Pick the right time to go: There are several websites that can assist you with predicting crowd levels for the parks on specific days, and that will give you further information in regards to the best times to visit the parks. If you have the flexibility, I would definitely recommend visiting the park on the lower crowd level days. Maneuvering a wheelchair/scooter through a crowded park can be difficult. Also, some chronic illnesses may be negatively affected by large crowds of people. If crowds do not bother you, this may be a non-issue for you, but if you can attend on a lower crowd level day, I would recommend that.
2. Don't try to do it all in one day or even two: Disneyland and California Adventure have grown so much. Trying to accomplish either park in one day is almost impossible for an average family but for someone with chronic illness, it's downright crazy. Also, keep in mind that even though the park may be open that day from 8 a.m. to midnight, do you think your body could handle going nonstop all day? Make sure to be honest with yourself and your family/friends about what you can really handle. Keep in mind the weather, crowds, etc.
My recommendation, especially for those traveling a distance, would be five days. This would allow for two days at each park and one rest day somewhere in the middle to relax at the hotel. I understand that this would not work for everyone. If you have limited time, try to sit down and plan out which rides/shows are on your must-do list and be OK not doing everything.
3. Pack accordingly: If you have a chronic illness, you probably already know all about the "art of packing." Make sure you pack appropriately. I recommend a backpack because they are easy for members of the family/friends to grab quickly while still allowing them to be hands-free to assist you on and off rides. Also, most backpacks will fit on the back of a wheelchair/scooter. Make sure to bring all of your medications, a bottle of water for taking your meds, hand sanitizer and wipes.  If you have conditions where nausea can be an issue or you need to take meds with food, some packaged snacks such as crackers can be useful. If you plan on going on any water rides, a poncho or extra change of clothes may be good. It's not fun to be sick or in pain but being wet, sick and in pain can be really uncomfortable, especially in the winter months.
4. Bring lots of hand sanitizer and disinfectant wipes:  Disneyland may be known as the happiest place on earth, but it is also one of the germiest. I have become sick on many occasions after a trip to Disneyland, even ending up in the hospital for a week once with such a severe infection. I take immune suppressant medication, and I am very susceptible to germs. I know some people may read that and think I am crazy for even going to Disneyland and you know you may be right on that. However, there are some things that bring us so much joy that we do them even when they are difficult or come with risks.
Because I am at such a high risk of catching something at Disneyland, my family has to take a variety of precautions. We use disinfectant wipes on all the tables when we sit down to eat, and we sanitize everyone's hands after every ride. For me, I also avoid touching rides as much as possible and wear a mask as well.
 5. Be prepared for the walk into the park: One thing that may surprise you is the walk into the park. If you plan on driving to Disneyland, please be advised that even with accessible parking, there is walking involved and if walking is not an option, you may need to bring your own wheelchair, walker, etc. When you park in one of the Disney lots, you will need to walk to the tram pick up area. How far this walk is will depend on where you are parked, but it can be a bit of a trek for someone with chronic illness, even with a disabled parking spot.
Also, once the tram arrives at the park, you will need to walk from the tram drop off point to the park entrance or wheelchair rental (which is located next to the entrance to Disneyland, outside of the park). Again, this can be a difficult walk for someone with chronic illness. If you are staying at an offsite hotel, they may offer a shuttle to the park, but most of the shuttle drop off/pick up points are still a good distance from the entrance.
You may also be surprised by how long the walk is from the Disneyland Hotel and Disneyland Paradise Pier Hotel to the parks. The very nice and very expensive Disneyland Grand California is the closest with an entrance straight into California Adventure but keep in mind that if you need to rent a wheelchair, you will still need to walk all the way to the Disneyland entrance to get it. You can bring your own wheelchair or scooter as well which may be a better solution for you if walking is not an option at all.
6. Utilize the Disability Access Service (DAS). With this option, you are set up with a service that will register you as a guest that cannot stand in lines. You present your ticket at various kiosks throughout the park where they will assign you return times for rides. Essentially you will still have to wait the same length of time for a ride, but you do not have to wait in the regular line. This option is good if your issue is standing but it will not help you out in regards to walking the park. If you would like to go with this option, you will first need to go to either City Hall in Disneyland or the Chamber of Commerce at California Adventure and explain your need to one of the cast members. Individuals utilizing scooters or wheelchairs are not required to have DAS established.
7. Don't be afraid of the wheelchair: For as long as I could, I would utilize DAS to avoid standing in lines, and I would still walk the park. Over time this became harder and harder as my diseases progressed. The first time I utilized a wheelchair was a very hard decision for me but one I really had no choice in. My disease has progressed to a point where I just can't walk very far/stand very long.
At first, I felt almost like a failure but the truth is I am not weak for needing a wheelchair, I am strong for knowing what I need and taking care of myself so that my family and I can still enjoy something we love. People do stare a little. Unfortunately, people can sometimes be a little ignorant about who needs a wheelchair and when you don't have a cast on and you are clearly not 90 years old, some people may question it. They may think you are using it to get on rides quicker and avoid the lines.
What people may not realize is that when you are in a wheelchair at Disneyland, you don't get to skip lines. You will get your ticket marked with a return time for the ride and come back at that time. The return times match the wait times on the lines. So while yes, you are not waiting in the line, you are still waiting the same amount of time. In California Adventure, the rides were all made to be more accessible, so wheelchairs can actually go through the regular lines so again, you are still waiting just as long as everyone else.
I also usually wear a T-shirt that promotes awareness of one of my diseases or other topics related to chronic illness. Quite often my family will also wear awareness shirts. I do believe this helps prevent a lot of the judgmental looks. I have actually noticed very few of them personally.
At the end of the day though, you need to do what you need to in order to take care of yourself. If people do give you uncomfortable looks, try not let it get to you. Remember that you are there to have fun!
I have two additional tips when it comes to renting a wheelchair. Tip one is to bring a pillow or two, especially if you have any condition that affects the back or hips. The Disney wheelchairs are very durable but not very comfortable. Tip two is if you are immune suppressed at all, make sure to wipe off the entire wheelchair with a disinfectant wipe before sitting down. If you prefer, they also rent scooters.
8. It is OK to wear a mask: As previously mentioned, I am quite immune suppressed, so I need to wear a mask when I am around crowds, on planes, etc., especially during cold and flu season. You can purchase disposable masks or washable ones. I have found that some of the adult masks are too big for me, so I found some child masks that fit my face better and guess what, they are Disney!
9. Plan for breaks:  Even though you may feel pressured to keep going and going so that you don't miss anything, it is vital that you take time for breaks for food, water, rest, taking medications, etc. Also, you may want to discuss the need for breaks with the individuals you are attending the park with prior to arriving so that they understand how important breaks are for you. Perhaps there are some rides that are not as important to you that others in your group may attend while you take a break.
10. Utilize Fastpasses:  Disneyland and California Adventure both offer the Fastpass feature for a large number of their rides. You can utilize Fastpass Distribution points near the entrances of select attractions at both parks (see the park map or App for more info). Fastpass entitlements are available on a first-come-first-serve basis and are not guaranteed. Look for the Disney Fastpass Distribution sign near the entrance of a participating attraction.  If the return time will work for you, insert your valid Disneyland Resort admission ticket or Annual Passport into the Fastpass machine. The machine will generate a receipt with your return time window. You would come back to the ride at that time.
When you purchase the Disney MaxPass feature, you'll be able to make Disney Fastpass selections right from your phone using the Disneyland App. You can still utilize the Fastpass option even while using a wheelchair/scooter or DAS options. Utilizing these options together will assist you with seeing more attractions, especially if you coordinate the areas of the park you are in.
11. Utilize the train, Main Street cars/buggies, and Monorail:  If you are walking the park, there are several ways to get to different parts of the park while avoiding walking. The walk from the front of Main Street near the park entrance to the end of Main Street near the castle may not seem that far, but it is crowded, and it is still a considerable walk for someone with chronic illness. There are a variety of transportation options down this street such as the horse-drawn streetcar, omnibus, jitney or fire engine. Available options do vary based on crowd levels and time of year.
One of my favorite iconic Disneyland activities is the train (Disneyland Railroad). The Disneyland Railroad makes stops at several of the Disney "lands" going in a full circle around the park. The trains are scheduled to arrive every five to 10 minutes at most times throughout the day, offering you a fun and comfortable way to get around the park. Guests must navigate steps when boarding and disembarking the train.
If you are planning on going to downtown Disney for dinner or you are staying at the Disney Hotel or Disney Paradise Point Hotel, the Monorail is a convenient way to get to this area from the park and back. Pick up the Disneyland Monorail inside the park in Tomorrowland or at the Downtown Disney District. The Monorail is a high-speed but comfortable approximate 13-minute ride.
12. Know your food options: In my personal opinion, I believe that Disney actually does a really good job with their food options in comparison to other amusement parks. They offer a large variety of options including many healthy choices. My best advice is to go to their website and research the food options when planning your trip. You can also bring in your own food from home with some limitations. Please reference the Prohibited Items section of the Park Rules for a list of items, including food containers and beverages, not permitted in either of the Disneyland Resort theme parks. Disneyland does offer a complimentary picnic area conveniently located outside the Main Entrance.
My family actually looks forward to the food at Disneyland. Although they do have the typical fried theme park food, they also have many other healthier comfort food options. My family loves the clam chowder bowls and baked potatoes. For a nicer sit-down experience, the Blue Bayou (the restaurant inside the Pirates of the Caribbean) is always a treat. However, be advised that you will need reservations in advance (plan ahead). Although a little challenging, you can remain in a wheelchair at the restaurant, and they do offer allergy-friendly menus upon request. There are many other food options throughout the parks and restaurants in downtown Disney to choose from as well.
13. Get your accessible version of the map:  Disneyland/CA Adventure offer an accessible version of the park map for people with health concerns/disabilities. This version of the map will assist you further in regards to knowing the ins and outs of accessing all the different attractions at the park while disabled. You will need to ask for this map. Usually, they will have them at the entrance and the information stations, but if not you can get them at city hall.
14. Be prepared for a medical emergency: Knock on wood, I have never had a medical emergency occur while at Disneyland but I have been present on a couple occasions when someone else has had one near me, and I have given aid since ironically I have a medical background. Please remember that Southern California tends to be warm. Drink lots of water and prepare for the heat, especially in the summer months.
Make sure to have a document of some sort that details your medical history, medications, and allergies in case an emergency occurs. Disneyland/CA Adventure do have onsite emergency medical providers. You can find their location on the park map, or you can ask a Disney cast member to contact them in you need them to come to you.
15. Don't forget that you deserve to have fun just the same as anyone else:  As I mentioned at the start of this article, for my family, Disneyland has been the source of many great memories. Sometimes when you live with a chronic illness, you may think that your presence will be a burden for those around you and that you may keep them from having fun. Please remember that the people that love you will want you to be happy and you deserve to have fun too so get out there and get yourself some mouse ears and a churro and have a great time!
Originally published: October 11, 2018