8 Tips for Keeping Warm this Winter When You're Sensitive to the Cold
---
It doesn't seem that long ago that I wrote tips for keeping cool in the heat; in reality, it's been over six months! For many of us, the winter weather has set in, and we are now dealing with the cold. Those of us who are chronically ill often have a difficult time regulating our body temperature. Because of that, it's important we learn how our bodies react to the heat and the cold. Figuring out what works can make a big difference in our comfort and, at times, our health.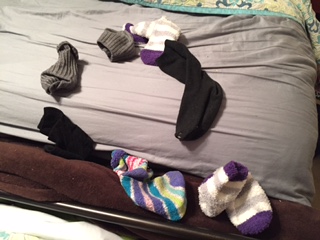 1. Keep a pair of socks near you at all times. Better yet, keep some in every room. Because I have a hard time regulating my body temperature (thanks, dysautonomia!), I tend to get extremely cold feet. But, in a matter of minutes, my feet will get hot, so off come the socks. I repeat this "exercise" several times a day. As you might guess, this is a recipe for missing socks. So, I solved the problem by keeping socks in the end table drawer in the family room, in my nightstand and in the bathroom. Fuzzy socks are the best, except when they're not. Because my feet get so hot, I always have some regular footies available too. I know, I'm so high maintenance.
2. Use a heated mattress pad or blanket. It's no secret to my close friends and family that I'm in love with our heated mattress pad. We had one for our queen-sized bed, and when we recently purchased a king, I bought one for it – that's how much I love it. There's nothing like climbing into a warm, preheated bed. Those who have muscle and joint pain with their chronic illness usually find heat therapeutic. We've had an electric blanket in the past, but I much prefer the heated mattress pad; everyone is different though, and many people prefer one over the other. Regardless of your preference, do some research before you buy. Both types usually come with dual controls for larger beds and some have a preheat setting and/or an automatic shutoff after so many hours. While I'm mostly happy with our new heated mattress pad, it's not as good of quality as our previous one. The pad doesn't want to stay on the bed (the elastic isn't that good) and the controls seem to be cheaply made. Lesson learned: I will research a bit more before I buy another one.
3. Use throw blankets. Throws are a must for keeping warm in the winter. We have one each on our sofa and love seat; plus, I have a basket full nearby. Besides providing warmth, they also add some color and texture to the decor of your room. Throws are useful in the bedroom too. At times, I love to wrap mine up around my shoulders and neck. They're also good to cover up with if you just want to relax on your bed and not get under the blankets. You may also like to have an electric throw. Mine quit working and I haven't replaced it, but I love them so much that I really like to give them as gifts. For Christmas, I gave one to our oldest daughter and one to my cousin.
4. Dress for the outdoors. Depending on where you live, that could include gloves, a hat and scarf and boots. I have to admit something: I haven't always been very good about wearing gloves. I know the importance of them and I did teach my children to wear them, but until recently, I just went without them most of the time. What changed? Raynaud's, that's what changed! If you aren't familiar with Raynaud's, here's a definition from Mayo Clinic:
Raynaud's (ray-NOHZ) disease causes some areas of your body — such as your fingers and toes — to feel numb and cold in response to cold temperatures or stress. In Raynaud's disease, smaller arteries that supply blood to your skin narrow, limiting blood circulation to affected areas (vasospasm).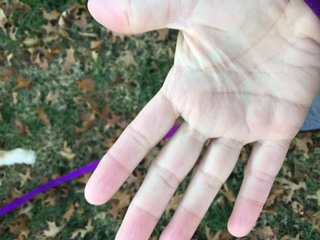 Raynaud's can be very painful. It's important to protect your skin from the cold, and not just outside, but when reaching into a freezer or coming in contact with cold temperatures in other ways. I no longer go without gloves. I have several pairs in my car, my purse and in the house. In addition to your hands, protect your head. It turns out mom was right, wearing a hat is important. A lot of body heat escapes through your head, so covering it up can help keep your whole body warm. Sometimes the hood from your coat isn't very good, so buying a well-fitting, warm hat is necessary. A good scarf can keep your neck and face warm and can be a good protector from the wind. Invest in a good pair of boots. Raynaud's affects my feet too, so I have some well-insulated, waterproof, comfortable winter boots. Of course, I have several pairs of stylish boots to wear out on the town, but they aren't nearly as warm and comfortable as my winter boots.
5. Dress in layers. Layering your clothing really does keep you warmer, both indoors and out. If you are going to be outdoors for an extended period of time, you may want to research the ins and outs of layering. A simplistic explanation is to make sure your outer layer is waterproof, and your inner layers wick moisture away from your body. Layering for indoors is really a matter of what's comfortable for you. I usually wear a T-shirt with a button-down flannel shirt. If I get overheated, it's easy to roll up the sleeves on the flannel shirt or just take it off. I have long underwear that I have worn indoors on occasion, but generally I save it for those rare times I will be outdoors for a while.
6. Keep your home warm. No one wants to pay an exorbitant amount of money to heat their home, especially those of us who need their homes to be warmer for health reasons, so it's important you do everything you can to weatherize your house. Many utility companies will come to your home and do a free energy audit. This will show you areas that are losing heat. Sometimes, a solution to energy leaks is easy; other times, it's a bit more complicated and expensive and may include insulation and replacing a heating unit. Simple things you can do include purchasing insulated drapes, weather stripping and caulking around windows. A programmable thermostat is a good way to save money on your heating as you can set it to a lower temperature when you're away or at night. A half hour or so before you get home or wake up, it can be set to go up a few degrees.
7. Spend more time in your kitchen. Unlike the summer, this is the time of the year when you want to heat up your kitchen. Baking, as you probably know, can definitely heat your house. So, break out your cookbooks and research some recipes on Pinterest. While you're looking for things to make, find some soup recipes. Soup and hot drinks can really warm you up. Besides the kitchen, using your dryer can also heat your home. So, you may want to time your laundry tasks for those times when your home is the coolest.
8. Prepare your vehicle. Keep extra clothing, a blanket, first aid kit, jumper cables and a phone charger in your car. Also, it's good to have some water bottles and snacks just in case you get stranded. It's not likely, but why not be prepared, just in case? Make sure your car is serviced before the colder weather hits so it's safe and runs efficiently. If you plan on traveling, consider buying an electric throw for the car; it plugs into the 12-volt outlet just like a cell phone charger. This comes in handy when you're always cold and others in the vehicle aren't. If you aren't lucky enough to have a remote starter, warm your car up a bit before you get in.
Some chronically ill persons aren't bothered by the cold. You may be more affected by the heat. In that case, you might want to review my tips for keeping cool in the heat.
We want to hear your story. Become a Mighty contributor here.
Image via Thinkstock.
Originally published: January 13, 2017