17 Products That Can Make Traveling Easier With an Illness or Disability
---
Editor's Note
We hope the products below, all recommended by our Mighty community members, help you or a loved one in your health journeys. Just so you know, The Mighty may collect a share of sales from the Amazon links on this page.
When you live with a chronic illness or disability, traveling can be challenging. Between packing your medication and medical equipment, managing pain, symptoms or mobility issues, and planning for emergencies that too often come with an unpredictable health condition, the stress and effort can feel overwhelming.
Whether you're visiting family, friends, or an out-of-state specialist, there are a number of items that can help make traveling more enjoyable. So, we asked our Mighty community to tell us which products they use while traveling with an illness or disability. Here are their recommendations.
1. Noise-Cancelling Headphones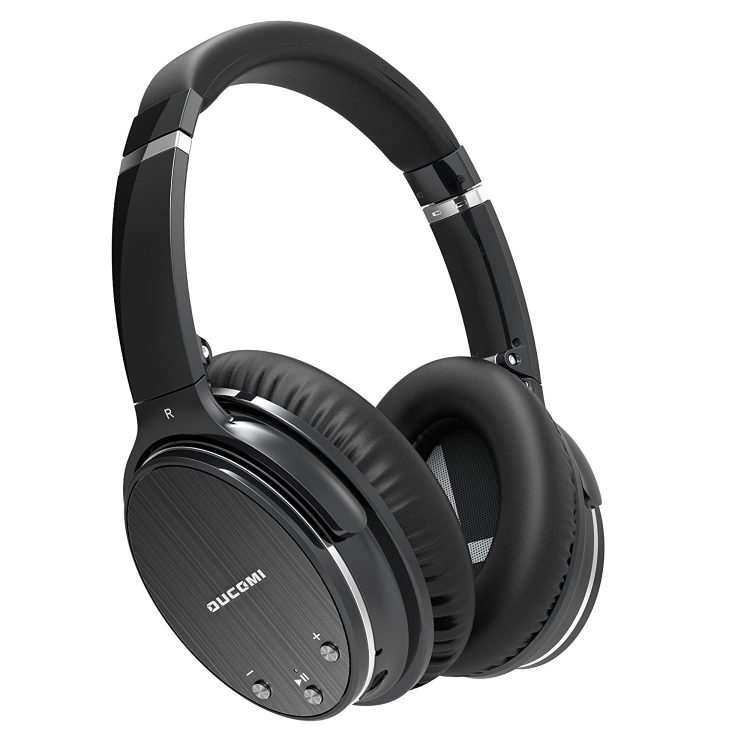 A pair of noise-cancelling headphones can not only keep you occupied with music or audiobooks, but it can also block out noise to prevent sensory overload and allow you to relax and get some sleep.
"Headphones," recommended Shelbey DeBlieck-King. "I have really bad car anxiety and when we get to where traffic is really busy I just put on my headphones and can block everything out."
Marah VanHouten wrote, "When I'm having a bad flare-up or any kind of fibro pain, I just tune into my iPod and close my eyes to focus on the music."
"Headphones or earplugs for when it gets too noisy and I am going into sensory overload," added Rachel Rose DiVittorio-Parish.
Buy the headphones above for $79.99 from Amazon.
2. Baubax Travel Jacket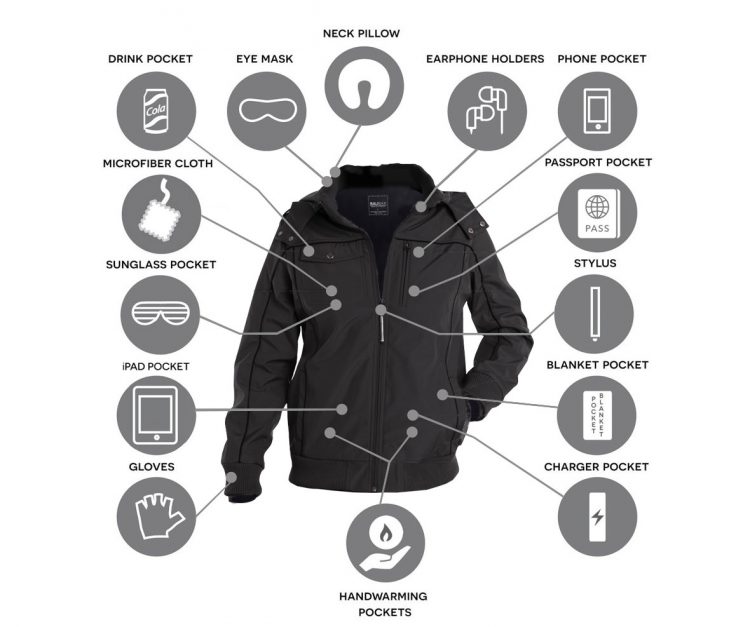 Specifically designed for travel, this jacket has 15 features (including a neck pillow, eye mask, handwarming pockets and gloves) to keep you comfortable and make sure all your important possessions are easily accessible.
"A Baubax travel jacket," suggested Rebecca Steele Alrik. "They are soft, warm and comfortable, have a bunch of clever pockets for the things you need to carry (so you can skip a purse) and have built-in gloves, an inflatable neck pillow and a hood with a flip-down eye cover. New versions [have] even more helpful things included. I know they weren't designed specifically for [the] chronically ill but I feel like they are perfect for us. I even wear mine on longer-than-normal car rides. It's a great investment."
Buy the travel hoodie above from Amazon (price varies by size).
3. Blanket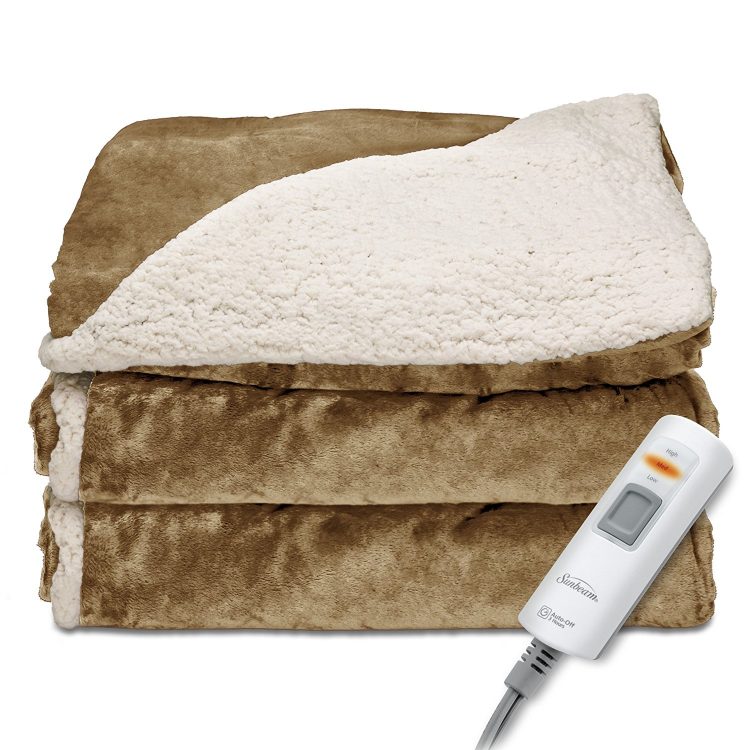 Having a soft, cozy blanket will make any trip way more comfy. An electric blanket will provide heat to keep you warm and help relieve pain.
"A soft blanket," said Nat Le Brun. "It works to keep me warm in my wheelchair/on transport and covers pillows that are too harsh for my face."
Normala DeLaney suggested, "[An] electric blanket for the car. It helps to keep everyone else happy with the A.C. on high while I don't have to suffer the cold! I love my auto heating blanket."
Buy the heated blanket above for $39.99 from Amazon.
For more recommendations from our chronic illness community, check out "13 Cozy Blankets to Cuddle Up With This Winter."
4. Heated Seat Cover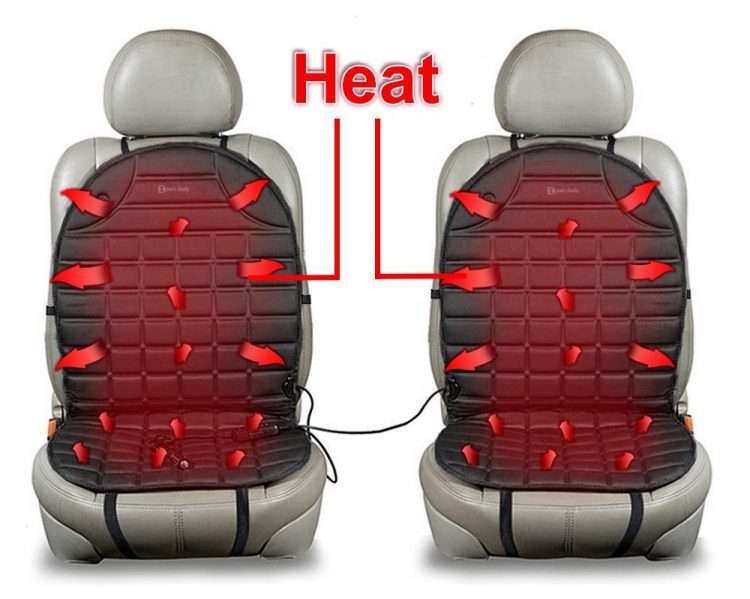 If you're taking a road trip but don't have heated seats, these electric seat covers will keep you warm and reduce your pain for your journey.
Janine Trala wrote, "While driving I have a heated seat cover that plugs into the car. I don't have heated seats but that heat is a lifesaver when sitting in a car for long periods of time."
Buy the heated seat covers above (2-pc.) for $36.99 from Amazon.
5. Cosmetic Bag for Medications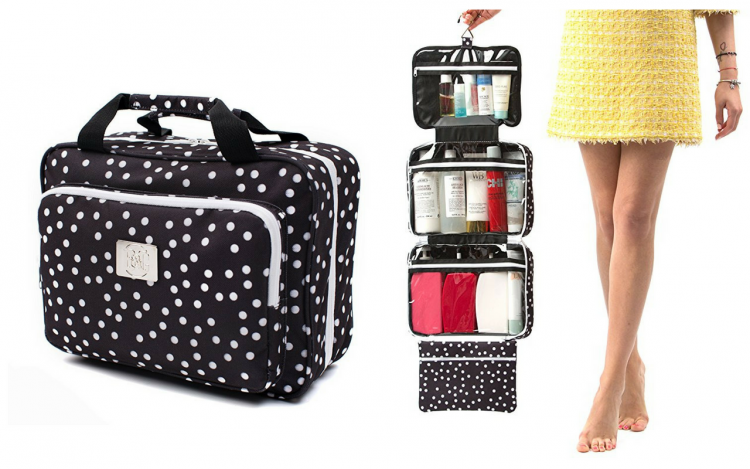 A large cosmetic bag will keep all your medication stored, organized and accessible while you travel.
Alane Perry said, "Having a cute large cosmetics bag to use as my pill bag! That way I'm not stuck using a gallon Ziploc like usual. It's discrete and it's cute!"
Buy the cosmetic bag above for $29.95 from Amazon.
6. Spinner Suitcase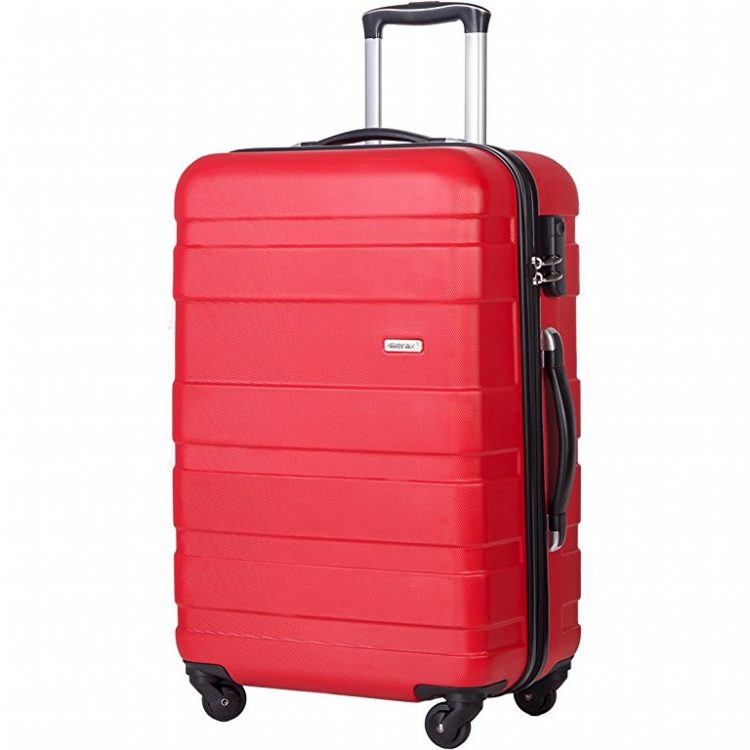 Spinner suitcases have wheels on all four corners that spin 360 degrees, so you can push it around in any direction with minimum effort.
"Suitcase on wheels," said Tania Sherley. "So much easier than trying to carry a suitcase, and push my wheelchair at the same time – it just glides easily along beside/in front of me." 
Buy the suitcase above for $72.95 from Amazon.
7. Foot Stool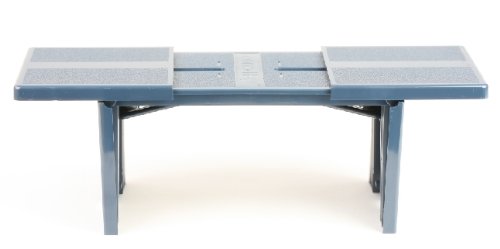 This foot stool folds down to make it easier to travel with, and can be used to prop up your feet and relieve pain or pressure.
"Foot stool," said Shannon Ferro. "If I am sitting in a chair for too long my back goes crazy. Propping my feet up takes the pressure off of my lumbar spine."
Buy the portable foot stool above for $33 from Amazon.
8. Essential Oil Roll-Ons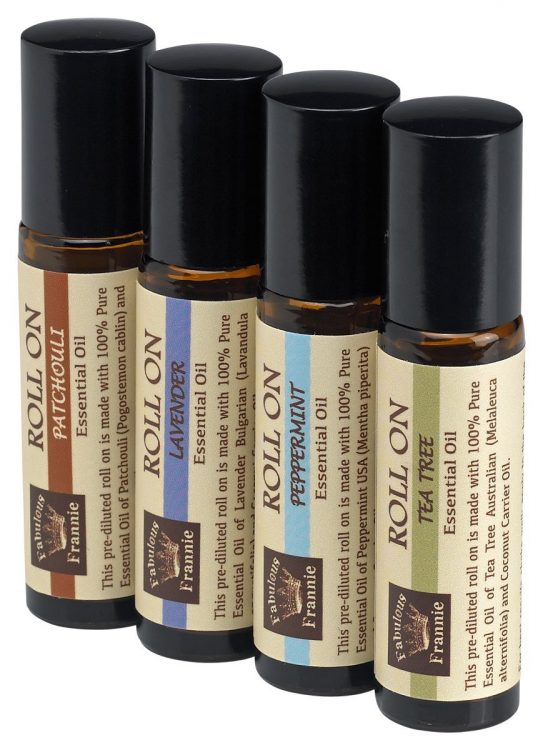 Traveling may mean you have to leave your diffuser behind, but you can still bring your essential oils. These roll-ons are perfectly portable and can be used for quick pain relief or relaxation on the go.
"Essential oil roll-ons," wrote Kerianne D'Hondt. "They keep me calm and relaxed and I can keep putting them on as much as I need to."
Buy the roll-ons above for $15.95 from Amazon.
9. Wheelchair Under-Seat Bag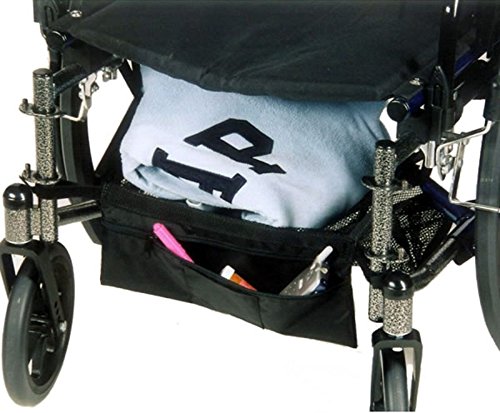 This mesh storage shelf can be secured underneath your wheelchair to keep all your items safe and accessible without you needing to hold anything in your lap.
Tania Sherley told us, "I absolutely love my 'chair bag' which I got from my wheelchair supplier. It's a little bag which is attached by straps under the seat of my chair, so I don't have to carry a bag, or put a backpack on the back etc. I just head out the door, because I already have everything I need with me in my chair bag. The bonus is, if anyone was to even think about stealing my bag/something in it… they'd have to reach down in between my legs to do it… not going to happen!"
Buy the under-seat bag for $34.95 from Amazon.
10. Compression Socks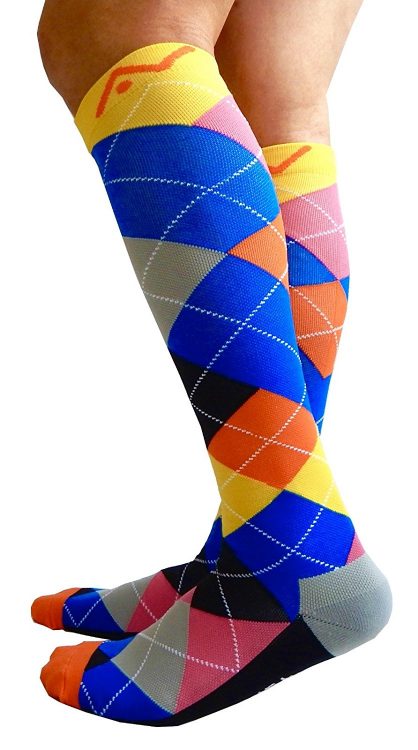 Compression socks help improve blood flow and prevent pain and swelling in your legs. This could be especially helpful if you need to sit in a car or on a plane for an extended period of time.
Kathryne D Zeraldo suggested, "Loose-fitting, comfortable clothing and compression socks (I love some of the prints you can get now so you just look like you are wearing kick-ass socks!)"
Buy the compression socks above for $22.99 from Amazon.
11. Power Inverter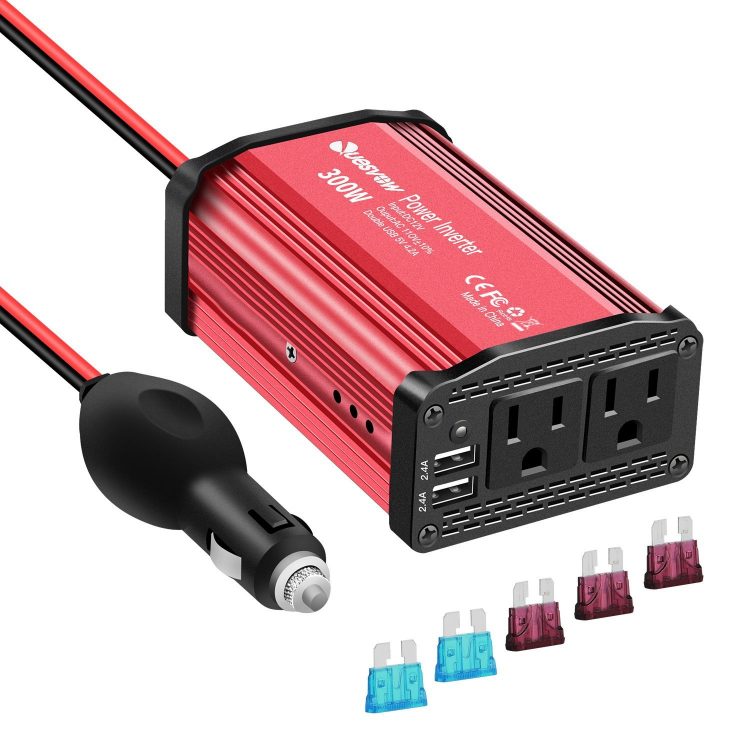 This power inverter plugs into the cigarette lighter in your car so you can power all your electronics while traveling on the road.
"For road trips, an inverter is a must for charging laptops, phones etc. Make sure you buy a higher-wattage inverter like this one [featured above] if you want to plug in heating pads, as they use a lot of power!" said Karin Willison on her blog Free Wheelin'.
Buy the power inverter above for $21.99 from Amazon.
12. Carabiner Clips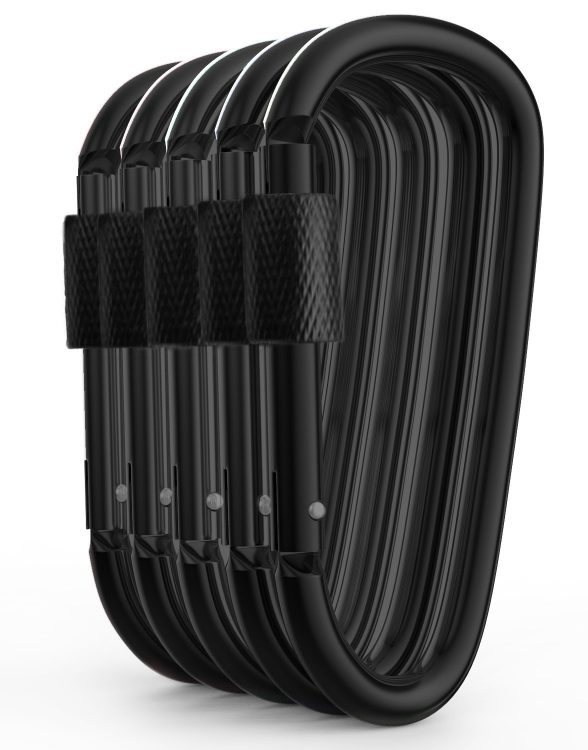 Carabiner clips allow you to clip anything onto you, your mobility devices or your luggage for easy transport.
Jaz Haddow said, "You'd be surprised by how much easier travel is with some carabiners. I use them to clip my walking stick to my belt so I don't drop it, I use them to clip all the extra stuff I have to carry (like meds) onto my rollator or backpack so I'm completely hands free. You don't need to buy the proper climbing ones, you can get cheaper sets of them on Amazon."
Buy the carabiner clips above (5-pc.) for $7.94 from Amazon.
13. Eye Mask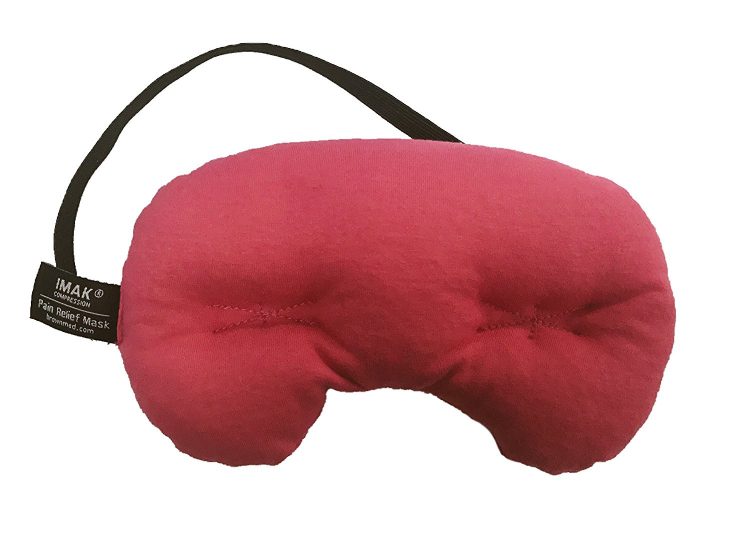 An eye mask will help block out light so you can get some rest and prevent sensory overload while you're on the move.
Tamara Epps told us, "An eye mask so I don't have to waste energy dealing with bright lights and lots of movement by other people (of course, in public places only do this if someone is with you. Sunglasses make a good alternative if you still need to be able to see)."
Buy the eye mask above for $14.99 from Amazon.
14. Travel Neck Pillow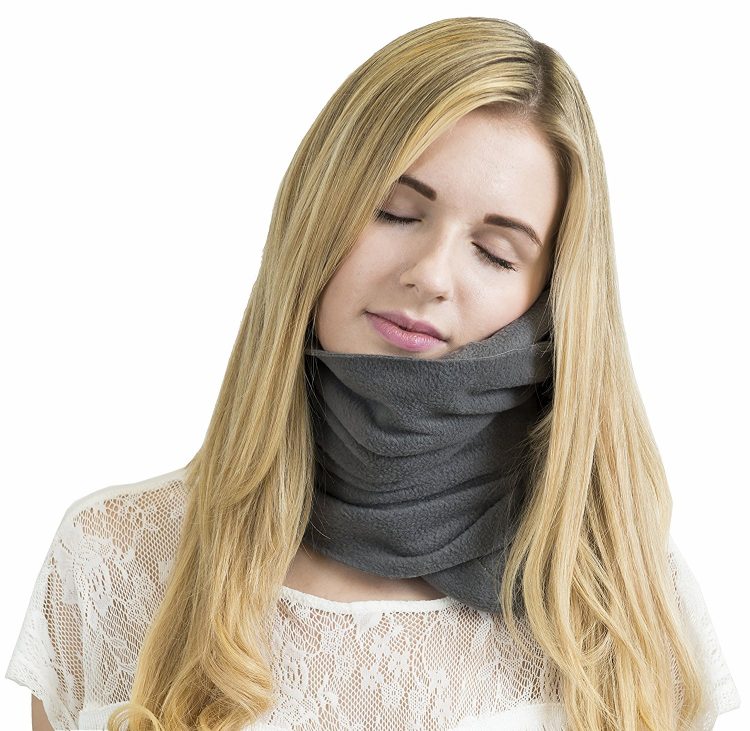 If you plan to get some shut-eye during your trip, this neck pillow will prevent you from falling asleep in an uncomfortable position and hurting your neck.
Janine Trala wrote, "Have to have a neck pillow! Whether driving or flying the neck pillow helps to support my head and neck and alleviate sore back and neck later on."
Buy the neck pillow above for $29.99 from Amazon.
15. Folding Cane Seat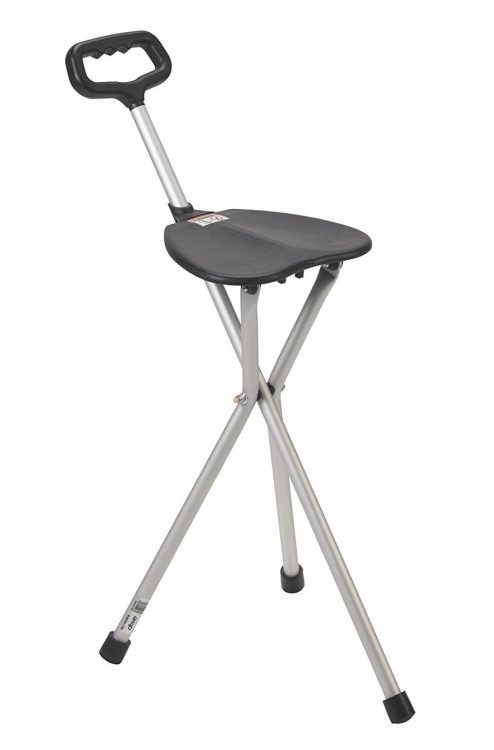 A cane or walking stick can be incredibly helpful for many while out and about, but this one can also fold into a seat so you can stop and rest anywhere and any time you need.
"My cane that folds out into a stool. I use it at the ticket counter at the airport, before they bring me my requested wheelchair. I use it in the bathroom at the hotel, so I can sit at the sink and brush my teeth," Kris Rudin told us.
Buy the cane seat above for $24.87 from Amazon.
16. Hand Warmers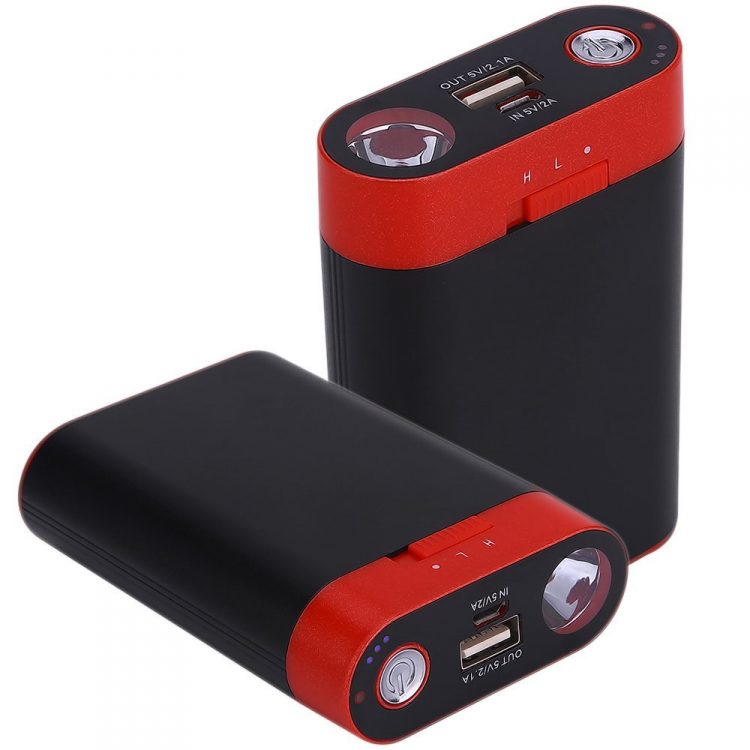 Hand warmers can be easily slipped in your pocket to keep your hands warm if you struggle with pain or poor circulation. They are portable and rechargeable so you can use them again and again while on the road.
On her blog Free Wheelin', Karin Willison wrote, "These hand warmers [featured above] are one of the best products I've purchased for any purpose, ever. They actually get hot to the touch, and putting them in my jacket pockets kept me warm enough that my muscles didn't seize up like they usually do. Plus, they charge USB devices and have a built-in flashlight, so they're useful for emergency preparedness as well."
"Instant heat packs," said Maddy Madi Mcback. "No need for hot water or a microwave and they're nice and small and light so easy to pack and easy to tuck into clothes discreetly when needed."
Buy the hand warmers above for $27.99 from Amazon.
17. Portable Foot Rest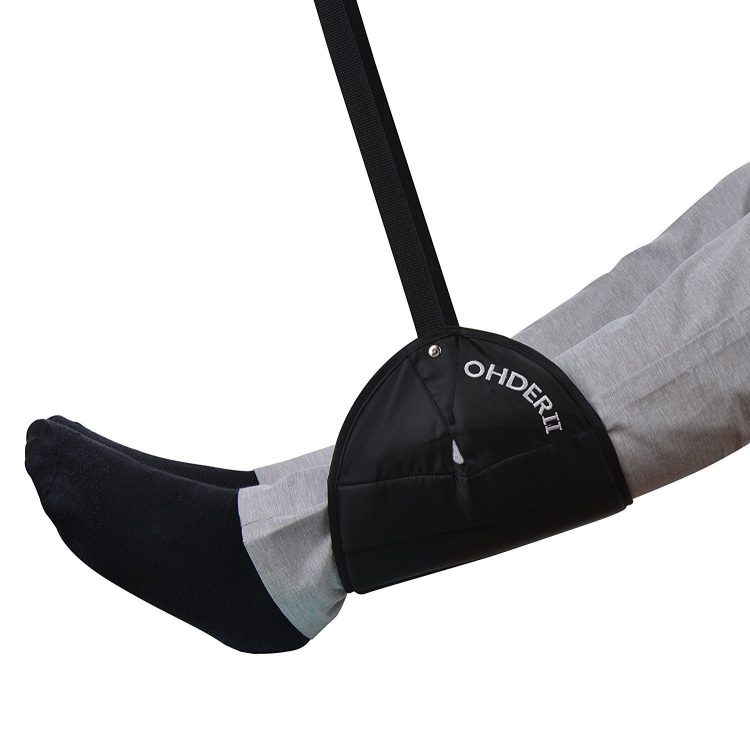 This foot rest can be used on an airplane to keep your feet propped up and avoid pain and stiffness.
Amanda Proctor said, "It's a sling for your feet on an airplane, it straps over the pull-down tray. Helps with circulation and keeping your knees at a 90 degree angle."
Buy the foot rest above for $11.99 from Amazon.
Have a product you'd recommend? Let us know in the comments below.
Originally published: December 13, 2017