11 People With Chronic Illness Show Us What's in Their Bag
---
A purse or backpack is more than just a place to throw your debit card and keys when you live with chronic health challenges. It's your lifeline, filled with your most essential items that can mean the difference between getting through health issues that come up throughout the day — both planned and unexpected — and having to go home or to your doctor's office to deal with symptoms.
To shed light on what it takes to get through a day with chronic illness, we asked our Mighty community to share a photo of what's inside their bag. The photos you shared reveal the challenges you face every day, and the strength and straight-up work it takes to manage your body. Perhaps you'll even get some ideas of things to put in your bag.
1. "This is my brand new survival bag 'Rex.' He comes everywhere with me along with my water bottle. I move him from a small to large backpack depending on what else I need for the activity (e.g. a meal that caters for my food intolerances, a square of yoga mat for sitting on the ground to rest in public spaces, over-ear noise-canceling headphones for crowded public places).
He contains my emergency steroid injection kit, spare meds (a selection of painkillers, digestive tablets, three types of steroid tablets, travel sickness tablets and anti-nausea meds), hand sanitizer, earbuds, a little snack-pot with nuts, a face mask to protect me from colds/viruses, earplugs, and a hanky." — Carlie P.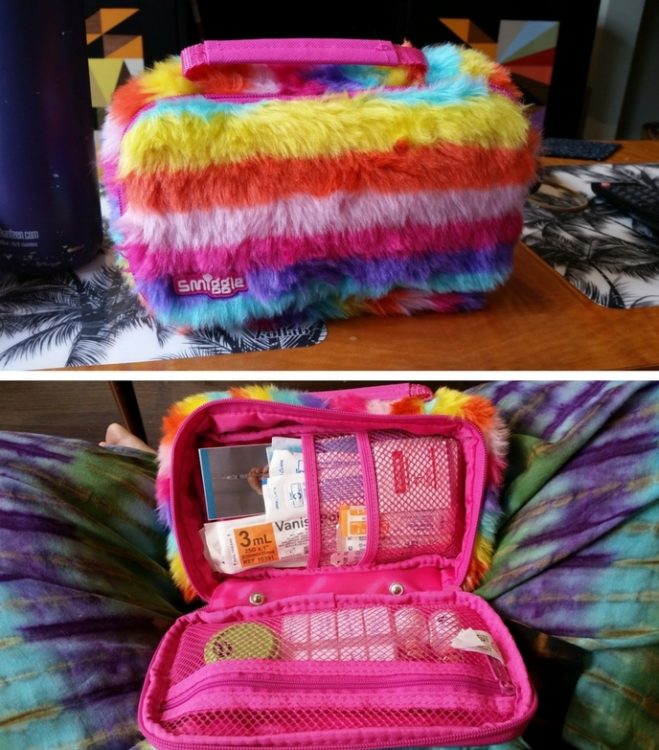 2. "This is my go-with-me-everywhere backpack. I have extra flushes and PICC care supplies, including the tape that I can use. Meds I need for at least a day. Also has all of my chargers, iPad, coloring, and everything that I need to not go crazy while at the hospital or in clinic." — Susan D.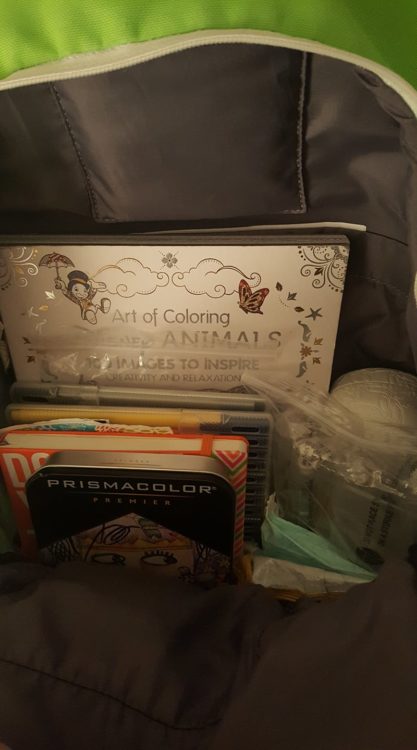 3. "I have fibromyalgia and myalgic encephalomyelitis/chronic fatigue syndrome. The purple pouch is my medicine bag. Inside are cough drops (fighting a chest cold that is going on three weeks), a caffeine pill (fatigue after not sleeping.), my inhaler (illness and seasonal asthma). Not shown are my tranquilizers which are waiting to be filled. It transfers between purses and a gym bag." — Tamara M.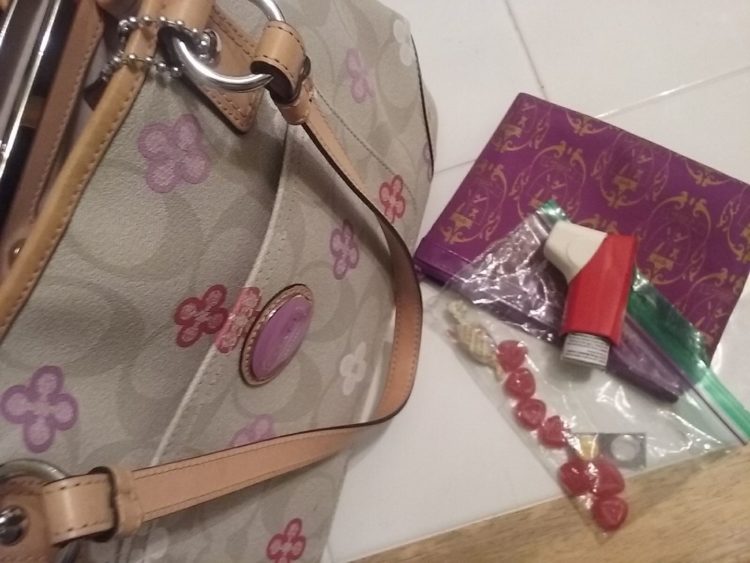 4. "Mine has: journal and pencil case, medication case (oils, painkillers, sleeping pills, antibacterial cream, lozenges), my soft toy to remind me I can fight this, my phone and wallet, gum, muscle relaxing cream, and deodorant. I have these and my drink bottle with me at all times. My med wallet is in the photo." — Stacey L.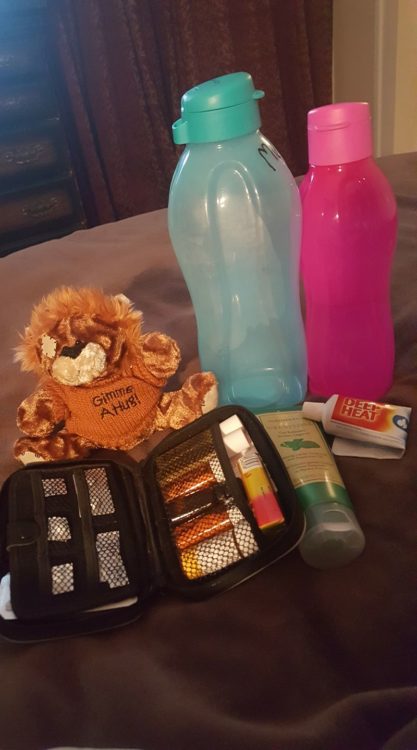 5. "Sunglasses, tissues, chapstick, Epipen, inhaler, antihistamine rye drops. Debit card case, med wallet, checkbook, ID case. Pen case. Aspie stimming toys, headphones/MP3 player. Keys with more tissues hidden within. And I just realized I forgot to replace my migraine meds when I used it up last week!" — Emily G.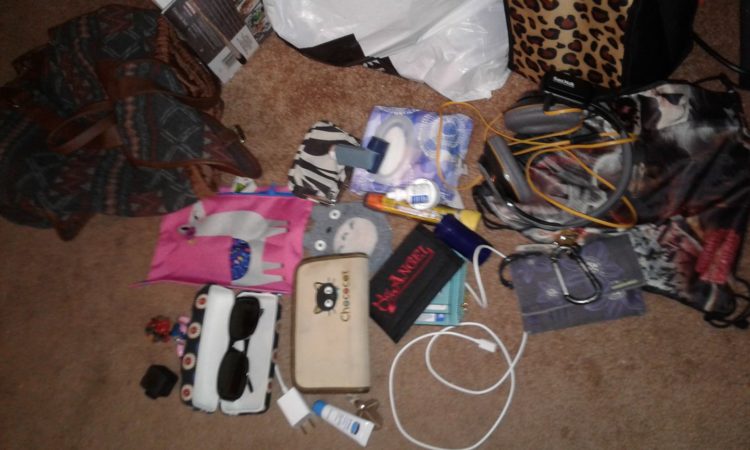 6. "My bag has a hat and sunglasses (unless I'm wearing them), tissues, water, lip balm, a small nutrition bar, and a smaller bag that gets moved between purses and work bags, which contains one set of my am/pm daily meds/vitamins, PRN meds, artificial tears, and ginger. Also in there are toothbrush/toothpaste, nail file, sewing kit, and a few other things. This is the bare minimum; other stuff gets added depending on what I'm doing that day." — Allison T.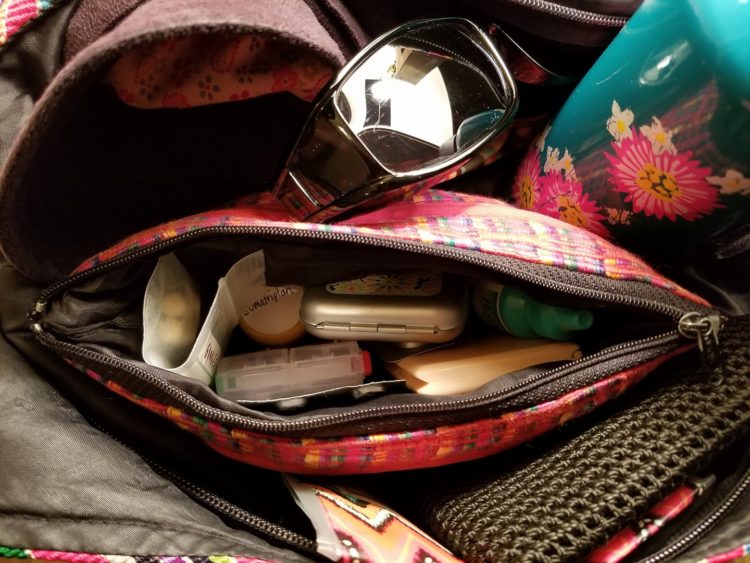 7. "My daily handbag contents. I have a water bottle as I have sicca syndrome so I'm always thirsty, a hand fan as I get hot, out of breath and disoriented easily so I have to regularly sit down, rest and cool down. My pain meds, daily meds and anti-sickness meds, antibacterial wipes as I am on immunosuppressant meds due to SLE lupus so don't want to catch colds/bugs/germs as it's dangerous for me. A bus pass as due to my lung disease I can't walk far. This bus pass is vital for me. And a few other bits like mints, headache balm and migraine strips, lip balm and my powder compact and a mini hairbrush. I do have a bit of a reputation at work for being a walking chemist." — Janey G.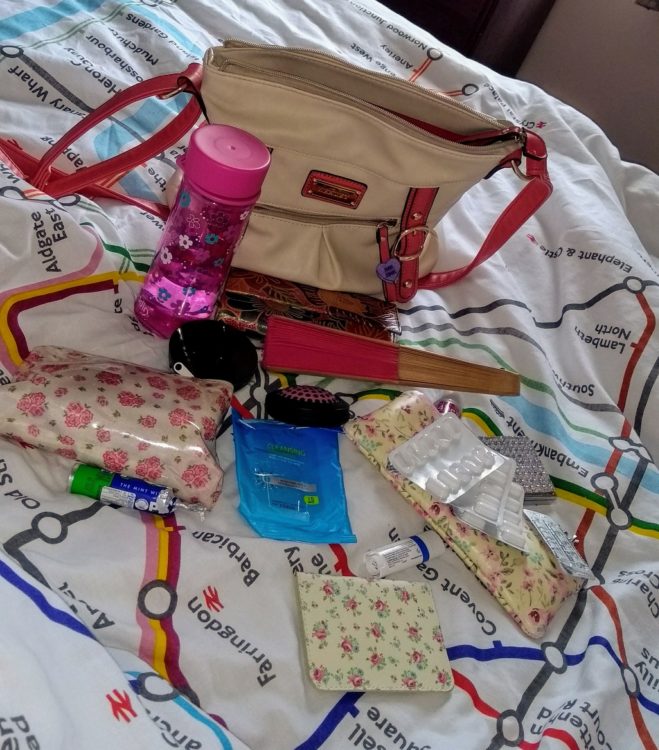 8. "I have a joey pump and feed bags for J-feeds. A wallet, syringe for flush, nausea meds, extra tube pads, a wet-to-dry bag for dirty tube pads, extra formula, extra feed bag, tape and gauze." — Elisabeth W.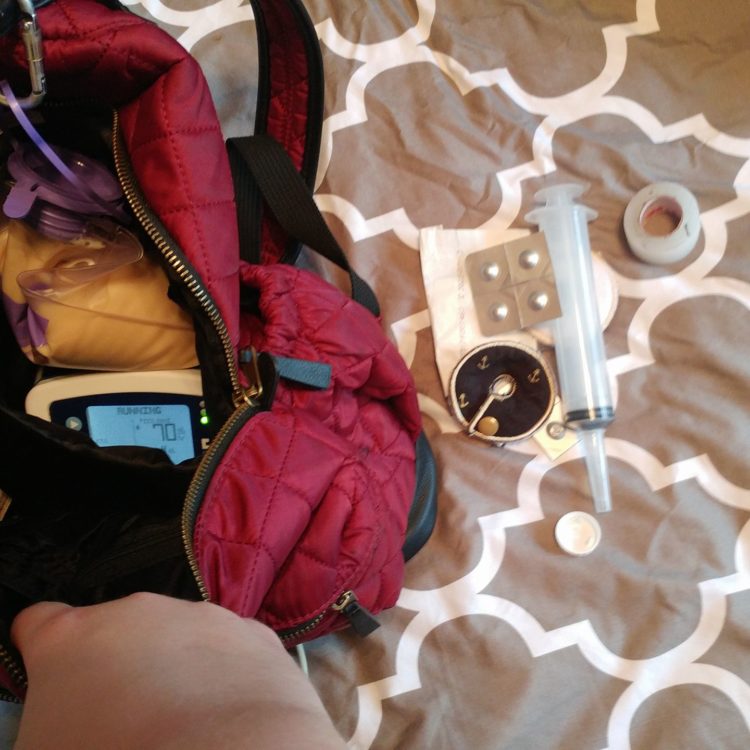 9. "Handicap permit because of hip surgery complications and Ehlers-Danlos syndrome, antiemetic bag and tissues for chronic nausea and vomiting, sunglasses for light sensitivity, medications for pain and nausea, and Gatorade, salt pills, and pulse oximeter for postural orthostatic tachycardia syndrome." — Caroline M.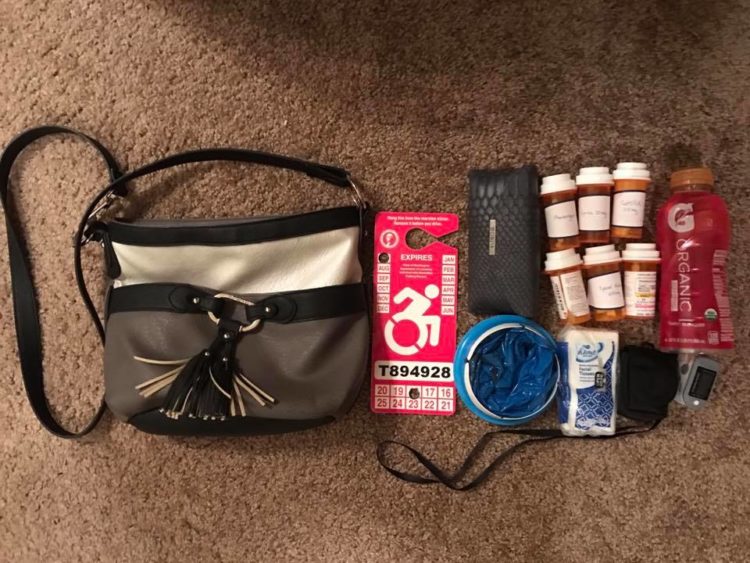 10. "My bag has my inhaler, pain pill bottle with ibuprofen and Tylenol and anti-diarrhea meds because my chemo pills are hard on my stomach. I also have contact lens solution since my meds give me dry eyes and I can never wear my lenses all day. I have DayQuil because a cold can hit me anytime with my low immune system. I have Chapstick because of dry lips." — Christina G.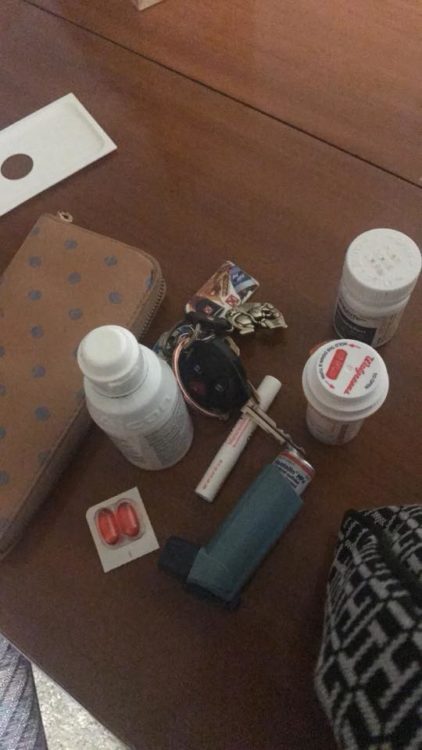 11. "The contents of my bag change based on what I'm experiencing each day, but I generally have the following: My phone, wallet and keys are obvious essentials as well as some earbuds and my phone charger. I have small items like chapstick and eye drops for dry eyes/lips, gum, sunglasses to help prevent migraines, nail clippers, a headband and extra hair ties. I like having some soothing lavender hand lotion and a stress ball to help with anxiety, plus a soft hoodie to keep me warm and cozy. I make sure to have all the medications I could possibly need – my daily meds as well as emergency painkillers. I also like to bring some snacks and a water bottle to hold me over and keep me hydrated if I'm stuck in a waiting room, etc. Depending on my symptoms and plans for the day, I may also carry Band-Aids, an Ace bandage, and a bag of emergency medical supplies: gauze pads, Q-tips, alcohol swabs, my steroid creams, lidocaine gel, etc. I always have a book to help pass the time, and finally, I carry a notebook and pens to write down important medical information." — Paige W.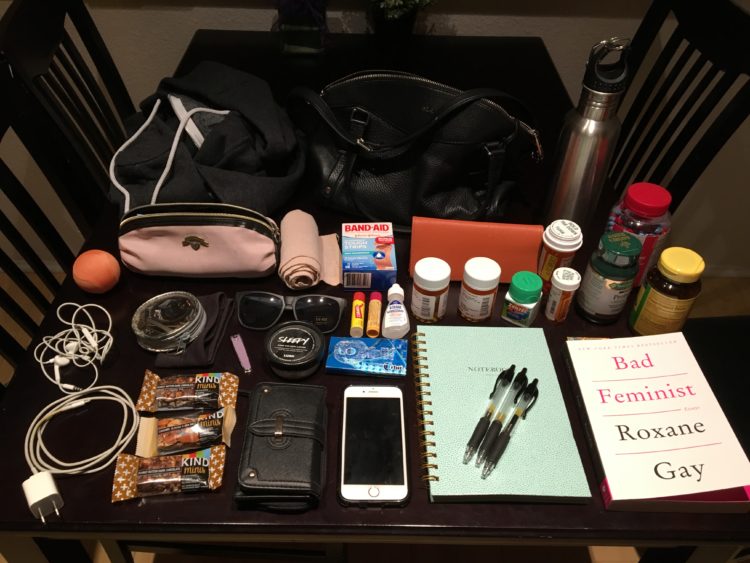 Originally published: October 25, 2017