15 Things to Say to a Chronically Ill Friend Who Just Canceled Plans
---
It's a scenario most people with chronic illness have experienced at one time or another: You're excitedly anticipating meeting up with friends, but when the big day arrives, you realize you won't feel well enough to make it. That disappointment can be tough enough — and too often, friends don't offer a supportive response in return.
So we asked our Mighty community with chronic illness what they wish their friends would say after they tell them they need to cancel plans. To anyone who has a friend with a chronic illness: Instead of being angry or choosing not to invite your friend out again, these responses show you care about their health and are willing to stick by them through the hard times.
Here's what they told us:
1. "That's OK, I understand. Let me know if I can do anything to help."
2. "I will always understand if you have to cancel plans at any time because you're so seriously ill."
3. "That's OK, we'll bring the party to you!"
4. "How about I go get us some fries and we can chill with Netflix?"
5. "That's OK, I understand your health comes first. I hope you have a better day tomorrow, let's catch up later!"
6. "I understand, and it's not your fault."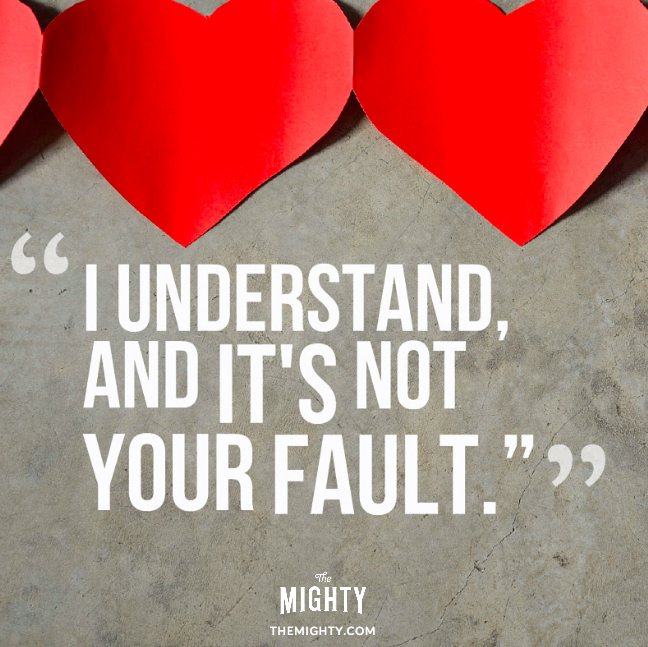 7. "I wish my friends would suggest bringing the meal or coffee to my house and us watching TV or a movie together."
8. "We will plan for another time! Get some rest and give me a call if you need anything."
9. "If they're looking forward to it, I don't expect them to cancel all their plans. But it would be nice for them to say, 'No worries, we'll do something else another time!' 'Hey, I'll stop by later,' or 'I'm free tomorrow, I'll come over!'"
10. "No problem. Can I help with anything? I love you."
11. "I understand completely. What can I do to help you? Do you want some company?"
12. "I know you wouldn't cancel unless it was bad. Miss you."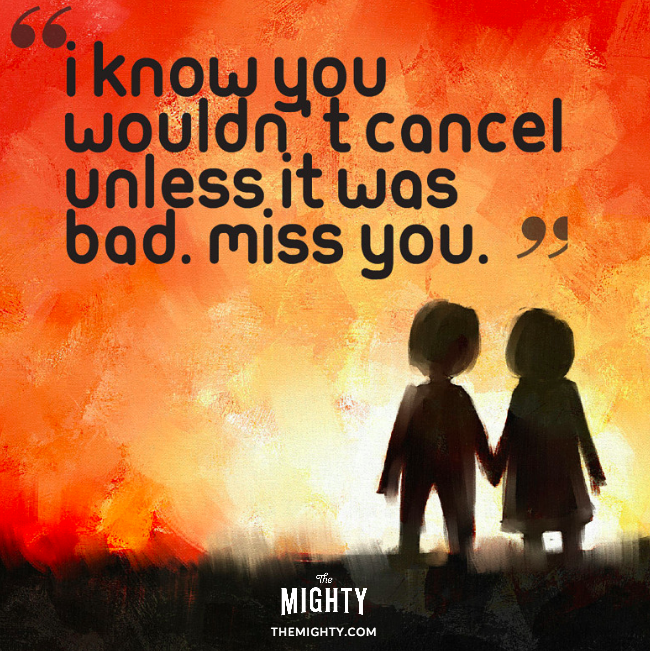 13. "Rest up and give yourself a chance to get over this hurdle. When you're feeling better we'll have a good excuse to catch up again. Your health comes first."
14. "We'll miss your presence! But totally understand why you can't make it. Fingers crossed that you can make it next time!"
15. "By doing what my daughter's friend did — he told me we were going to have movie night and they came over with pizzas, sodas and a movie I'd been dying to see (chronic migraines make seeing movies in theaters something I've had to give up). Perfect response and he didn't care that I looked like death warmed over."
What do you wish your friends would say when you have to cancel plans? Let us know in the comments.