12 Desk Chairs People With Chronic Pain Swear By
---
Editor's Note
We hope the products below, all recommended by our Mighty community members, help you or a loved one in your health journeys. Just so you know, The Mighty may collect a share of sales from the Amazon links on this page. Prices and product availability are accurate as of publication.
If you sit at a desk all day long for work or school, you might notice the type of chair you use affects your symptoms. A not-so-great desk chair can end up making your chronic pain worse. But if you need to be able to sit at a desk, what are you supposed to do? Just suffer in silence? Not a chance! With some research and experimentation, you're likely to find a chair that works for you.
You might need a chair that helps relieve back pain or a chair that helps with your posture. Or maybe you just have constant pain everywhere and need a chair that can change depending on your needs that day. Whatever your reasons might be, finding the right desk chair can help make your day a bit easier.
We wanted to hear from people who have found desk chairs that have worked for them, so we asked our Mighty community for their recommendations. While these desk chairs have helped the members of our chronic pain community, they might not fit for your needs. At the very least, we hope the recommendations below give you some potential options.
Here's what our community suggested:
1. Gaming Chair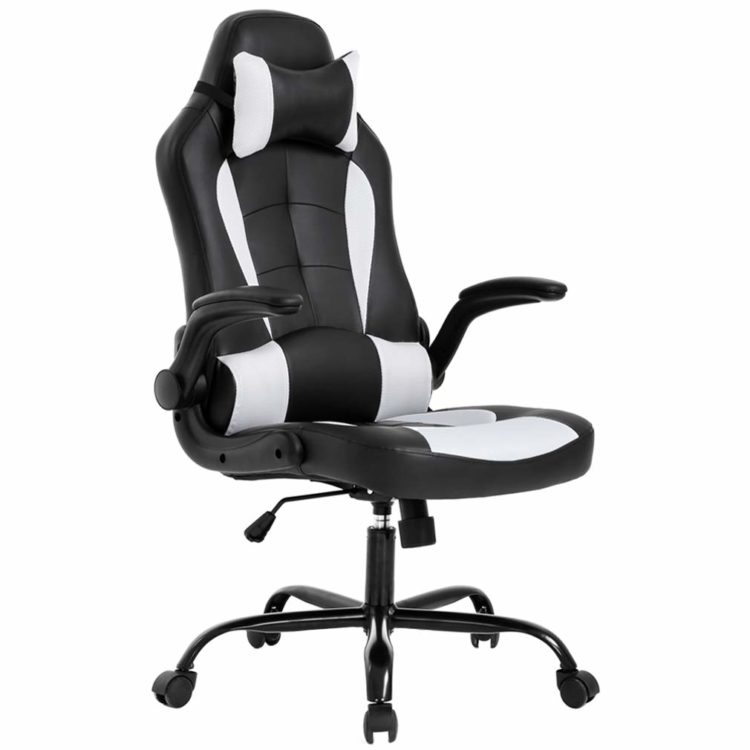 Gaming chairs were created for people who sit for a long time focused on a screen. If you need support because you sit for long periods of time while starring at your computer, this might be a good option for you.
"I personally recommend a gaming chair," Paige Whitney said. "They often have back support and some have leg rests. Its honestly more comfortable because it's designed to be sat in for a long period of time. Never get anything that has a back rest ending half way down your back. Give yourself somewhere to rest your head when you are tired. Your head is heavy and can sometimes use the extra support."
"As a big dude, I'd have to say gaming chairs work for me," Amon Ra Jonathan added. "Great support and comfy."
Buy the BestOffice PC Gaming Chair above for $109.99 from Amazon.
2. Ergonomic Desk Chair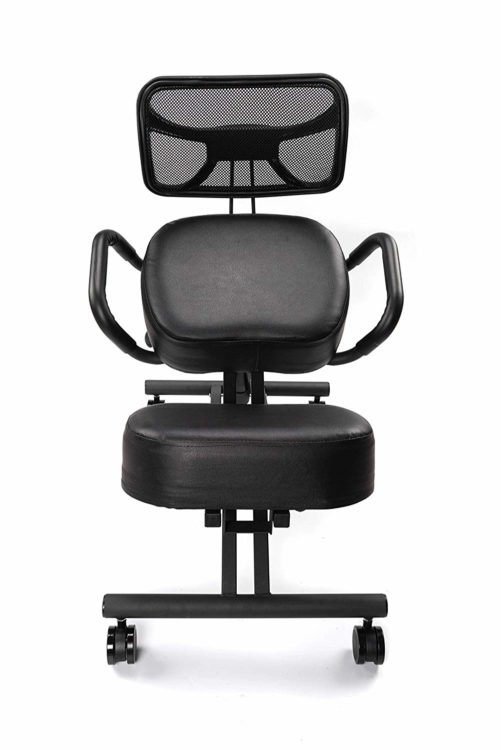 Ergonomic chairs conform to you, rather than requiring you to conform to it. This one is specifically meant to support you in a kneeling position, allowing you to have better posture while you sit.
"Honestly, after sitting for too long in any one position, my body starts to ache," Sabriyah Shahbandy said. "Ergonomic desk chairs are probably the best option!"
"I have an ergonomic chair after meeting with an occupational therapist," Yanika Marie Gera shared.
"Ergonomic chairs that could support my degenerative disc and muscle stiffness," Michelle Cecilia Joo added.
Buy the Chair Monk Ergonomic Kneeling Chair for $129 from Amazon. 
3. Desk Chair With Lumbar Support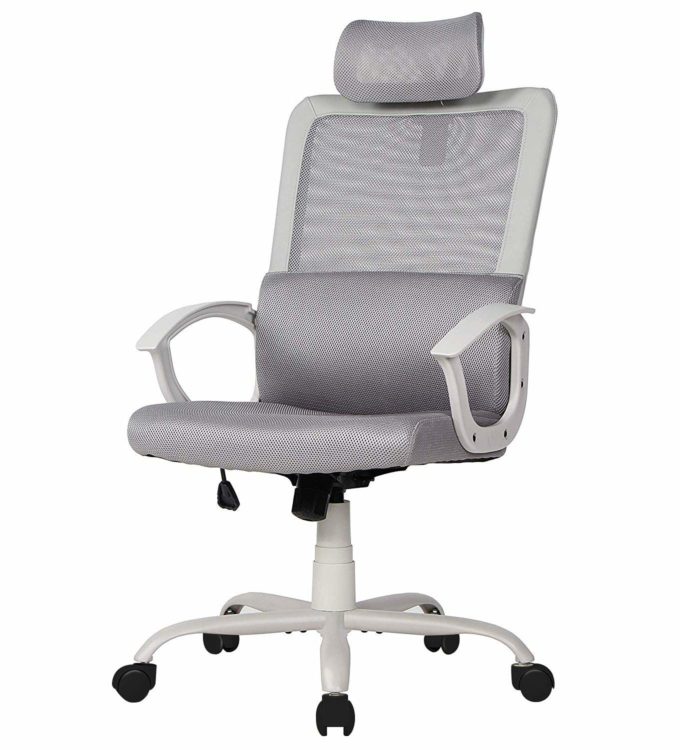 Lumbar support is something many people look for as it can support you if you have lower back pain. The support can also help improve your posture.
"A chair with neck support and adjustable height that's well-padded with lumbar support also," Michelle Gilgeous suggested.
Buy the Smugdesk Ergonomic Office Chair for $99.99 from Amazon.
4. Serta Chair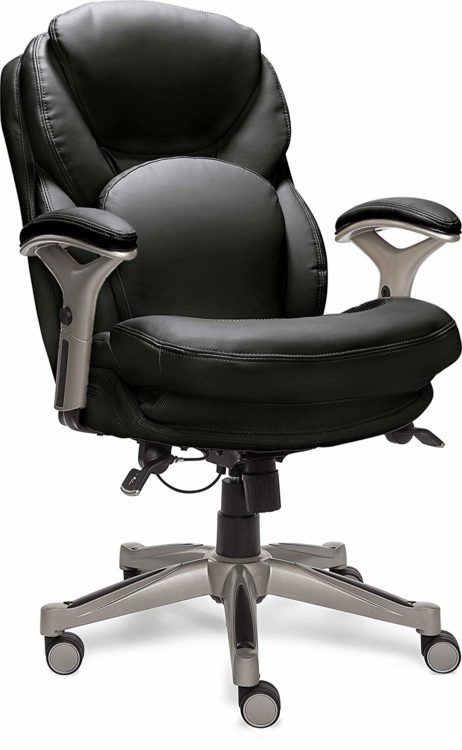 Serta is well-known for creating supportive and comfortable mattresses, but that's not all they make. They also have desk chairs that are very much the same quality as their mattresses and bring comfort to the workplace.
"My Serta Chair," Bailey Sonday recommended. "The only downside is it doesn't lean back, but the lumbar support is fabulous! It's well-loved."
Buy the Serta Works Ergonomic Executive Office Chair for $216.68 from Amazon.
5. Yoga Ball Chair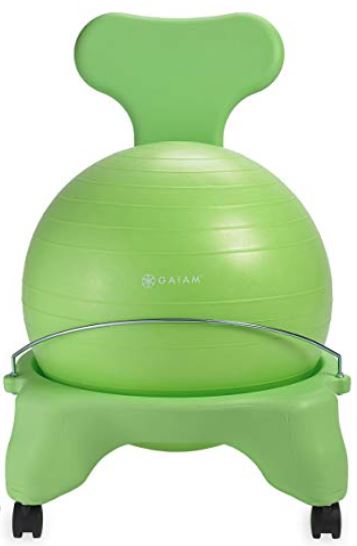 Balance balls, also known as yoga balls, are beneficial for posture and balance. Many people with chronic pain use them so they don't slouch. This type of chair keeps your body constantly moving which can help if you have pain when staying still.
"A yoga ball ends up being much better than any chair," KP Pang said. "It discourages my feet from dangling and keeps my core engaged so I don't slouch. This helps to prevent back pain while sitting for long periods of time."
"I use a gym ball," Jen Curran recommended. "Everything seizes up if I sit still too long. A gym ball means I am constantly moving."
Buy the Gaiam Classic Balance Ball Chair for $69.98 from Amazon.
6. Oversized Desk Chair with Cushion Support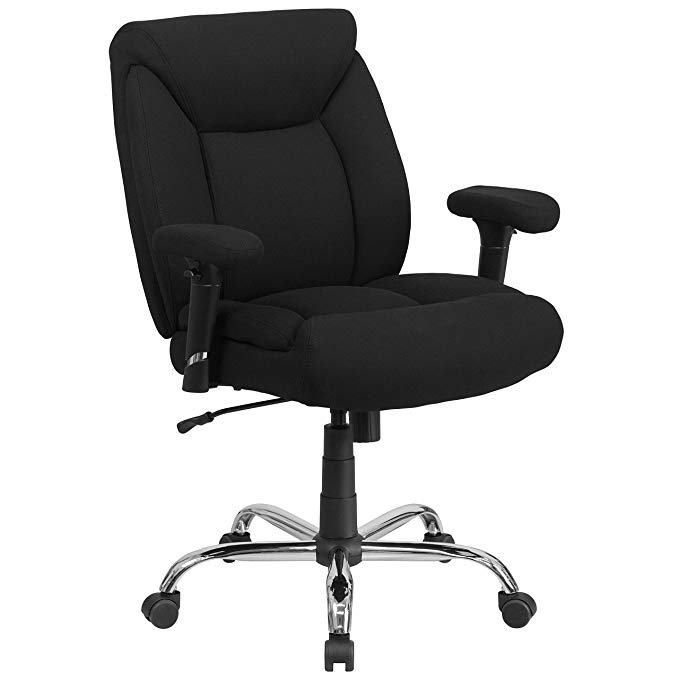 If you do better on a couch or a bed, a comfy desk chair might be a good option for you. It's cozy and squishy, allowing you to feel more comfortable. Plus, its oversized frame gives you the option to sit many different ways and find comfort.
"Oversized office chairs with lots of cushion," Casey Kingman recommended. "Made with fabric, not leather, because leather bothers my skin. Lumbar support and it must have arms."
Buy the Flash Furniture Black Fabric Swivel Task Chair for $222.99 from Amazon.
7. HermanMiller Chair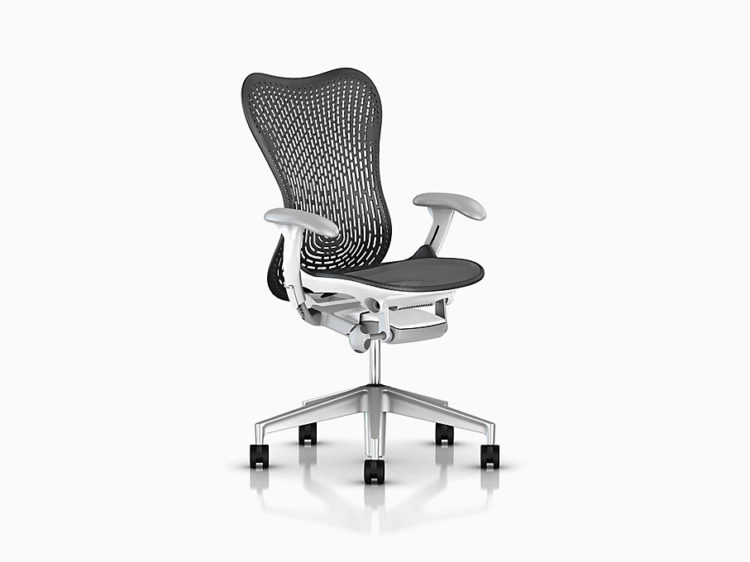 Many people become fatigued holding their body up while they sit. This chair moves with you, allowing you to find a position that works for you — as opposed to the chair.
"HermanMiller Mirra," Jennifer Lavender Braun suggested. "Eventually though, I bought some gel cushions too for when I need them. It helps with back pain and keeping my posture correct."
Buy the HermanMiller Mirra 2 for $899.00 from Amazon.
8. Desk Chair With Mesh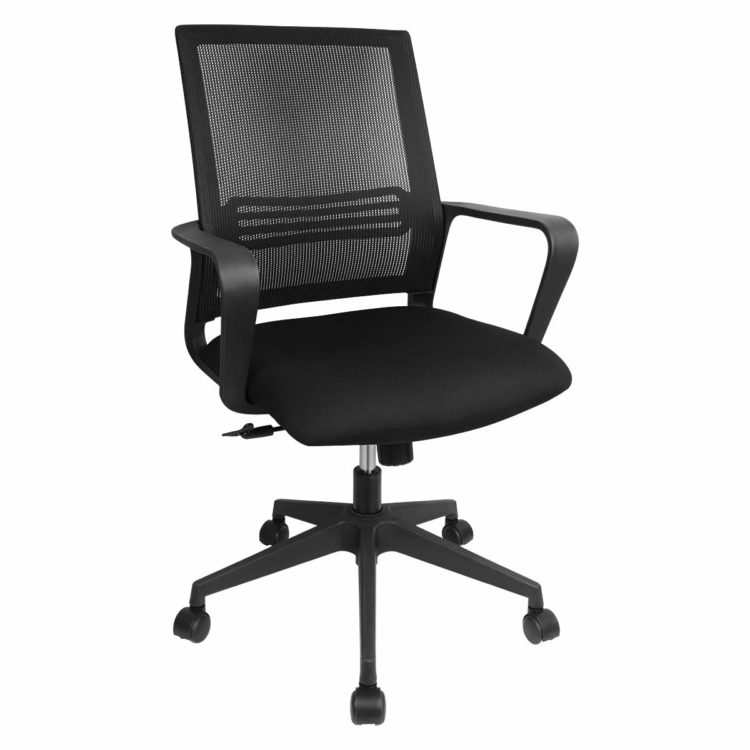 Mesh-backed chairs allow you to lean into comfort. The material stretches with your body, allowing you to get the full feeling of support without putting pressure on your back.
"Mine is mesh with a tilted seat for my hip," Rachel L. Smith said. "I love it."
Buy the HomyLink Home Office Desk Chair for £67.90 from Amazon UK.
9. 
Steelcase Leap Fabric Chair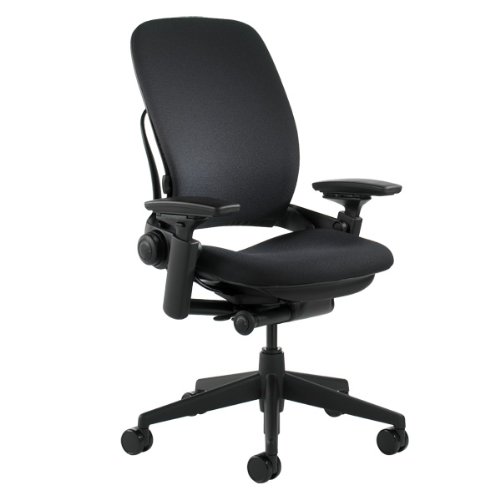 This desk chair was created to mimic the movements of your spine. It's meant to be a great option if you work long hours and need a chair that will stay comfortable all day long.
"When I was working, I had a chair that was specifically purchased for me," Jaime Lynn said. "It was a Steelcase Leap Chair and was excellent! [I also had] a desk that was designed for me, including a section of desk that could convert into a standing work station. This was all purchased with ADA funding."
Buy the Steelcase Leap Fabric Chair above for $899 from Amazon.
10. Multi-Task Desk Chair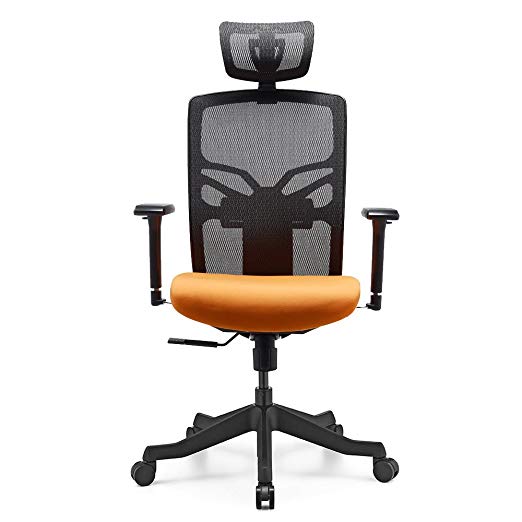 If you have widespread chronic pain, a desk chair that allows you to adjust in many different ways could benefit you. This chair can help if your pain changes on a day-to-day basis.
"[A desk chair that] adjusts in every way shape or form," Vanessa Smith shared. "The seat tilts forward, backward, up and down. The back has lumbar adjuster, arms move up and down, in and out, armrests move in and out and can turn inwards."
Buy the HESSEN High Back Office Chair for $299.99 from Amazon.
11. High Back Desk Chair With Headrest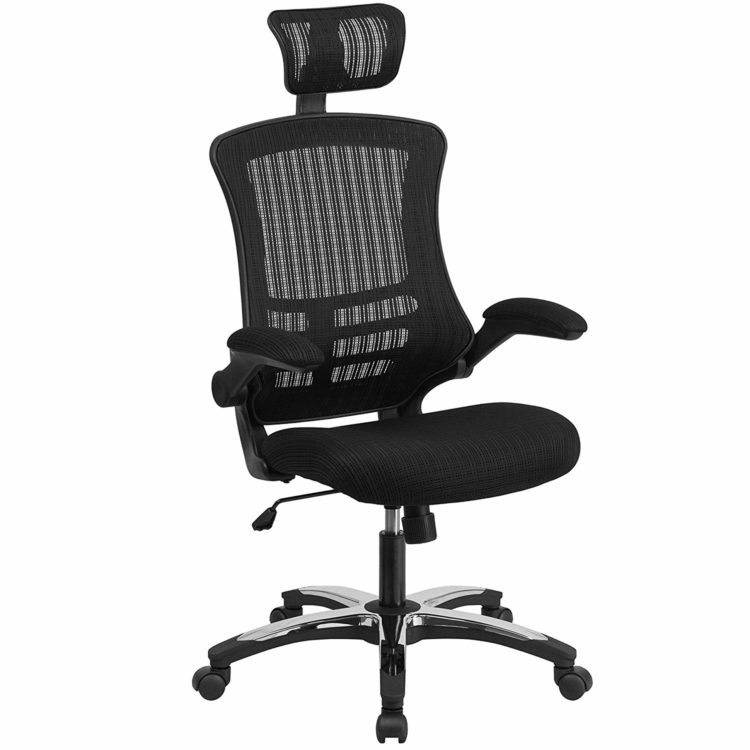 If you have chronic neck pain, a desk chair with a headrest and a high back could work well for you.
"When I was working nine-hour days at a desk, typing and reading, I needed a chair like this," Erica C. Stackfleth said. "The back must be high enough to support my shoulders, must have a headrest and must be able to recline."
Buy the Flash Furniture High Back Executive Swivel Office Chair pictured above for $117.59 from Amazon.
12. La-Z-Boy Desk Chair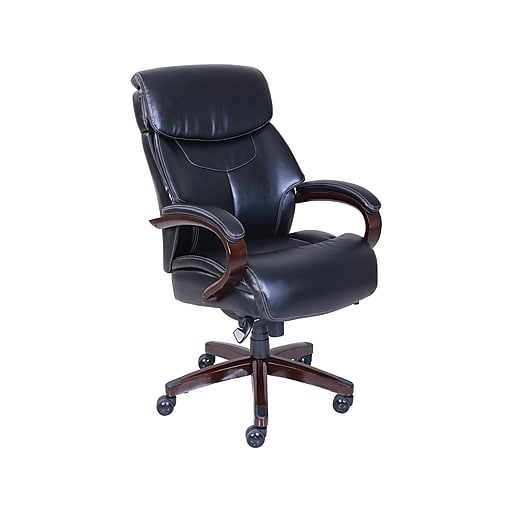 La-Z-Boy is famous for creating comfortable chairs and this desk chair is no different. An executive chair like this has a swivel, so you can move your body from side to side as you please. It also has tension control so you can adjust it to your own comfort level.
"I have one called the Bradley from La-Z-Boy," Amanda Pollard shared. "It's great."
Buy the Bradley Executive Chair for $292.50 from Amazon.
If you live with chronic pain, what desk chair do you use? Comment below with your suggestions. 
For more recommendations from our community, check out the articles below:
Originally published: August 15, 2019