16 Mattresses That Help People With Chronic Pain Sleep Better
---
Editor's Note
We hope the products below help you or a loved one in your health journeys. Just so you know, The Mighty may collect a share of sales from the affiliate links on this page. As an Amazon associate, we earn from qualifying purchases.
Finding a comfortable mattress can be difficult for anyone, since every person is different and has unique preferences. And it's important to choose carefully, as a mattress can play a critical role in the amount and quality of sleep you get.
But for those with chronic pain conditions, finding a good mattress that properly supports your body without being too firm on pressure points or exacerbating existing pain can add to the challenge. Even if you are able to feel and test out a mattress in store, it can be tough to know exactly how it will hold up against your pain over the years.
That's why we asked our Mighty community which mattress brands are compatible with their chronic pain and help them sleep better at night. While everyone is different, hopefully the following recommendations can offer some guidance if you are searching for a new mattress.
1. Lucid Mattress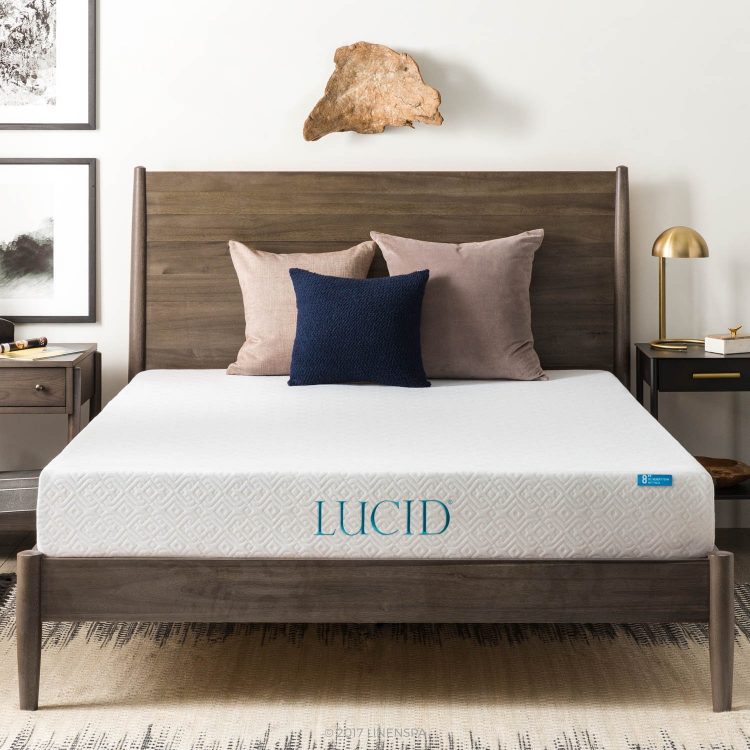 The Lucid mattress is a great choice for people with chronic pain who are on a budget. Whether you prefer firm, soft, or in between, they have what you need, and in a wide range of bed sizes.
"Lucid," recommended Kate Rock. "You can get it on Amazon and it's very affordable. I like the 8-inch firm. Many options. They are amazing and less than half the cost of similar [mattresses]."
Buy the mattress above from Amazon or check out the Lucid Store for more varieties.
2. Purple Mattress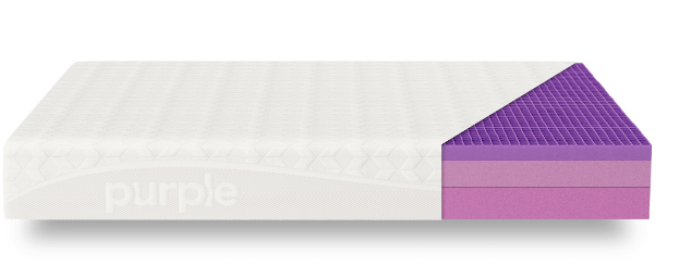 "Purple!" said Cherish Ann. "No pressure points [while] sleeping and doesn't get super hot! It also doesn't sink like a memory foam mattress so it's not as hard to get in and out of. Just got mine a month ago and I love it!"
Jillyn Allred wrote, "Since getting our Purple mattress my hips no longer feel bruised when I lay down. I also haven't needed a pillow between my legs or behind my back to support like I used to need." 
"My parents have a Purple bed and it is fantastic. I normally have pain in my back and hips when laying in my own bed, but when I get a chance to use theirs, those problems pretty much disappear and I fall asleep much quicker. I stay asleep, too," added Sabrina Maxwell.
Buy a Purple mattress.
3. Water Bed Mattress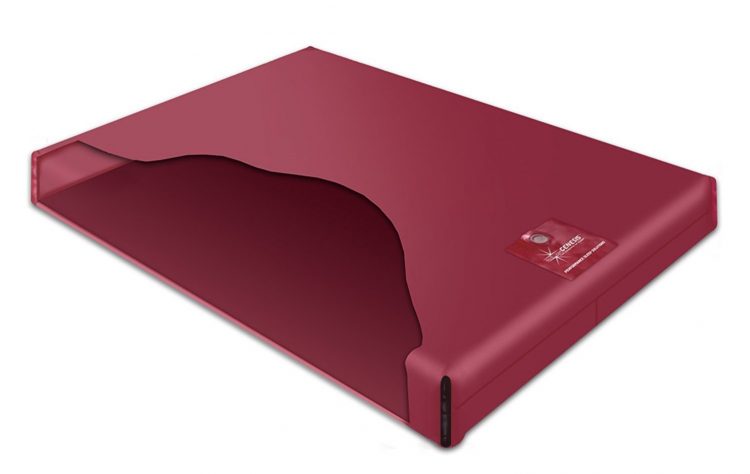 Water beds aren't as popular as they used to be, so many people don't know how helpful they can be for people with chronic pain. Give them a look to see if one might be right for you.
Jeni Baker told us, "I would highly recommend a water bed because it molds to the shape of your body but then supports it well, so the perfect combination of a soft and firm mattress. The only drawback is it can be hard to get out of, so not ideal for people with mobility problems."
"Water bed," said Sharon Brooks. "It's perfect for my rheumatoid arthritis, it's the perfect temperature at all times and cradles me, no pressure on any part of my body."
Buy an Innomax waterbed mattress from Amazon.
4. Serta iSeries Hybrid Mattress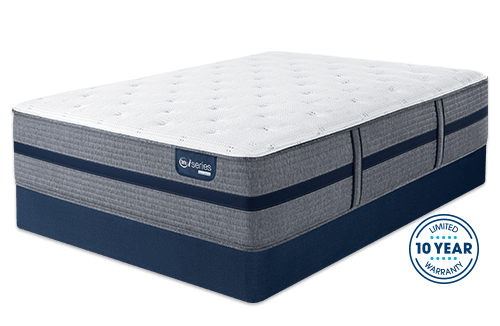 "Serta hybrid," said Emily Workman Keller. "It has the traditional bounce topped with substantial memory foam. There are no pressure points, and it doesn't feel like it's constantly pushing back at you like a spring mattress. Spendy, but the absolute most comfortable bed I've ever slept in."
"iComfort by Serta," recommended Kathy A. Zabliski. "I love mine. It is memory foam, but doesn't get hot."
Shop for Serta mattresses on Amazon.
5. Zinus Memory Foam Green Tea Mattress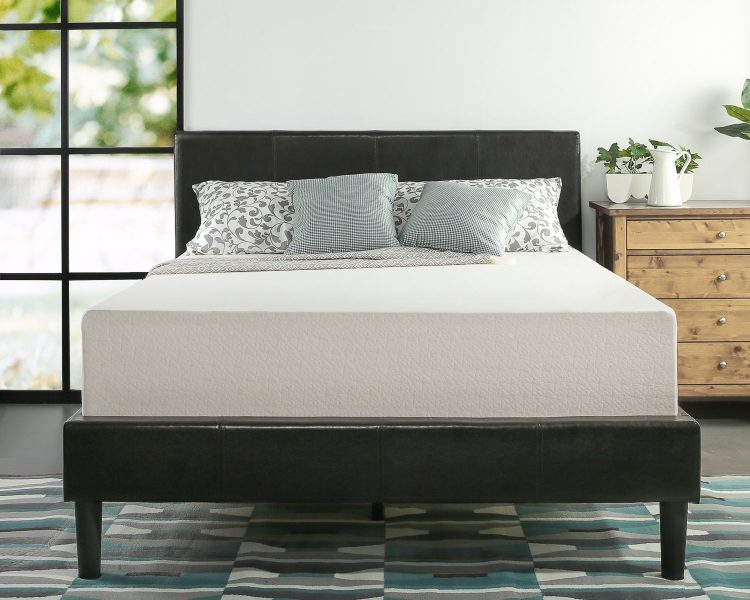 "Twelve-inch green tea-infused gel Zinus memory foam on Amazon. I've had mine three years. Three surgeries, fibromyalgia and chronic pain. Still feels like new. Soft and firm. Cal king and high thread count, cotton everything. Lots of posture pillows, too," wrote Krista Itzhak.
Buy the mattress above from Amazon.
6. Stearns and Foster Mattress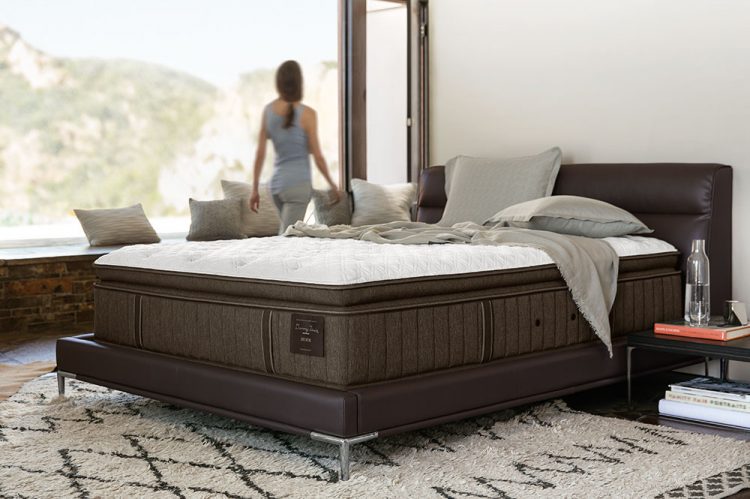 "Stearns and Foster," said Donna-Jean Isnor. "It was the only one I laid down on and my back pain didn't shoot up. I also like the reinforced sides, as I tend to sit on the edge of the bed quite a bit."
Sonja Rasmussen told us, "I recommend Stearns and Foster, too. I splurged a bit when I bought a new mattress before I got sick enough that I had to quit working. It has held up beautifully. I used to get horrible backaches when I occasionally slept obscenely late some weekends. I only get backaches now if I've actually injured my back. I bought it almost 10 years ago and have only recently begun to notice a little wear. Best mattress I have ever owned!"
Shop for a Stearns and Foster mattress on Amazon.
7. Memory Foam Mattress Topper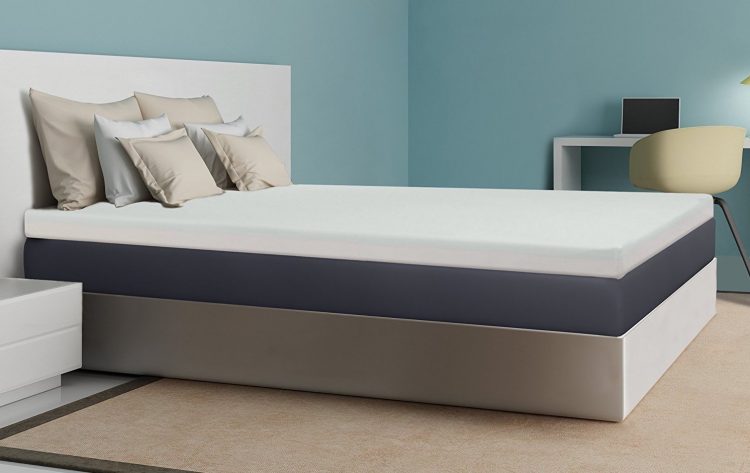 If you have a great mattress that isn't as comfortable as it used to be, or you can't afford to buy a whole new mattress but you have painsomnia and can't sleep, a memory foam topper can help relieve nighttime chronic pain.
Carolyn Harris Flatbush wrote, "I cannot afford a new bed but I got a 4-in. memory foam comforter you put on your mattress and I love it."
Sarah Hulke Zaidi added, "We take a memory foam mattress topper when we travel, and it makes it so that I can actually sleep and be comfortable. It's a total game changer!"
Buy the mattress topper above from Amazon.
8. Tempur-Pedic Mattress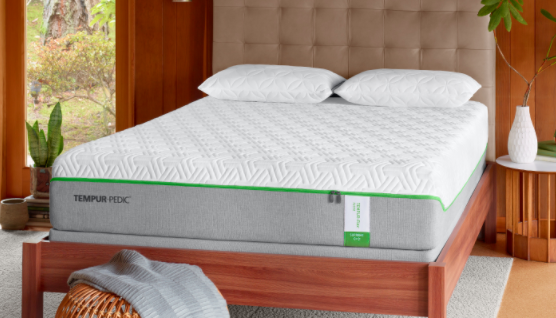 Vienna Lee told us, "We have a Tempur-Pedic – it is by far the best mattress we have ever owned. We bought ours in 2005. It's time for a new one, but the price has gone up so much we need to save up for one."
"I have a Tempur-Pedic, it's been my favorite mattress by far," said Carol Adamson Ramirez. "It helps relieve pressure points that normal mattresses don't. I've had spinal fusion surgery [and am] diagnosed with RA, fibromyalgia, Raynaud's syndrome and Sjogren's syndrome."
Cathy Mahony Steuber wrote, "I have a Tempur-Pedic split king, adjustable. If I had known how incredible it is, I would have bought it years ago. It helps to raise my feet and head as needed. It really made a difference. I have postural orthostatic tachycardia syndrome (POTS), chronic fatigue syndrome/myalgic encephalomyelitis, fibromyalgia and more."
"I have both a Tempur-Pedic mattress and pillow. I always look forward to coming home from vacation to sleep in my own bed. I have both lumbar and cervical problems. I never have any pain when I sleep on my Tempur-Pedic mattress and pillow," Melissa Robin Gluck added.
Buy a Tempur-Pedic mattress on Amazon.
9. Casper Mattress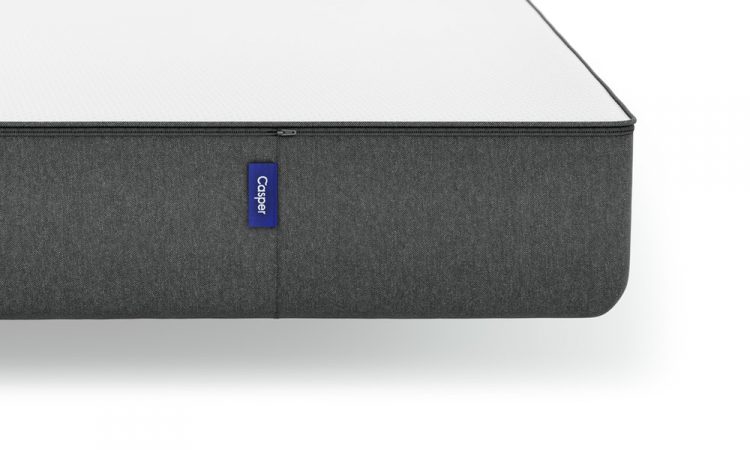 Angie Adams told us, "We have a Casper – firm but soft and comfortable at the same time. We've had it for about two years, and it has been so much better on my joints and back."
"We got a Casper mattress a few months ago," said Stacy Smith Aannestad. "It's a great bed… firm and soft at the same time."
Shop for a Casper mattress on Amazon.
10. Serta Air Mattress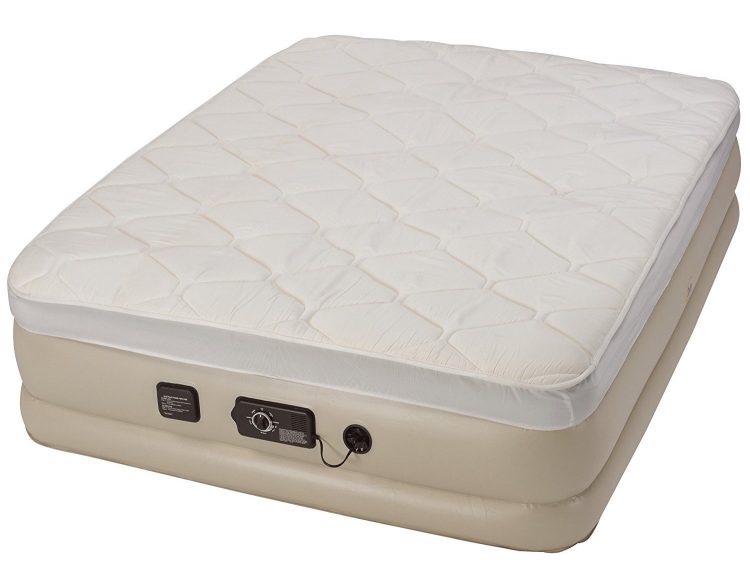 Amber Lynn Partridge wrote, "After trying a ton of mattresses, I have a really expensive, amazing air mattress. It has a foam top and I have a faux down mattress cover. It's perfection. It is high end, so it has an internal pump, so I can adjust the air pressure for my pain level. I have Egyptian cotton sheets and a weighted blanket and my bed is my sanctuary. I spritz essential oils before bed and it's the only time I feel any kind of comfort. I won't sleep at anyone else's house. Sorry, my bed is my favorite place in the world."
Buy the mattress above from Amazon.
11. Sealy Posturepedic Mattress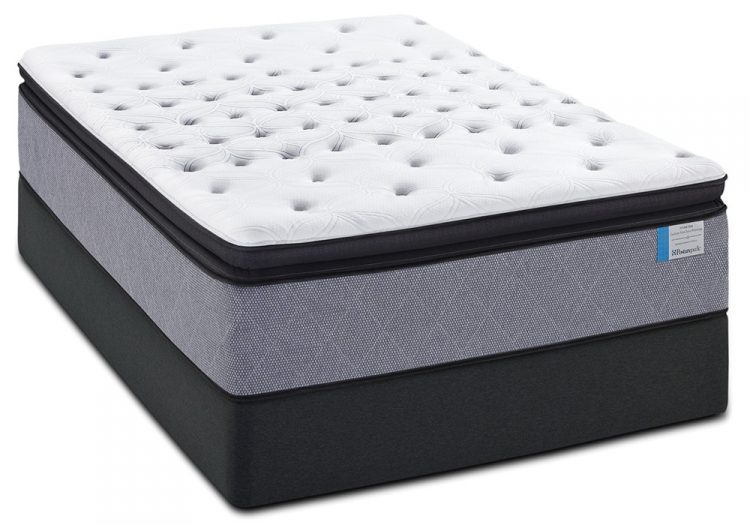 Nicole Ludwig told us, "I love love love my Posturepedic. Keeps me aligned fairly decently, feels like I'm sinking in sand and I fall asleep almost instantly. It's just amazing. My mom upgraded to a Sleep Number and gave their old one to me. So, it's about six years old and still in like-new condition."
Beki Stead wrote, "I have a Sealy Posturepedic – latex jubilee or something like that. It's amazing, feels like you're sleeping on a cloud."
"Sealy Posturepedic, seems to keep its shape," said Kellz Naona. "No sagging. Not too hard or too soft."
Shop for a Sealy Posturepedic mattress on Amazon.
12. Alwyn Home Memory Foam Mattress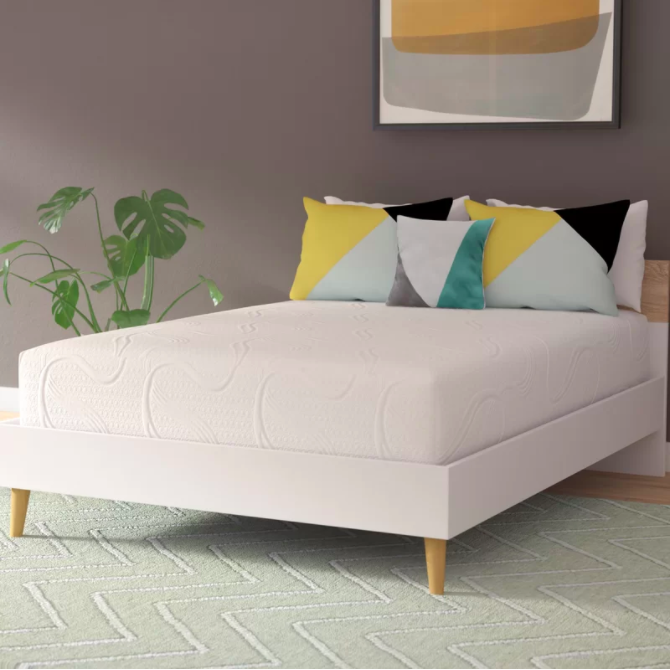 Amanda Sky Davis told us, "Wayfair has queen cool gel memory foam mattresses by Alwyn Home for $200. They also have a payment plan that has payments as low as $15 a month. I personally have one and it's awesome. They contour to your spine and support very well. We ordered the 8-inch mattress and they even sent the 12-inch mattress for the same price." 
Buy the mattress above from Wayfair.
13. Sleep Number Mattress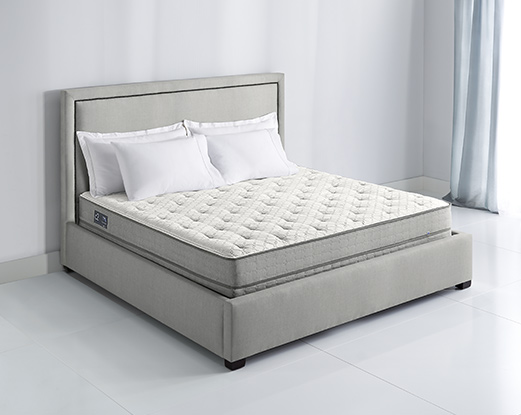 Samantha Bandy said, "I have a Sleep Number bed. I like being able to adjust the settings. It also moves to prop up feet or head which helps when I have heartburn or my legs are in a lot of pain."
"Sleep Number all the way," Sarah Hulke Zaidi wrote. "We have one with extra foam, and I miss it terribly when we're away. Mattresses I used to adore hurt my back and joints now, but one night back on my Sleep Number and my pain subsides. I get support for my back, but it's soft enough to cushion my joints and hips, and I can adjust it on a night-by-night basis."
Jonie Brown recommended, "Sleep Number, where you can raise the head and feet. I like it because I can change my number every night if I have to so I can still get support but don't feel so much pressure on my joints. I like the adjustable head and feet because with my knees I can elevate them to help reduce the swelling and raise the head to read or watch TV. I can set a timer to lay the bed flat or move to another position."
Buy the mattress above from Sleep Number.
14. Saatva Mattress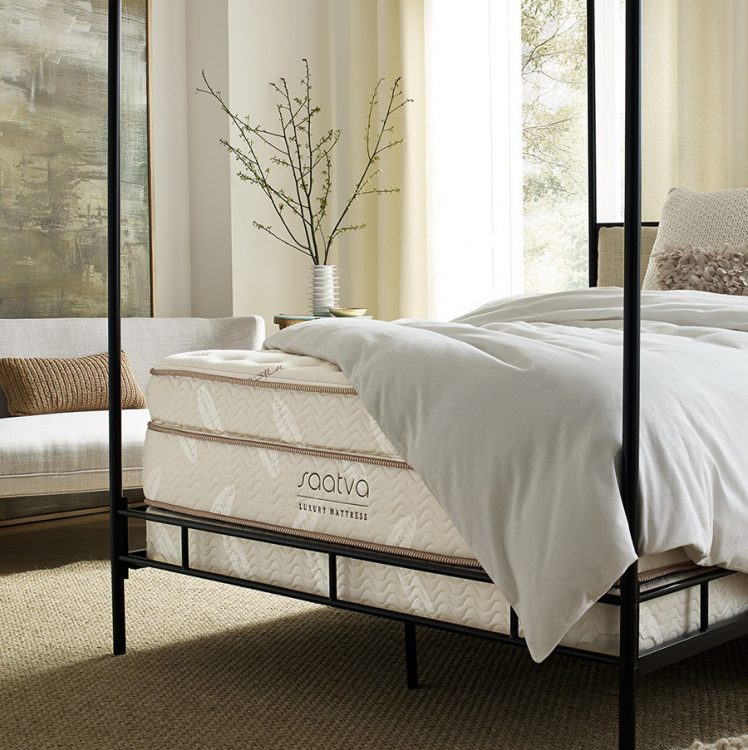 Amber Ella told us, "Big Saatva fan – organic fabrics, quality construction and no going to mattress store needed. Just call and pick from one of three models. Excellent price point. Delivery and removal of old mattress."
"Saatva Mattress," recommended Johnna Critelli. "They have different firmness levels and you can test drive them."
Buy the mattress above from Saatva.
15. Tweak Slumber Nrem Mattress (available in the UK)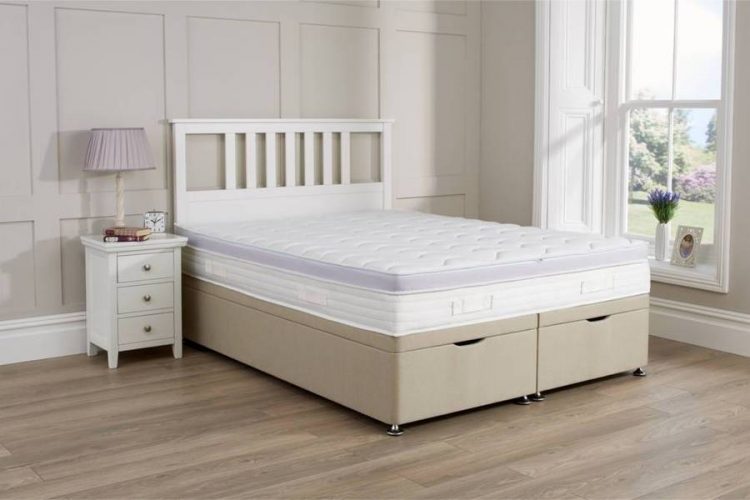 "I have an Nrem mattress," said Michaela Westwell. "It's a spring mattress with two layers of interchangeable memory foam on top. Firm, medium and soft that can be swapped around so you can have more or less support where needed. Think they are only sold in UK at the moment though."
Buy the mattress above from Tweak.
16. intelliBED Mattress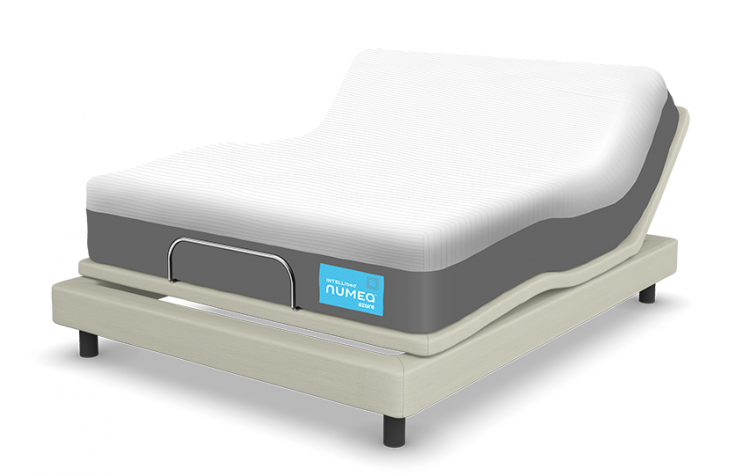 "I love my intelliBED!" said Alex Payne. "I've had it for years, and it's still going strong! I still get a lot of pain when sleeping, but with this bed I don't flare up nearly as often. I can comfortably sleep on my side for short periods of time without pain. I don't like memory foam because it compresses and doesn't spring back right away. intelliBEDs are gel, so as soon as you move the bed springs back into place. I don't feel like I'm sinking into boiling hot quicksand."
Buy the mattress above from intelliBED.
Looking for other bedding products? Check out our community's recommendations for pillows, alternative pillows, blankets and bedding.