When I Accepted I Cannot Control My Body With Chronic Illness
---
My body and I haven't had the best of relationships first and foremost. We did just fine until age 12, when things in my family fell apart and I took signs of hips and breasts as personal failure on my body's part. I immediately resigned myself to the belief that if I could take up less space in the world, maybe I could stop feeling so sad and empty.
So began a dance of starvation, purging and self-harm that lasted for years, even with much therapy and many inpatient treatment centers. Recovery came slowly in my mid-20s but my journey with it was not linear. I would take a few steps forward but occasionally stumble back.
At age 28 in the fall of 2011, I began a new phase of my life when a simple foot injury from running turned into a chronic pain condition called complex regional pain syndrome/reflex sympathetic dystrophy (also known at CRPS or RSD). This disease is a progressive disease of the autonomic nervous system, and according to the McGill Pain Scale, CRPS ranks as one of the most painful conditions.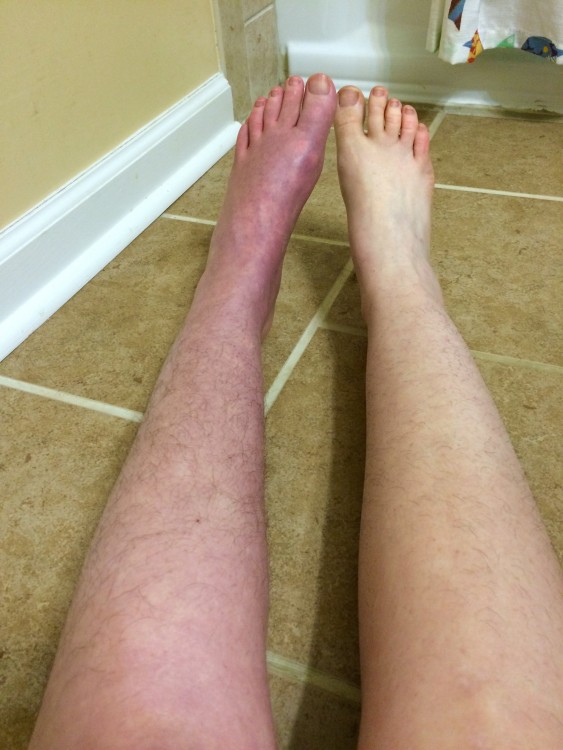 My left foot and leg hurt constantly with a pain incredibly intense, like a fire all over my skin, coupled with feeling like my leg is being broken from the inside out. It has been getting progressively worse since the spring of 2013 and then became very severe in February 2015. The CRPS has spread up my entire left leg and also into my right foot. I now use a wheelchair, as putting weight on either foot is incredibly painful due to the nerve pain and nerve damage becoming increasily worse.
In a cruel twist of fate, five months after developing the CRPS I also developed chronic Lyme disease and Bartonella. Lots of symptoms and possible diagnoses. Now I struggled with nerve pain and also awful joint pain, issues with cognitive functioning, fatigue and constant nausea. It took several months and many doctors in order to get properly diagnosed and treated. The Lyme disease did a lot of damage over these past few years.
Gone were my days of working the job I adored, running or even leaving the house some days. This was a new body, foreign to me, one that spoke in a sharp tongue of pain and never seemed out of fresh ideas of to make me understand that I had absolutely no control of what was going on. After years of starvation and self-harm, I was stunned by the realization that I could not force my body to stop malfunctioning as it responded to the inflammation going on inside me.
Chronic illness is truly humbling as you find yourself having to adjust your goals to what your body can tolerate.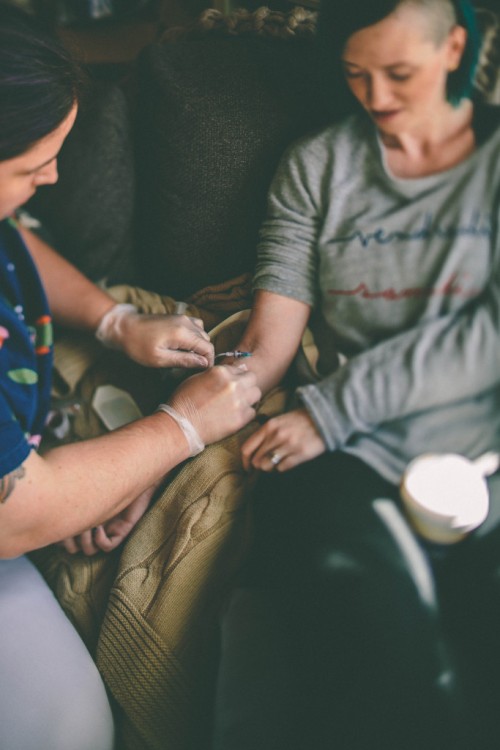 For a long time I refused to accept that this may be how the rest of my life is. Anyone who is chronically ill always has that hope in their back pocket that they can one day feel "normal" and that remission or a cure is waiting in the wings. I told myself repeatedly that the life I was leading while sick and in pain wasn't important because it didn't live up to the standards I had set in my head. Just like with my anorexia, I created strict ideas of what I was supposed to be like and how, because I was sick, I was a failure. For the first time in my life I am experiencing true surrender as I accept that I cannot control my body any more than I can control the stars in the sky.
This body is the only one I will ever have, and together we are traversing hard territory that no one prepared us for.
I choose to believe there is a lesson within this experience, although I don't yet know what it is. Maybe it is to continually find my center within my body no matter how my body feels. Maybe it is to have more empathy and compassion for those who also struggle with health issues. Maybe it is to love and accept my body with all its external flaws along with it's angry nervous system and systemic inflammation.
Maybe it's the experience of continually surrendering to the unexplained detours life guides us through and admitting powerlessness in the process. 
Despite the pain, I will continue to search for peace within my body and love it for everything it can achieve, even if it is something as simple as putting my feet on the floor.
Follow this journey on Ship With No Sails.
If you or someone you know is struggling with an eating disorder, you can call the National Eating Disorders Association Helpline at 1-800-931-2237.
The Mighty is asking the following: What's the hardest thing you deal with as someone with a chronic illness, and how do you face this? What advice and words of support would you offer someone facing the same thing? If you'd like to participate, please send a blog post to community@themighty.com. Please include a photo for the piece, a photo of yourself and 1-2 sentence bio. Check out our Submit a Story page for more about our submission guidelines.
Originally published: March 31, 2016