Why I'm No Longer Listening When CRPS Tells Me 'I'm Worthless'
---
I leaned into the mirror, staining my lips a bright red as the music blared in my tiny room. I felt the vibrations roaring through my body as my heart raced to the beat of the music. My heart was smiling with anticipation of going to the movies with my friends. I spun around feeling my soft skirt dancing around my legs. Time started to blur, my vision became distorted, as I froze an electrifying shock zoomed in a spiral surrounding my legs leaving me unable to move from pain. I cried out for Mr. George, my (then) service animal as this pressure stifled my ability to breathe.
Gasping for breath, I floundered towards my bed immediately sighing with relief as I collapsed into my bed. I closed my eyes and embraced the darkness feeling the cool tears falling against my cheek. The darkness created a calm warming atmosphere as I inhaled against the pain. I felt soft fur brushing against me, soothing the sizzling pain in my leg. Taking a breath felt easier. I laid there frozen. Inhaling cool air, and exhaling the desperation that was overwhelming me. Feeling the alleviating brush of my service animal's fur against my leg. Breathe. Just breathe.
As pain subsided, Mr. George walked me through the steps that we always took to get me back on my feet. I stood in the mirror, with a tinge of pain in my leg, with Mr. George standing by my side. My stomach felt queasy as I looked in the mirror with all of my darkest thoughts bellowing from the mirror.
You're worthless!
You aren't at your strongest and no one wants to be with a drag!
You never go out anyways, why start now?
That repulsive feeling in my gut took control over my actions, and propelled me to text my friends that I wasn't coming. I put my phone on silent so I didn't have to hear the chimes of texts pouring in wanting an explanation for why I cancelled this time.
In those moments, I had enlisted the help of complex regional pain syndrome (CRPS) to rob my future self. I hired CRPS to sneak into my mind, and convince me to see a woman in the mirror with diminished value. I didn't see a woman of worth who would one day find friends who supported her on her worst days. Friends who encourage me today to have fun regardless of if my disease has impacted me earlier in the day.
I underestimated the impact of loving myself while I have this disease, and making memories while living with CRPS.
Having CRPS does not diminish your worth. CRPS cannot stop us. Having CRPS does mean that every single day I am fighting for my future self. We are powerful, unconquerable humans fighting for the right to a happy existence. We have to pick up our battle weapon, recognize our own worth, and get out there to make happy memories for ourselves.
I am a person with CRPS who goes to eat with her friends using a cane.
I am a person who goes tubing, bowling and to see every Marvel movie.
I am a person with CRPS who sometimes uses a wheelchair when she goes out.
I am a person who will dance to good music anytime.
I am a person with CRPS who smiles while she's walking to work with a brace.
I am a person who wants the world to know how it feels to be loved.
I am now hiring CRPS to work for me, and we will make happy memories for my future self.
I am a person with CRPS and I can.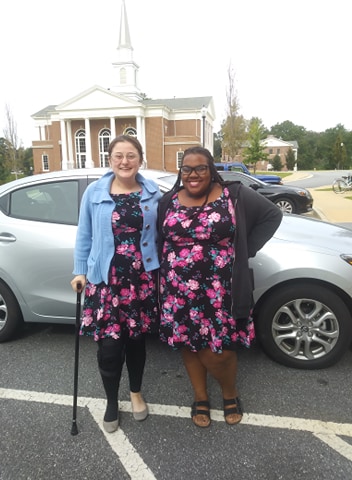 Originally published: July 28, 2019